Realme 9 Pro review
GSMArena Team, 16 February 2022.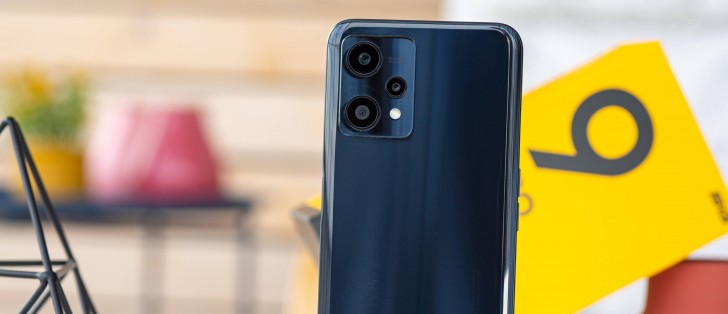 Realme UI 3.0 based on Android 12
Unlike other mid-range offerings from the beginning of 2022, the Realme 9 Pro and Pro+ both launch with Android 12 out of the box customized with Realme's own UI on top. So kudos for that.
Visually, the OS hasn't changed much. Realme UI has a colorful UI with customizable UI elements and its own iconography for the notification shade and the general Settings menu. The app drawer hasn't been tweaked too but we did notice a bit of inconsistency with the swipe up and swipe down gestures on the Home screen when opening/closing the drawer. A small annoyance that wouldn't bother most users.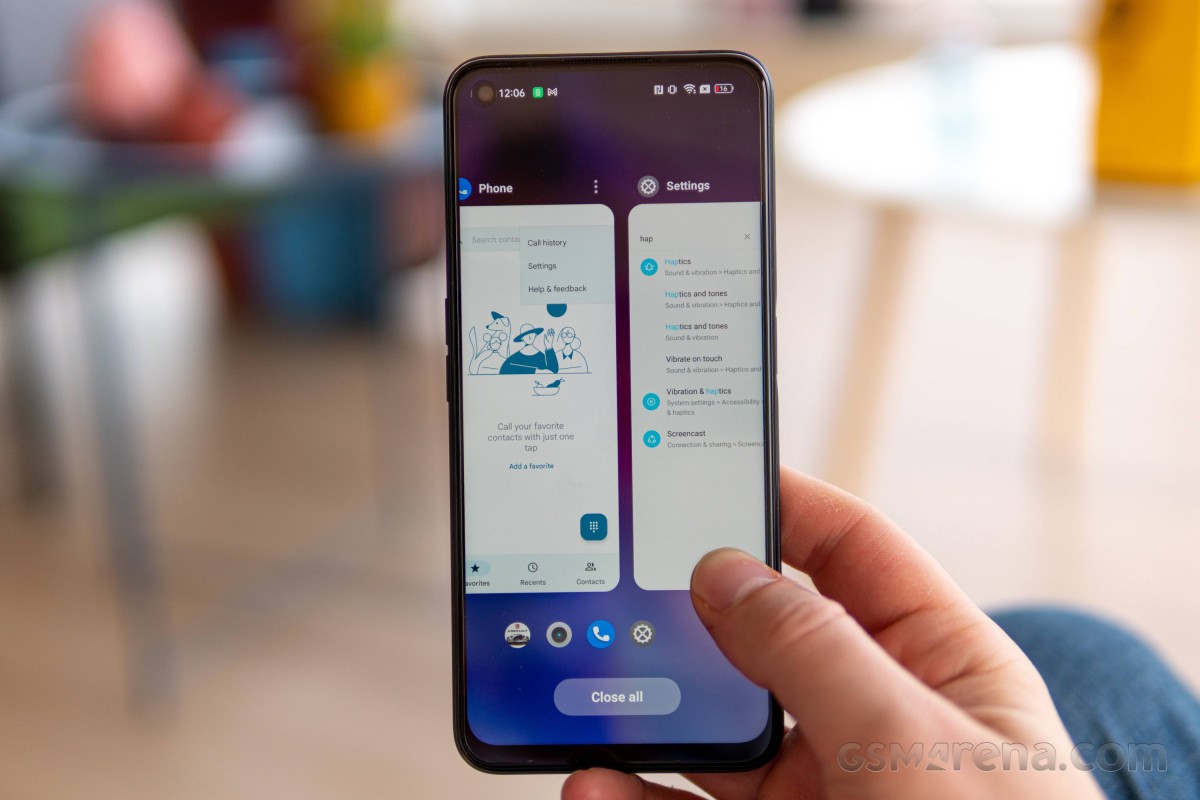 Realme also kept the so-called Icon pull-down gesture. Swiping alongside the left or right edge of the screen crams icons at the bottom half of the screen so they can be easily reached with your thumb. The gesture is pretty reliable as well. By default, the swipe down gesture on the Home screen opens up the so-called global search but you can always set the notification shade instead.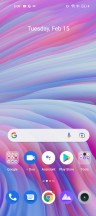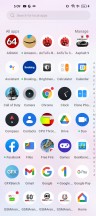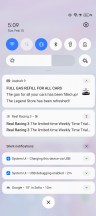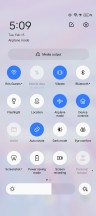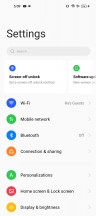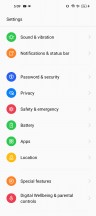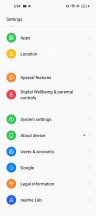 Home screen, app drawer, Settings menu
When it comes to Android 12-specific features, most of them are under-the-hood changes. However, the privacy-focused efforts from Google are translated into Realme UI 3.0. The so-called Privacy dashboard is one example. It's a unified view for all your permissions and user data settings. It gives you information on which apps and how often they access your information or ask for certain permissions. It looks and feels like the Digital wellbeing dashboard introduced with Android 10.
In addition to those privacy features, Android 12 lets you choose the accuracy of your location shared with certain apps. Let's say you want to share an approximate location with some apps instead of your exact location. And when a certain app is accessing your mic or camera, a green dot will appear in the upper-right corner of the screen so you'd know what's going on.
For a more in-depth look at Android 12, we suggest reading our full Android 12 review as we will try to focus on the Realme UI itself in the following paragraphs.
As before, Realme UI offers deep customization of the interface by letting you choose accent colors (or a combination of accent colors), wallpapers, icons, the shape of the quick toggles as well as the font and size. All of these settings are found in the Personalization sub-menu.
There's usually an Always-on display setting in there as well but since the phone is using an IPS LCD panel, there's no such thing here. This also means that you won't benefit much from the system-wide Dark mode unless you are using the handset in a really dark environment. It's easier on your eyes.
Under the Special features sub-menu, Realme put the Smart sidebar and Flexible windows features, both of which boost multitasking. When turned on, the sidebar offers quick access to some of your favorite apps. The system allows you to adjust the position of the sidebar, which is crucial because it might interfere with the back gesture if you are using the standard Android gestures. Anyway, tap and hold on an app icon enters split-screen mode while a single tap opens up the app in a floating window or as Realme likes to call it, "Flexible window". The supported apps can be opened in small, draggable and size-adjustable windows.
The good old screen-off gestures that allow you to launch certain apps or the flashlight by drawing letters on a locked screen are here to stay.
In the Realme labs, where the company likes to introduce experimental features, there's one that caught our eye. You can stream music to a Bluetooth headset and wired headphones simultaneously. Pretty neat if you are traveling with a friend and want to listen to the same tunes.
Lastly, let's talk about the fingerprint reader. It's a side-mounted one, dubbed as a power button. It's fast and reliable but we had one small issue with it - there's no option to unlock the phone only when you press the key. There are, however, two ways to unlock the handset - with a light or firm touch of the sensor. The light touch would sometimes try to read your palm or another part of your skin and can result in a temporarily locked screen. Firm touch, on the other hand, isn't exactly what you'd expect. A firmer press won't unlock the display. Instead, you have to actually press the power key, release it and then touch the scanner again to unlock the device. Definitely not ideal.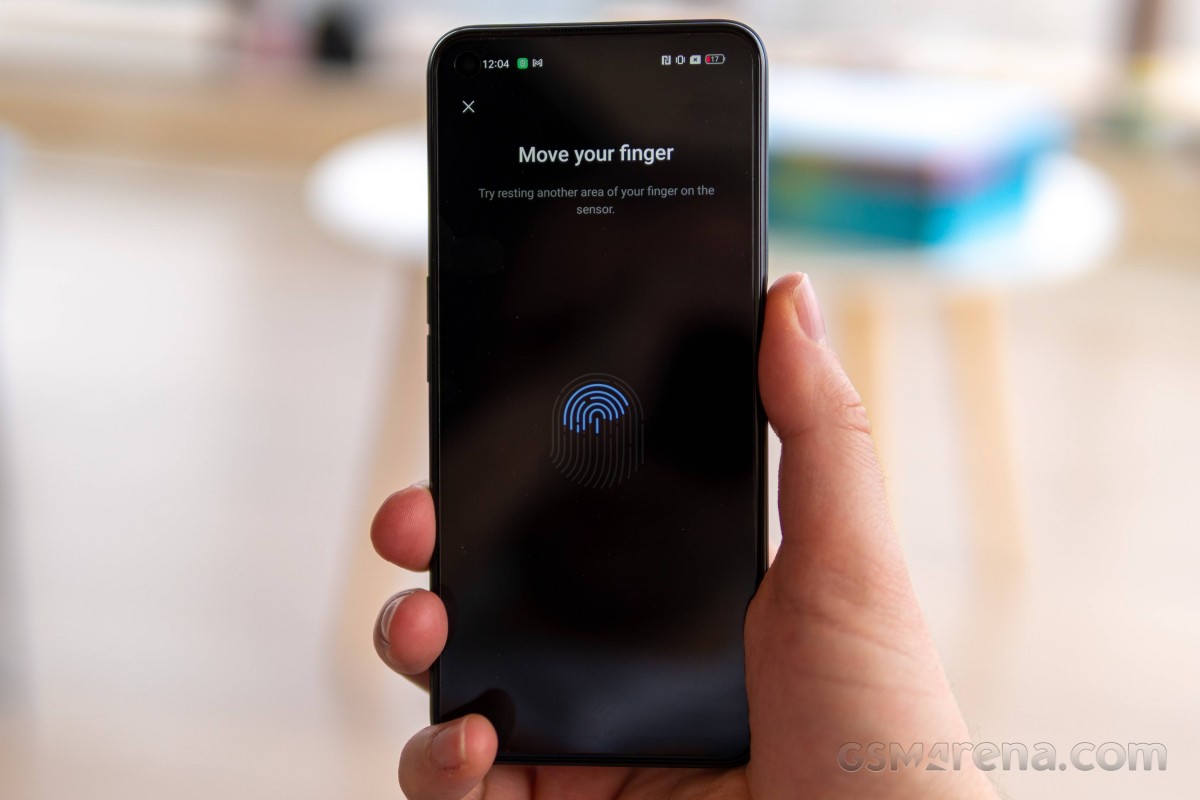 All in all, though, the Realme UI 3.0 looks snappy, offers some new features and looks and feels the same as the previous iteration of the software, for better or worse. It's also highly customizable and that's something a lot of Android users are looking for. Bonus points for that.
Performance
This is the first time we meet the new Snapdragon 695 5G chipset, which is a successor to the Snapdragon 690. Despite the incremental numeric change in the name, the chipset is actually totally revamped. Along with the newer, more powerful CPU cores and GPU, the chip boasts mmWave 5G connectivity and is based on a more modern 6nm manufacturing process by TSMC. This wasn't a thing in the older Snapdragon 690.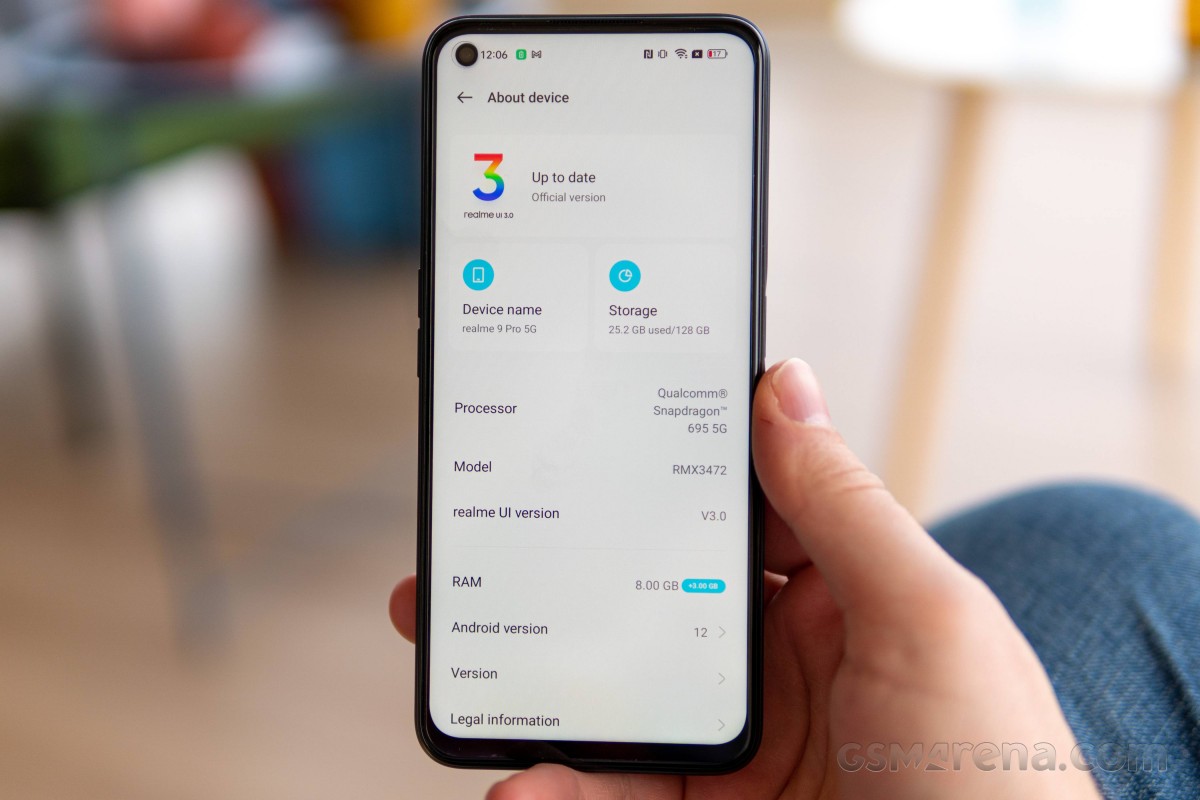 The main two Kryo 560 Gold (Cortex-A77) cores are replaced with Kryo 660 Gold (Cortex-A78) cores clocked at 2.2 GHz while the six energy-efficient Kryo 560 Silver (Cortex-A55) clocked at 1.7 GHz remain the same. There's only a change in the name, now called Kryo 660 Silver. The Adreno 619L GPU has been replaced with a full-fledged Adreno 619. The SD695 now supports faster LPDDR4X memory at 2133 MHz as well.
The whole hardware upgrade is supposed to boost CPU performance by up to 15% and GPU by 30%. We put that to the test in our usual synthetic benchmarks. We've also put it against other competing SoCs available in similarly-priced rivals.
GeekBench 5 (multi-core)
Higher is better
Poco X3 Pro
2574
Realme 9 Pro+
2335
Realme 9 Pro
2020
OnePlus Nord N10 5G
1848
Realme 8s 5G
1842
OnePlus Nord CE 5G
1812
Poco M4 Pro 5G
1797
Realme 8 5G
1784
Xiaomi Redmi Note 10 Pro
1780
Motorola Moto G51 5G
1696
Realme 8 Pro
1678
Samsung Galaxy A32 5G
1673
Samsung Galaxy A32
1277
GeekBench 5 (single-core)
Higher is better
Realme 9 Pro+
814
Poco X3 Pro
735
Realme 9 Pro
694
OnePlus Nord CE 5G
641
Realme 8s 5G
616
OnePlus Nord N10 5G
608
Poco M4 Pro 5G
597
Realme 8 5G
569
Xiaomi Redmi Note 10 Pro
569
Realme 8 Pro
566
Motorola Moto G51 5G
543
Samsung Galaxy A32 5G
505
Samsung Galaxy A32
361
AnTuTu 9
Higher is better
Realme 9 Pro+
416031
Realme 9 Pro
401894
OnePlus Nord CE 5G
391770
Realme 8s 5G
383409
Realme 8 5G
361505
Poco M4 Pro 5G
353663
Motorola Moto G51 5G
302859
Samsung Galaxy A32 5G
222125
GFX Car Chase ES 3.1 (onscreen)
Higher is better
Poco X3 Pro
38
Realme 9 Pro+
27
Motorola Moto G51 5G
15
OnePlus Nord CE 5G
17
Realme 9 Pro
16
Realme 8 Pro
16
Xiaomi Redmi Note 10 Pro
16
Realme 8s 5G
14
Poco M4 Pro 5G
13
Realme 8 5G
13
OnePlus Nord N10 5G
13
Samsung Galaxy A32
8.1
GFX Car Chase ES 3.1 (offscreen 1080p)
Higher is better
Poco X3 Pro
45
Realme 9 Pro+
23
Realme 9 Pro
19
OnePlus Nord CE 5G
19
Xiaomi Redmi Note 10 Pro
19
Realme 8 Pro
18
Motorola Moto G51 5G
16
Poco M4 Pro 5G
16
Realme 8s 5G
16
Realme 8 5G
15
OnePlus Nord N10 5G
14
Samsung Galaxy A32
9.3
GFX Manhattan ES 3.1 (onscreen)
Higher is better
Poco X3 Pro
67
Realme 9 Pro+
41
Realme 8 Pro
31
OnePlus Nord CE 5G
30
Realme 9 Pro
29
Motorola Moto G51 5G
26
Realme 8s 5G
24
Poco M4 Pro 5G
23
OnePlus Nord N10 5G
23
Realme 8 5G
22
Samsung Galaxy A32
13
GFX Manhattan ES 3.1 (offscreen 1080p)
Higher is better
Poco X3 Pro
75
Realme 9 Pro+
45
Realme 9 Pro
35
OnePlus Nord CE 5G
34
Motorola Moto G51 5G
29
Realme 8 Pro
28
Realme 8s 5G
27
Poco M4 Pro 5G
26
OnePlus Nord N10 5G
26
Realme 8 5G
25
Samsung Galaxy A32
15
3DMark SSE Vulkan 1.0 (offscreen 1440p)
Higher is better
Realme 9 Pro
2773
OnePlus Nord CE 5G
2617
Samsung Galaxy A32 5G
2509
Realme 8s 5G
2439
Motorola Moto G51 5G
2290
OnePlus Nord N10 5G
2012
Samsung Galaxy A32
1371
3DMark Wild Life Vulkan 1.1 (offscreen 1440p)
Higher is better
Poco X3 Pro
3401
Realme 9 Pro+
2296
Poco M4 Pro 5G
1232
Realme 8s 5G
1231
Realme 9 Pro
1211
Samsung Galaxy A32 5G
1185
Realme 8 5G
1104
OnePlus Nord CE 5G
1103
Realme 8 Pro
1051
Motorola Moto G51 5G
970
OnePlus Nord N10 5G
811
Samsung Galaxy A32
686
The Snapdragon 695 5G shows great CPU performance in both multi-threaded and single-threaded tasks. It even managed to get ahead of some Snapdragon 700-series and Dimensity 8xx and 7xx rivals with ease. It maintains the lead in combined workloads as well getting closely behind the Dimensity 920-powered Realme 9 Pro+ and the Poco X3 Pro's Snapdragon 860 chip.
In heavy GPU-bound tasks, the SD 695 performs similarly to the Snapdragon 750G and the Snapdragon 480+, which is to be expected given that they all share the same Adreno 619 GPU. And it even takes a modest lead over some of its competitors. The Dimensity 920 on the Pro+ model, though, is still the more powerful solution with its Mali-G68 MC4.
Sustained performance
We ran the standard CPU stress test (as the CPU is the main heat contributor) for 30 minutes straight to see how the handset would fare under prolonged gaming sessions. The Snapdragon 695 5G chip seems to be running relatively cool and the software didn't detect thermal throttling at all, which is great.
The hardware is good enough to run under load without any hiccups and we didn't notice any excessive heat on the exterior as well.
Anonymous
01 Aug 2022
y6V
Its because you dont know how to use a smartphone
But mine didn't run into such brutal problems.
Realme 9 pro 5g is waste of money don't buy it. I am using since 4 months, lot of lagging issues also ott platforms not working properly. Even after multiple complains there is no update. I trusted realm but it's worst.