Realme GT2 review
GSMArena Team, 28 March 2022.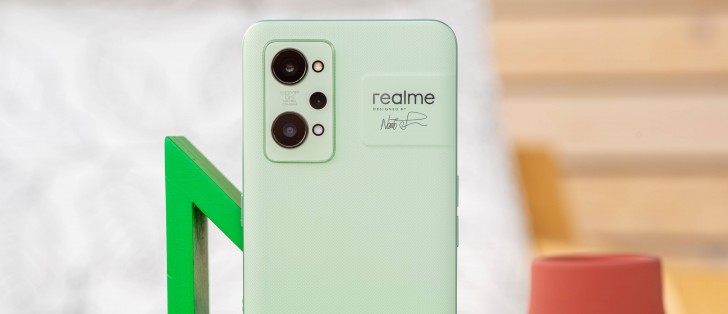 120Hz OLED with an off-centered selfie camera
The regular Realme GT2 skips the LTPO2 panel and instead "settles" for a standard OLED display, which is nothing short of capable, though. It offers a standard 1080 x 2400px resolution similar to the GT2 Pro diagonal of 6.62". Of course, the screen can go up to 120Hz, but since it's no LTPO, it can only do either 60 or 120Hz. More on that later.
The company also claims HDR10+ support, and we found it to work in the native YouTube app, but since the device hasn't been whitelisted by Netflix at the time of writing this review, we can't confirm that it's supported there as well. Going by past releases and the DRM info app, the Widevine L1 digital certificate is present, so there's a big reason to believe that the GT2 will support Netflix's streaming features to the fullest.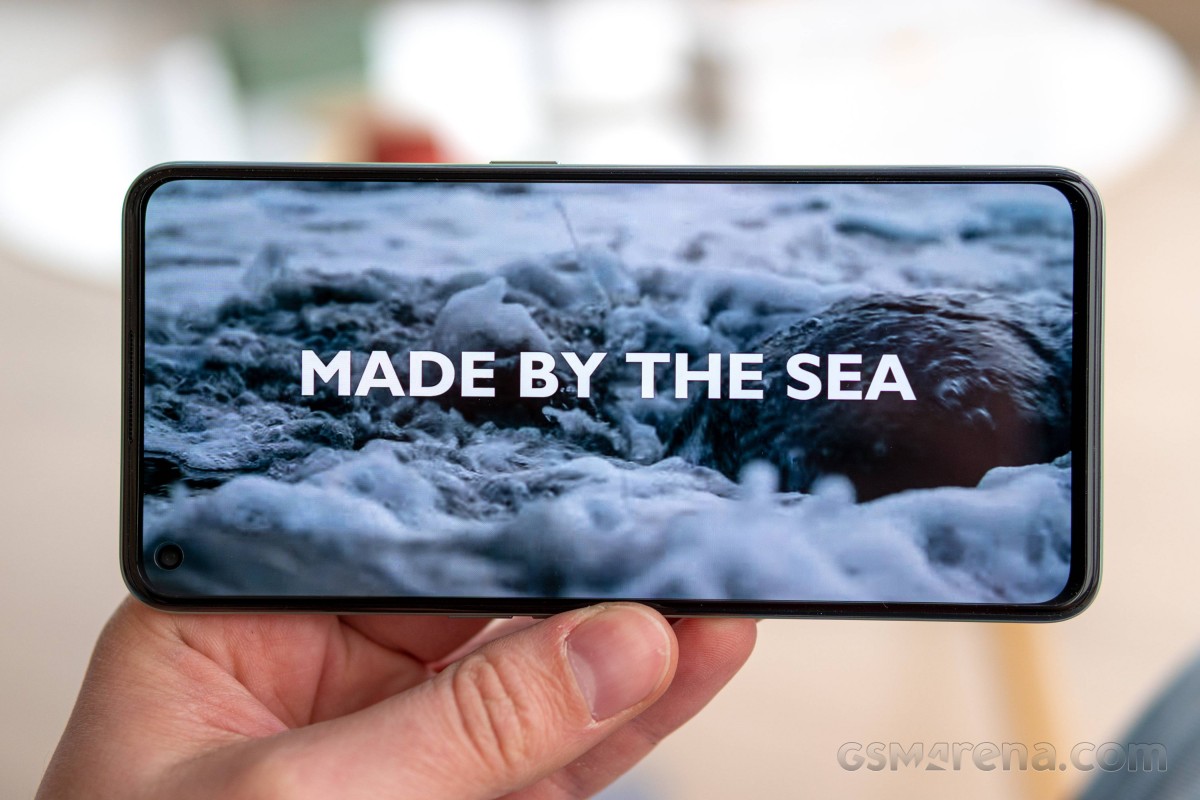 Testing the screen's brightness returned great results. With manual control over brightness, the display can reach 516 nits while in automatic brightness control, the display peaks at 846 nits. That's really close to the Realme GT2 Pro, although it's far from the advertised 1,300 nits of peak brightness. Perhaps at a much lower APL (say, white letters on black background), the screen will be able to get close to that 1,300 nits mark.
Display test
100% brightness
Black,cd/m2
White,cd/m2
Contrast ratio
Realme GT2 Pro
0
482
∞
Realme GT2 Pro (Max Auto)
0
778
∞
Realme GT2
0
517
∞
Realme GT2 (Max Auto)
0
846
∞
Samsung Galaxy S21 FE 5G
0
792
∞
Samsung Galaxy S21 FE 5G (before second slide)
0
385
∞
Xiaomi Mi 11T Pro
0
516
∞
Xiaomi Mi 11T Pro (Max Auto)
0
837
∞
Xiaomi Mi 11T
0
498
∞
Xiaomi Mi 11T (Max Auto)
0
798
∞
Realme GT 5G
0
443
∞
Realme GT 5G (Max Auto)
0
650
∞
OnePlus 9
0
450
∞
OnePlus 9 (Max Auto)
0
821
∞
Samsung Galaxy S22+
0
468
∞
Samsung Galaxy S22+ (Extra brightness)
0
782
∞
Samsung Galaxy S22+ (Max Auto)
0
1214
∞
Xiaomi 12 Pro
0
506
∞
Xiaomi 12 Pro (Max Auto)
0
1050
∞
Xiaomi 12X
0
504
∞
Xiaomi 12X (Max Auto)
0
925
∞
Xiaomi 12
0
494
∞
Xiaomi 12 (Max Auto)
0
896
∞
Anyway, mid-800 nits of brightness are more than enough for comfortable content viewing outdoors, even on a bright sunny day. It's also bright enough to challenge considerably pricier phones. So despite the GT2 not having an LTPO panel, the standard one here is of high quality with no corner-cutting.
Color accuracy is also good as long as you use the Natural color preset. As always, the whites and grays are leaning towards that typical blue-ish hue. The Natural color preset brings the average dE2000 to just 1.3, with whites and grays being really close to natural.
HRR control
Without granular HRR control, Realme says the system can choose between 30, 60, 90 and 120Hz refresh rates, depending on the scenario. The software offers three modes - 60Hz, 120Hz and Auto Select. They are all pretty self-explanatory. Unfortunately, in Auto Select mode, we didn't see 30 or 90Hz at any point. The system will always prioritize 120Hz in almost all apps and in every system menu except when you are watching a full-screen video. In this case, the refresh rate is toned down to 60Hz to save power. We also noticed 60Hz when you bring out the keyboard and start typing. You don't really need more than 60Hz when watching videos on YouTube, Netflix or with the default video player in the Gallery app. If you are not interacting with the display, the software chooses 60Hz.
Sadly, like all Realme's we've tested so far, the GT2 can't go beyond 60Hz even in games we know 60fps+ is supported. So don't expect high refresh rate gaming.
Battery life
The two Realme GT2s share the same battery capacity of 5,000 mAh, but the difference in the OLED panel technology and chipsets should bear different battery results in our tests. Despite the slightly lower overall rating of the GT2 (115h vs. 117h), the screen-on tests, which are arguably the more important aspect of a phone's battery life, are considerably higher on the standard GT2. The video playback is slightly above 22 hours, whereas web browsing go us more than 18 hours. Those are impressive results for a phone running a flagship SoC.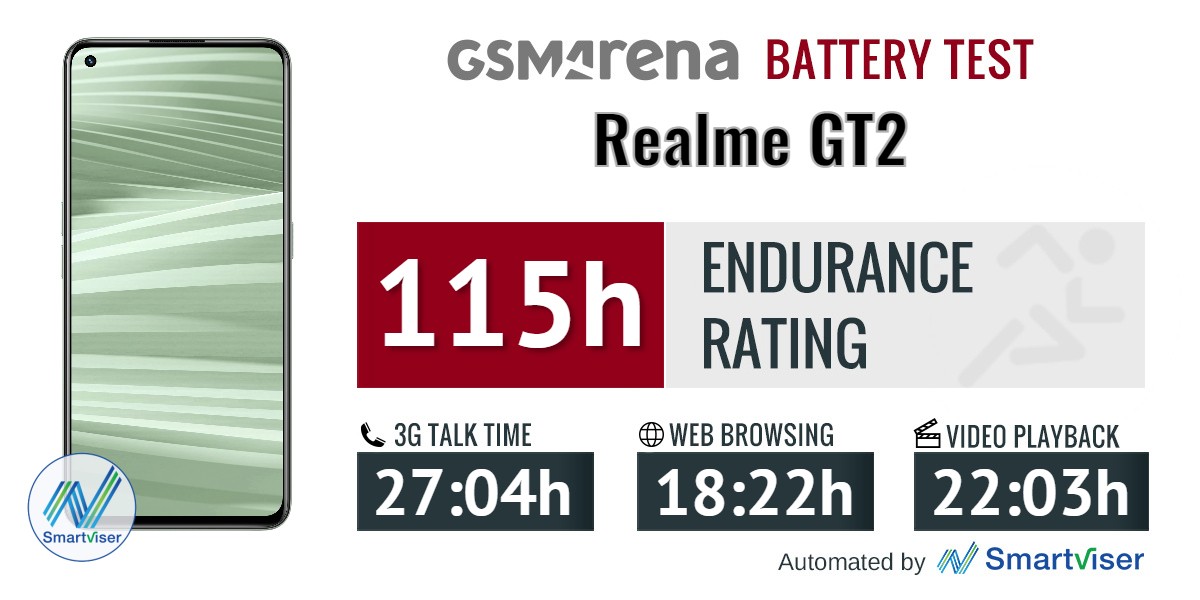 Our battery tests were automated thanks to SmartViser, using its viSerDevice app. The endurance rating denotes how long the battery charge will last you if you use the device for an hour of telephony, web browsing, and video playback daily. More details can be found here.
However, the subpar 3G talk times and the about average standby scores reduce the overall rating to 115 hours. Which, in turn, is still a solid result, especially compared to some of the competing solutions. It's also a significant leap over the previous Realme GT 5G generation.
Video test carried out in 60Hz refresh rate mode. Web browsing test done at the display's highest refresh rate whenever possible. Refer to the respective reviews for specifics. To adjust the endurance rating formula to match your own usage patterns check out our all-time battery test results chart where you can also find all phones we've tested.
Charging speed
The Realme GT2 and the GT2 Pro share the same spec - up to 65W and also use the same 5,000 mAh battery. The advertised charging times are equal - 33 minutes to full charge from a dead battery. Out tests partially confirmed that. It seems that both devices get to 100% in 33 minutes, but about 7 more minutes are needed to reach the "fully charged" status.
30min charging test (from 0%)
Higher is better
Xiaomi 11T Pro
100%
Realme GT2
97%
Realme GT2 Pro
91%
Realme GT 5G (65W)
87%
Xiaomi 11T
86%
Samsung Galaxy S22+ (45W)
64%
Samsung Galaxy S22+ (25W)
62%
Samsung Galaxy S21 FE 5G
51%
Time to full charge (from 0%)
Lower is better
Xiaomi 11T Pro
0:21h
Realme GT 5G (65W)
0:39h
Realme GT2 Pro
0:40h
Realme GT2
0:40h
Xiaomi 11T
0:41h
Samsung Galaxy S22+ (45W)
1:01h
Samsung Galaxy S22+ (25W)
1:02h
Samsung Galaxy S21 FE 5G
1:15h
Interestingly enough, the GT2 and the GT2 Pro have slightly different charging curves. The former, for example, gets to 97% in 30 minutes while the Pro reaches 91% in 30 minutes. It could be due to statistical error, but the final charging times seem to be in line, so it could be something else. There might be temperatures or other hardware factors involved. Either way, those charging times are impressive, and Realme continues to front-run most of its rivals in terms of charging speed.
Speakers
Despite being the cheaper version of the two, the vanilla GT2 doesn't miss on a good pair of stereo loudspeakers. The setup is the usual one - a bottom-firing speaker and one that doubles as an earpiece at the top. As a result, the top speaker isn't as loud as the bottom one and that's to be expected. The overall loudness is almost the same as on the GT2 Pro, -26.8 LUFS, suggesting that Realme used the same speakers. We expected a bit louder speakers, to be honest.
Quality-wise, the setup isn't particularly impressive, although it's more than decent given the price bracket. Vocals are clear, highs are punchy enough, and there's a considerable amount of bass. To our surprise, there's little distortion at higher volumes, which is nice.
Use the Playback controls to listen to the phone sample recordings (best use headphones). We measure the average loudness of the speakers in LUFS. A lower absolute value means a louder sound. A look at the frequency response chart will tell you how far off the ideal "0db" flat line is the reproduction of the bass, treble, and mid frequencies. You can add more phones to compare how they differ. The scores and ratings are not comparable with our older loudspeaker test. Learn more about how we test here.
Anonymous
15 Jul 2023
7kj
buy a professional dslr camera
Does realme gt 2 have face shape change ( thinner or opposite) form front camera because of lack of telephoto?
Johnvoxville
22 Apr 2023
J2x
In my country GT2 8/128 and Poco X5 Pro 8/256 have the same price tag. I don't mind having less storage. Right now I have Samsung A50 6/64 and I'm fine with its storage. I also like its GUI and underscreen fingerprint sensor (I know it'...