Realme GT Explorer Master review
GSMArena Team, 13 Sept 2021.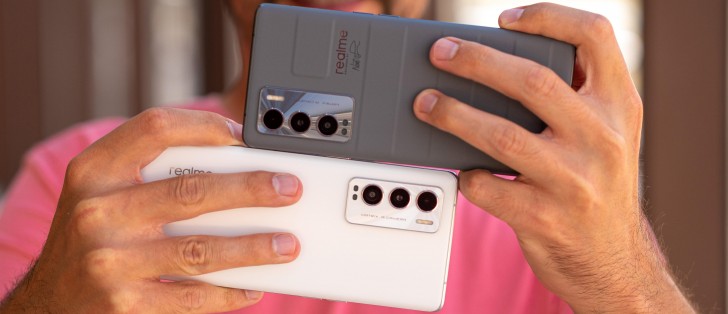 120Hz curved-edge Super AMOLED, plenty bright too
The GT Explorer Master has a 6.55-inch Super AMOLED display with a 1080x2400px resolution in a 20:9 ratio (that's a 402ppi pixel density). The specsheet also list a 120Hz refresh rate capability and HDR10+ support.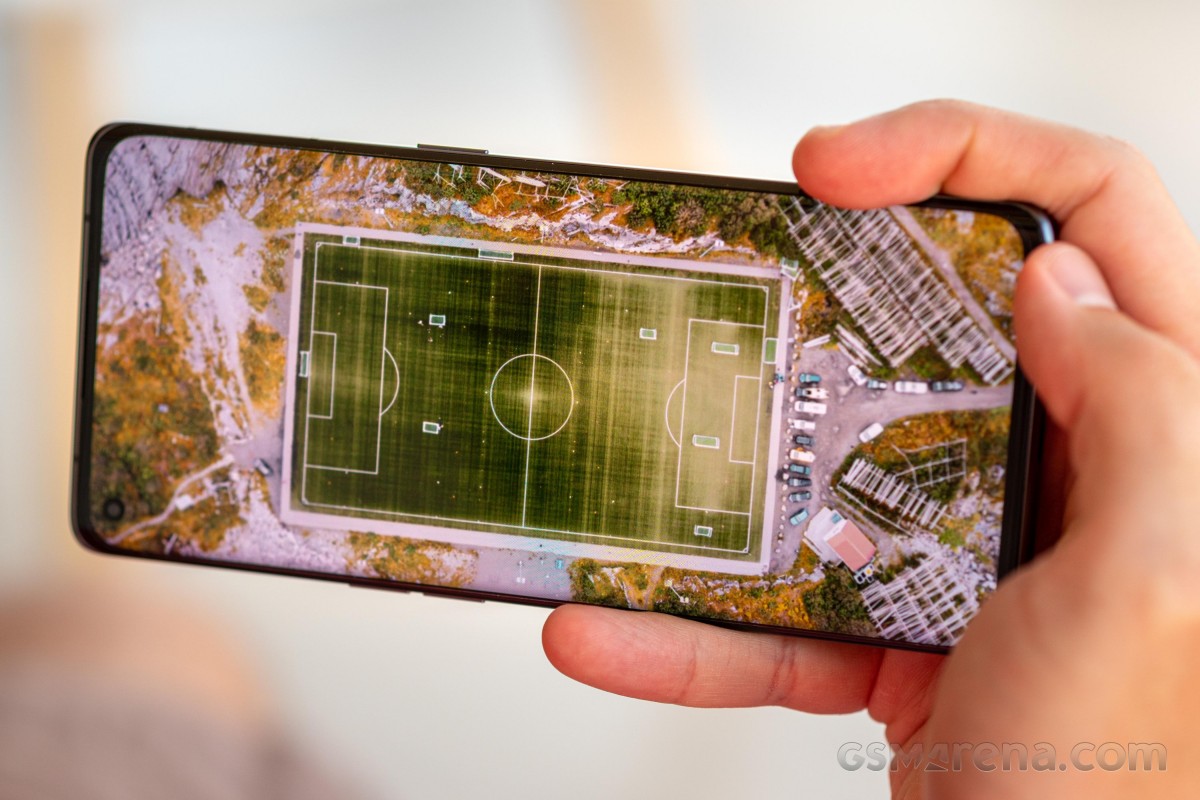 A standout feature sets the GT EM apart from its GT stablemates - its display is curved to the sides. Gently so, but we reckon just enough to bother flat-screen die-hards. They might find other reasons to like it, though.
Specifically, brightness. In our testing, the GT Explorer Master was good for 805nits in adaptive brightness mode under direct light and 504nits when operating the slider manually in less demanding ambient conditions. The Galaxy A52 5G and the Mi 11 Lite 5G are roughly in the same ballpark, but the OnePlus Nord 2 5G isn't quite as bright, and neither is the Moto G100. Then again, the Mi 11i is brighter still.
Display test
100% brightness
Black,cd/m2
White,cd/m2
Contrast ratio
Realme GT Explorer Master
0
504
∞
Realme GT Explorer Master (Max Auto)
0
805
∞
Realme GT 5G
0
443
∞
Realme GT 5G (Max Auto)
0
650
∞
Realme GT Master
0
437
∞
Realme GT Master (Max Auto)
0
634
∞
Motorola Moto G100
0.349
498
1427:1
Motorola Moto G100 (Max Auto)
0.434
613
1412:1
Samsung Galaxy A52 5G
0
378
∞
Samsung Galaxy A52 5G (Max Auto)
0
787
∞
Samsung Galaxy A72
0
396
∞
Samsung Galaxy A72 (Max Auto)
0
825
∞
OnePlus Nord 2 5G
0
438
∞
OnePlus Nord 2 5G (Max Auto)
0
633
∞
Xiaomi Mi 11i
0
514
∞
Xiaomi Mi 11i (Max Auto)
0
939
∞
Xiaomi Mi 11 Lite 5G
0
514
∞
Xiaomi Mi 11 Lite 5G (Max Auto)
0
846
∞
The GT Explorer Master goes about color reproduction in the usual Realme way. Three modes are at your disposal - Vivid, Gentle, and Brilliant, and there's a stepless cool-to-warm temperature slider for further tweaking.
The default Vivid mode shows okay accuracy for our DCI-P3 target swatches (average dE2000 of 3.7), but has a visible cold tint, with the whitepoint some 9 units off-target. We got the most accurate results on average with the temp slider all the way to warm (dE2000 of 3.2), but even then, the whitepoint was off, this time pinkish.
Gentle mode is similarly not quite spot on with sRGB targets and is overly cold in the default state, only to shift to pink as you move the temp slider to the right.
Brilliant mode gives saturation a visible boost over Vivid mode and is a bit less accurate for DCI-P3 content.
Realme lists the GT Explorer Master as HDR10+ compliant. However, our unit, which is very Chinese, only had a Widevine L3 certification for DRM, meaning no HDR in Netflix or Amazon Prime Video, and also a limit of resolution to 480p. That's very likely not going to be the case for the international versions of the phone, which we expect to behave nicely and at least have Widevine L1 and 1080p playback (the HDR support in Netflix and Prime Video is often up to the platforms). Even as it is, our review unit does show HDR streams in YouTube.
The GT Explorer Master has the same settings and behaves identically to the GT Master when it comes to refresh rate handling. There are three modes - Standard, High, and Auto select. Standard locks the phone at 60Hz regardless of content of activity, that's the straightforward part.
In both High and Auto select modes, you'd be getting mostly the same behavior. For the settings menu, the refresh rate will be kept at 120Hz regardless of touch input, while in other spots of the UI, the phone will switch down to 60Hz after a brief period of inactivity, only to shoot back up to 120Hz when you touch it.
You can expect the same behavior in Facebook, Chrome, and the in-house gallery, to name a few. YouTube forces a direct switch to 60Hz, regardless of mode, while Netflix will give you 120Hz for the app UI and 60Hz for video playback in High mode, but 60Hz everywhere in Auto mode.
As has been our previous experience with Realme phones, the GT Explorer Master defaults to 60Hz for games. That was also the behavior with onscreen graphics benchmarks here.
Realme GT Explorer Master battery life
The GT Explorer Master is powered by a 4,500mAh battery, a standard number for the class. That's as much capacity as the GT 5G has, but there, it powered an SD888, while the SD870 here should be a little more frugal.
Indeed, the GT Master Explorer posted better numbers than its sibling. The 21 hours of offline video playback is an excellent result (compare to 16:20h on the GT 5G), and the 16:02h of Wi-Fi web browsing is great as well (13:40h on the GT 5G). You'd also be getting 3 more hours of voice calls on the GT EM (27:49h) than on the GT 5G (24:44h).
The Realme GT Explorer Master ultimately gets an Endurance rating of 117h, and that's a class-leading result.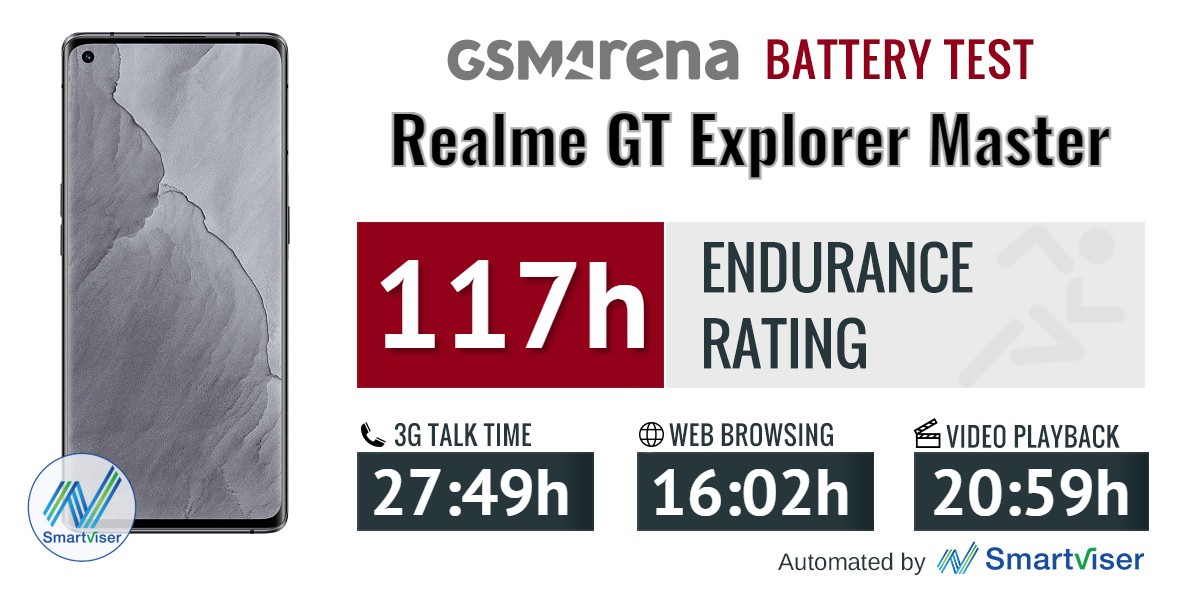 Our battery tests were automated thanks to SmartViser, using its viSerDevice app. The endurance rating denotes how long the battery charge will last you if you use the device for an hour of telephony, web browsing, and video playback daily. More details can be found here.
Video test carried out in 60Hz refresh rate mode. Web browsing test done at the display's highest refresh rate whenever possible. Refer to the respective reviews for specifics. To adjust the endurance rating formula to match your own usage - check out our all-time battery test results chart.
Charging speed
The GT Explorer Master comes with a 65W SuperDart adapter, Realme's most powerful commercial-grade unit. The company says the phone should charge from zero to 100% in 33 minutes, and we got there in precisely 33 minutes. It does take a few additional minutes on top of that for the phone to display a 'Charged' message.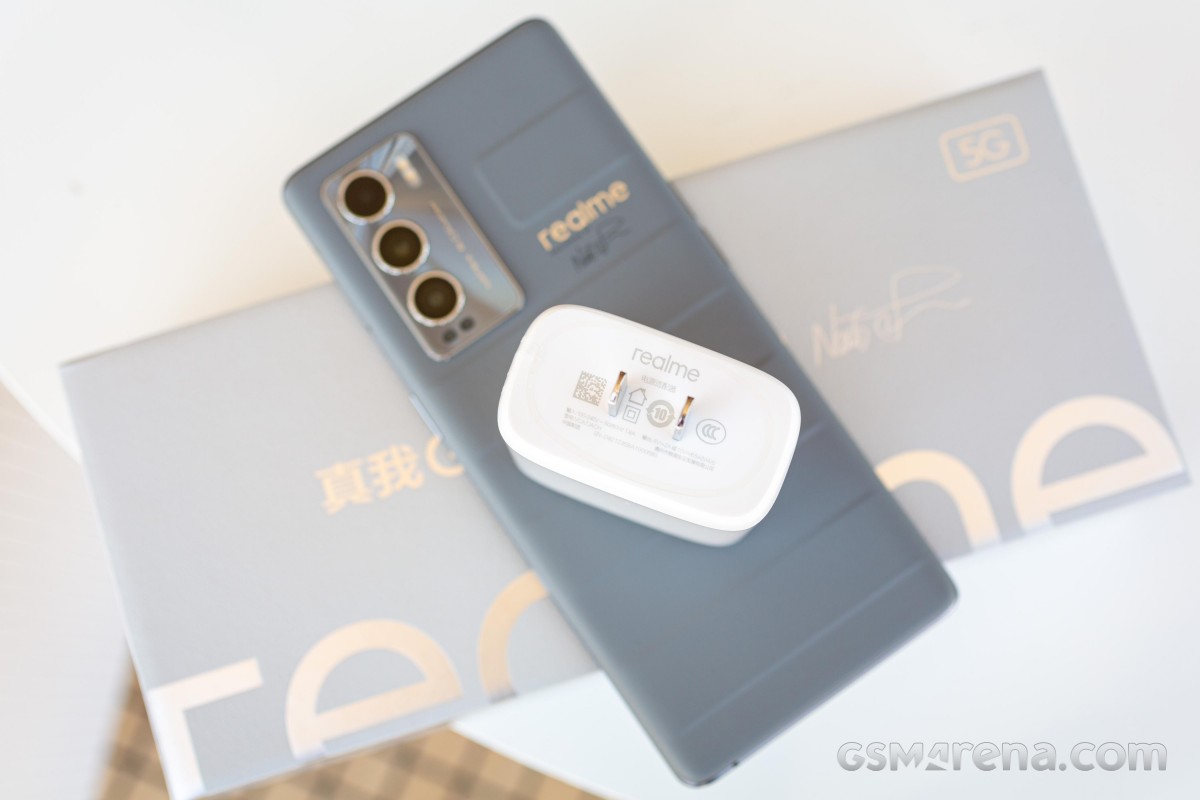 30min charging test (from 0%)
Higher is better
Realme GT Master
100%
OnePlus Nord 2
98%
Realme GT Explorer Master
96%
Realme GT 5G (65W)
87%
Poco X3 GT
75%
OnePlus Nord CE 5G
67%
vivo V21 5G
64%
Xiaomi Mi 11 Lite 5G
58%
Motorola Moto G100
37%
Samsung Galaxy A52 5G
34%
Sony Xperia 10 III (Sony 30W PD)
28%
Time to full charge (from 0%)
Lower is better
Realme GT Master
0:30h
OnePlus Nord 2
0:31h
Realme GT Explorer Master
0:33h
Realme GT 5G (65W)
0:39h
Poco X3 GT
0:48h
OnePlus Nord CE 5G
1:03h
Xiaomi Mi 11 Lite 5G
1:04h
vivo V21 5G
1:05h
Samsung Galaxy A52 5G
1:39h
Motorola Moto G100
1:54h
Sony Xperia 10 III (Sony 30W PD)
2:30h
Speaker test
The GT Explorer Master adopts a fairly standard approach to reproducing stereo - there's a down-firing speaker on the bottom, while the earpiece also serves as another speaker. In landscape, the phone will respect the orientation and feed the correct channel to the correct driver, while in portrait, the earpiece is the left channel.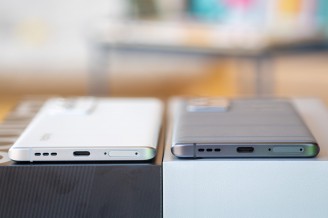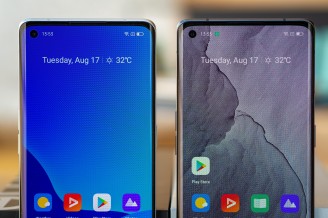 Bottom speaker (the three slots to the left) • Earpiece is left channel when in portrait orientation
When it comes to loudness, the GT Master Explorer placed in the 'Very Good' category in our test, same as the GT 5G, and notably better than the Master non-Explorer. The OnePlus Nord 2 5G is still a bit louder, but the Galaxy A52 5G and the Moto G100 are quieter than the Realme, to a varying degree.
Use the Playback controls to listen to the phone sample recordings (best use headphones). We measure the average loudness of the speakers in LUFS. A lower absolute value means a louder sound. A look at the frequency response chart will tell you how far off the ideal "0db" flat line is the reproduction of the bass, treble, and mid frequencies. You can add more phones to compare how they differ. The scores and ratings are not comparable with our older loudspeaker test. Learn more about how we test here.
No Screen Translate tool option in the smart sidebar because it's Chinese Version. And No 3 finger translate either because you'll need a Global ROM with Google Lens. Maybe it will be released Globally but I highly doubt it.
Does the Realme GT Explorer Master have screen translate tool in the sidebar?