Realme GT Neo3 150W review
GSMArena Team, 31 May 2022.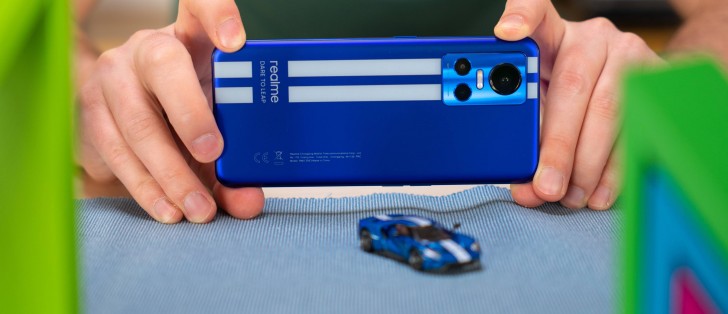 120Hz OLED with centered cutout
Although the name of the phone suggests more budget-oriented hardware, Realme didn't cut corners with the display. Quite the opposite, actually. Even by just looking at the specs, one could say it's flagship-grade. It has an FHD+ resolution (1080 x 2412px), runs on a 120Hz refresh rate, supports the HDR10+ standard and has 10-bit color depth. We tested the Netflix and YouTube apps, and HDR10 works in both apps.
The only thing missing here is granular refresh rate control. Тhis remains exclusive to higher-tier phones with LTPO OLED screens. Now off to some testing.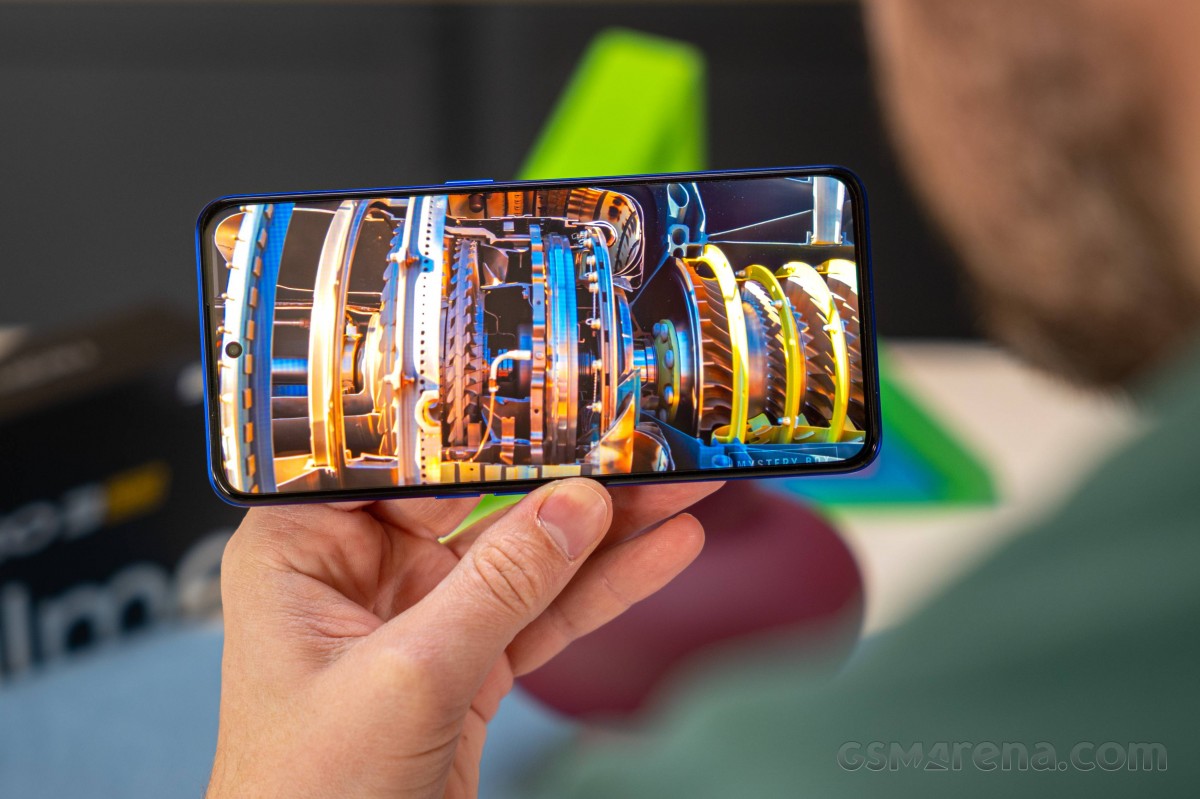 We got up to 466 nits in manual mode, while in Auto mode, the display reached the respectable 796 nits at 75% APL. That's an excellent result, and the brightness itself is enough to provide a comfortable viewing experience outdoors. It's pretty close to its other GT siblings as well.
Display test
100% brightness
Black,cd/m2
White,cd/m2
Contrast ratio
Realme GT Neo3 (Max Auto)
0
796
∞
Realme GT Neo3
0
466
∞
Realme GT Neo2 (Max Auto)
0
659
∞
Realme GT Neo2
0
498
∞
Realme GT2 Pro
0
482
∞
Realme GT2 Pro (Max Auto)
0
778
∞
Realme GT2
0
517
∞
Realme GT2 (Max Auto)
0
846
∞
Samsung Galaxy S21 FE 5G
0
792
∞
Samsung Galaxy S21 FE 5G (before second slide)
0
385
∞
Xiaomi Mi 11T Pro
0
516
∞
Xiaomi Mi 11T Pro (Max Auto)
0
837
∞
Samsung Galaxy A53 5G
0
427
∞
Samsung Galaxy A53 5G (Max Auto)
0
830
∞
Xiaomi 12X
0
504
∞
Xiaomi 12X (Max Auto)
0
925
∞
Samsung Galaxy S22+
0
468
∞
Samsung Galaxy S22+ (Extra brightness)
0
782
∞
Samsung Galaxy S22+ (Max Auto)
0
1214
∞
Color accuracy is almost impeccable, as long as you opt for the Natural or Pro mode. The former provides impressively low deviation with dE2000 measured at about 1.3 against the sRGB color space, while the Pro mode gets you to 1.4 against the DCI-P3 color space. The best part is that the whites and grays lack the blue-ish tint most other displays have. Oppo seems to have put extra effort in this department, as all three GTs we tested so far have superior color accuracy.
HRR control
The display's refresh rate behavior and logic seem to be identical to the GT2. We've observed just two states - 120Hz and 60Hz in the so-called Auto Select mode. If you are not interacting with the display, it tones down to 60Hz, and so does when you run a full-screen video using the Gallery app, Netflix and YouTube. The rest of the apps and system menus saturate the full 120Hz.
Unfortunately, HRR gaming isn't possible here since most games we tried are locked at 60Hz.
Battery life
As we already mentioned, the GT Neo3 comes in two versions - the standard 80W one carries a 5,000 mAh cell, while the 150W iteration we are currently reviewing trades 500 mAh of its capacity for the high-speed charging. But despite the slightly lower-than-average capacity, the GT Neo3's overall battery life is about what you'd expect from a bigger cell. Or maybe slightly above average if we look at its direct competitors.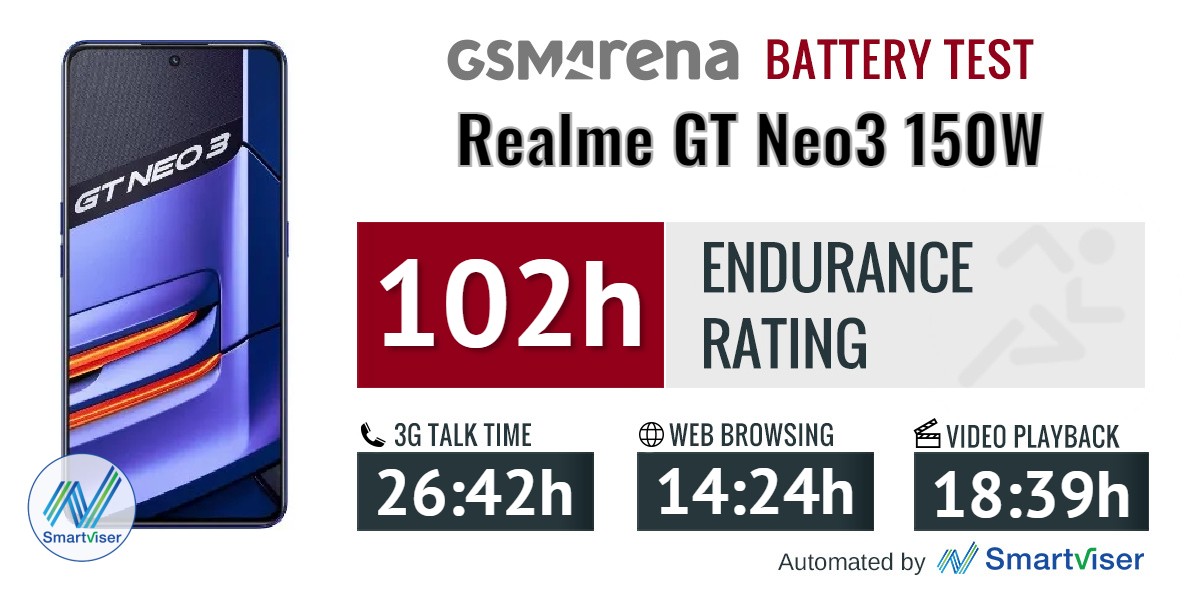 Our battery tests were automated thanks to SmartViser, using its viSerDevice app. The endurance rating denotes how long the battery charge will last you if you use the device for an hour of telephony, web browsing, and video playback daily. More details can be found here.
The rest of the Realme GTs in the family did pretty well in our standby and 3G talk time tests, but the GT Neo3 fell a bit short. The screen-on endurance scores turned out to be pretty good, though, which is arguably more important.
Video test carried out in 60Hz refresh rate mode. Web browsing test done at the display's highest refresh rate whenever possible. Refer to the respective reviews for specifics. To adjust the endurance rating formula to match your own usage patterns check out our all-time battery test results chart where you can also find all phones we've tested.
As you can see, most phones in the same price range are pretty close to each other, with the vanilla GT2 coming out on top mostly because of its good screen-off battery test results.
Charging speed
The 150W edition of the handset comes with the appropriate 160W brick, which is pretty impressive on its own. It's rated at 160W, and it sure is hefty but not all that bulky. We've seen way bigger chargers going up to 120 or 135W. This one is quite compact for its capabilities.
Another interesting fact is that the protocol seems to work over a USB-C to USB-C cable, and the charger itself can do Power Delivery 3.0 up to 45W, which might come in handy when charging other devices. We also measured the actual output of the charger, and it didn't go above 130W. This is normal as 160W is the actual max rating of the charger.
This implementation is arguably the fastest charging setup to come our way. A full charge from 0% took only a 16 minutes. That's faster than Xiaomi's 120W charging and way faster than the recently introduced 80W charging by Oppo/Realme/OnePlus.
30min charging test (from 0%)
Higher is better
Realme GT Neo3 150W
100%
Xiaomi 12 Pro (120W)
100%
Xiaomi 11T Pro
100%
Realme GT Neo2
97%
Realme GT2
97%
Realme GT2 Pro
91%
Oppo Find X5 Pro
91%
Xiaomi 12X
78%
Samsung Galaxy S21 FE 5G
51%
Samsung Galaxy A53 5G
45%
Time to full charge (from 0%)
Lower is better
Realme GT Neo3 150W
0:16h
Xiaomi 12 Pro (120W)
0:21h
Xiaomi 11T Pro
0:21h
Realme GT Neo2
0:32h
Realme GT2
0:40h
Realme GT2 Pro
0:40h
Oppo Find X5 Pro
0:40h
Xiaomi 12X
0:48h
Samsung Galaxy S21 FE 5G
1:15h
Samsung Galaxy A53 5G
1:24h
We won't blame you if 150W fast charging sounds a bit scary. It does sound like a bit of an overkill. However, Realme wants to make sure you don't have unpleasant accidents. That's why the charging system allegedly has 38 layers of built-in safety protection, TÜV Rheinland certification, a smart and instant disconnection feature if something goes wrong, and a dual FPC connector. Realme also promises 80% battery health retention after 1600 charging cycles, which sounds quite impressive.
Speakers
The device runs a stereo speaker setup, with the left one doubling as an earpiece while the right one is a full-fledged loudspeaker. Of course, this sort of implementation is a bit unbalanced as the left speaker is a little quieter. And even though the overall loudness of -27.1 LUFS is pretty close to the Realme GT2's, the playback quality differs between the two.
The GT Neo3's bass is a tad more pronounced, and the tracks sound overall fuller. The mids, especially the vocals, can get a bit muffled from the base, though, and the speakers start to ring at higher volumes. Still, the quality is rather decent.
Use the Playback controls to listen to the phone sample recordings (best use headphones). We measure the average loudness of the speakers in LUFS. A lower absolute value means a louder sound. A look at the frequency response chart will tell you how far off the ideal "0db" flat line is the reproduction of the bass, treble, and mid frequencies. You can add more phones to compare how they differ. The scores and ratings are not comparable with our older loudspeaker test. Learn more about how we test here
Hey guys, I don't care much about the 150 watts version charging faster other than it having a massive 12gb ram instead of 80w variant having only 8gb ram. Is the 12gb 150w version way faster than the 8gb model? Is the 500mah difference (5000...
Bro, i have redmi k20 pro with snapdragon 855+. And it works smoothly even after three years.
Does Realme GT Neo 3 150W support vowifi? 5G also no issue in Malaysia right?