Realme Narzo 30 Pro 5G hands-on review
GSMArena Team, 30 March 2021.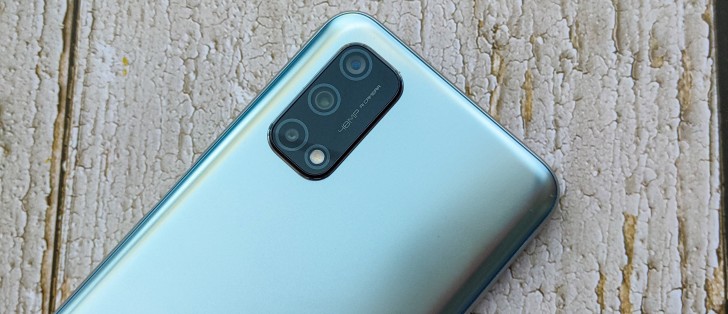 Design and build
Given the resemblance of the Narzo 30 Pro 5G to the Realme 7 5G, it's understandable that both devices would feel identical in hand. The only visual difference is how the back panel is designed. While the Realme 7 5G adopts the rather recognizable matte strip combined with a slightly glossier finish, the Narzo gets a clean-looking design.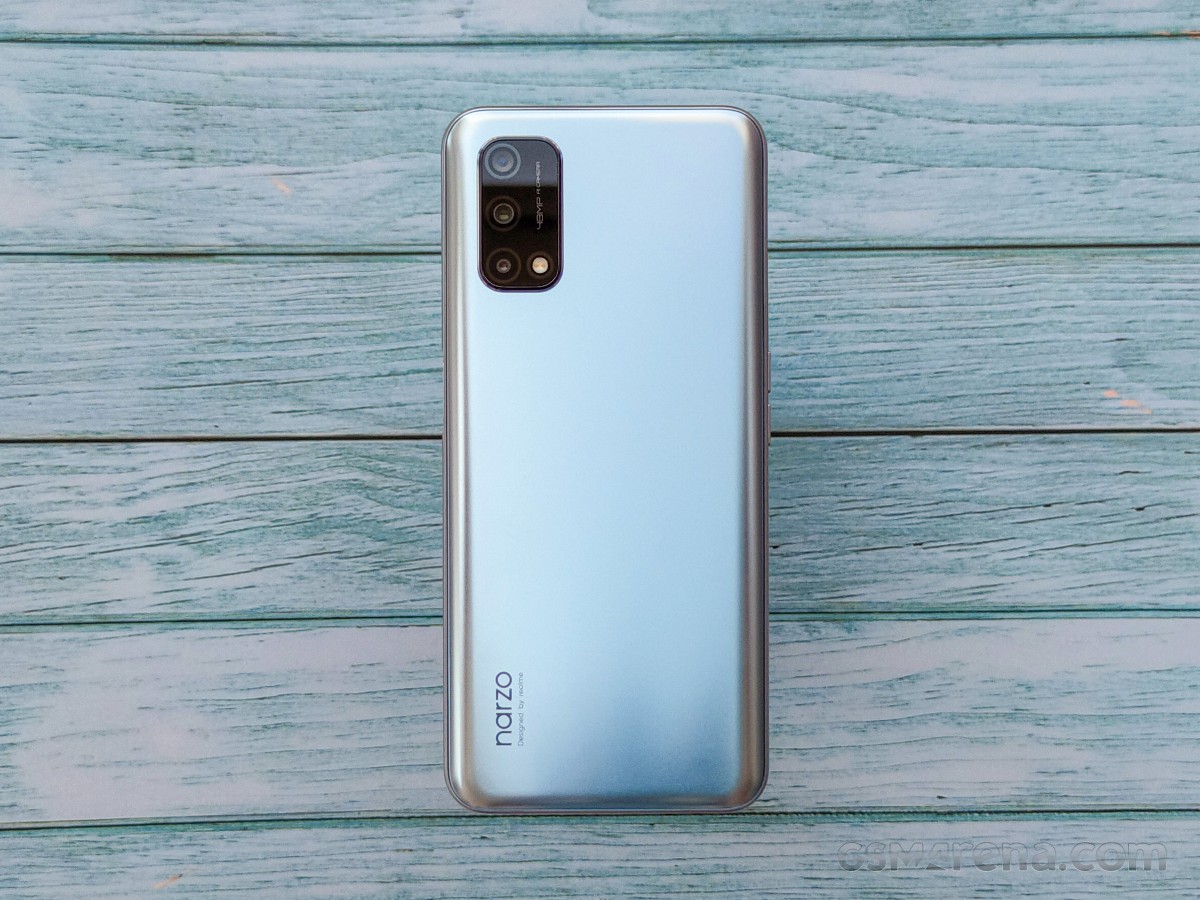 The back panel is still made of plastic, but the silky-smooth finish makes it feel more premium than it actually is. Of course, this finish can't go without the usual smudges all-around, but they are easy to come off. It's also understandably slippery, yet it's not uncomfortable to hold. The matte-finish of the side frame matches the back design perfectly and provides some extra grip.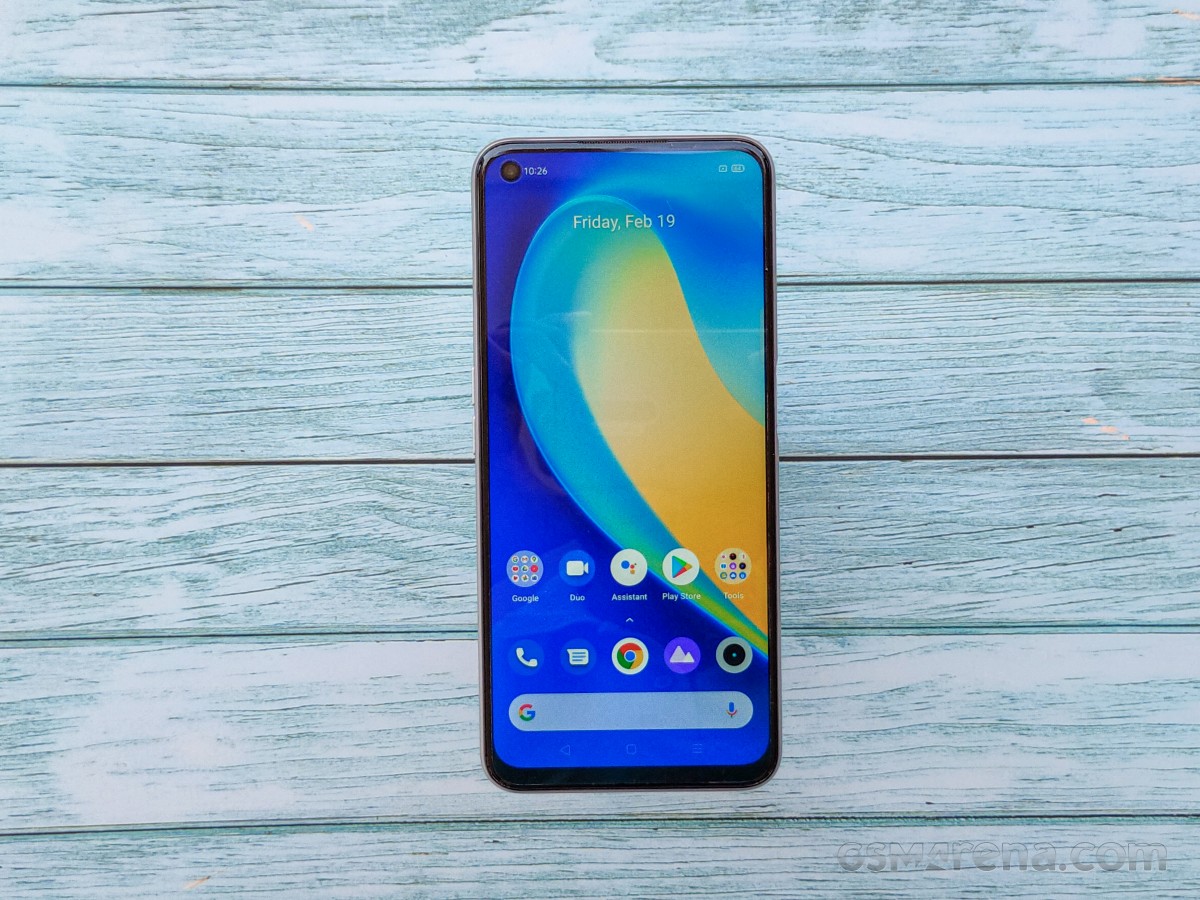 In case you are wondering, we got the Blade Silver color, but we guess the other color Sword Black may hide fingerprint smudges better.
The camera protrusion is just enough to cause the phone to wobble on a flat surface, but it's not enough to make it look or feel bad in any way. To be honest, we found the front-facing camera's punch-hole to be more distracting - it's pretty big. On the other hand, this is the standard these days, not only with Realme's design.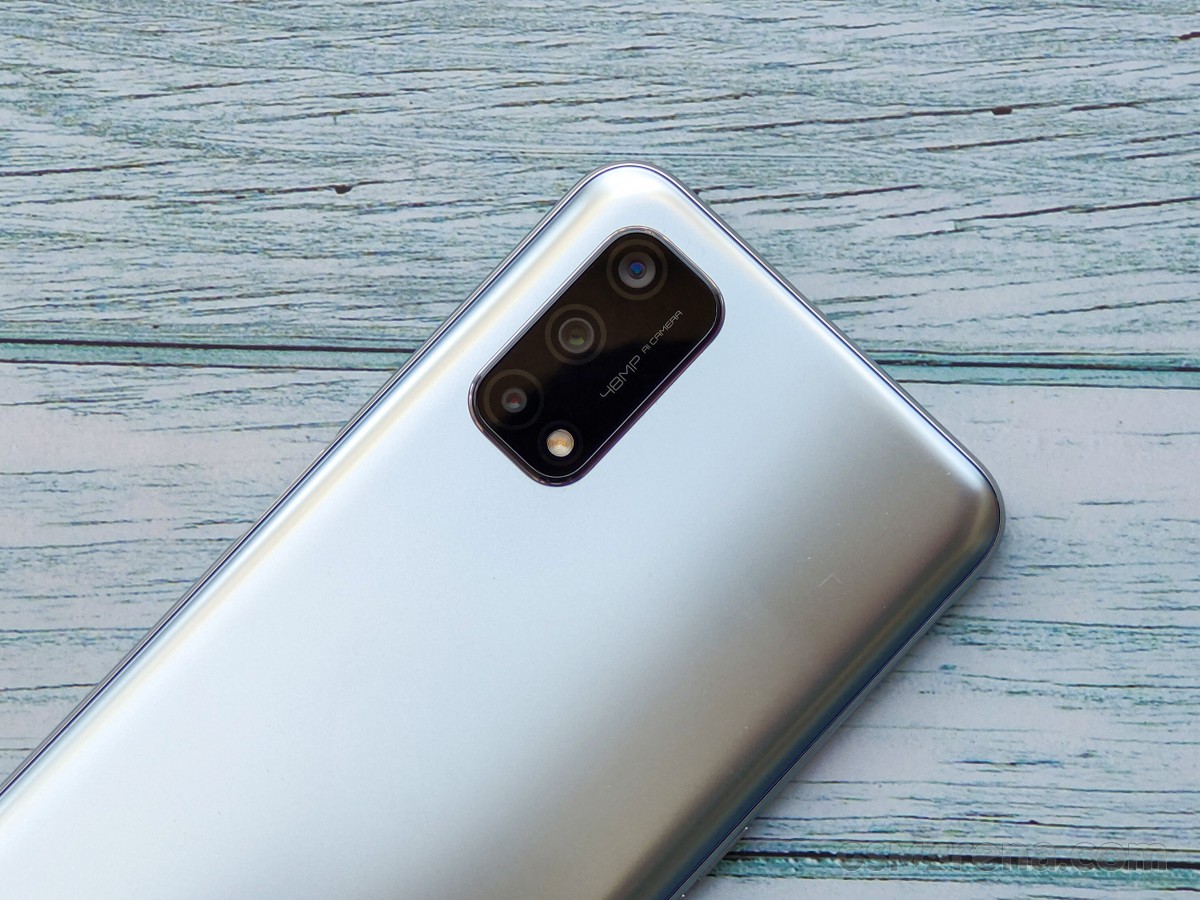 Off to a more positive note, the buttons on the side feel nice and clicky but, more importantly, well-positioned. The power button that doubles as a fingerprint reader has its own indentation and works just as fine in our experience. We can't say that we had many misreadings, and it also feels super snappy.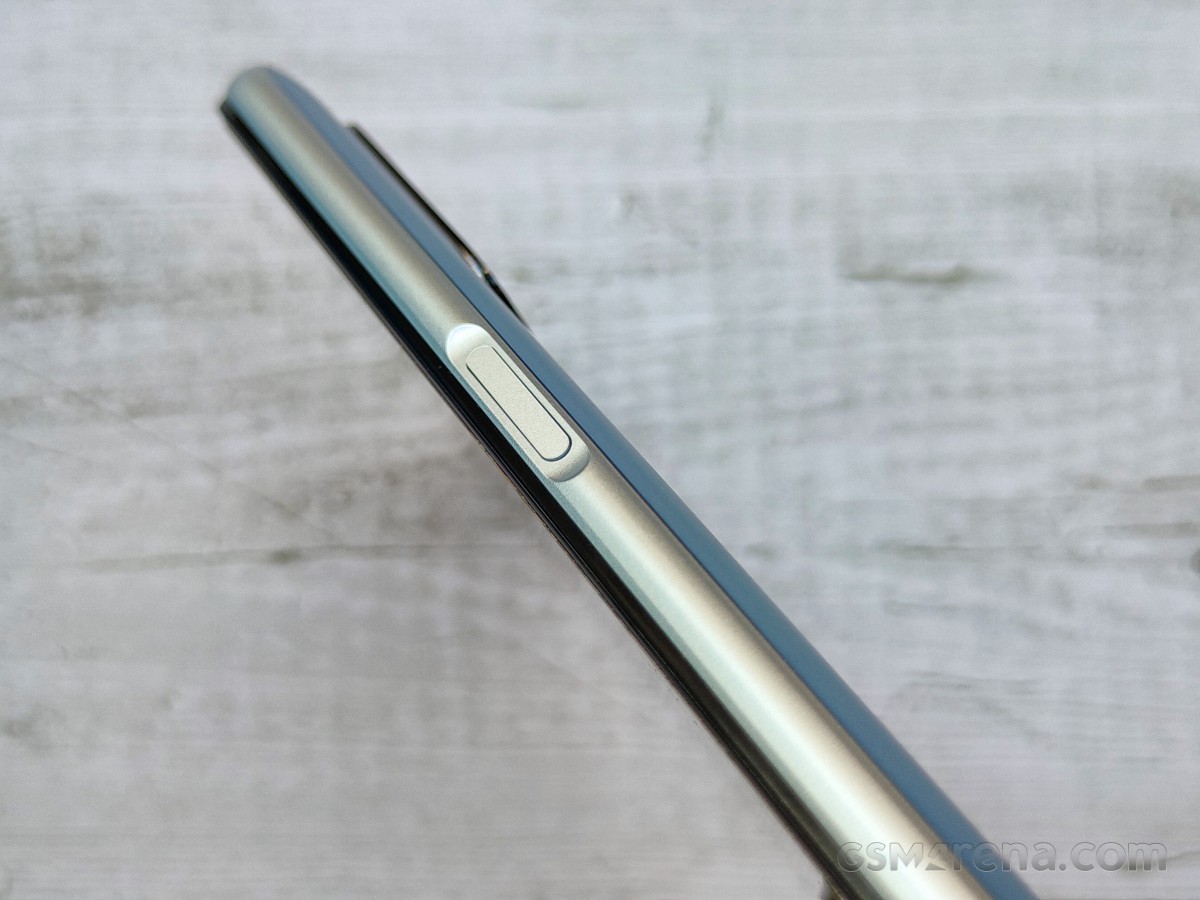 All in all, the Narzo 30 Pro 5G is a well-built device with no apparent drawbacks. It's on par with the competition, and even though it's marketed as a gaming device, there's nothing about the design that would discourage someone looking for a fine midranger to buy it. And there's nothing special to the design too.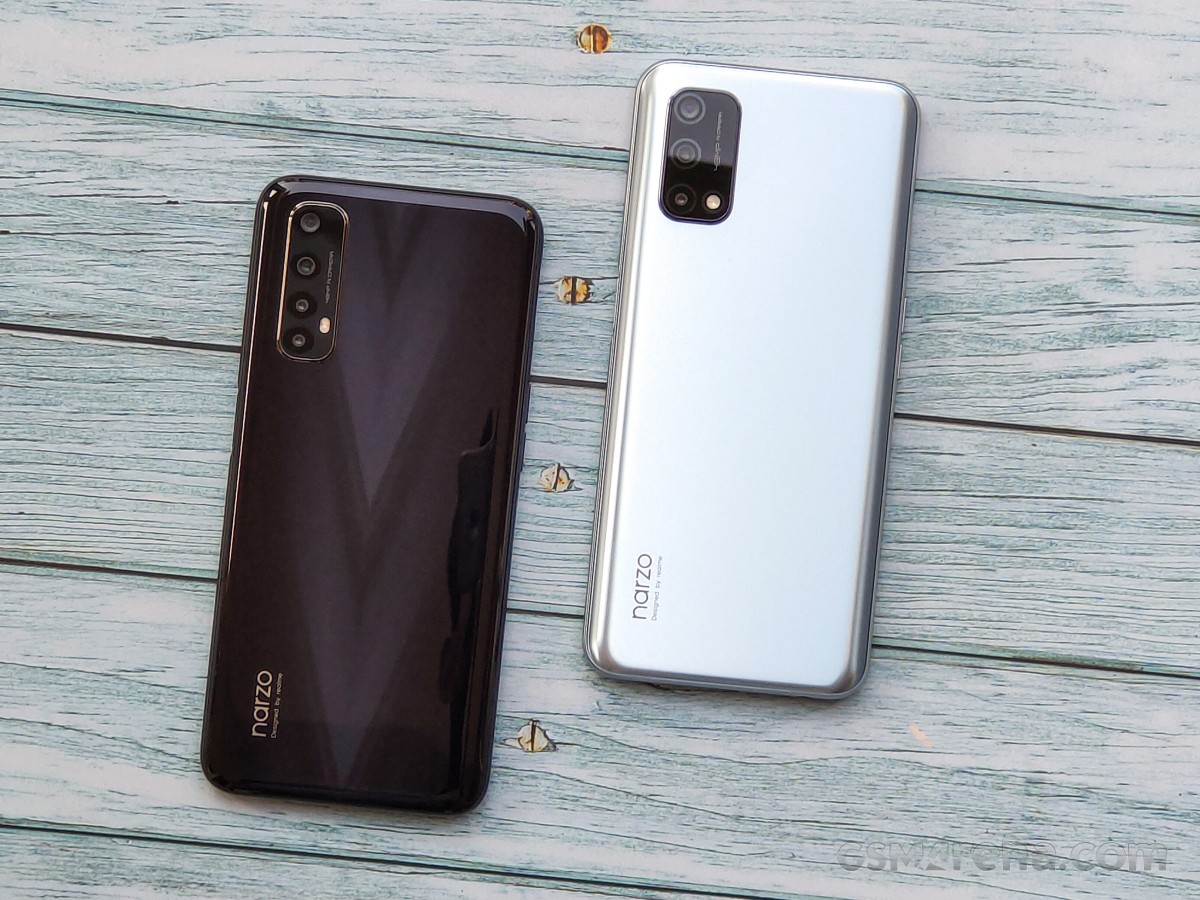 Narzo 20 Pro and Narzo 30 Pro 5G
Hardware overview
As we already said in the beginning, there's little to no difference between the Realme Narzo 30 Pro 5G and the Realme 7 5G. The same Dimensity 800U chipset powers up the two devices, and the same 6.5-inch, 120Hz IPS LCD panel sits on the front. We will talk about the SoC later, so for now, let's see how the HRR is handled.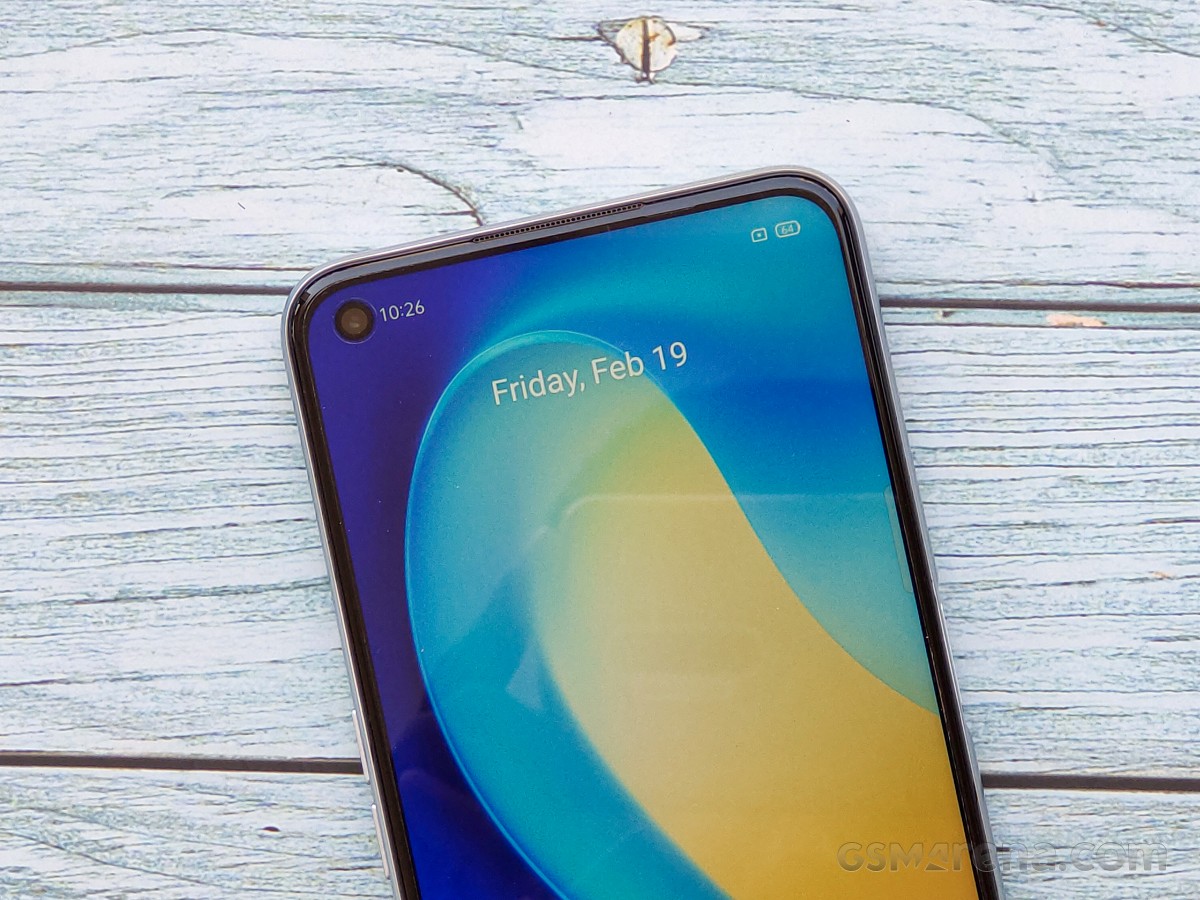 The software provides three modes - Auto, 60Hz and 120Hz. All three are pretty self-explanatory, but we dug a little deeper into the Auto mode and checked the refresh rate management in commonly used apps and menus. And as it turns out, most of the apps and menus run at 90fps. Only a handful of apps were capped at 60fps (like Chrome, YouTube when playing a video on full screen and the default video player). And at no point did we see the display hit 120Hz. So if you want the most fluid experience, we suggest sticking to the 120Hz mode. There's some smart switching with the 120Hz mode, too - a static screen will default down to 60Hz as well as video players. Oh, and Chrome works in 120fps.
Sharing the same panel means that we have some hard data on how bright the Narzo 30 Pro 5G can get, and that's a little over 480 nits in manual and about 570 nits in auto mode. We believe that these numbers apply to both phones. Which in turn means that it should be sufficiently bright on a sunny day outside.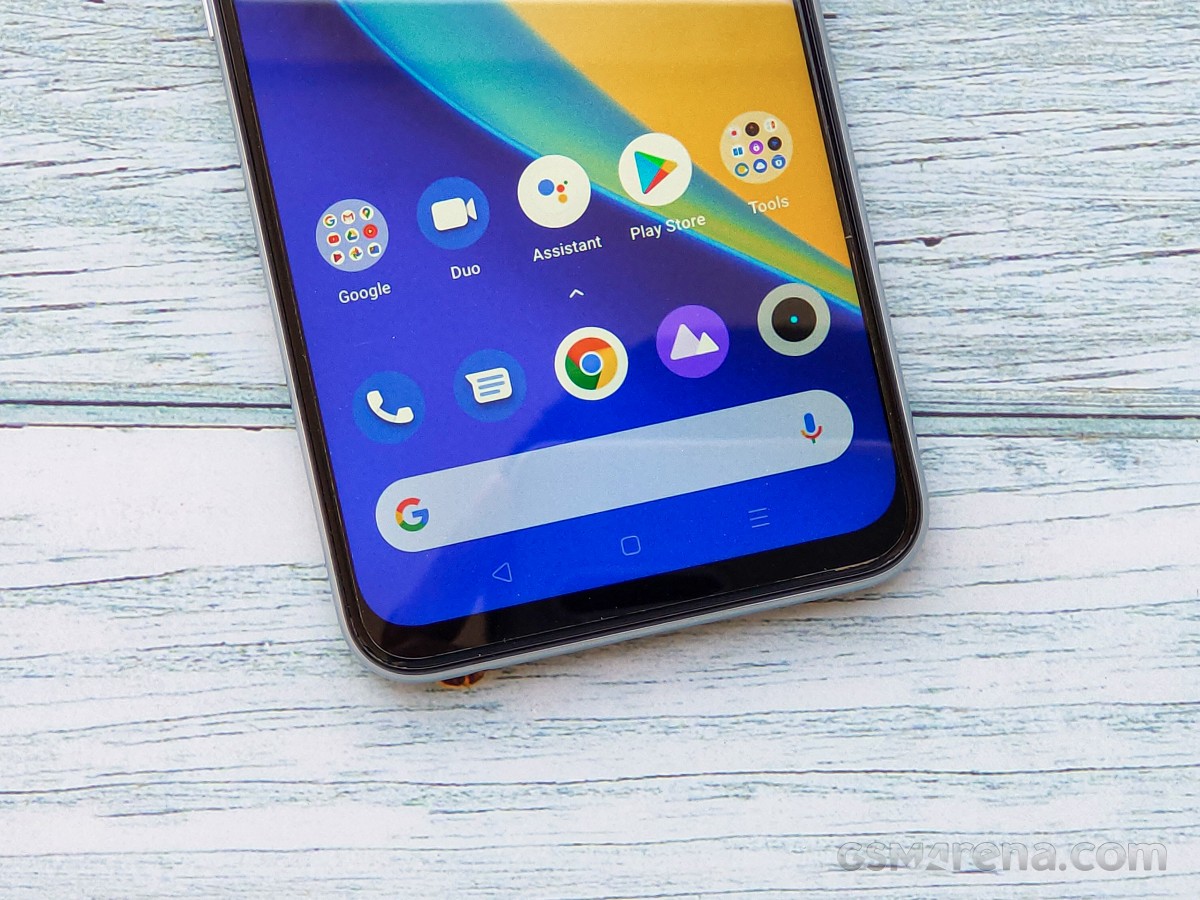 To our surprise, the Narzo 30 Pro 5G starts at 6GB/64GB instead of the base 128GB storage the Realme 7 5G offers. The same, relatively UFS 2.1 storage has been used, though.
The overall camera experience should be identical, too, as it only misses the depth sensor, which has questionable usability to begin with. The main camera uses the popular 48MP, 1/2.0", 0.8µm sensor bundled with an f/1.8 aperture. The standard for this class 8MP f/2.3 ultrawide camera is also at hand. The 2MP macro camera also remains along with the 16MP f/2.1 front-facing unit.
Battery capacity is still at 5,000mAh, and even though the 30W fast charging has been retained, the previous generation Narzo 20 Pro had a 65W charging support with a smaller 4,500 mAh battery. Realme is known to drastically changing or even downgrading the specs of its newer generation of phones. Realme explained that due to the changing dynamics of the market, some features are left out in favor of others each year.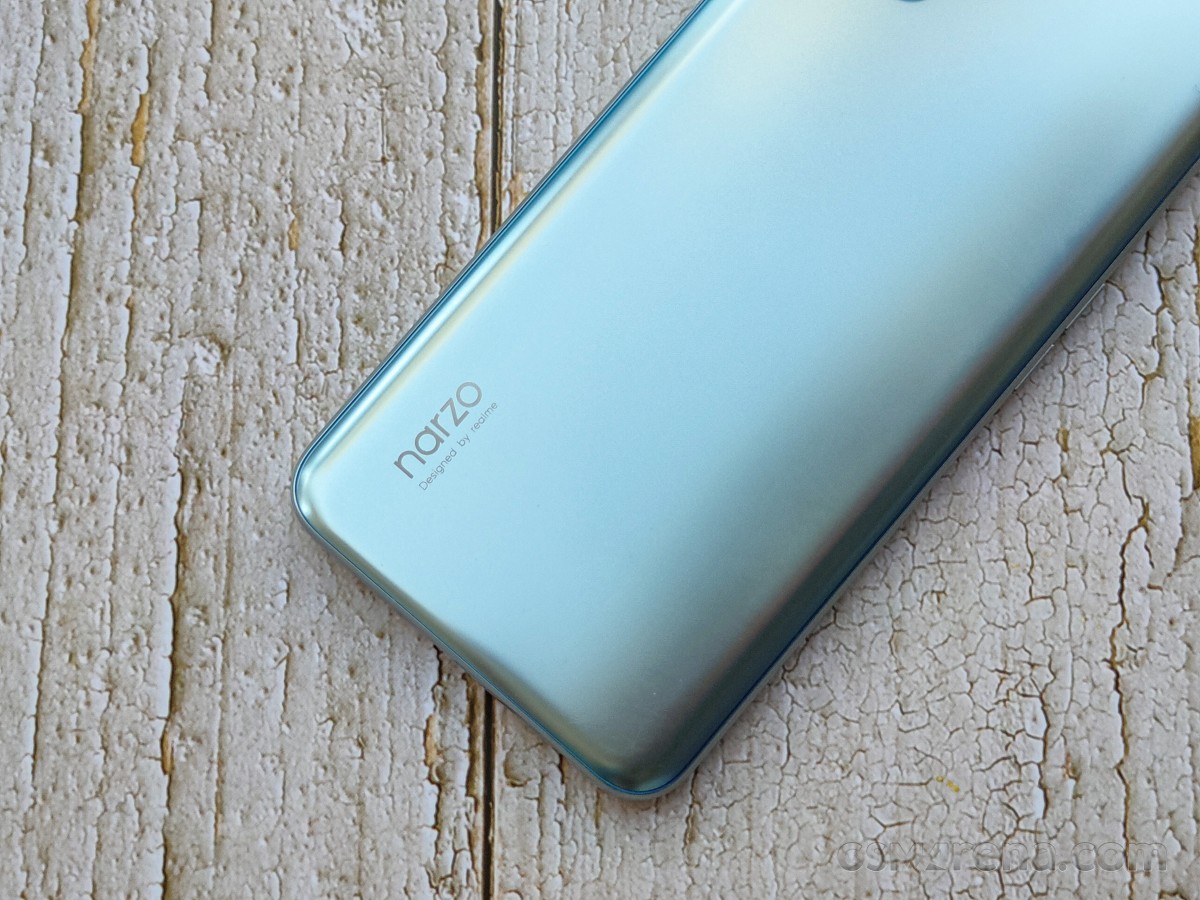 A quick test of the charging speed returned a slightly different score than the Realme 7 5G. The Narzo 30 Pro 5G was able to fill its battery from flat to 100% in about 75 minutes, while the 7 5G got there within the advertised 65 minutes.
Still wondering how the Narzo 30 Pro 5G performs in a certain aspect? Head over to our Realme 7 5G review where the tests we ran will most probably apply to the Narzo 30 Pro 5G as well.
Performance
We have a pretty good idea of how the MediaTek Dimensity 800U performs, and it's indeed a fast chipset. Our only complaint would be the rather underwhelming Mali-G57 MC3 GPU performance, but when it comes to computational performance, it's a beast. It has an octa-core CPU that consists of two Cortex-A76 cores clocked at 2.4 GHz and six more Cortex-A55 cores ticking at 2.0 GHz. The chipset is based on the 7nm manufacturing process, so energy-efficiency is ensured as well.
GeekBench 5 (multi-core)
Higher is better
Realme 7 5G
1794
Realme Narzo 30 Pro 5G
1787
Poco X3 NFC
1777
Realme 8 Pro
1678
Xiaomi Redmi Note 10
1599
Samsung Galaxy A32
1277
GeekBench 5 (single-core)
Higher is better
Realme 7 5G
598
Realme Narzo 30 Pro 5G
597
Poco X3 NFC
568
Realme 8 Pro
566
Xiaomi Redmi Note 10
534
Samsung Galaxy A32
361
AnTuTu 8
Higher is better
Realme Narzo 30 Pro 5G
333952
Realme 7 5G
318535
Realme 8 Pro
286666
Poco X3 NFC
283750
Xiaomi Redmi Note 10
218788
Samsung Galaxy A32
174332
GFX Manhattan ES 3.1 (offscreen 1080p)
Higher is better
Realme Narzo 30 Pro 5G
35
Realme 7 5G
35
Poco X3 NFC
33
Realme 8 Pro
28
Xiaomi Redmi Note 10
17
Samsung Galaxy A32
15
GFX Manhattan ES 3.1 (onscreen)
Higher is better
Realme Narzo 30 Pro 5G
51
Realme 7 5G
31
Realme 8 Pro
31
Poco X3 NFC
27
Xiaomi Redmi Note 10
15
Samsung Galaxy A32
13
3DMark SSE ES 3.1 (offscreen 1440p)
Higher is better
Realme Narzo 30 Pro 5G
3167
Realme 7 5G
3163
Poco X3 NFC
2689
Xiaomi Redmi Note 10
1471
Samsung Galaxy A32
1323
By nature
25 Aug 2021
Nue
I like it so much
OPPO F 11 PRO
11 Apr 2021
YUU
ok
Anonymous
07 Apr 2021
sxs
Gotta agree with you, they just launch random ass phones and smart devices while we're still waiting for a stable Android 11 update on their phones.