Realme Smart TV Review
Sagar, 04 October 2020
Realme debuted as a smartphone brand back in May 2018, but it quickly expanded its ecosystem since, launching TWS earphones, wireless charger, power banks, fitness band, and even a smartwatch. The company also launched its first smart TV, simply called the Realme Smart TV, as it aims to bring more and more AIoT products to the market going forward as a part of its 1+4+N product strategy.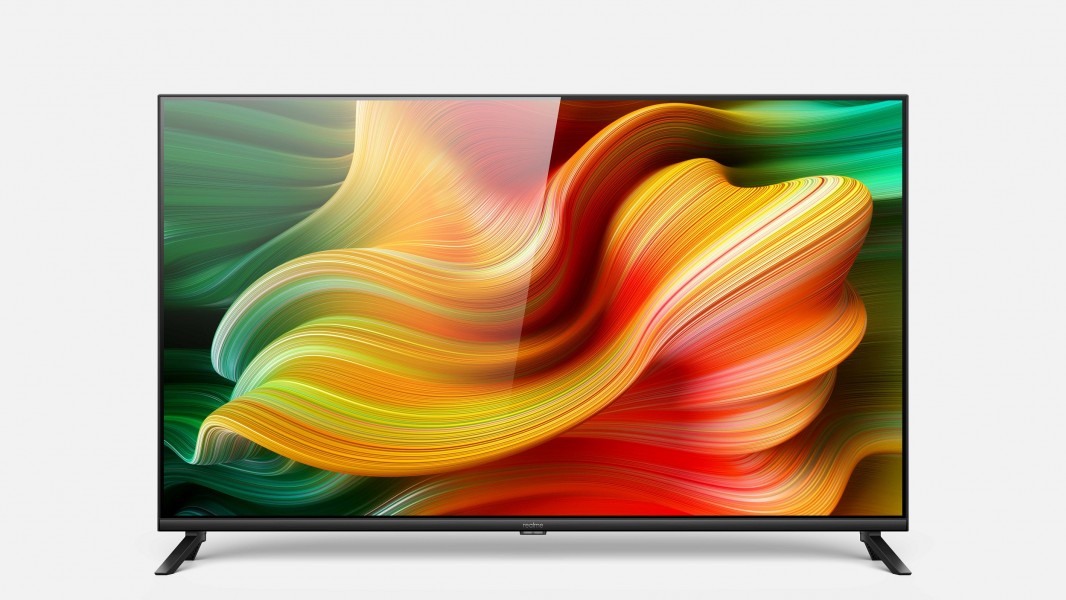 The Realme Smart TV runs Android TV and comes in two sizes - 32" and 43" - having a resolution of 1366x768 and 1920x1080 pixels, respectively. Aside from the differences in screen size, resolution and overall weight, the two versions are identical. We received the 43" model currently priced at INR22,999 ($315/€265) for a review.
We got a chance to put it through its paces and see if it offers the same value proposition to the customers as Realme's smartphones. So without further ado, let's find out if the Realme Smart TV is worth your money.
Realme Smart TV specifications
Display (32" model): 1366x768 pixel, LED panel, 60Hz refresh rate, 16.7M colors, HLG and HDR10 support, 400 nits peak brightness
Display (43" model): 1920x1080 pixel, LED panel, 60Hz refresh rate, 16.7M colors, HLG and HDR10 support, 400 nits peak brightness
Sound: 24W Quad Stereo Speakers (2x full-range speaker, 2x silk dome tweeter), Dolby Audio
Chipset: MediaTek SoC, 4x 1.1GHz Cortex-A53 CPU, Mali-470 MP3 GPU
OS: Android TV based on Android 9 Pie
RAM: 1GB @ 2,133MHz
Storage: 8GB
Connectivity: Infrared, Bluetooth 5.0, Wi-Fi (2.4GHz only), DLNA, 3x HDMI, 2x USB, 1x LAN, 1x SPDIF, 1x AV, 1x Antenna, 1x 3.5mm headphone jack
Remote: AAA-size battery operated, IR and Bluetooth connectivity
Dimensions (32" model): 730 x 469 x 161 mm (with stand), 730 x 432 x 88 mm (without stand)
Dimensions (43" model): 967.5 x 604 x 233 mm (with stand), 967.5 x 560 x 87 mm (without stand)
Weight (32" model): 3.7kg with stand, 3.6kg without stand
Weight (43" model): 6.8kg with stand, 6.7kg without stand
Design
The Realme Smart TV has a minimalistic design, with the screen surrounded by skinny 8.7mm black bezels on the top, left and right sides. The bottom bezel is considerably thicker, though, and it has the Realme branding.
The back of the TV is made of plastic, just like the TV's borders and the base. It is home to the VESA sockets that allow you to mount the TV on a wall. You will also find various ports on the back of the TV for connectivity, all of which are difficult to reach, especially when you've mounted the TV on a wall.
At the bottom, right below the Realme logo, is the physical power button that lets you turn on/off the smart TV without a remote. It's joined by an IR receiver and a red LED light, which turns on when the TV is in standby mode or switched off.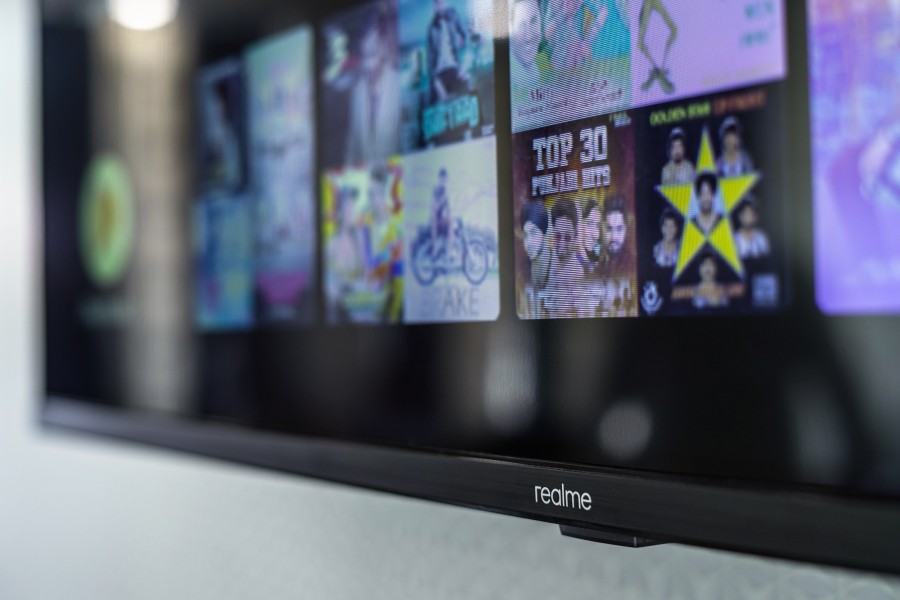 The power button is flanked by a pair of bottom-firing symmetrical speakers with a combined output of 24W. Each unit consists of a full-range dynamic speaker and a silk dome tweeter. Realme says the former delivers punchy bass and clear vocals, while the latter extends the high frequency range.
Right next to these speaker units are sockets for the outward-facing stands, which sit very close to the edges of the TV and exceed the television's width, so make sure you have a table that's wider than the TV if you don't plan on mounting it on a wall. It would have been more convenient if the stands were well inside the TV's edges, or if they were center-aligned.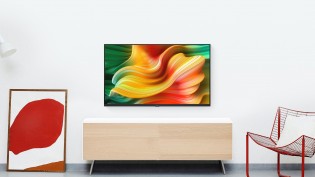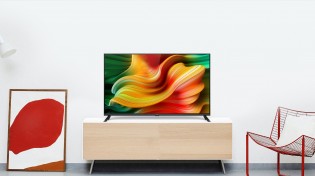 Realme Smart TV can be mounted on a wall or placed on a table
That said, these stands have rubber cushions underneath to prevent sliding and have a textured finish on them. And while they are decently built, we suggest you mount the Realme Smart TV on a wall if possible since the TV wobbles easily even with a slight push. Yet, if you do plan on mounting it on a wall, you'll have to purchase the wall mount separately from Realme, which is priced at INR399 ($5/€4) and INR499 ($7/€6) for the 32" and 43" model, respectively.
That said, the 43" model weighs just 6.8 kg with the stand and can be moved around easily by one person, whereas the 32" variant is a featherweight 4 kg.
Connectivity
The Realme Smart TV comes with a total of 10 ports - 3x HDMI (ARC only on port 1), 2x USB, and one each for LAN, SPDIF, AV, Antenna, and 3.5mm headphone jack - all placed on the back.
Six of these ports are located on the right edge of the back panel of the TV, with the rest placed inside an alcove, facing downwards, and aren't easy to access. Moreso when you have wall-mounted the TV because you can't move it easily when you want to access the ports.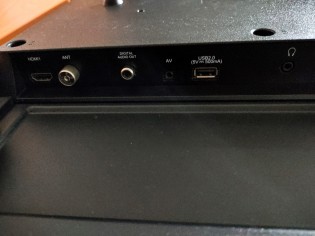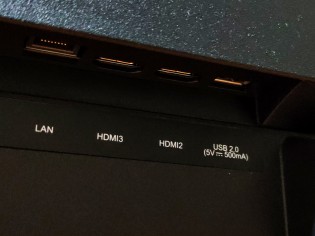 Connectivity ports on the back of the Realme Smart TV
For wireless connectivity, you get DLNA, Infrared, Bluetooth 5.0, and 2.4GHz Wi-Fi. There's no 5GHz Wi-Fi and whether or not that's an issue depends on personal preferences and the type of usage. But having dual-band Wi-Fi should be the norm in 2020.
And since the TV supports Bluetooth connectivity, you can connect it to a wireless game controller, speaker, or earphones. The last one should help you enjoy TV shows and movies without disturbing others. You can also transfer videos through Bluetooth from other devices to the TV for offline playback.
The Realme Smart TV also comes with Chromecast built-in, which allows you to cast the supported device's screen to the TV wirelessly. Besides, you can watch content from supported apps on your phone on the TV.
However, we aren't impressed with the Realme Smart TV's Chromecast performance because movies played from apps like Prime Video and Netflix often stuttered, and the rest of the content that was cast to the TV was displayed in poor quality and the lag was unacceptable. We used multiple smartphones and Internet connections for this and got the same results, leading us to believe that the issue is with the TV itself.
Remote
The Realme Smart TV remote is made of composite polymer and is very lightweight. It has an ergonomic design which is comfortable to hold with nice grip. The top is thin and the remote gets thicker moving below, since that portion of the remote houses two AAA-size batteries, which come bundled with the package.
The remote has a nice matte finish, so it doesn't slip off your hands often. It comes with a D-Pad, a microphone, and a total of 12 buttons - including hotkeys for Netflix, YouTube, Amazon Prime Video, and Google Assistant - below which is a discreet Realme branding.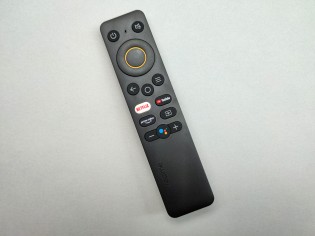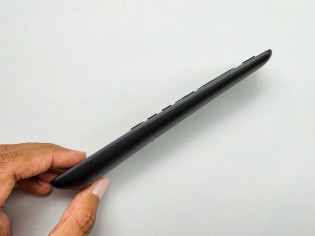 Realme Smart TV remote control
The D-Pad also has a matte finish and comes with Realme's signature yellow accent, which looks cool. It's quite clicky and we didn't face any issues with it. The microphone's there so you can give voice commands to the Google Assistant. Realme doesn't say what material is used for making the rest of the buttons on the remote, but they have a rubber-like feel.
These buttons are well laid out, but leaving some space between the volume keys and the Google Assistant button would've been a better idea since we often ended up pressing the Assistant key by mistake.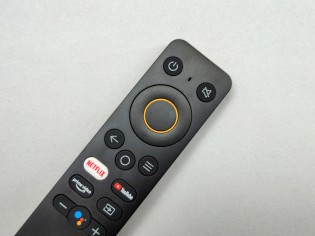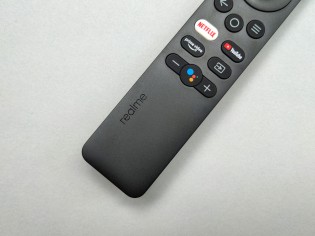 Realme Smart TV remote control
Around the back, up top, is the plastic casing with a glossy finish that houses the infrared and Bluetooth modules. The latter allows you to operate the TV without requiring a line of sight after it's turned on, meaning you can point the remote in any direction and control the TV.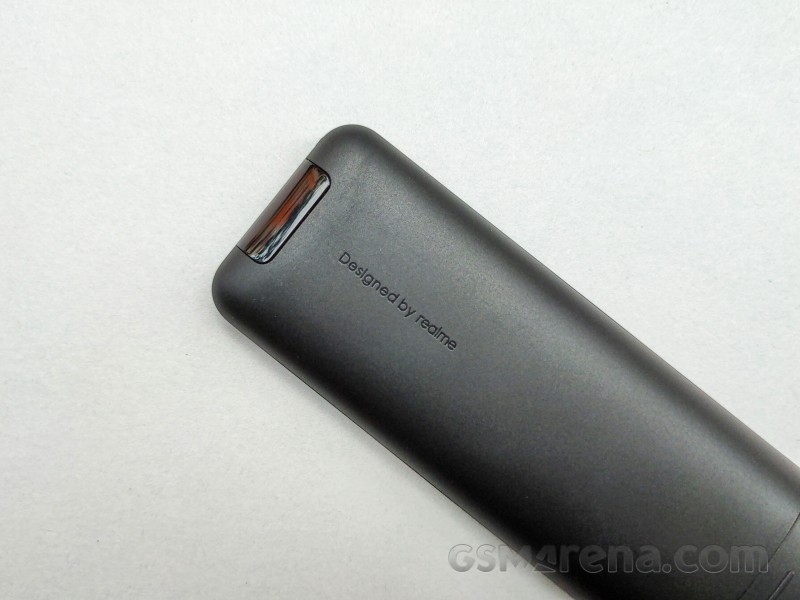 The Bluetooth connection also allows you to check the percentage of charge left in the AAA batteries by heading to the Settings > Remotes & accessories menu.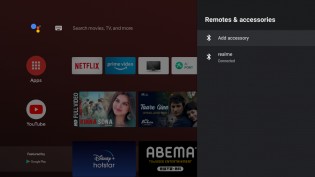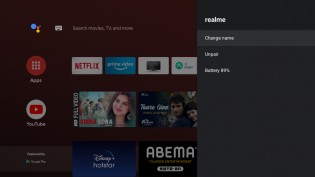 Realme Smart TV remote's battery level
We don't have any major complaints with the Realme Smart TV remote, but there's one thing we'd like to point out: the Settings button on the remote doesn't bring up the settings menu of the TV when you are watching videos in Netflix, YouTube, or Amazon Prime Video.
This is a downer because you can't quickly tweak the audio and picture settings when watching videos and have to go to the homescreen, then to the Settings menu, and then return to the app, which is quite a chore. However, the Settings button did work with some apps, like the pre-installed Pango Browser.
Hardware and Software
The Realme Smart TV is powered by a MediaTek chipset, which includes a Mali-470 MP3 GPU and four Cortex-A53 CPU cores clocked at 1.1GHz. It has 1GB RAM and 8GB storage onboard, out of which 4.6GB is available to the user.
The smart TV takes about 40 seconds to turn on and performs smoothly. But there were a few times when the TV stuttered after starting up and responded late to the button presses, especially the volume keys. Fortunately, this didn't happen often enough to hamper the user experience.
On the software side, the Realme Smart TV runs a stock version of Android TV that's based on Android 9 Pie. The UI is pretty simple and easy to use and there aren't too many pre-installed apps. You do get Netflix and Amazon Prime Video, though, which is something most users who stream movies online will download either way.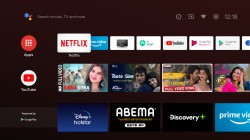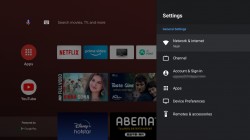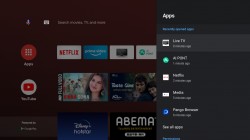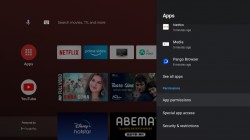 Realme Smart TV homescreen and settings menu
You also get a web browser called Pango Browser in case you want to surf the web on a big screen, and Media Player that lets you access locally stored files. Aside from that, the Realme Smart TV comes pre-installed with the usual set of Google apps, which include YouTube, Play Movies, Play Music, Play Games and Play Store.
The Realme Smart TV also comes with AI Point, which is where you find the installed apps, and long-pressing the home button on the remote lets you open the apps quickly through the Android TV's app drawer.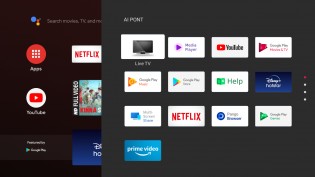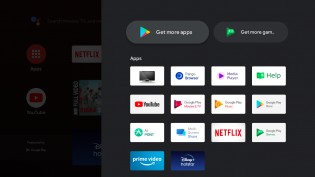 AI Point • Android TV App Drawer
Performance
The Realme Smart TV comes in two sizes - 32" and 43" - having a resolution of 1366x768 and 1920x1080 pixels, respectively, and a viewing angle of 178°.
Realme says the panel has a peak brightness of 400 nits and the company also used the Chroma Boost technology - seen on its smartphones - to enhance the overall picture quality and improve the brightness, color accuracy, contrast, purity, and clarity.
Realme has used a VA (Vertically Aligned) type panel on the 43" model, which compared to the IPS (In-Plane Switching) panels, has a higher contrast ratio and is better suited for those who are going to use the TV in a dark environment and don't need wider viewing angles.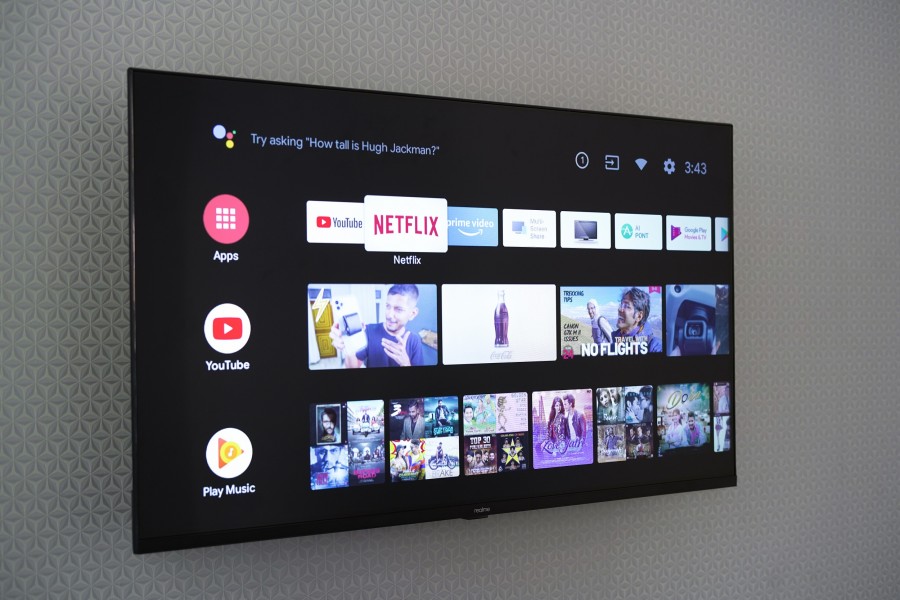 The screen itself isn't HDR certified, but the Realme Smart TV does support HLG and HDR10 video decoding and allows us to watch HDR content on Netflix. But since HDR10 uses static metadata, the experience isn't the same as you would get from an HDR certified panel, or maybe with an HDR10+ codec that uses dynamic metadata.
The display has decent color reproduction and contrast, but it's not the best around. We noticed a lot of noise in dark scenes, and it was more evident in SDR irrespective of the type of scene.
The colors looked oversaturated at times and we noticed motion blur as well. There was also some color shifting at wider angles, but this shouldn't be an issue if you aren't going to watch the TV from extreme angles.
Watching the TV in a dark room was mostly a good experience, but with the lights on, the panel reflected the objects and persons - even during the scenes that weren't too dark. You can improve the matters considerably by increasing the screen's brightness though.
You also have the option to tinker with the other aspects of the picture to try and get the best possible results by heading to the Settings > Device Preferences > Picture menu. You can check out the screenshots below to get a better idea.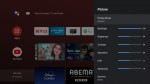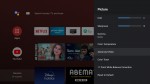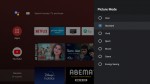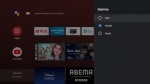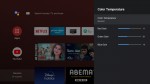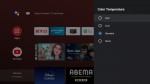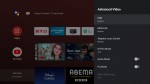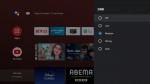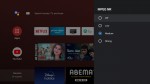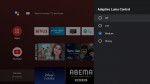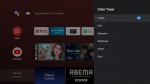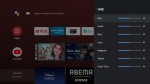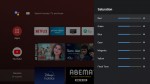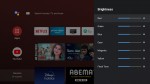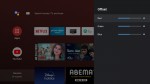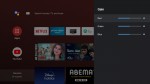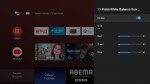 Realme Smart TV Picture Settings
On the audio front, the Realme Smart TV is Dolby Audio certified and has a couple of bottom-firing symmetrical speakers onboard having a combined output of 24W. Each unit comprises a full-range dynamic speaker and a silk dome tweeter. Realme says the former delivers punchy bass and clear vocals, while the latter fully extends the high frequency range.
The speakers were loud enough and we never had to bump up the volume beyond 60%, but your mileage may vary depending on the size of your room, and if the loudness doesn't suffice, you can attach an additional speaker set to the TV or maybe try Realme's 100W Sound Bar that will be launched next week.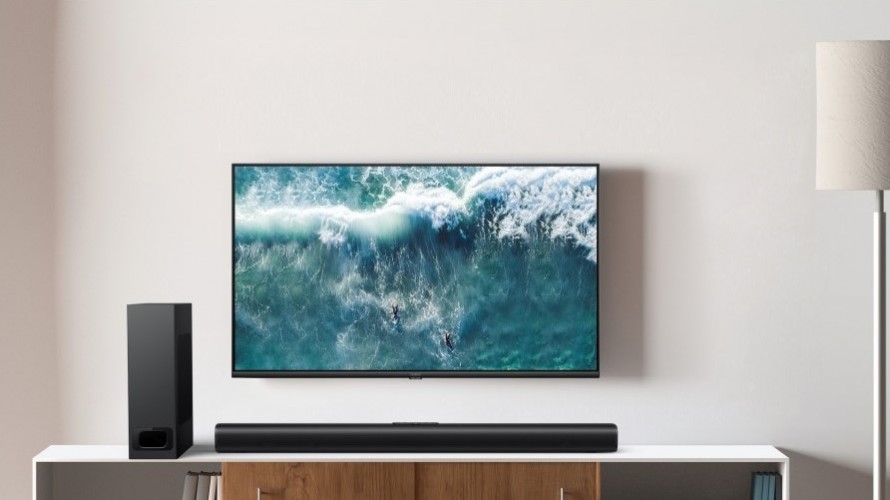 Realme 100W Sound Bar
Talking about the quality, we found the speakers to be lacking in bass and that left us wanting more, especially when watching action movies. However, dialogues were clear and the speakers produced the surround sound effects very well.
To eke out the best audio performance, you can head over to the Settings > Device Preferences > Sound menu and tune the audio to your liking.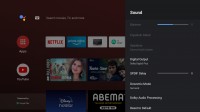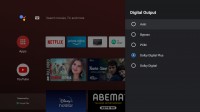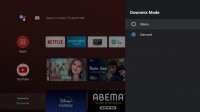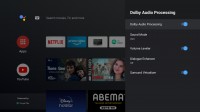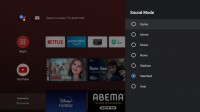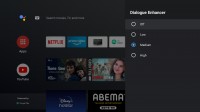 Realme Smart TV Audio Settings
Verdict
The Realme Smart TV isn't the best option in its segment and that was expected since it's a first-gen product. However, the company has done a decent job with it by providing minimalist design, lightweight comfortable remote with all necessary buttons, stock Android, smooth performance, and HDR10 support.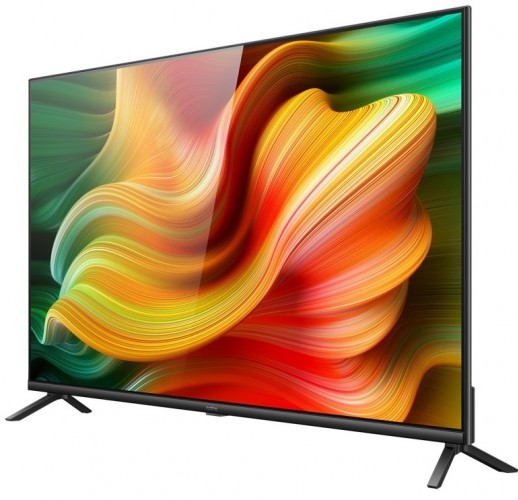 Of course, the speakers lack bass and we had some issues with the display as well, but if you can look beyond that and are in the market for a TV that lets you stream content in FullHD resolution, or plan on investing in Realme's ecosystem in the future, then you couldn't really go wrong with the Realme Smart TV. But if you don't want to compromise with the audio and picture quality at all, then you will have to look elsewhere, and maybe even shell out more money.
Pros
Minimalist design and slim bezels
Lightweight and ergonomic remote
Smooth performance
Stock Android with clean and simple UI
HDR10
Cons
Speakers lack bass
Hard to reach ports
Settings button on the remote doesn't bring up the picture settings in OTT apps
Stands aren't confidence-inspiring as the TV wobbles easily
Related
Worst TV ever seen, we purchased for 20K 43" TV didn't even work for 1 month, we logged a complaint for replacement TV even after 2month the Realme is not responding. Finally we been cheated, KIND ADVICE FOR THE PUBLIC, PLEASE DONT PURCHAS...
Realme has lately launched a lot of smart products and this mediatek-powered smart Tv is one of them. Looks good.
I think almost all the Realme and OnePlus smart TVs are coming up with mediatek chipsets and these are actually doing quite well in the market.
Popular articles
Popular devices