Interview: Realme CEO Madhav Sheth talks Realme 9, chipset shortages
Sagar, 12 September 2021
Last week, Realme introduced its first tablet called Realme Pad and expanded the Realme 8 series with the Realme 8i and Realme 8s 5G. On the occasion of the launch, we spoke with Mr. Madhav Sheth - Vice President of Realme and CEO of Realme India and Europe - to discuss the Realme 8 series and chipset shortages and learn more about the company's future goals. You can read the interview below for all the details.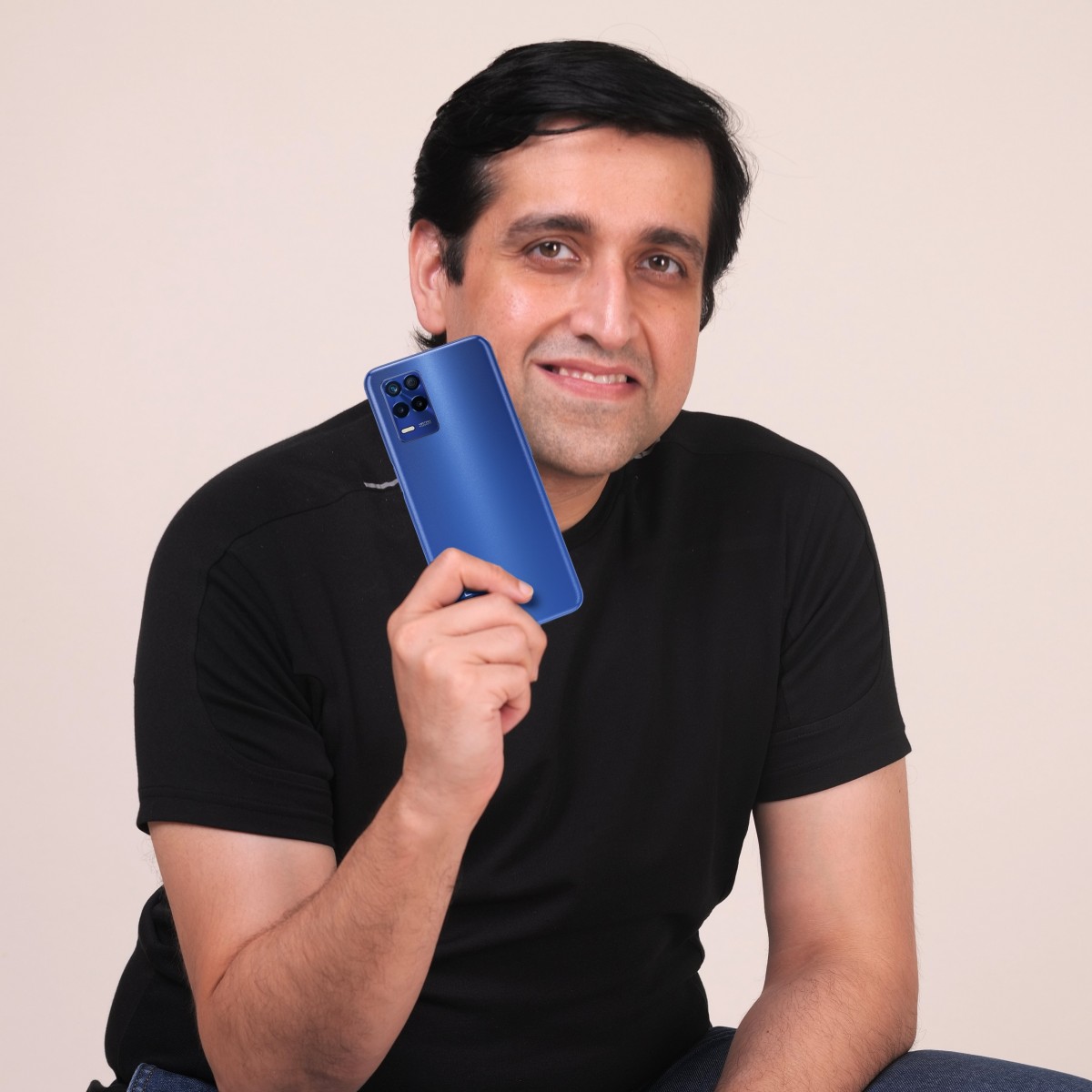 Madhav Sheth with Realme 8s 5G
The 8th generation of the number series is the most numerous yet with five different phones in it - is that a reflection of its increased importance in Realme's portfolio or are you just trying to keep it as competitive as possible?
Talking about the importance of number series, it is the Youth Flagship, as well as Realme's superstar series which democratizes trendsetting technology and features. Yes, the Realme 8 series is the most numerous series since Realme, in the very beginning of 2021, has set its aim to be a 5G leader and democratize 5G in India. Number series, our mid-range superstar, is no doubt an integral part of our democratization of 5G. Therefore we launched India's most affordable 5G phone, Realme 8 5G which has become a big hit. Simultaneously we understand that there is a group of users who still prefer powerful 4G mid-range devices. Hence, we have still kept our 4G lines in number series. 2021 is a transition year to 5G but if users want options, then we offer them options. Since we deeply understand the demand of users and devoted our best to cater to it, competitiveness is never an issue Realme will worry about. We believe our users can always find what they want in Realme.
Additionally, the global shortage of chipsets has somewhat affected the building of Realme 9 series since you know that Realme won't compromise on quality. We have resolved this through close discussion with chipset makers and Realme 9 series will come to users in 2022. Despite the chipset shortage which resulted in the delay of many products from multiple brands, Realme still successfully managed to launch Realme 8i with India's first Helio G96 processor in our 4G line. And Realme 8s 5G with World's first Dimensity 810 in our 5G line. Our tradition is to launch fantastic products before Diwali as Diwali gifts for our consumers. This will continue in 2021.  Realme 8s 5G is specially developed for our India users. We don't think more choices with modern technology are a problem. Users desire them.
At the same time, are you worried that 5 different Realme 8 phones might confuse some customers, who will have a hard time picking the best one?
Not at all. If you notice, the mid-range smartphone segment is teeming with aspirational and discerning consumers, who want top-of-the-line features at the most democratized prices. As I said, we never think that more options with the latest technology are a problem as users want them. As already mentioned, there are various preferences of 4G or 5G in the mid-range segments, so the 8 series offers both 4G and 5G options, giving customers plenty of options. For example, those seeking a powerful 5G experience and want to get future-ready can consider Realme 8s 5G with the first-ever 6nm D810 processor in this segment. While users looking for a more comprehensive, holistic experience with the trendsetting camera, display, etc can opt for Realme 8 Pro and other 4G variants. In the range of INR 10k-20k, each of the models offers a different value proposition at their respective price points.
As for the consumers, I am confident about their decision. Whether it's C series, Narzo, or Number series, our fans have always shown an overwhelming response to our product lines. So, let the products speak for themselves.
What are Realme's goals in terms of market share in India and Europe in Q4 and the entire 2021? Realme was the fastest company to reach 100 million smartphone sales, do you believe you can reach 200 million even faster?
Realme has now crossed 100 million global sales and is the fastest mobile phone brand in the world to achieve this, according to Strategy Analytics. We have the confidence to reach 200 million even faster and aim to achieve that in 2022.
2021 is a defining year for Realme in India and globally. In India, our goal is to emerge as the Top 2 smartphone brand and No. 1 Online brand. In Europe, I would name a few markets since there are many. We are already Top 3 in Poland and are aiming at Top 1 in the next one and a half years. In Italy, we are already Top 5 in Q2, 2021, according to Canalys.
It's quite overwhelming to see the tremendous faith and appreciation that fans and media friends have showered on us. Realme is expanding faster than ever.
To what extent did the chip shortage that plagues just about every industry these days reshaped your Fall and holiday season smartphone portfolio?
I have mentioned the impact on the Realme 9 series previously. All the remaining launches are moving forward since Realme noticed the shortage of chips early and has taken action since then, to best mitigate its impact. Realme has been exploring collaborations with burgeoning chipset makers to provide the best value processors in its segment without compromising performance. With our stock ready for the festival season, we will be able to meet high market demand for Realme products.
With the expected high seasonal demand in Q4, do you expect supply shortages for the more desirable models?
As I mentioned earlier, Realme has been exploring collaborations with burgeoning chipset makers to provide the best value processors in its segment without compromising performance. We are ready with our stock for the festival season to best cater to the high market demand for Realme products.
Recently we have launched the Realme GT 5G series in India and again disrupted the premium market. GT series is widely desired by users. Therefore, we are ready with GT 5G series stocks for this festival season to enable more users to take advantage of GT 5G series with the best-in-segment processor, outstanding design, and many other features.
And as a follow-up, when do you expect the bottlenecks to clear and everyone to be able to design smartphones with the chipsets they want rather than the ones that are available?
The global chipset shortage is a result of several macroeconomic factors. Suspension in production, massive demand in the WFH era, disruptions in logistics have impacted the supply chain considerably. As production and distribution facilities open up gradually and supply resumes, we anticipate that the chipset shortage will ease only in 2022.
For Realme, we never compromise on product features due to the shortage of chipset and have always been optimistic and working proactively to mitigate its potential impact. In India, we always attempt to be the first who bring the trendsetting technology, that's why we are the first to bring 5G processors like MediaTek Dimensity 800U, MediaTek Dimensity 1200, Dimensity 810 5G processors, etc in the Indian market. We are pleased that as India's 5G leader, we were able to and will be able to design smartphones with desired 5G chipsets, thereby democratizing 5G for Indian users.
As we part ways, is there anything you'd like to say to our readers? Perhaps give us a hint about the next big thing to come from Realme?
Realme aims to build a Realme TechLife universe and a smart, connected, trendy lifestyle for the youth. As part of our 1+5+T strategy, we recently expanded our AIOT portfolio with Realme Book (Slim) and today we are excited to bring the best experience with Realme Pad with the slimmest body in the segment. Whether it's professionals working remotely, e-learners, students etc, there is a massive demand for tech lifestyle gadgets with unparalleled user experience.
Before Diwali, we will boost our smart wearables portfolio with new entrants. We are also planning to bring unique, disruptive Realme TechLife products like Realme TechLife Robot Vacuums, TV sticks etc. At least one more 5G product is ready to be launched in the next quarter. Stay tuned for more surprises.
Related
Anonymous
13 Oct 2021
rK7
What a f***** wannabe celebrity! Looks like they are gonna change plans if the Redmi note 11 series launches about next month as the rumors say.
Anonymous
13 Oct 2021
rK7
Second that! Reviews say how realme ui is superior to miui, but I've had worse experience with bugs in realme. Guess realme also resorted to buying reviews like samsung. Xiaomi also has better hardware like in secondary cameras. The ultrawid...
OhNOPoserManAgain
14 Sep 2021
gL8
have a Realme 8 Pro. I know what products this "poser man" is promoting. I advise you, if you read me, to stop promoting yourself more than the phones. People are already looking at you wrong. You still have time. Stop releasing so many va...
Popular articles
Popular devices
Electric Vehicles