Realme Watch S review
Michail, 07 December 2020
In addition to growing its presence in the smartphone world, Realme has been expanding its efforts in the smart wearables realm. The company recently released its second smartwatch offering with the Realme Watch S which aims to bring a much more refined experience than the Realme Watch released back in May.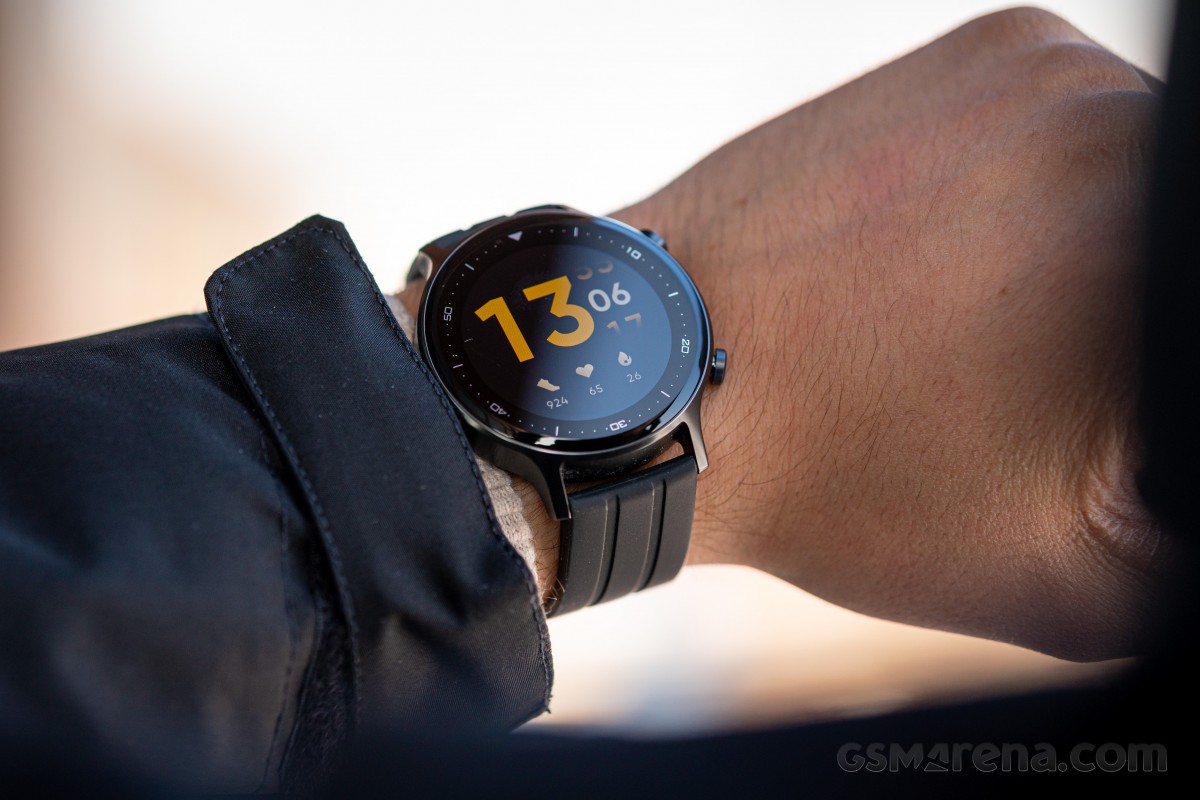 The Watch S brings a more traditional round form factor paired with a nearly identical feature set to its predecessor. This raises the question did Realme simply repackage their first-gen watch into a round form factor? Yes, but it also added a notably better feeling aluminum frame on the casing, auto brightness control which was notably absent on the Realme Watch and a significantly larger 390 mAh battery. These three additions make the Watch S a major step over the Realme Watch and you're certainly getting a more refined experience.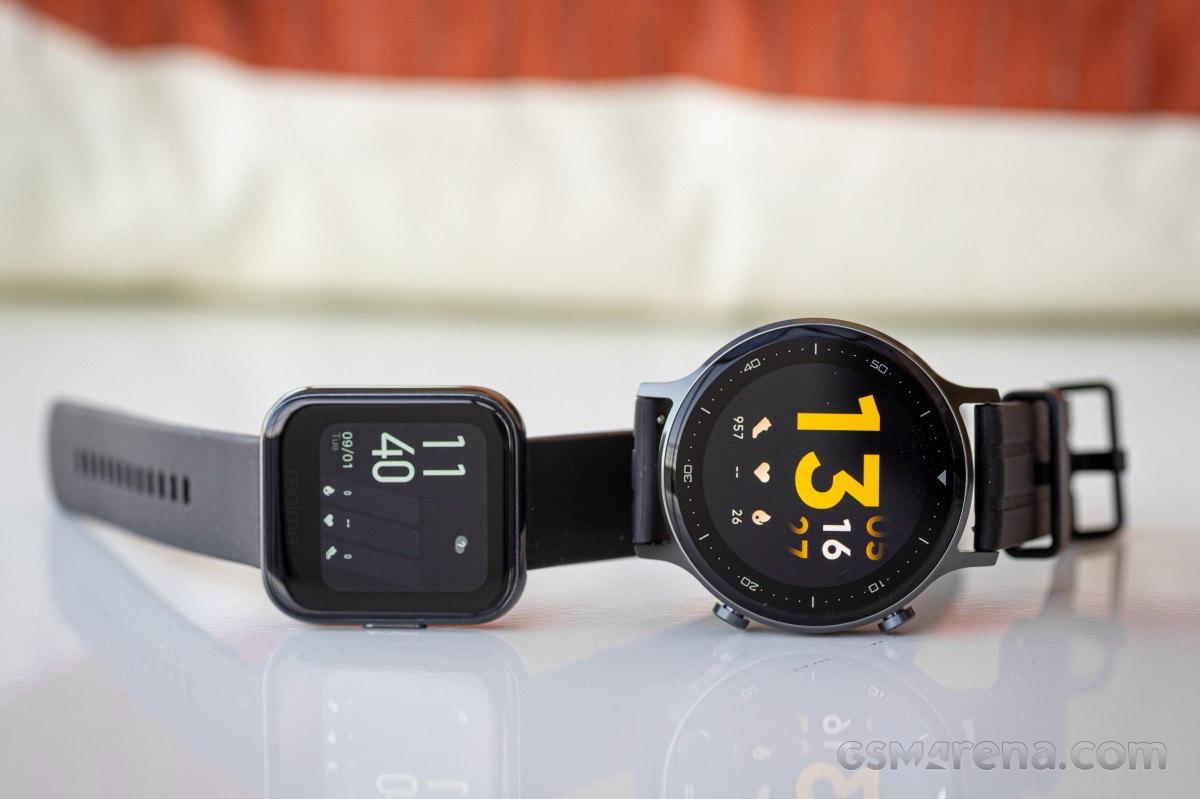 You still get the usual array of fitness tracking which now totals 16 modes as well as 24-hour heart rate monitoring, blood oxygen saturation measurement alongside sleep and stress tracking. While you don't get third-party app support, you can still read notifications, reject calls, control music playback and check the weather all from your wrist.
You won't find fancy features like built-in GPS or NFC but then again the Watch S retails for €79.99/£74.99 in Europe which is well below your more feature-rich smartwatches. Let's see if it's worth the premium over its predecessor.
Realme Watch S specs
Display: 1.3", 360x360 pixel IPS LCD, 278ppi pixel density, auto brightness, 2.5D Gorilla Glass 3
Straps: Detachable silicon straps, 22mm width, 164-208mm adjustable length
Features: Real-time heart rate monitor, Blood Oxygen level monitor, IP68 rating, Sleep Tracking, Sports Tracking, Step Counter, Meditation, Smart Notifications, Idle Alert, Drink Reminder, Phone Finder, Weather Forecast, Music and Camera Control
Sports Modes: Outdoor Run, Indoor Run, Walk, Outdoor Cycle, Strength Training, Football, Basketball, Yoga, Cricket, Aerobic Capacity, Badminton, Indoor Cycle, Stationary Bike, Elliptical, Rowing Machine and Table Tennis
Sensors: PPG optical heart rate sensor, SpO2 sensor, 3-axis accelerometer, Rotor Vibration Motor, Photosensitive Sensor
Connectivity: Bluetooth 5.0, Compatible with Android 5.0+
Battery: 390 mAh
Colors: Black, Orange, and Green
Dimensions: 47 x 12 x 260 mm
Weight: 48 grams
Design
The first thing I noticed with the Realme Watch S is how light it is. It's actually a bit heavier than its predecessor at 48 grams but still sits very comfortable on your wrist and you forget it's there after a few hours. The round watch casing and tachymeter give out a more traditional timepiece look which blends in with any style. The thick bezel from the Realme Watch have slimmed down and are now uniform across the whole panel and there's no large chin in sight this time around.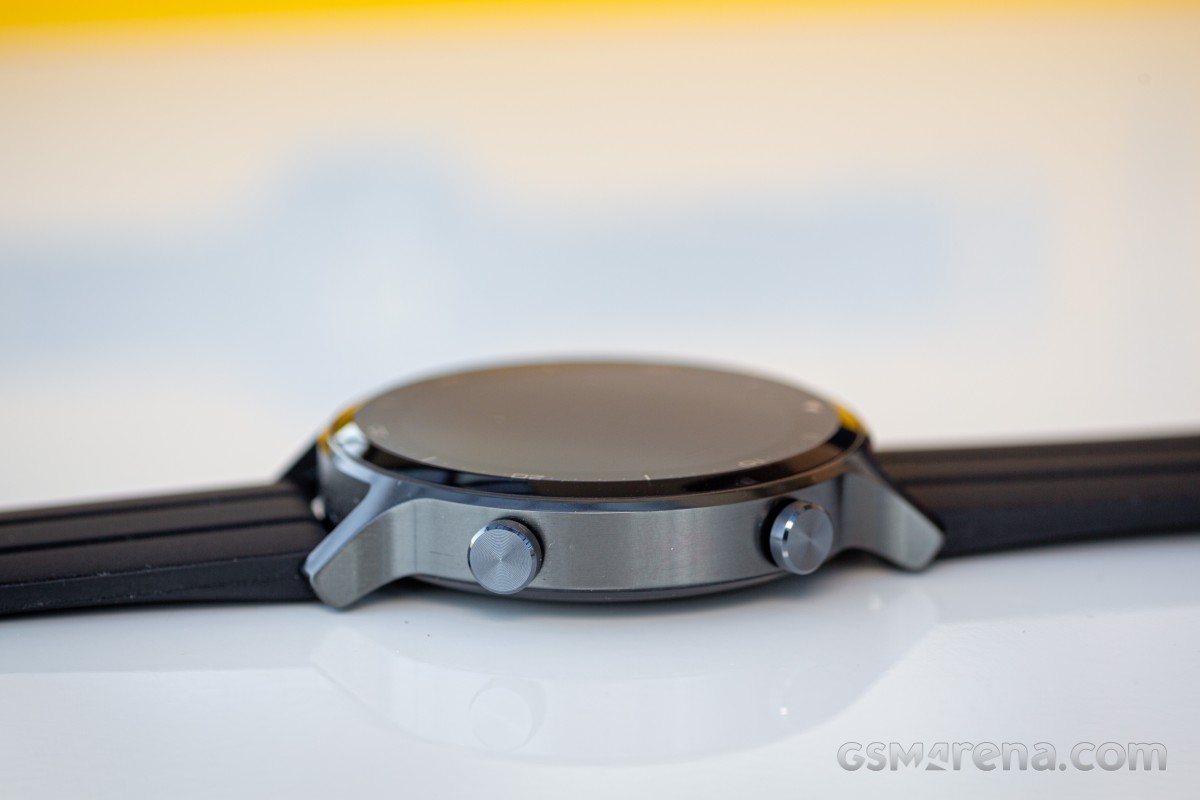 Speaking of the display, it's a 1.3-inch IPS LCD with 360 x 360-pixel resolution and automatic brightness adjustment. Viewing angles were okay indoors though you notice an immediate difference once you head outside. The added auto-brightness sensor did help with brightness consistency which was a nice step up from the Realme Watch which only had manual brightness controls. Touch responsiveness is decent though I did encounter my fair share of unregistered taps in day-to-day testing.
Realme went for a traditional watch strap with a buckle this time around and it's easily interchangeable with any standard 22mm strap. For the time being there's only a black strap option in the retail package though Realme teased more colorful options at the launch event.
The gunmetal frame of the casing as well as the buttons are made from aluminum while the back where you find the sensors and charging pins is made from plastic with a matte finish. I actually like this approach as the plastic back decreases the overall weight of the device and still feels nice to the touch while handling sweat and smudges just fine.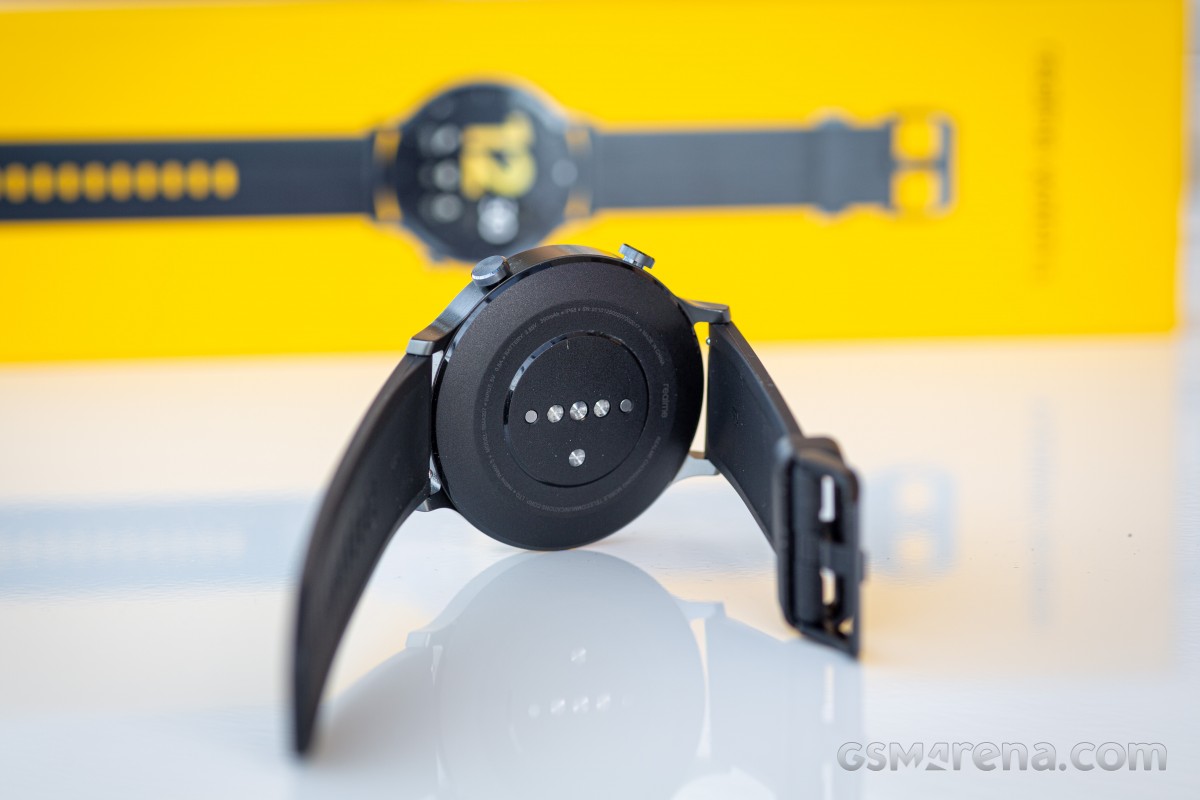 The Watch S has an IP68 rating, being water-resistant up to 1.5 meters, which should be enough for accidental liquid spills, rain and sweat but is not suitable for swimming or taking a shower. It's also worth mentioning that while the two side buttons can swivel, neither functions as a crown element so you can only push them in to control the watch itself. They're tactile and offer decent feedback. The overall build on the Watch S is solid and a clear step up from the original Realme Watch.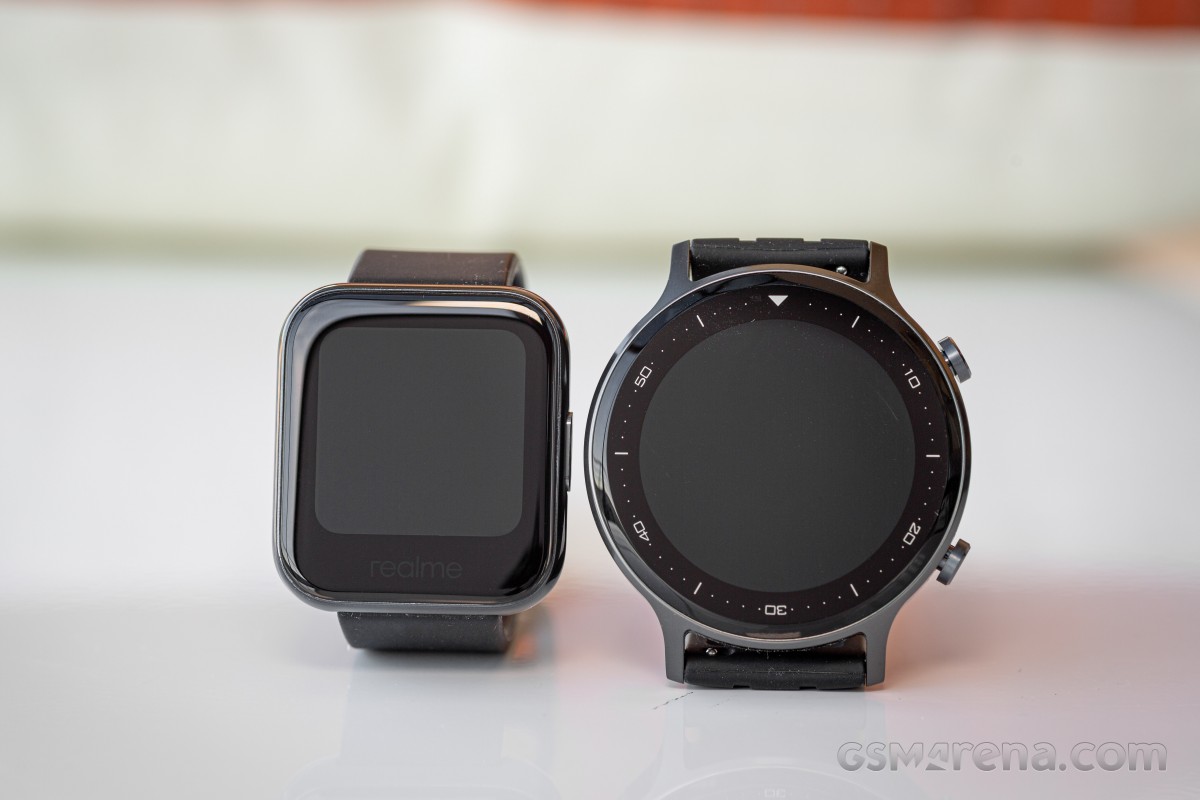 Display
The 1.3-inch LCD on the Realme Watch S offers a decent size for all the content supported by the device. While not class-leading, the 360 x 360-pixel resolution is more than enough to display sharp text for notifications and all apps throughout the interface. Realme claims the Watch S can crank out 600 nits of peak brightness.
Under the direct light, you'll notice a tiny round sensor near the topmost dial on the tachymeter for the new photosensitive sensor. This new addition allows the Watch S to automatically adjust brightness levels on the fly which is a major improvement over its predecessor. I left the brightness on auto throughout my review period and did not experience any issues. You also have the option to manually set brightness between 5 levels.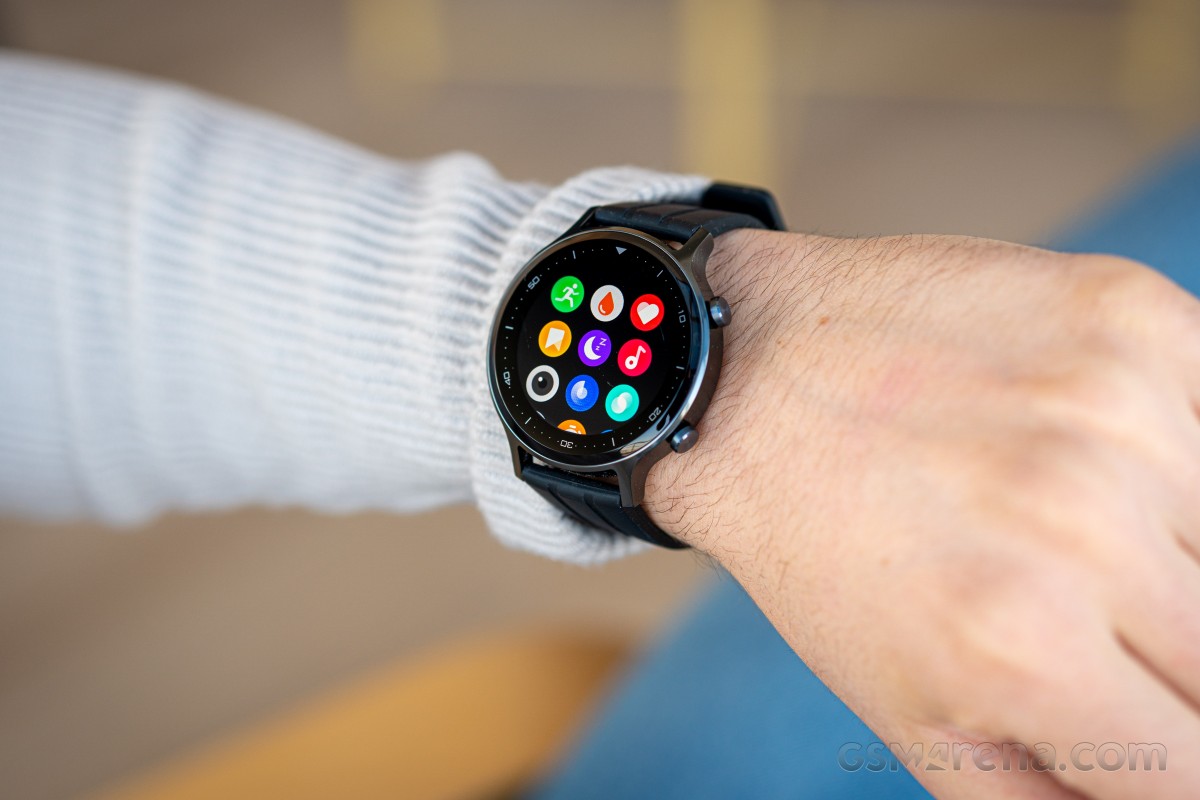 Indoors the display is quite okay when looked at directly, I had no issues with legibility and the panel displayed accurate colors. Once outdoors, you do feel a difference especially if you're used to OLED panels on your smartphone and other devices. The display on the Watch S is protected by Corning Gorilla Glass 3.
At the time of writing this review, Realme Watch S had access to a combined 108 watch faces and the option to create your own watch face which should suit just about any style out there. 7 of those watch faces are accessible directly on the Watch S by tapping and holding on the home screen.
Software
The Watch S boots a barebones UI with 14 built-in apps and relies on the Realme Link phone companion app for tinkering with most of its options. Before you can start using the watch, you need to download the Link app (Android exclusive) and set up your Realme account. Then you pair the watch to the account and you're ready to go. The setup process was fast and took only a matter of seconds. You'll also have to agree to several prompts asking for your phone app logs, messages, location and the collection of your workout/health data. You can't really get around these prompts if you want to use the Realme Watch S.
Once set up, you can explore all the bits and features of the Link app. There are over 100 watch faces for you to choose from ranging from abstract to minimalist. You also have the option to make your own watch face with a background of your choice but you're only allowed to tinker with the position of the time and date without adding any more complications to the watch face. When you select a new watch face, need to wait while it downloads and installs on the watch - you can't go back in the app menus in the meantime or do anything on the watch for a few seconds which felt limiting.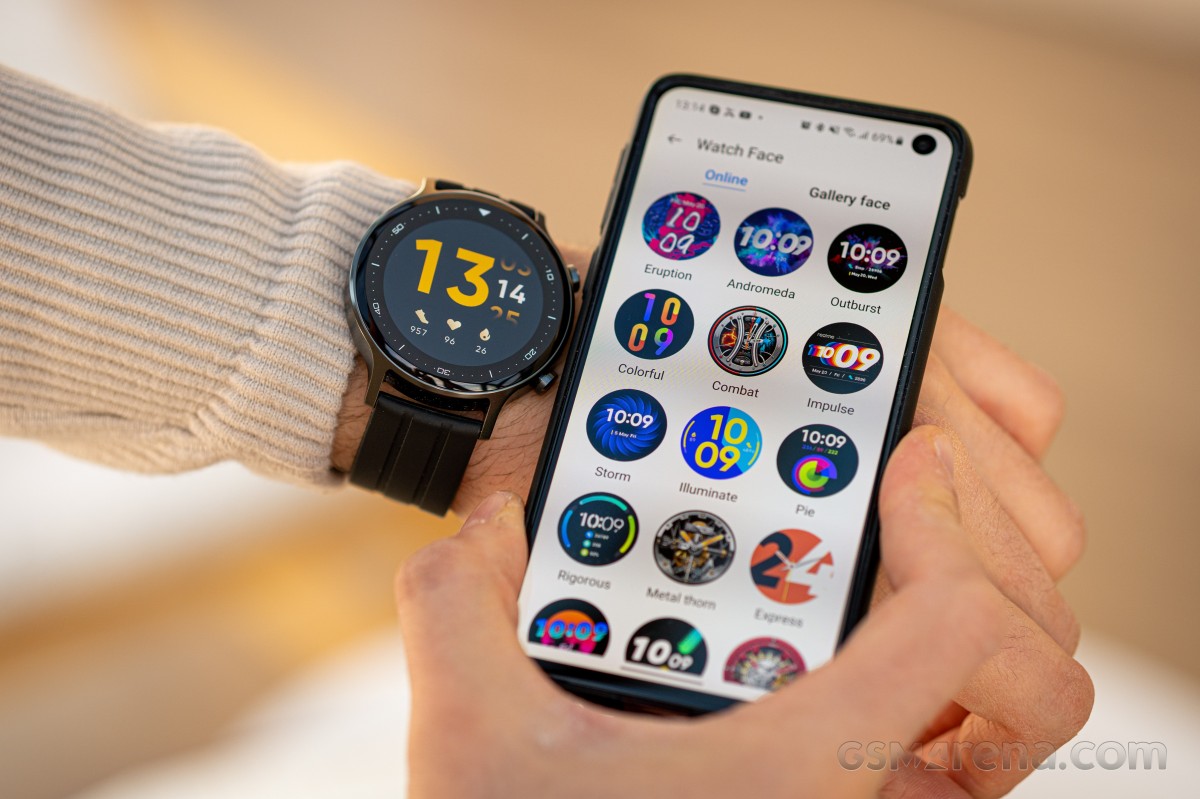 Tapping the gear menu gets you to the rest of the options which include watch face selection, notifications and music control toggle. There's also the call reminders prompt which when enabled will allow you to reject incoming calls (but not answer them) or mute your ringtone directly from the watch. Other options include reminders for getting up and drinking water which can be programmed to buzz you in 30-minute to 4-hour intervals and throughout specified hours of the day.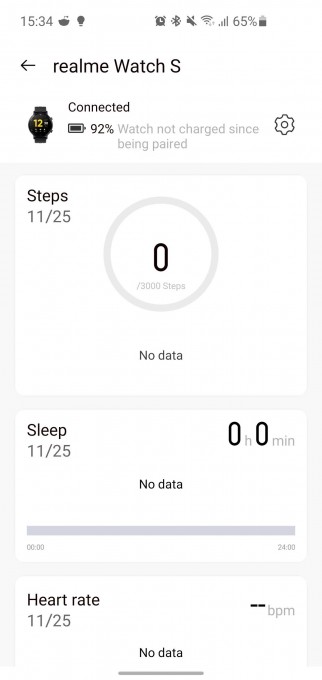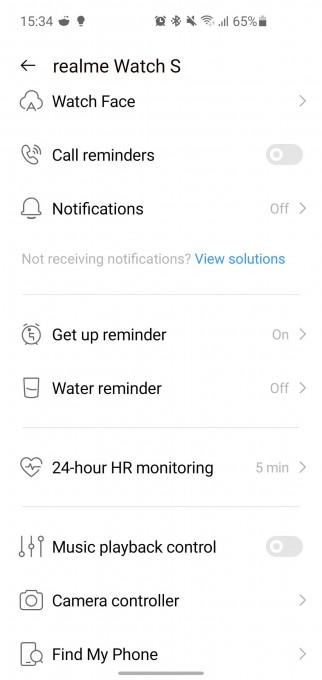 Realme Link UI • Options screen
You can toggle the heart rate monitoring to take your readings every 5 to 30 minutes. The weather app can also be toggled from the Link app though it requires you to enable location services on your phone to get it working.
Other options in the Link phone companion app include detailed activity and health tracking metrics. You do get a separate exercise log which gives you a detailed breakdown of your workouts with per-week totals for exercise duration, calories burned and sessions per week count.
Notification management is one of the essential functions of a smartwatch – you should be able to leave your phone in your pocket or on your desk and rely on the watch to keep you informed about what's going on. The Realme Watch S can display up to 10 subsequent notifications which is on par with its predecessor.
You still have to enable notifications for each app individually from the Realme Link app. Each time you receive a new notification the watch will buzz your wrist and you'll see a direct preview of the message with the option to dismiss it at the bottom of the screen.
Features and Performance
Navigating the Realme Watch S feels fluid and responsive. You can swipe around or make use of the two side buttons. Both can wake up the screen after it's turned off. The bottom one acts as a shortcut to the activity tracking app while the top one serves a back button and a shortcut to the app drawer. As a whole, the Watch S interface itself felt solid and everything worked as expected. I did not come across any hiccups or slowdowns. A swipe from the top shows you your notifications, going to the right gets you to the quick toggles menu while left swipes show you the weather, sleep data and daily exercise statistics.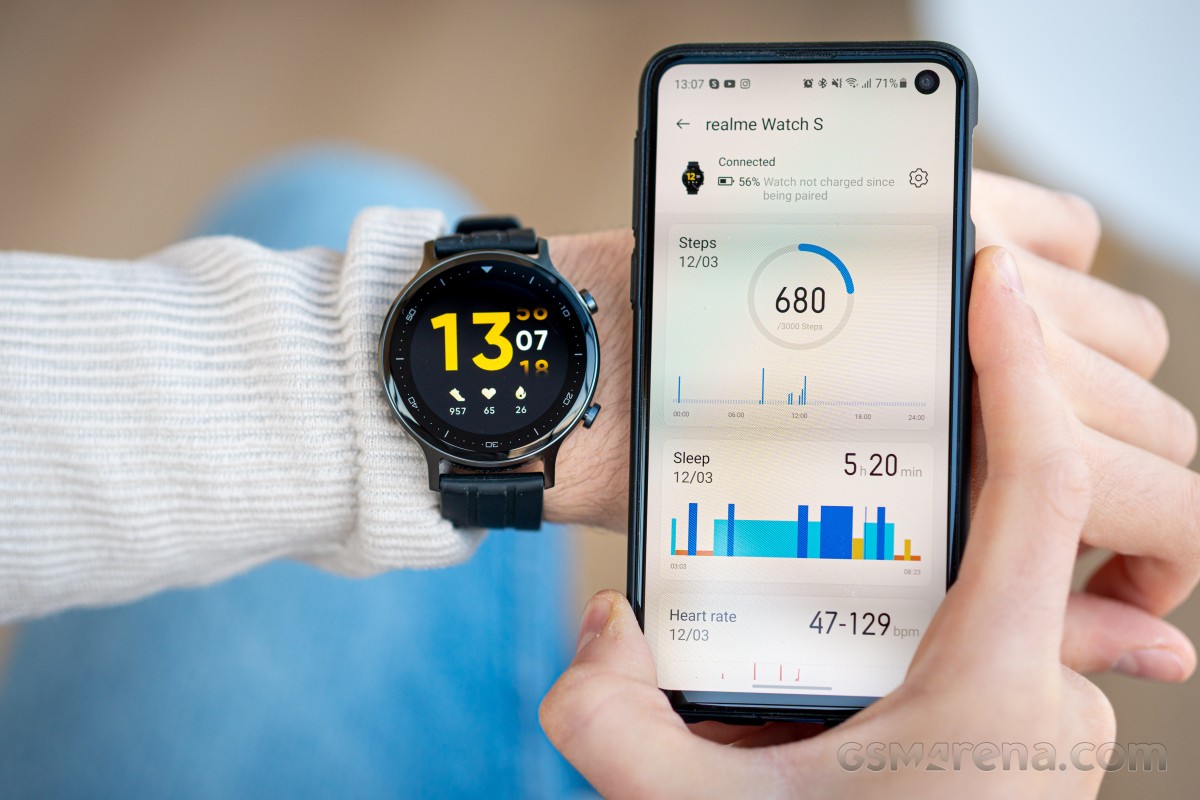 Like the Realme Watch, you get a PPG optical heart rate sensor with the same automatic measuring options for every 5, 10, 20 or 30-minute interval constantly for 24-hours. The actual data I got resonated with past smartwatches I've used. While not on the accuracy level of a dedicated HR monitor is still a nice and easy way to get some consistent data on your heart rate.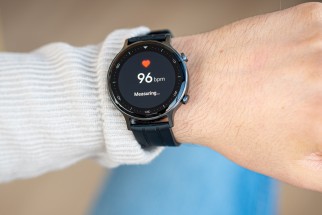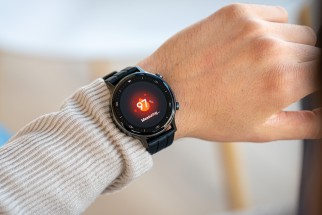 HR measurement • SpO2 measurement
The blood oxygen level meter (aka SpO2) doesn't do automatic readings so you need to go to the dedicated app on the watch itself each time. For what it's worth, Realme advises you not to rely on the readings as a basis for diagnosis or treatment. I got consistent 97% measurements in my readings which is again on par with other smartwatches I've tested.
Sleep tracking gets you data on Deep, Light and REM sleep, as well as the time spent awake on both the watch and on the Link phone app. The phone app also gives you a nice visual representation of your sleep metrics with color-coded graphs and sleep HR readings. So far so good but the actual sleep tracking method is seriously flawed in detecting when you fall asleep which severely compromises the results.
For example, one night I went to bed around midnight but the watch only registered my sleep from around 3 AM or so and this was persistent in several sleep tracking sessions. I also have to admit that sleeping with a watch on your wrist even as lightweight as the Watch S is still not an enjoyable experience.
Runs and walks can also take advantage of your phone's GPS receiver to map data. You get a reading with your pace ranging from low (green) to high (red) on the GPS data itself which is quite handy. The Aerobic Capacity mode lets you test your VO2 Max (the maximum amount of oxygen your body can utilize) as long as you complete an outdoor run for at least 12 minutes. For the rest of the workout modes, you get an identical screen with your heart rate reading up top followed by calories burned and time elapsed timers.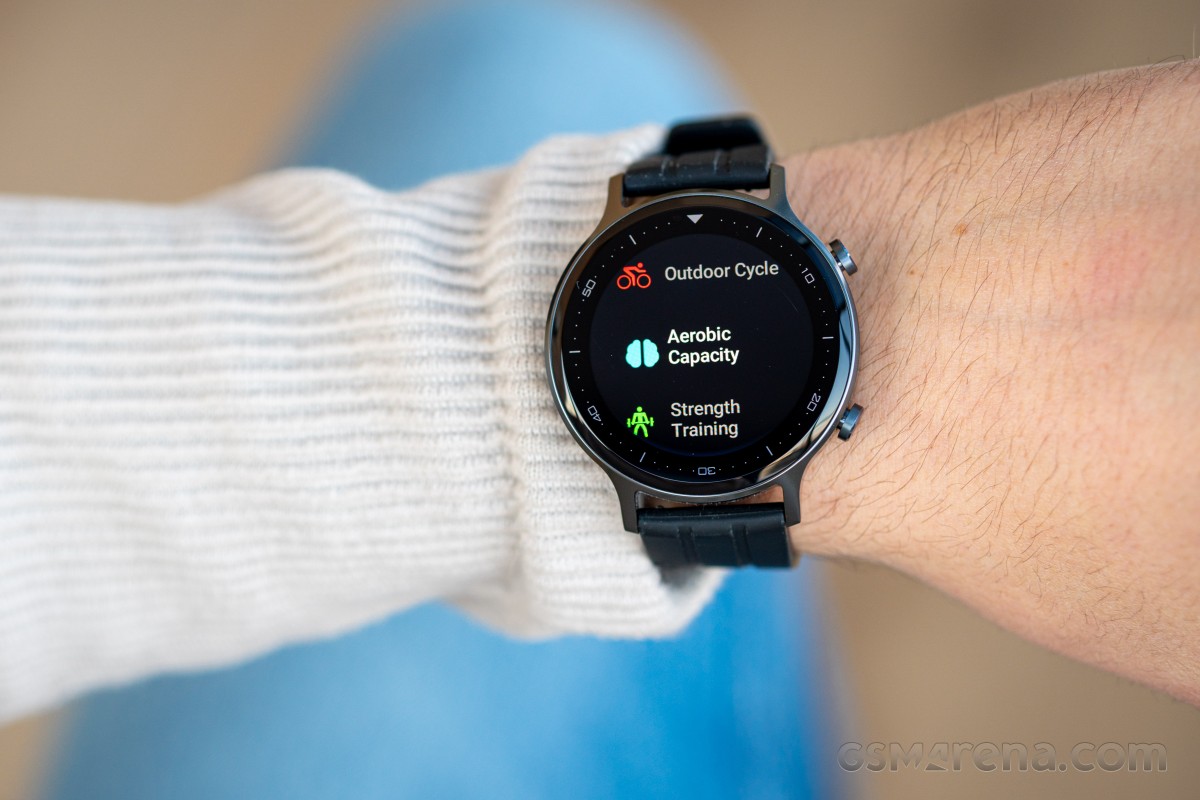 When you start an activity tracking session, you can't do anything else with the watch before you end the workout. You're only allowed to check your stats like distance, calories burned and your heart rate as well as a tiny preview of the time in the bottom corner. I'd personally like the option to be able to jump between other apps or at least have access to the music control app. You also can't rearrange any of the apps on the home screen or control center toggles which is not a deal-breaker but would be a welcome addition in future versions.
One particular health app that I enjoyed using on several occasions was the Meditation app. It guides you through breathing exercises in 1-10-minute sessions which helps you relax while at the same time measuring your heart rate. Unfortunately, the data from these meditations is not stored so you cannot compare your session results.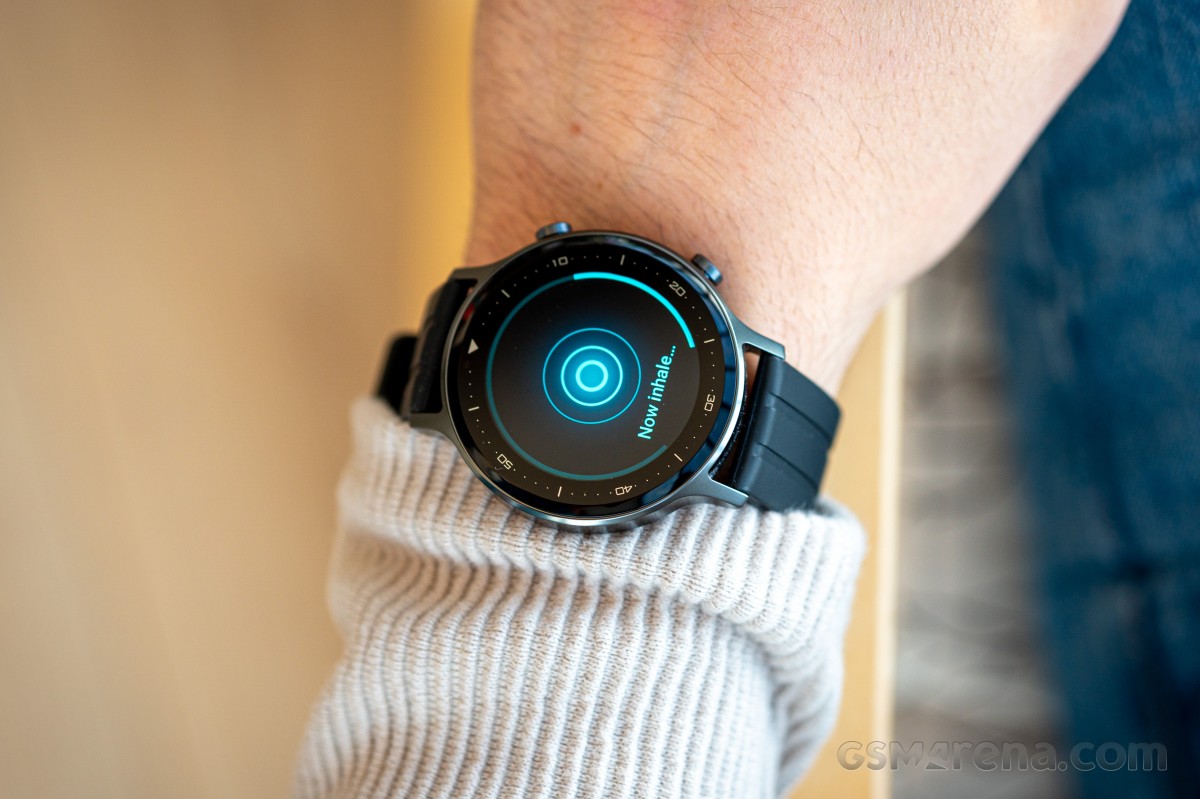 Other apps like Music Control (which also works on YouTube videos) and Find my Phone which buzzes your paired device to help you locate it were quite handy. The Weather app suffered from constant connectivity issues as it needs access to your phone's location to update its data. I had to go into the Link app on my phone daily if I wanted to have weather data on the watch.
Notifications work fine, you can read each one individually and then scroll to the bottom to delete all received notifications. There's still no way to reply to notifications though which is rather limiting but Realme has stated it's working on bringing quick reply functionality sometime in the future. The whole system worked well for the most part though there was a noticeable lag between receiving a message on my phone and it appearing on the watch.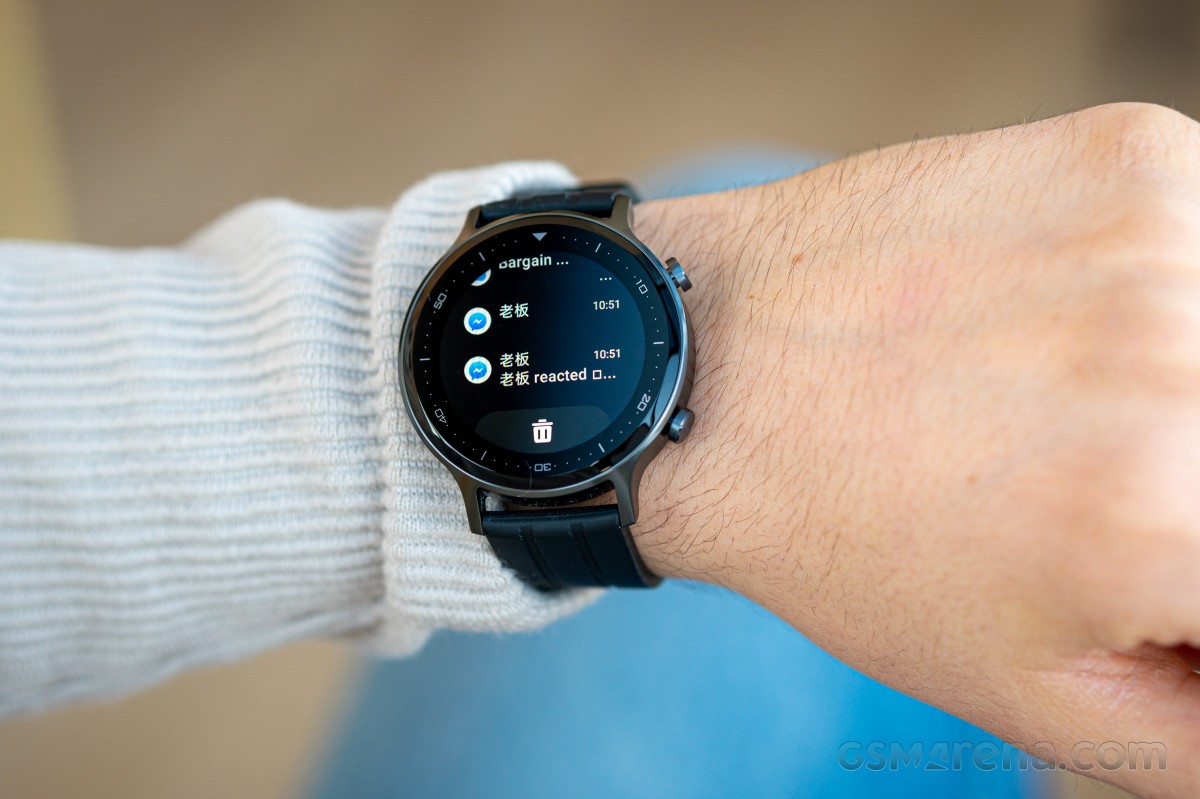 I did experience persistent connectivity issues with the watch, preventing my data from being synced to my phone and notifications coming to the watch. I had to go into the Link app, select the Watch S and swipe down from the top to re-sync my data at least several times a day. This is a major down point that I hope can be fixed with future software updates.
Battery life
In my one week with the Realme Watch S, it never reached the charger. Battery life was nothing short of exceptional. I can easily see the watch managing the advertised two weeks of endurance which is quite the step up from the first Realme Watch which only did four days in our review. Granted you could eat up a lot more battery if you do nighty sleep tracking and have lengthier workout sessions.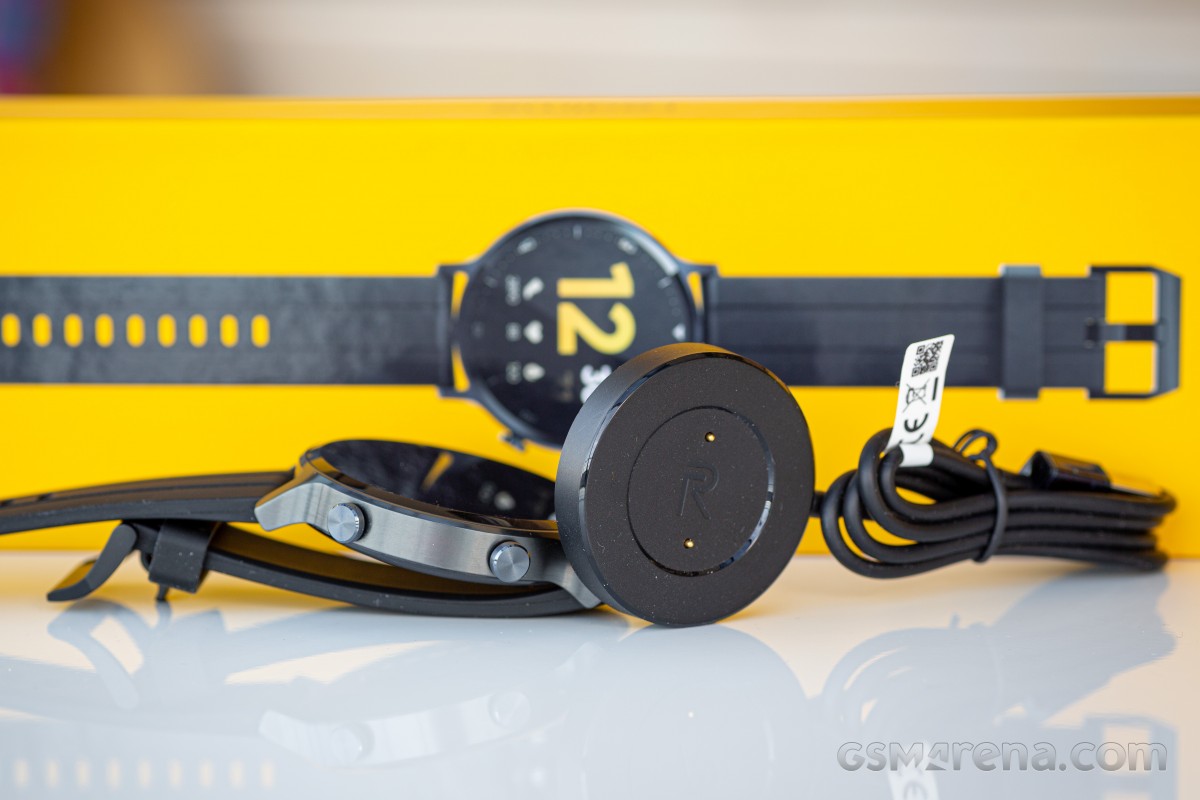 On a typical day, I'd start using the watch as soon as I wake up around 8 AM and have it on until I go to bed somewhere around 12 AM. In that time, I had brightness on auto and heartrate tracking set to every 5 minutes all while getting constant notifications from my social and messaging apps. I'd try to squeeze a short workout and/or walk on most days too.
Just to give you a feel for the battery endurance a 20-minute walk with constant heart tracking and GPS data beaming to my phone followed by a short 20-minute workout only managed to kill off a mere 1% of the battery. Left overnight the watch would also lose around 1% of its battery capacity.
A full charge from 0 to 100% should take around 2 hours which matches the first Realme Watch despite the noticeably larger 390 mAh battery cell on the Watch S. There's also a Power Saving mode which shuts off most features and only shows you the time.
Verdict
The Realme Watch is a sleek and capable smartwatch that does everything you'd want from a wearable on your wrist. It tracks your workouts, heart rate and blood oxygen levels as well as sleep and does so without overcomplicating the whole ordeal. The Realme Link app adds plenty of customization options and nicely presented health data statistics.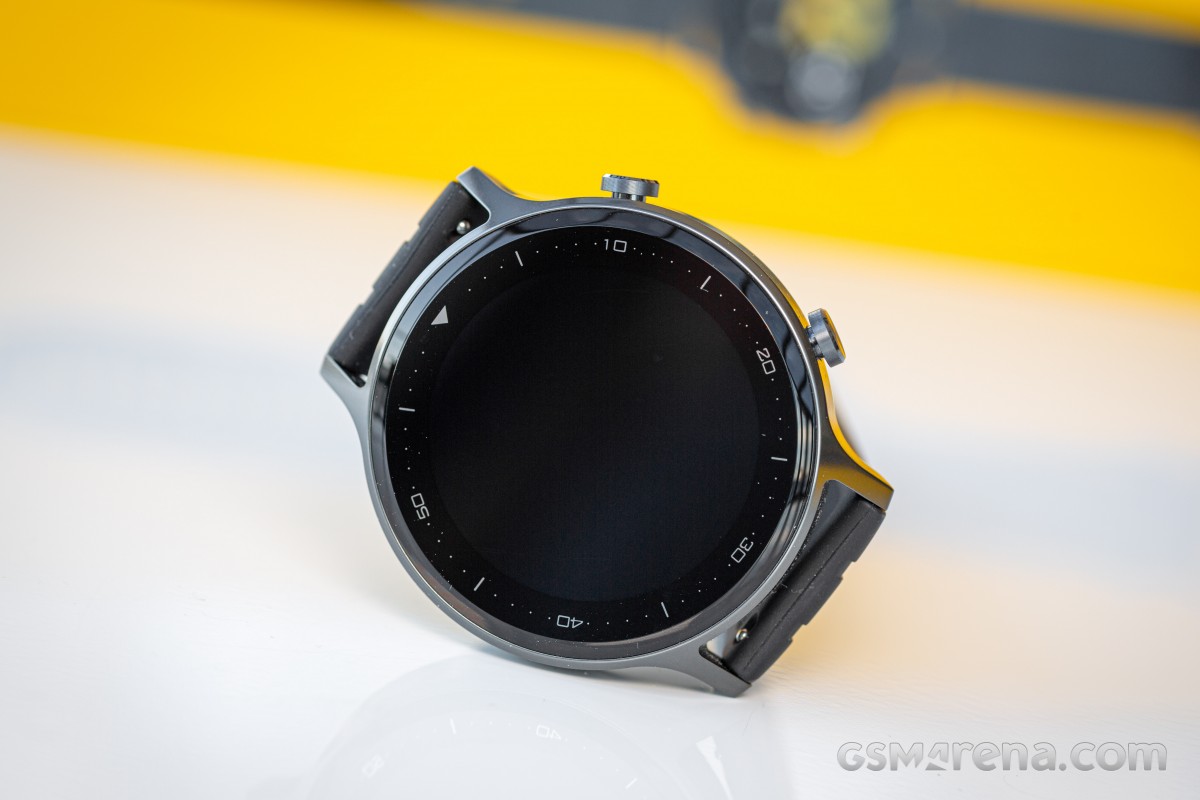 Build quality is great, the materials feel durable and the overall experience is a noticeable step up from the original Realme Watch. Design is a clear improvement here while factoring in the €79.99/£74.99 retail. You don't see this type of build quality from competing products. Where other brands opt for all plastic construction, the aluminum frame on Realme Watch S feels and looks a lot better and will surely hold up over time.
The two obvious downsides are the persistent connectivity issue and inaccurate sleep tracking data. You're also stuck with an LCD instead of an OLED display though it did its job well enough and I can't say it presented any issues in day-to-day use. I was also impressed with the battery endurance.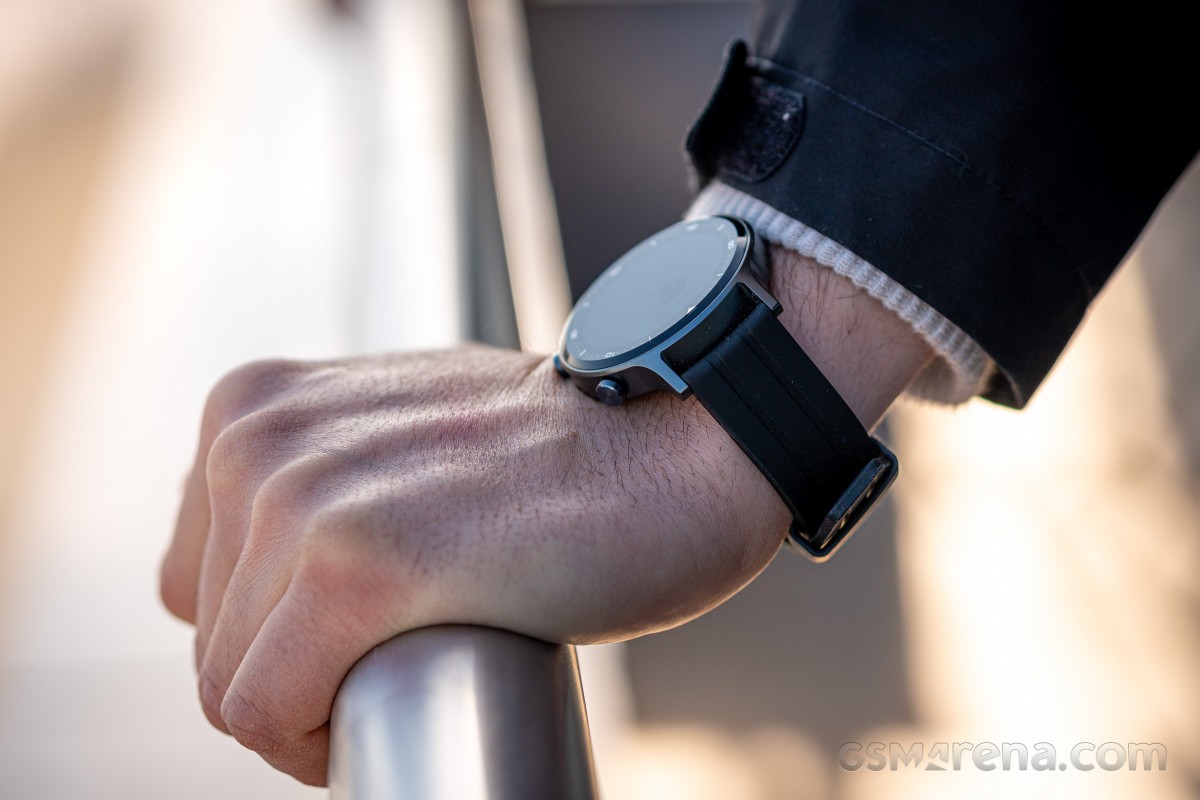 So if you want to test the smartwatch waters without paying top price and are okay with some connectivity issues then the Realme Watch S can satisfy your needs. You're getting a much more polished device compared to the first-gen Realme Watch and a deal of a smartwatch which could make for a great Christmas gift.
Pros
Refined design
Great battery life
IP68 rating
SpO2 monitor
Cons
Persistent connectivity issues
Inaccurate Sleep tracking
Lacks built-in GPS
No iOS support
Related
Anonymous
22 Nov 2022
B3Y
is there a way to make the display never turned off? (like an always on) I know the battery will take a hit there, but I only need to wear this for 3 to 4 hour with the screen always on (like a regular watch)
Keeps disconnecting specially after the 12.05.1 android version installed Any helpful ideas 💡 ? I've tried removing the app , re installed it , unpairing the Bluetooth , paired it again and still facing the connectivity problem !!
Is it helps to track stress level
Popular articles
Popular devices
Electric Vehicles