Realme X review
GSMArena team, 15 May 2019.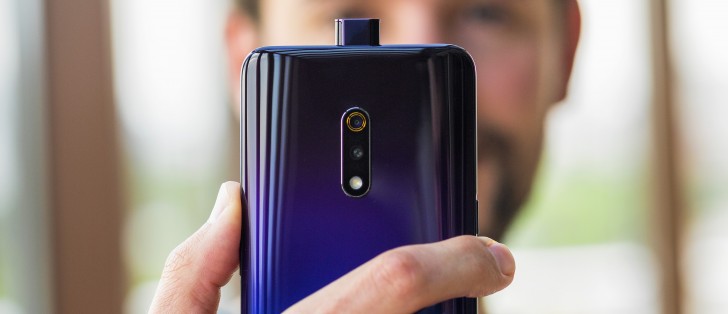 Android Pie and Color OS 6
The Realme X runs Oppo's latest Color OS 6 over Android 9.0 - an arrangement we already saw on the 3 and 3 Pro. Mind you, the version we have on our review unit is for the Chinese market and it's inevitable that there will be some differences from the one that eventually makes it to a global version of the Realme X. While the general look and feel will be the same, the iconography could change and the set of pre-installed apps will likely be different.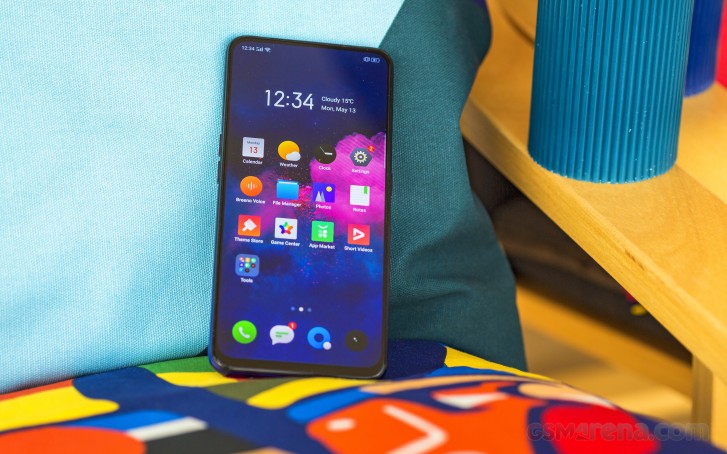 Color OS 6 generally revolves around a light color scheme with the settings menu using a white backdrop with light color accents and gradients. Some menus have been tweaked to account for the hardware differences - the fingerprint enrollment screen, for example, is dark here, as opposed to the white one on the Realme 3 Pro, whether it's for the sensor's sake, or simply because it's an OLED display and black themes have numerous advantages on an OLED display.
Registering a fingerprint takes quite a few steps, but as we've said numerous times, it's not a big deal to spend some time enrolling a print as long as it works well later on. It does here. The sensor isn't always on, but instead it activates either when you pick up the phone, or when you manually wake it up by pressing a button - it's a setting.
You can also set up face unlock in addition to or instead of fingerprint security. It does mean that the pop-up selfie cam will need to work overtime, but 200,000 times is a lot. It's not as slow as you'd think and will rarely leave you waiting. The Realme X will light up the screen to assist in dim conditions too. There's another option that you can set to require your eyes to be open for the phone to unlock to add some extra security.
The lockscreen is likely one of the things that will change for the global ROM as it's not quite what we saw on the 3 Pro. Past that there's more in common with the global 3 Pro ROM we tested and that includes the option to have an app drawer instead of the usual single-tiered iOS-like interface makers from China used to be known for.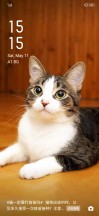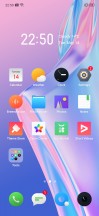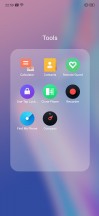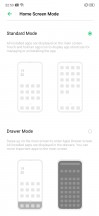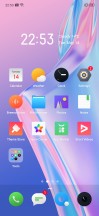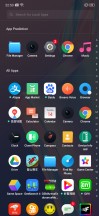 Lockscreen • Homescreen • Folder view • App drawer
The drop-down shade features notifications, quick toggles, and a brightness scrubber and has been redesigned for Color OS 6. The task switcher is reminiscent of Apple's, though it has an End All button. Split-screen multitasking is available for all compatible apps, and you can resize the windows and swap the two apps - functionality that's missing on a Pixel.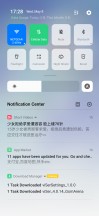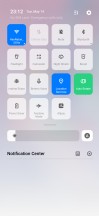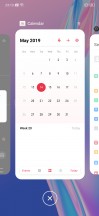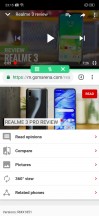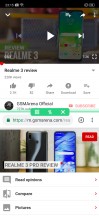 Notifications • Toggles • Task Switcher • Split screen
There are all sorts of navigation options on the Realme X. There's the old-school nav bar on the bottom, swipe up gestures that replace it, but don't really change the dynamic much, and then there's the 'Swipe Gestures from Both Sides' option. This last one is our favorite - it mimics the iOS way of doing things which we've seen one way or the other on EMUI and MIUI, but that's not why we like it. It adds a welcome twist - swipe in from the side and hold to switch between the two latest apps - how brilliant is that? We're not even missing the Pixel-like pill option which was available on the 3 Pro, but not here.
Of course, the usual set of tools comes pre-installed. There is a Phone Manager for handling memory cleaner functions, app permissions and encryption, and virus scanning, among other things.
Then there's Game Space which allows you to handpick which notifications to pass through when you are playing games and you don't want to be interrupted. There are also different performance modes and an option to lock the brightness only for certain games.
Realme also provides basic multimedia apps - a gallery called Photos, and a Music player. A file manager is also part of the package, but the FM radio player we found on the 3 Pro is missing on the X - chances of it making a return in the global version are not to be discounted though.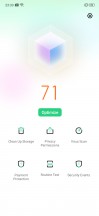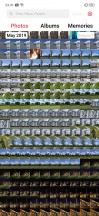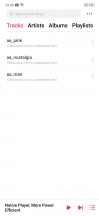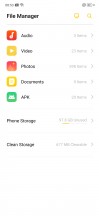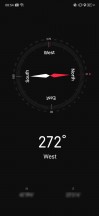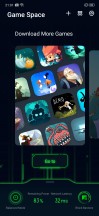 Phone Manager • Gallery • Music • Files • Compass • Game Space
Synthetic benchmarks
The Realme X relies on the same core hardware as the Realme 3 Pro - it's the Snapdraon 710 in charge of things. There are versions with 4GB, 6GB and 8GB of RAM, while storage is either 64GB or 128GB. Our review unit is the highest-specced one with 8GB of RAM and 128GB of storage.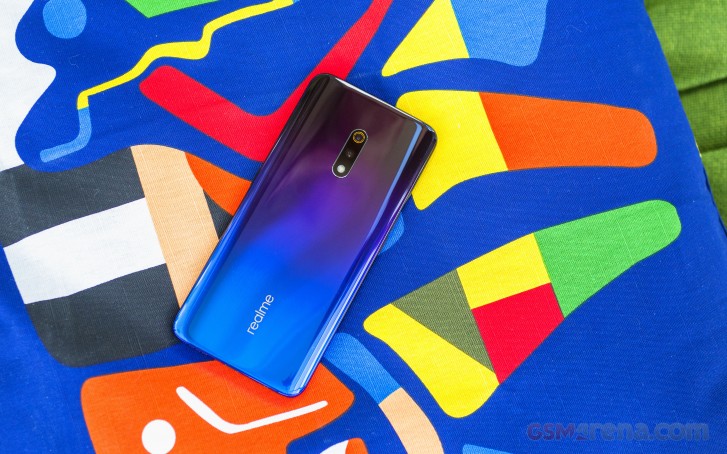 Unfortunately, this being a pre-release unit, we weren't able to run all of the usual benchmarks. However, we have no reason to believe the X will behave any differently than the 3 Pro we tested recently. Do check that out for the ballpark of the Antutu and GFXBench scores.
We did manage to run GeekBench and got predictable results - virtually identical to what the Realme 3 Pro scored. Under single-core CPU loads, the Realme X doesn't fare very well against competitors, with both the Redmi Note 7 and the Galaxy A50 putting out significantly higher numbers, and the vivo V15 Pro in a league of its own.
GeekBench 4.1 (single-core)
Higher is better
vivo V15 Pro
2386
Xiaomi Mi 8 SE
1890
Samsung Galaxy A50
1715
Xiaomi Redmi Note 7
1650
Xiaomi Mi 8 Lite
1628
Honor 8X
1618
Samsung Galaxy A9 (2018)
1611
Huawei P30 Lite (perf. mode)
1576
Huawei P30 Lite
1534
Realme X
1475
Realme 3 Pro
1471
Samsung Galaxy A40
1325
The Realme recovers in the multi-core test, where it has a comfortable advantage over the Redmi and the Galaxy, though the vivo V15 Pro manages to stay ahead.
GeekBench 4.1 (multi-core)
Higher is better
vivo V15 Pro
6527
Realme X
5915
Xiaomi Mi 8 SE
5908
Xiaomi Mi 8 Lite
5894
Realme 3 Pro
5881
Samsung Galaxy A9 (2018)
5763
Honor 8X
5651
Huawei P30 Lite (perf. mode)
5549
Huawei P30 Lite
5523
Xiaomi Redmi Note 7
5411
Samsung Galaxy A50
5396
Samsung Galaxy A40
4112
The Realme X shows the power of its GPU in Basemark X. The Snapdragon 710's Adreno 616 outperforms all the others in this bunch and the Realme posts some 30% higher score than the vivo V15 Pro and the Redmi Note 7, and it's close to 50% ahead of the Galaxy A50.
Basemark X
Higher is better
Realme X
28416
Xiaomi Mi 8 SE
27560
Realme 3 Pro
27031
Xiaomi Mi 8 Lite
21269
Xiaomi Redmi Note 7
21201
vivo V15 Pro
21104
Huawei P30 Lite (perf. mode)
20560
Honor 8X
20416
Samsung Galaxy A9 (2018)
20322
Huawei P30 Lite
19925
Samsung Galaxy A50
19106
Samsung Galaxy A40
12098
For a compound benchmark to assess the overall performance we resorted to Basemark OS II 2.0. Here, the V15 Pro's superior CPU gives it an edge, but the Realme is staying close, which you can't say of the Galaxy A50 and the Redmi Note 7.
Basemark OS 2.0
Higher is better
vivo V15 Pro
2936
Realme X
2748
Xiaomi Mi 8 SE
2658
Realme 3 Pro
2648
Samsung Galaxy A9 (2018)
2353
Honor 8X
2341
Xiaomi Mi 8 Lite
2338
Huawei P30 Lite (perf. mode)
2308
Xiaomi Redmi Note 7
2260
Huawei P30 Lite
2234
Samsung Galaxy A50
2209
Samsung Galaxy A40
1723
As the Realme 3 Pro before it, the Realme X puts an emphasis on graphics performance and it's got a clear edge against competitors in GPU-intensive tasks. Meanwhile CPU performance is adequate for its class in single-core loads and towards the top under multi-core tests. The phone also handles continued load without heat buildup or throttling, which is always nice.
just download play store and install it
FM modul is very cheap now, only $0.5