Realme X2 Pro review
GSMArena team, 25 Oct 2019.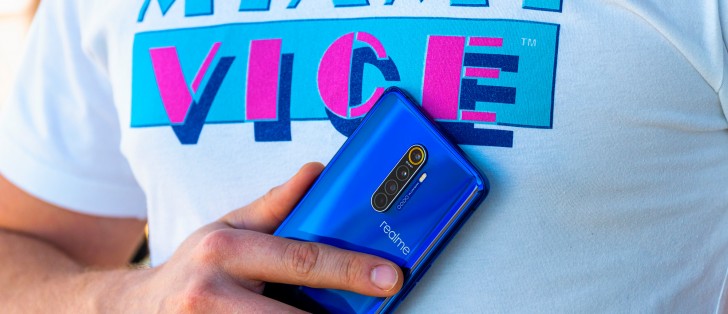 Home-baked ColorOS 6.1 based on Android 9 Pie
Just like all Realme smartphones, the X2 Pro also comes with a custom ColorOS skin overlay on top of Android. It's widely used on Oppo smartphones as well, which makes sense. However, the version with which the Realme X2 launches is 6.1, and it's based on Android 9 Pie. To be honest, we expected Android 10, considering that it's a flagship device launching almost two months after the initial release of Android 10. We hope that Realme updates the handset soon enough.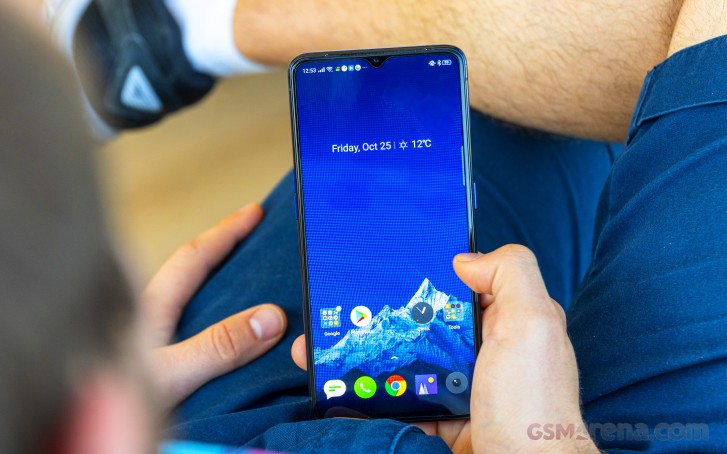 In any case, ColorOS is as customizable as ever and offers tons of features - some useful, some for show-off. Either way, you will be greeted with a familiar lock screen, home screen, recent apps menu, and an app drawer. Swiping to the right from the home screen will open up the Smart Assistant menu that works like quick access to certain apps, tasks, and contacts. The notification shade is radically different from the rest of the custom Android skins. It fills up the whole screen even if you don't have any notifications. Swiping down one more time expands the quick toggle icons, which are in line with the stock Android Pie appearance but also light up in different colors so you can easily distinguish some of the toggles.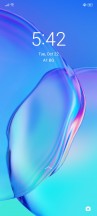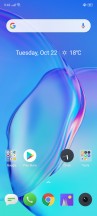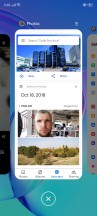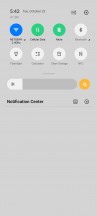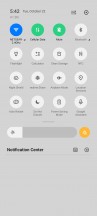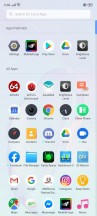 Lock screen, home screen, notification shade, app drawer
Anyway, there's quick access to the general settings menu from there, and it's pretty lengthy too. There are a lot of categories to go through so we will try to keep it simple and short without missing all the exciting stuff.
As expected, the Display sub-menu has a lot of useful settings to offer as this is one of the centerpiece features of the device. You can set the refresh rate of the display from 90Hz to 60Hz, and vice versa, you can turn on the Night Shield for reading after hours, calibrate the screen to your liking and even turn on DC dimming for the screen backlighting if the flickering nature of the PWM bothers you.
Moving down in the general settings menu, we found one particularly exciting functionality in the Home Screen & Wallpaper sub-menu - app startup and closing animation speed. You can set the animation speed of opening and closing apps, and we can't think of a reason to keep the setting at "slow" as it will greatly increase the startup time. However, if you like the smooth animation effects at 90 frames per second, you can consider keeping the setting at "standard" or "slow". We suspect you can speed up the other animation and transition effects in the hidden Developer Options menu to speed things up a little. Pro tip: this is really a good idea as shorter animations look awesome at 0.5x speed on 90Hz displays.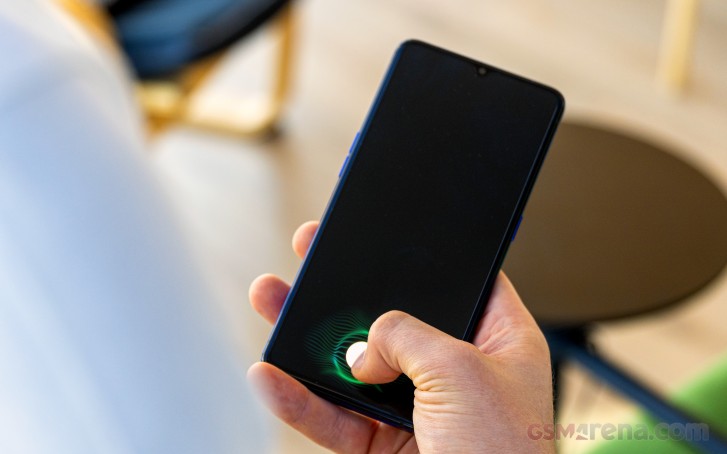 Under the screen sits the latest generation optic fingerprint reader from Goodix and as the new OnePlus 7T lineup, this one illuminates in white. It's one of the best implementations we've seen lately - it's fast, reliable, and accurate even in bright daylight. Honestly, we don't have any complaints regarding the in-display fingerprint reader - it's one of the fastest around, and the lack of unlocking animation makes it feel even speedier.
As usual - we suggest training the scanner in a dark room for the best possible performance. Moreover, in the fingerprint menu you will find a couple of other cool settings like numerous animations for the fingerprint area.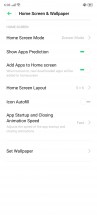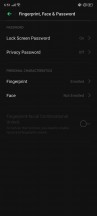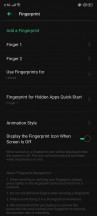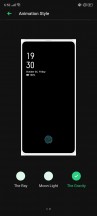 Home screen settings and biometrics menu
Face unlock is also supported - it's fast but less secure, of course. You will find it useful when having trouble to unlock under bright, direct sunlight. It will have no issue recognizing your face.
For OS navigation, Realme is offering three modes - the good old software buttons, swipe-up gestures and swipe gestures from the sides. The ones from the side are identical to Google's current Android 10 gestures as in, back is a swipe from the side frames, swipe up and hold for recent apps menu, and a single swipe up brings you back to the home screen. The bottom-swipe gestures are the ones that OnePlus used to have - the back gesture is an off-centered swipe from the bottom bezel. The software buttons can also be re-arranged to your liking.
There are also screen-off gestures that can execute a task or summon an app from a locked screen. Music player controls are also available and work great.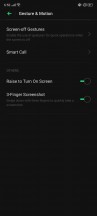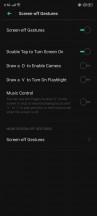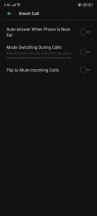 Motion gestures and screen-off gestures
A so-called Smart Sidebar is also at your disposal. You can bring it out by swiping from the right bezel, but in order not to interfere with the back gesture (if you are using the side gestures), it executes only from the upper half of the screen. You can also enable it just in landscape mode. It gives you quick access to apps and tools.
For optimal convenience, you can also enable double-tap-to-wake so you can see the fingerprint scanner area and unlock your phone. The screen can also be woken up by just lifting it from from the table or getting out of the pocket.
With all the customization ColorOS 6.1, it's only natural to have a couple of extra options in the Battery menu as well. The usual Power Saving mode is at hand as well as information about what sips from your battery the most - apps, screen, OS, etc. There's also a dedicated Performance Mode sub-menu giving you more control over the phone's raw performance. There's the High-performance mode, Smart performance mode, and a toggle for no performance improvements. It's advisable to use the high-performance mode while playing games and perhaps stick to the automatic mode for most use cases.
When announcing the Realme X2 Pro on the stage, the spokesperson was particularly proud of the ColorOS's system-wide dark mode. And to be honest, Realme does have a reason to be proud of that. Despite still running on Android Pie, you can set a system-wide dark theme that extends beyond the system menus. All apps, even the ones that don't support the feature, turn to black. What it does is replacing the white background and elements with some kind of black or dark gray color. We found it to work pretty well even in apps like Gmail, Google Play Store, etc. which don't have their own dark mode yet. There's also the option to turn off the dark mode for selected apps if you don't like how it looks.
In terms of performance, we didn't encounter any bugs, hangs or lags. The system ran fluently, despite the heavily customized version of Android Pie. After all, this is what you'd expect from a flagship device running the latest hardware and a 90Hz display.
Performance
The handset is powered by the latest and greatest from Qualcomm. The Snapdragon 855+ chipset inside provides enough raw power to handle pretty much everything you throw at it. The Snapdragon 855+ SoC incorporates an octa-core 7nm CPU consisting of one big Kryo 485 core clocked at 2.96GHz, three of the same clocked at 2.42GHz and four more Kryo 485 cores running at 1.8GHz to save on power and take care of the less demanding tasks. An Adreno 640 GPU clocked at 700MHz is used for the GPU-intensive tasks.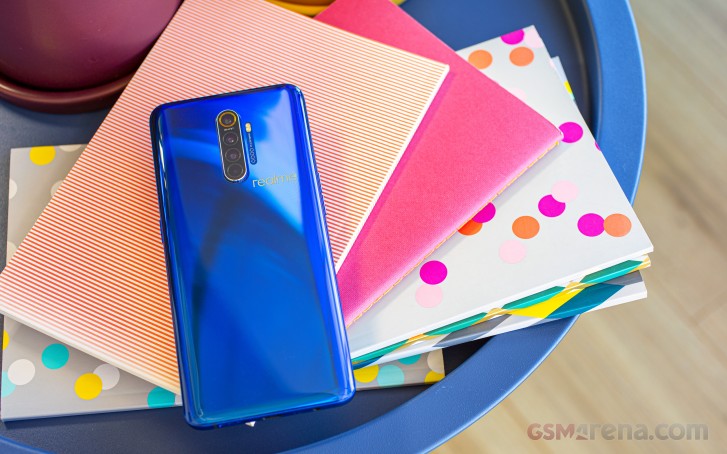 The SoC works with 12GB of RAM and 256GB of speedy UFS 3.0 internal storage, which, by the way, isn't expandable. There are also versions with 8GB/128GB and 6GB/64GB configurations, and it's important to note that the 64GB version uses the older generation UFS 2.1 storage. Allegedly, the smallest capacity UFS 3.0 chips manufacturers can get are 128GB. So anything below that is UFS 2.1 at best.
Anyway, here's how the chip inside the Realme X2 Pro performs although, we already know what to expect since we've tested it numerous times on other handsets.
GeekBench 4.1 (multi-core)
Higher is better
Huawei Mate 30 Pro (Perf mode)
11936
Huawei Mate 30 Pro
11733
Asus Zenfone 6 (Zen Power Boost)
10800
Asus Zenfone 6
10721
Redmi K20 Pro/Mi 9T Pro
10684
Realme X2 Pro
10373
Samsung Galaxy Note10
10353
Samsung Galaxy S10e
10081
Huawei P30 Pro (perf. mode)
10014
Huawei P30 Pro
9649
Realme XT
6102
Realme X
5915
GeekBench 4.1 (single-core)
Higher is better
Samsung Galaxy Note10
4544
Samsung Galaxy S10e
4518
Huawei Mate 30 Pro
3869
Huawei Mate 30 Pro (Perf mode)
3864
Realme X2 Pro
3527
Asus Zenfone 6
3505
Asus Zenfone 6 (Zen Power Boost)
3499
Huawei P30 Pro (perf. mode)
3323
Huawei P30 Pro
3270
Redmi K20 Pro/Mi 9T Pro
3000
Realme XT
1899
Realme X
1475
GeekBench 5 (multi-core)
Higher is better
Huawei Mate 30 Pro (Perf mode)
2972
OnePlus 7T
2932
Huawei Mate 30 Pro
2847
Realme X2 Pro
2602
Samsung Galaxy Note10
2259
Realme XT
1569
GeekBench 5 (single-core)
Higher is better
Samsung Galaxy Note10
837
OnePlus 7T
788
Huawei Mate 30 Pro (Perf mode)
779
Huawei Mate 30 Pro
754
Realme X2 Pro
589
Realme XT
410
AnTuTu 7
Higher is better
Realme X2 Pro
396827
Huawei Mate 30 Pro (Perf mode)
378950
Asus Zenfone 6 (Zen Power Boost)
377024
Xiaomi Redmi K20 Pro
369082
Asus Zenfone 6
361679
Samsung Galaxy Note10
344442
Samsung Galaxy S10e
325192
Huawei Mate 30 Pro
323423
Huawei P30 Pro (perf. mode)
316156
Huawei P30 Pro
290189
Huawei P30 Pro
290189
Realme XT
185193
GFX 3.1 Manhattan (1080p offscreen)
Higher is better
OnePlus 7T
79
Realme X2 Pro
78
Huawei Mate 30 Pro (Perf mode)
76
Asus Zenfone 6
71
Asus Zenfone 6 (Zen Power Boost)
71
Redmi K20 Pro/Mi 9T Pro
71
Samsung Galaxy S10e
67
Samsung Galaxy Note10
59
Huawei P30 Pro (perf. mode)
56
Huawei P30 Pro
54
Realme XT
26
GFX 3.1 Manhattan (onscreen)
Higher is better
OnePlus 7T
59
Realme X2 Pro
57
Asus Zenfone 6
57
Asus Zenfone 6 (Zen Power Boost)
57
Samsung Galaxy S10e
57
Redmi K20 Pro/Mi 9T Pro
57
Huawei Mate 30 Pro (Perf mode)
56
Samsung Galaxy Note10
55
Huawei P30 Pro
50
Huawei P30 Pro (perf. mode)
50
Realme XT
23
GFX 3.1 Car scene (1080p offscreen)
Higher is better
OnePlus 7T
48
Realme X2 Pro
47
Asus Zenfone 6
42
Asus Zenfone 6 (Zen Power Boost)
42
Huawei Mate 30 Pro (Perf mode)
42
Samsung Galaxy S10e
42
Redmi K20 Pro/Mi 9T Pro
42
Huawei P30 Pro (perf. mode)
33
Huawei P30 Pro
29
Samsung Galaxy Note10
28
Realme XT
15
GFX 3.1 Car scene (onscreen)
Higher is better
OnePlus 7T
41
Samsung Galaxy S10e
40
Realme X2 Pro
37
Asus Zenfone 6
36
Asus Zenfone 6 (Zen Power Boost)
36
Redmi K20 Pro/Mi 9T Pro
36
Huawei Mate 30 Pro (Perf mode)
34
Huawei P30 Pro (perf. mode)
29
Samsung Galaxy Note10
28
Huawei P30 Pro
27
Realme XT
13
3DMark SSE 3.1 Unlimited
Higher is better
Huawei Mate 30 Pro (Perf mode)
6322
Asus Zenfone 6 (Zen Power Boost)
6282
Asus Zenfone 6
6263
Realme X2 Pro
5792
Samsung Galaxy Note10
5269
Redmi K20 Pro/Mi 9T Pro
4850
Samsung Galaxy S10e
4545
Huawei Mate 30 Pro
4481
Huawei P30 Pro (perf. mode)
4315
Huawei P30 Pro
3522
Realme XT
2284
The Snapdragon 855+ inside performs just as expected aside from the slightly lower CPU scores in Geekbench. In pure GPU and combined tests like the GFXBench and AnTuTu, respectively, the handset performs on par with the competition. Also, the single-threaded performance of the Snapdragon 855+ is expected to be lower than the Exynos 9820, and 9825 as Samsung's chip has bigger high-performance cores easily outperforming Qualcomm's offering. In multi-threaded tasks, however, they should be just about equal.
Not anymore, I have 2 realme phones and updates come timely and with lots of features. I have not seen as many features amd customizable elements in Miui or oneui as in realme UI.