Realme X50 Pro 5G review
GSMArena team, 16 April 2020.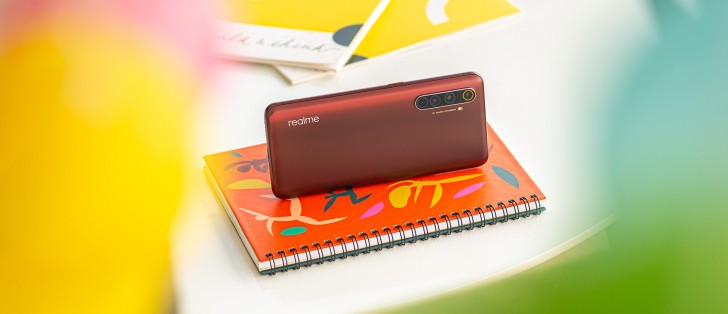 One large 90Hz OLED
One of the key features of the Realme X50 Pro 5G is its 90Hz screen. It uses a 6.44" AMOLED panel of extended 1080p resolution (2,400 x 1,080 px) that has an oval cutout around the top left corner to make way for the two selfie snappers.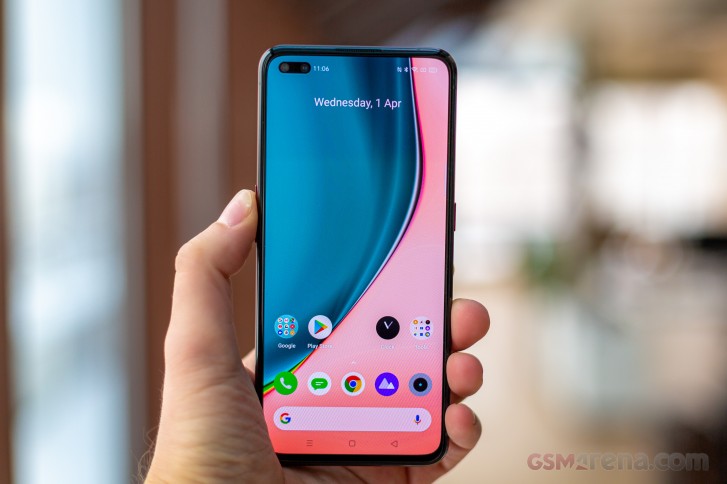 Gorilla Glass 5 is responsible for the screen protection against cracks and scratches, but Realme is applying a thin protector in the factory for some extra security out of the box.
The Realme X50 Pro display supports a 90Hz refresh rate like the Realme X2 Pro. You can choose between 60Hz, 90Hz, and Auto Select refresh from display settings.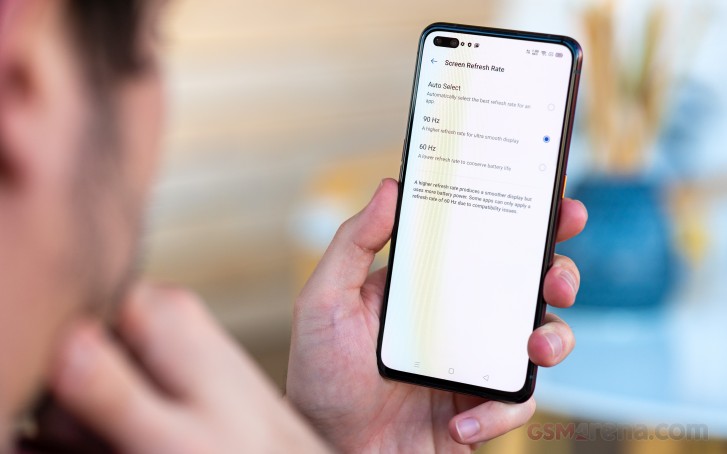 The panel also supports HDR10+ and thanks Widevine L1 DRM support, you will be able to enjoy high-res HDR content from Netflix and the likes on the Realme X50 Pro.
The display maxes out at 525 nits of brightness when adjusted manually, and when set to the Auto setting and faced with bright light, it will go as high as 635 nits. These are some great numbers for an OLED screen, and you will never be faced with a dim picture, no matter the light conditions.
The minimum brightness we were able to measure on the X50 Pro screen is 4 nits - not the lowest we've seen from an AMOLED.
Display test
100% brightness
Black,cd/m2
White,cd/m2
Contrast ratio
Realme X50 Pro 5G
0
525
∞
Realme X50 Pro 5G (Max Auto)
0
635
∞
Realme X2 Pro
0
500
∞
Realme X2 Pro (Max Auto)
0
708
∞
Realme X2
0
432
∞
Samsung Galaxy S20
0
397
∞
Samsung Galaxy S20 (Max Auto)
0
814
∞
Xiaomi K20 Pro/Mi 9T Pro
0
453
∞
Xiaomi K20 Pro/Mi 9T Pro (Max Auto)
0
643
∞
Huawei P40
0
440
∞
Huawei P40 (Max Auto)
0
589
∞
Xiaomi Mi 10 Pro
0
510
∞
Xiaomi Mi 10 Pro (Max Auto)
0
858
∞
The screen is tuned to comply with the DCI-P3 (Vivid) and sRGB (Natural) color spaces. The accuracy is good - the Vivid profile is not too saturated; color is just punchy enough but not overwhelming. As usually is the case with a more pumped up profile, whites lean slightly to blue (cool white). In this mode, we measured an average color deviation of deltaE 4.8 and a maximum deviation of 10 at white color.
The Natural profile does yield the same color accuracy scores: it's got an average deltaE of 4.7 and a max deltaE of 9.9 at point white, which once again leans towards blue.
You can use the color temperature slider, and its Warmest setting yields slightly better results with average deltaE of 3.6 for DCI-P3 and 3.2 for sRGB. The blue tinge is gone here as the whites in both modes are much more accurate (deltaE of 6 and 5.6).
Battery life
The Realme X50 Pro packs a 4,200 mAh battery. It is the first phone to support the new 65W SuperDart charge and the 65W charger is part of the retail bundle. Realme promises it will fully recharge the battery in 35 mins. And we can confirm it fills 99% of its dead battery in 35 mins, while a full charge is achieved around the 38 min mark. Very impressive indeed!
The Realme X50 Pro also supports all previous VOOC fast charging options, as well as USB-PD, so if you are fine without the charging speed that only 65W VOOC 2.0 provides, you can charge it with whatever fast charger you have lying around. As long as it's not a wireless charger that is - as the Realme X50 Pro does not support that.
We've completed our battery tests, and the results are very good. The phone can last you north of 13 hours of web surfing, or more than 17 hours of playing videos. The 3G talk time isn't spectacular, and nor is the standby performance - and these led to a bit lower than expected, but still very good endurance rating of 88 hours.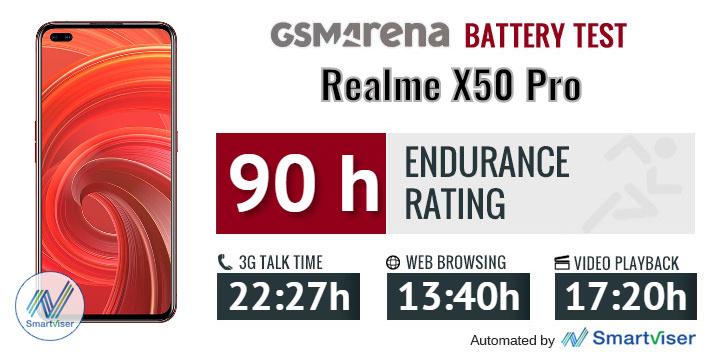 Our battery tests were automated thanks to SmartViser, using its viSerDevice app. The endurance rating above denotes how long a single battery charge will last you if you use the Realme X50 Pro 5G for an hour each of telephony, web browsing, and video playback daily. We've established this usage pattern so that our battery results are comparable across devices in the most common day-to-day tasks. The battery testing procedure is described in detail in case you're interested in the nitty-gritty. You can check out our complete battery test table, where you can see how all of the smartphones we've tested will compare under your own typical use.
Speakers loudness
The Realme X50 Pro boasts two speakers - one dedicated at the bottom and the other one is the earpiece. The bottom one offers more bass than the earpiece, but other than that - their loudness seems balanced enough.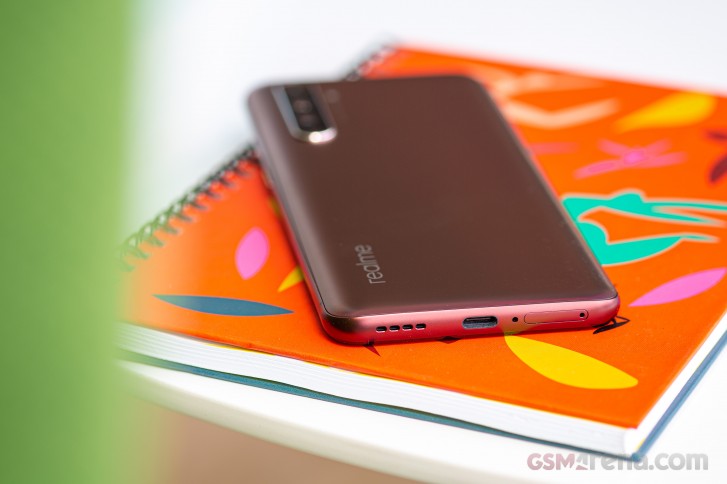 In our new speaker test, the Realme X50 Pro scored a Very Good mark as far as loudness is concerned. As for the quality - it's excellent. Both bass and treble are loud and clear and are very well presented - better than on the Oppo Find X2 Pro though the bass is not on the level of the best phones out there.
Use the Playback controls to listen to the phone sample recordings (best use headphones). We measure the average loudness of the speakers in LUFS. A lower absolute value means a louder sound. A look at the frequency response chart will tell you how far off the ideal "0db" flat line is the reproduction of the bass, treble, and mid frequencies. You can add more phones to compare how they differ. The scores and ratings are not comparable with our older loudspeaker test. Learn more about how we test here.
Camera is too good than iphone 12 Using since 1.5 year
So which phone is the better phone,this realme x50 pro or the standard one plus 8??both run the Snapdragon 865 with 90 refresh screens and both cost the same in 2022 at 250 pounds new,I need to know this please?