Redmi Buds 3 Pro review
Michail, 14 November 2021
Introduction
The true wireless earbuds market is one of the most competitive segments in tech these days with seemingly every maker aiming to offer as many options as possible. Xiaomi and its Redmi sub-brand are not new to the table and their latest effort is the Redmi Buds 3 Pro which are also known as the AirDots 3 Pro in China.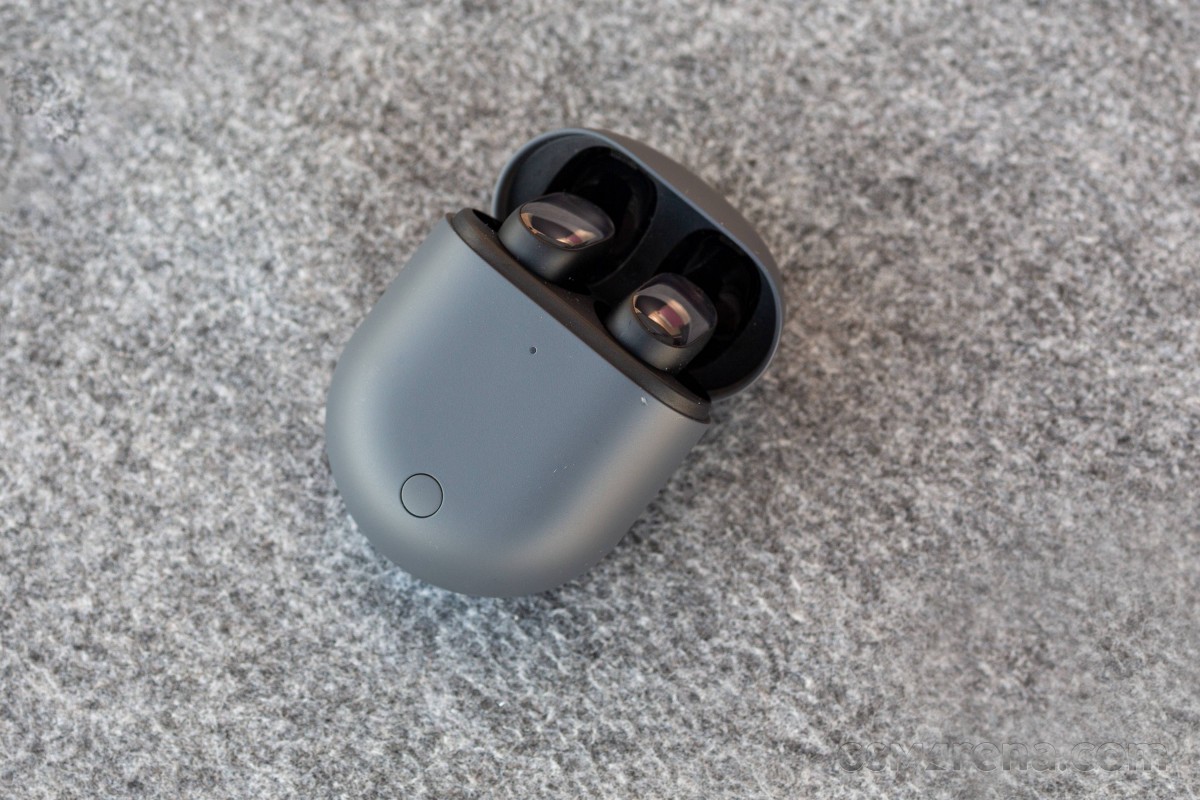 Do these have the makings of a great pair of TWS earphones? How do they compare to rivals in the $60/€60 price range and do they deliver on their sound, ANC and battery promises? Let's dive in.
Design and build quality
The first thing that struck me about the Buds 3 Pro is their unusual shape. Sure, we've seen plenty of earbuds without stems on them before but these feature a larger outward part that tapers down as it reaches the ear tip. It sort of looks like a cartoon character's shoe when viewed from the side and that shape is needed as these are Redmi's most premium earphones to date packing active noise cancelation which should block up to 35dB of outside commotion.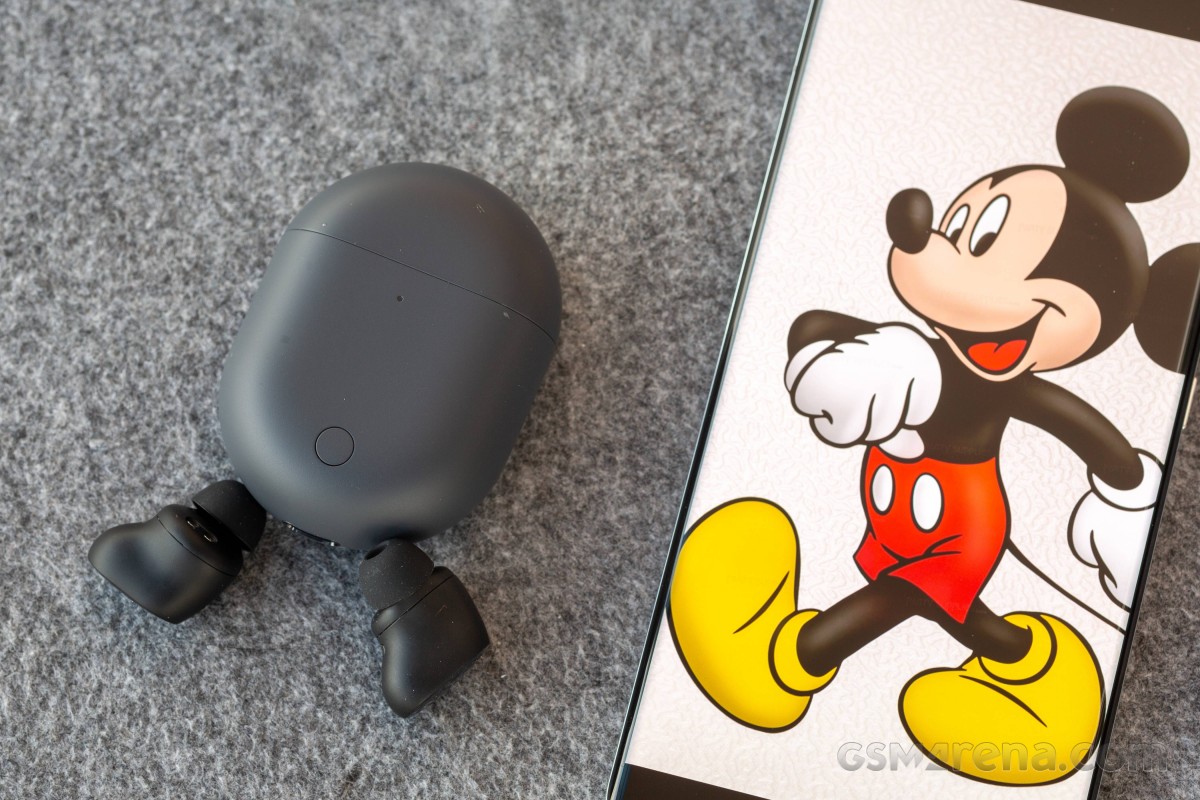 The Graphite Black color of our review unit is quite nice with the buds predominantly sporting a darker hue apart from their glossy touch area while the pebble-shaped case is grayer than black. The earphones and case feature a matte finish which is always preferred to glossy surfaces. The touch control area on the buds allows for play, pause and skips in media as well as toggling between the Transparency and ANC modes. The whole package is IPX4 splash-proof and the combined weight of the buds and case comes out to 55 grams.
Out the box, Buds 3 Pro come pre-fitted with size M silicone ear tips. You get another size M set in the packaging as well as small and large ones to suit your fit. The box also houses a short flat USB-C to USB-A cable for charging.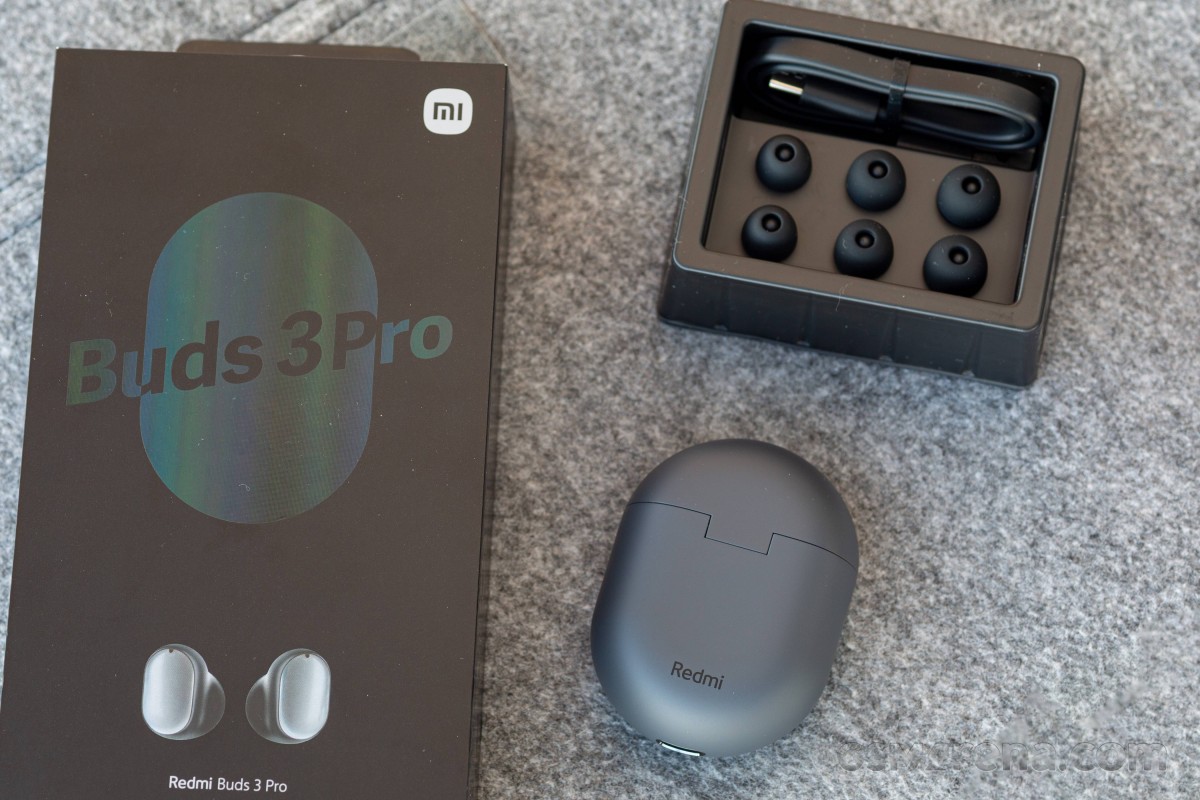 The case is quite compact at 65 x 48 x 26mm and features a really solid lid that delivers a firm snap when closing. The lid can even support the entire case when laid out on a hard surface without closing down - something not seen on most similarly priced earbuds. There's a USB-C port at the bottom of the case but you can also ditch the wires completely and charge via any Qi wireless charger at up to 5W speeds.
The front side houses a pairing button as well as a LED indicator while the back has a subtle Redmi branding. The case fits snug in jeans' small pocket and was always easy to bring around wherever I went.
Features
Following the latest trend, Redmi Buds 3 Pro focus on providing ANC at a reasonable budget. So this is the first feature we're talking about. As a whole, the system works quite well and better than other TWS buds with ANC around the same price I've tested in the past months.
ANC on the Buds 3 Pro blocked out static and midrange noises like typing on a laptop's chiclet keyboard or clicking a pen. I also tested the buds while walking near a busy street and it managed to noticeably decrease the noise produced by incoming cars. The same applied in a gym setting where the Buds 3 Pro managed to block out the background music playing on the sound system though I would still notice sounds of treadmills and weights being dropped.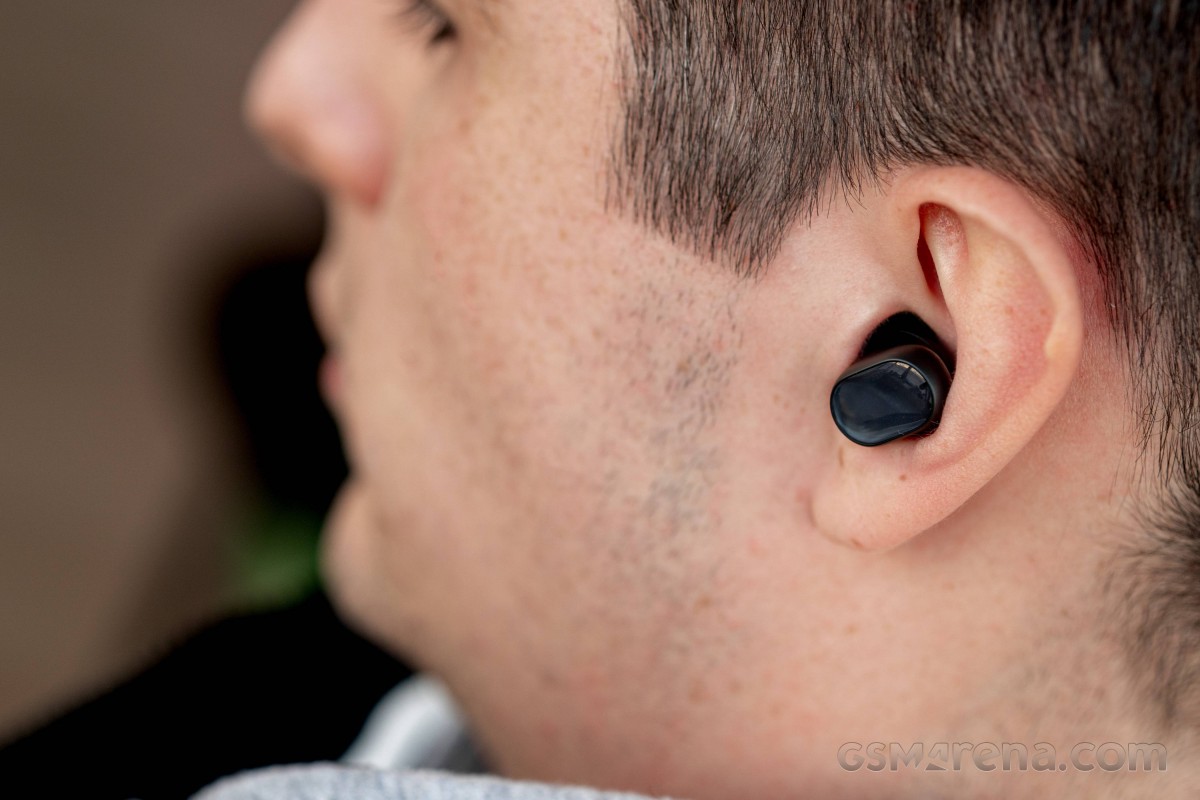 As a whole Redmi Buds 3 Pro block out a decent level of surrounding noise and it's not just a gimmick future like on some other buds. Transparency mode also works quite well as it uses the three mic system to let in voices of nearby people so you don't need to take off your earphones for brief chats.
This is the part where I should mention the lack of a companion app for markets outside China. Xiaomi has yet to provide an in-house solution for controlling its TWS earbuds and it's a bit of a letdown given that most other makers have one. If you're using a recent MIUI phone, you're in luck as you get menus for toggling between transparency mode and noise cancelation as well as battery status for both buds and the case and even software updates. It's a shame that users on non-Xiaomi phones don't get the same level of controls and features.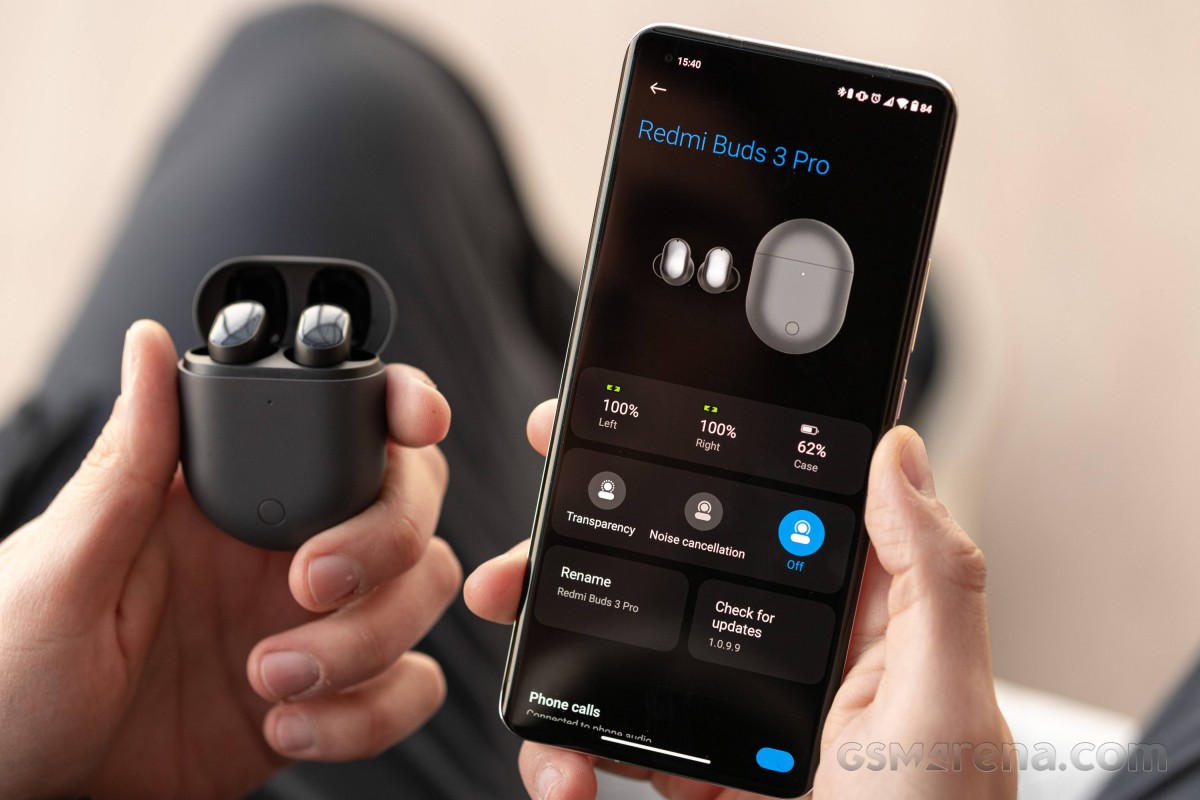 Buds 3 Pro connect over Bluetooth 5.2 and support the SBC and AAC codecs. The multi-point pairing works though I experienced plenty of connection interruptions while connected to my phone and laptop which was not the case on Huawei's FreeBuds 4 for example. When using the buds on my laptop, I noticed the right earbud would connect a few seconds before the left one on multiple occasions.
Still, the Buds 3 Pro were smart enough to alternate between my phone and laptop during incoming calls by pausing media on my laptop while I take the call and then automatically switching back to my other connected device and resuming playback.
In-ear detection is flawlessly executed and worked by pausing media each time I took out either of the buds and subsequently resumed playback once I put the buds back on. The touch controls are a bit weird to get used to as Xiaomi has assigned a double-tap (instead of a single tap) for play/pause. A triple tap brings the next track while touch and hold toggles between Transparency mode and ANC. There's no way to control volume from the buds themselves which is a bit of a letdown.
Sound quality and fit
Redmi Buds 3 Pro have 9mm dynamic drivers and three microphones on each side. Two of the mics are located on the outer parts of the touch area while the remaining one is on the inside hidden behind a metal mesh.
Sound is rich with plenty of bass, clear vocals and an overall balanced sound profile. They get plenty loud too which goes well with the functional ANC. I can safely say Buds 3 Pro offer above-average sound quality which is a great step up for Xiaomi's lineup though they do leave a bit to be desired compared to the premium TWS buds from Apple, Sony and Samsung. Unfortunately, you cannot make any sound profile adjustments to the buds so your only option is to adjust the sound output on your connected device or music app.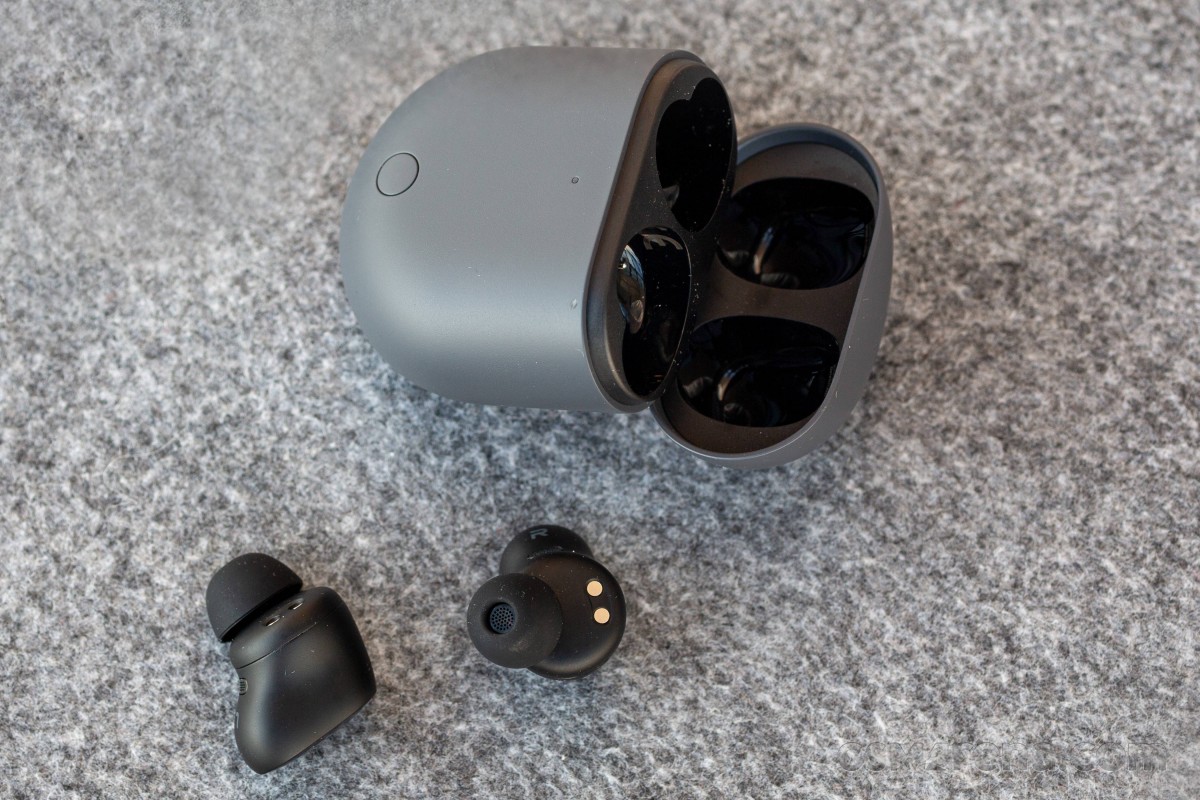 Buds 3 Pro are not that comfortable to have in your ears for longer periods of time as I found out rather quickly. The way you use them is by inserting them in your ear and then twisting counterclockwise to create a seal. The area around the buds' charging pins caused discomfort to my ears and I could not manage to spend more than 2 hours with the headphones on. Of course, no two ears have the same shape so this issue might not apply to you.
One solution that alleviated the pressure off my ears was not twisting the buds and just keeping them angled. This however resulted in a looser seal around my ear canal and the fit was less secure though the buds still stayed in my ear without moving too much. Swapping out the default size M silicone tips for the smaller size tips helped too.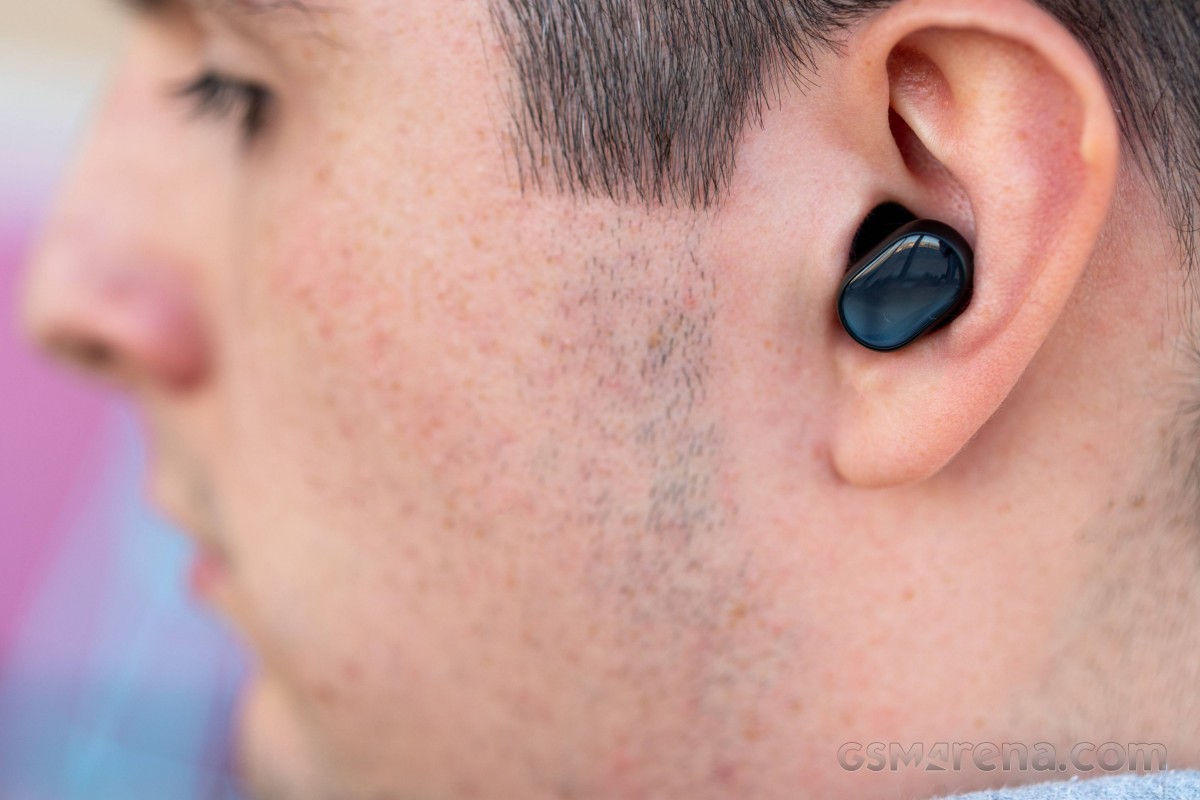 Call quality on the Buds 3 Pro is about average. My voice sounded a bit flat to people during calls and wind noise was definitely noticeable on some occasions. Latency is also present so you should not have them on during competitive Call of Duty or PUBG sessions but they get the job done for podcasts, movies and watching YouTube videos just fine.
Battery life
The advertised battery life on Buds 3 Pro is six hours of usage without ANC at 50% volume and a total of 28 hours including the case. In my use case which included ANC on at all times, Redmi Buds 3 Pro managed to last me five days of mixed usage with volume set at 50%.
Xiaomi says a full charge of the buds and their case via USB-C cable should take 2.5 hours which is what I got as well. The buds alone managed to fill up in an hour. There's also a nifty ten-minute fast charge feature that nets you three hours of usage.
Verdict
With their unique design, solid build quality and great sound, Redmi Buds 3 Pro are easy to recommend. At $60/€60, you're getting an above-average pair of buds that deliver no-gimmick noise cancelation, decent battery endurance and wireless charging. These sort of features are usually reserved for earbuds in the premium segment though Xiaomi has a history of undercutting competitors with its pricing and Buds 3 Pro make no exception here.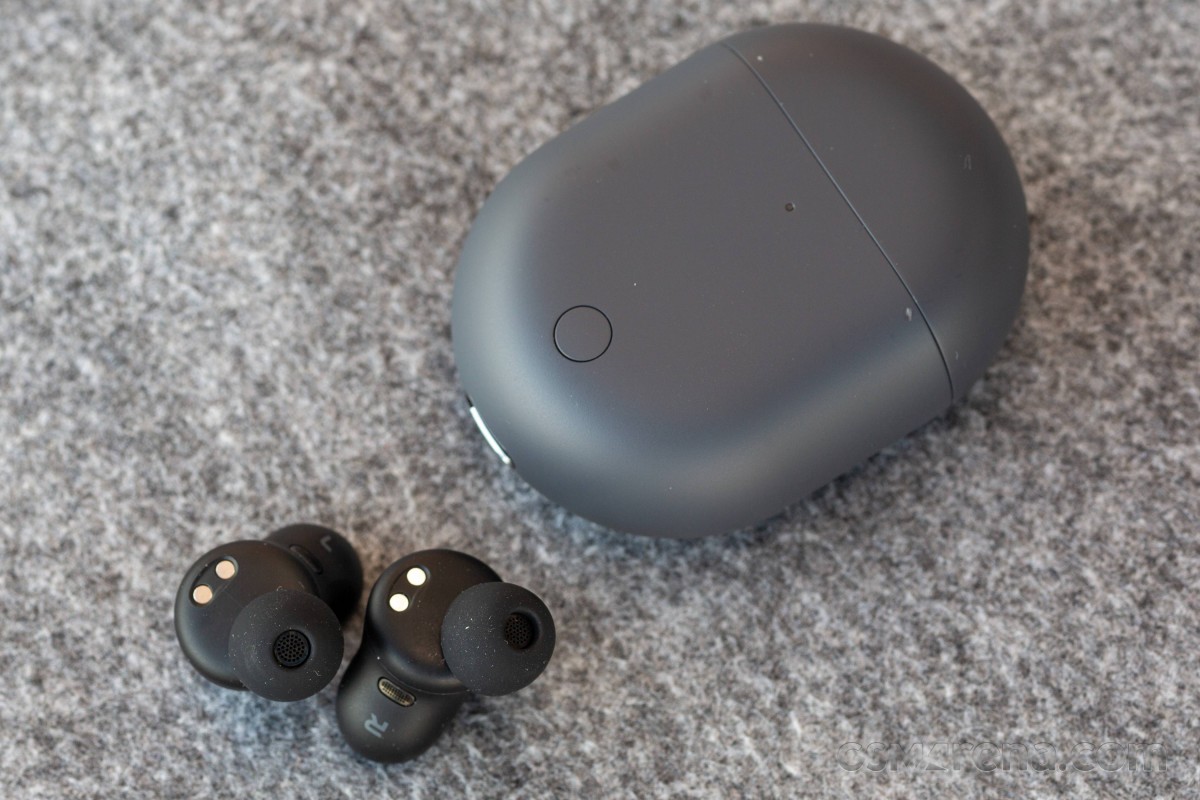 The lack of a companion app for non-Xiaomi phones and the slightly uncomfortable fit after longer usage sessions are the two main downsides here. Call quality and the multi-point pairing system could also use some polish. Other than that you'd be hard-pressed to find a better overall package at this price point on the market.
With the holiday season approaching fast, Redmi Buds 3 Pro could certainly be a great gift for that person that still doesn't have a good pair of wireless earbuds in their life.
Related
Bad connection with Samsung Smart TV 8 serries.
It collects background ambience noice and reduces my voice while making calls. I am using it with redme 11 me 5g Pathetic performance on call. The other end of the call can barley hear my voice Connection failure and most of the time fail to c...
Sardar Durrani
12 Dec 2022
Py$
I have faced the same problem with right ear bud, at first I thought it was a fault but after cleaning the ear bud now it's working fine. Thank you!
Popular articles
Popular devices
Electric Vehicles