Redmi Note 8 Pro vs. Realme X2: Showdown
GSMArena team, 30 Dec 2019.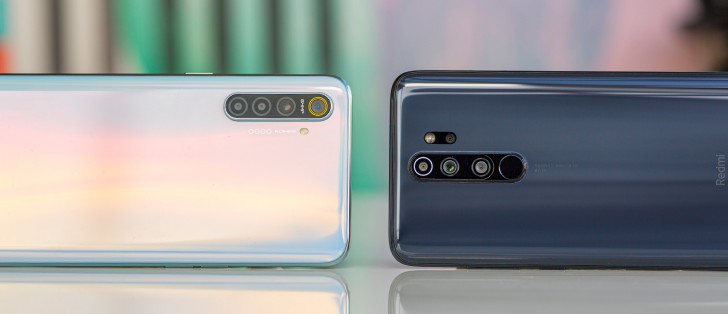 Retail packages
People say the first impression is most important and if this is true, then the retail boxes phones come in is a point worth discussing. In this case, both the Realme and Redmi come in similar bundles.
The Realme X2 box contains a 30W charger, a USB-C cable, and a transparent silicone case.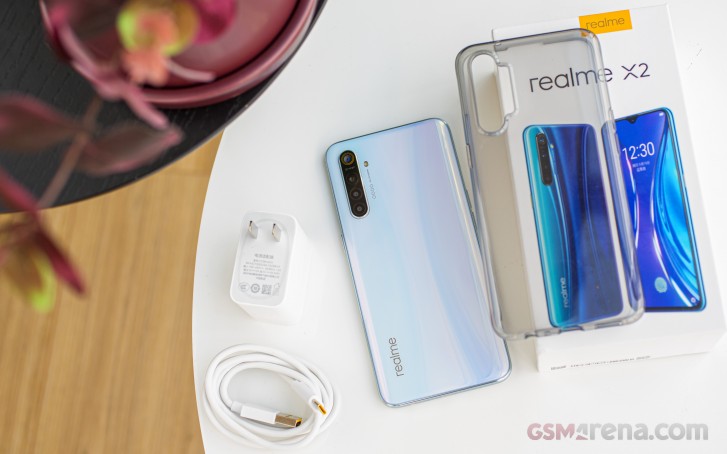 The Redmi Note 8 Pro package has an 18W charger, a USB-C cable and a transparent soft case.
Unfortunately, we can't provide you with a picture of Note 8's box contents as our unit arrived barebones.
Winner: Tie. While the Realme X2 has a faster charger in its box, both bundles contain the fastest plug the phone can utilize.
Design and build
In regards to build and material quality, it appears the comparison is a tie. Both phones have Gorilla Glass 5 panels and plastic frames.
Of course, things are not always as simple as they seem, so let's take those two for some closer inspection.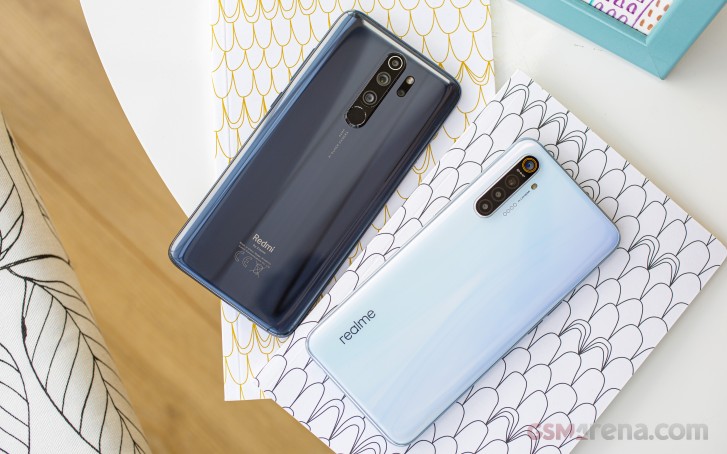 Redmi vs. Realme
It's easy to tell the Realme from the Redmi if you are looking at their back panels. The Realme has its camera hump at the top left corner, while Xiaomi chose to put it in the middle of the Redmi. This, and the respective logos, of course, is the first and probably the easiest telltale sign.
Both Realme and Redmi are sold in some captivating paint jobs, and there are a lot to choose from. That's a win for diversity, but we are also happy that both phones are also available in white or black, which are less flashy and easier on the eyes.
But let's take a step back and start from the beginning. The screen is the window to the mobile world and the Realme and the Redmi are so alike in this respect. Both handsets have large screens with rounded corners and cutouts of the same size and (droplet) shape.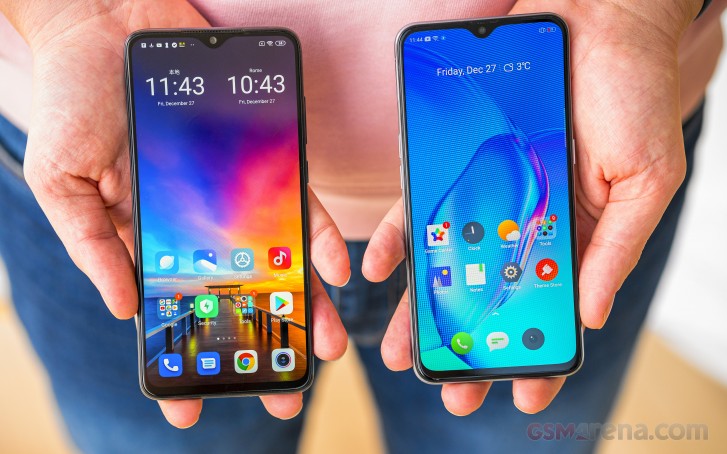 Redmi vs. Realme
Looks are a bit deceiving though, as there are some important differences. The Redmi Note 8 Pro has a larger 6.53" IPS LCD screen, while the Realme X2 uses a bit smaller 6.4" display but of the Super AMOLED kind.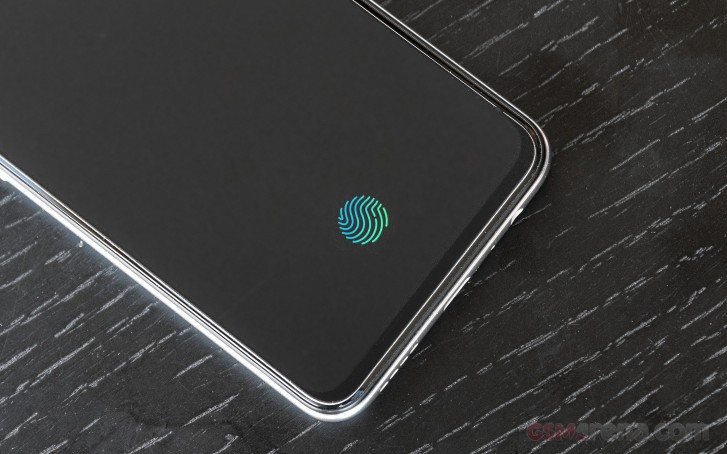 Realme X2 and its under-display fingerprint reader
Then, having a thinner OLED panel, made it possible for the Realme X2 to have an under-screen fingerprint reader. It is not as blazing-fast as the Redmi's rear-mounted sensor, but it is a more trendy or modern solution if you will.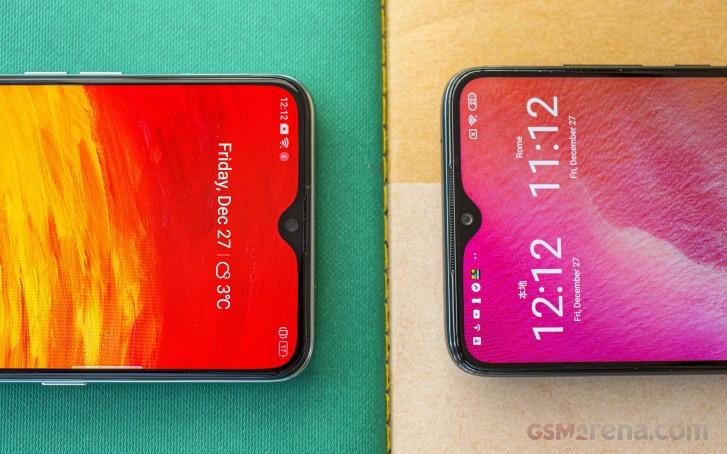 Redmi vs. Realme
Let's talk about them notches now. The Realme has a high-res 32MP selfie shooter in there, while the Redmi has fitted "only" a 20MP one. But the Redmi Note 8 Pro also packs a tiny (white) notification LED in there, while the Realme does not have such feature at all.
The Realme and Redmi both have plastic frames, but Realme's has a matte finish and provides for a better grip. And Realme X2 is the one with a dedicated microSD slot, while the Redmi Note 8 Pro uses the hybrid solution where you choose either a second SIM card or extra storage.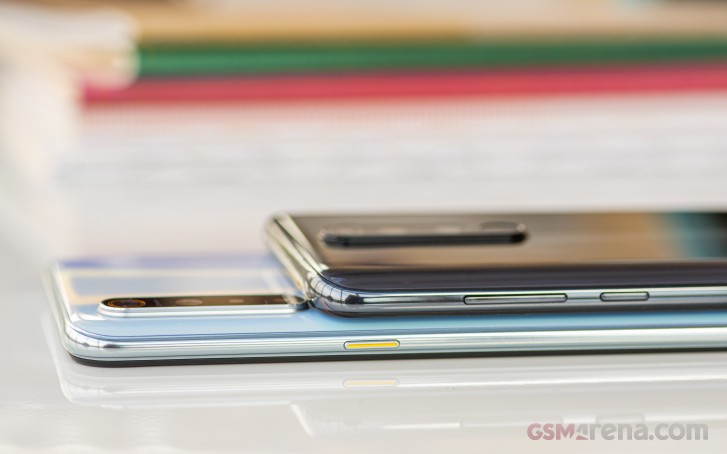 Then again, the Redmi Note 8 Pro has an IR blaster on its top, and we know there are people who consider this convenience highly.
The X2 and Note 8 Pro also boast similar rear panels - curved Gorilla Glass 5 pieces. Naturally, the paint jobs are different, but there are other differences too. While both phones have identical camera setups, the arrangements are different.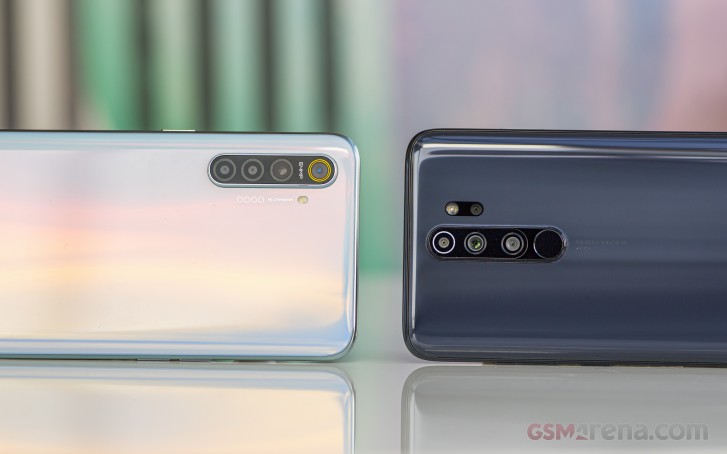 The Realme X2 has a massive bump on its top left corner, which contains all four cameras and the LED flash is the only thing left on the outside.
The Redmi Note 8 Pro has its camera bump in the center, it contains only three of the four snappers and the conventional fingerprint sensor. The 2MP macro camera and the LED flash are placed outside of the camera bump.
The Realme X2 measures 158.7 x 75.2 x 8.6 mm and weighs 182g, while the Redmi Note 8 Pro is 61.4 x 76.4 x 8.8 mm and weighs 200g. The Redmi Note 8 Pro has a larger display, so the extra 3mm in height are expected. It's also got a larger battery, so we'd say the extra weight is forgiven.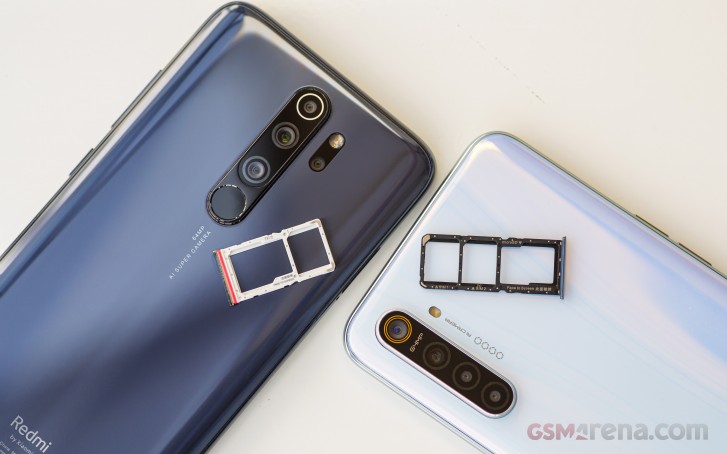 Handling both devices is a pleasure, similar at that, but the Realme X2 somehow feels more secure when handled, despite the similar shapes, materials, build, and size. But this is largely subjective, so we'd say those two are pretty much a tie when it comes to design and handling.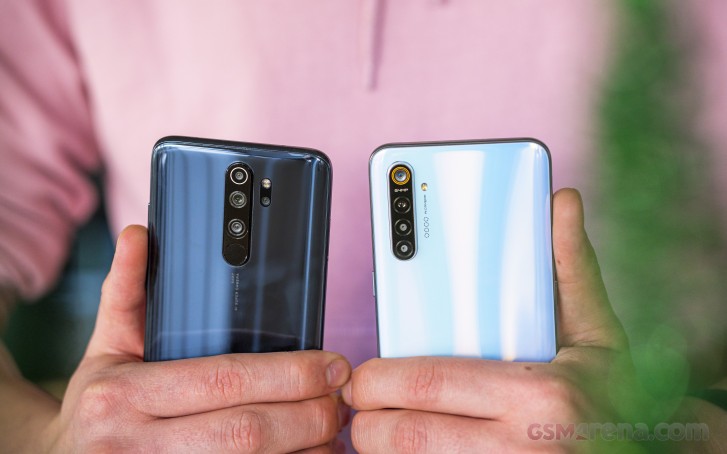 Winner: Tie. The Redmi has a larger screen, an IR blaster, and notification LED, while the Realme shines with an AMOLED panel, a standalone microSD slot and subjectively better grip courtesy of its frame shape and finish.
The realme X2 has a macro camera but the flash is not near the macro camera so capturing shots up close is a nightmare but this is not the case in redmi note 8 pro
Redmi note 8 Pro comes with dedicated memory Card slot in India. Base model of 8 Pro comes 30$ cheaper than x2 and with 6GB RAM instead of X2's 4GB Ram. If you want X2's 6GB ram you have to pay 40$ more than 8 Pro.Pubg FPS is capped at 40FPS in X2 co...