Report: Apple saw 30% decline in shipments in Q1 YoY, Huawei up 50%
Enrique, 01 May 2019
A new report from IDC revealed some insight into the smartphone industry in terms of a number of shipments during the first quarter of 2019. Between January and March, a total of 310.8 million smartphones were shipped, which is a 6.6% decline year over year. In 2018, Q1 declined 4.1%; in 2017 - 3.5%. The decline is clearly getting steeper with every new year.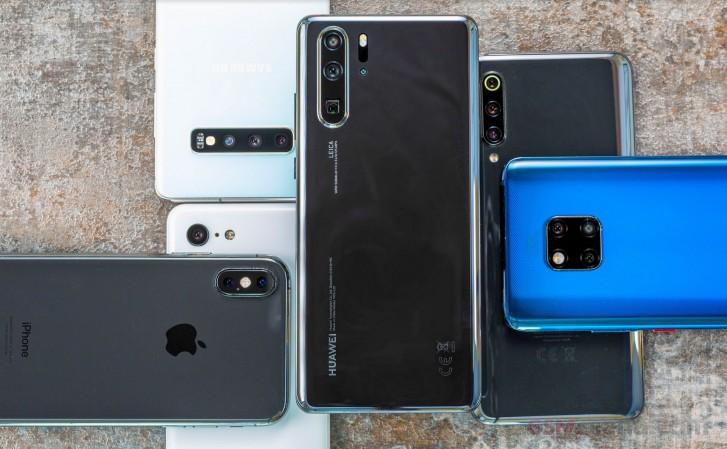 The United States saw the worst decline with shipments dropping 15% on a yearly basis. The US is continuing to slow down in smartphone upgrades despite being one of the world's largest markets.
Consumers continue to hold on to their phones longer than before as newer higher priced models offer little incentive to shell out top dollar to upgrade. Moreover, the pending arrival of 5G handsets could have consumers waiting until both the networks and devices are ready for prime time in 2020.
– Anthony Scarsella, IDC research manager
Samsung remains at the #1 spot with 71.9 million shipments, even though it saw an 8.1% decline from last year. Huawei holds the second spot but rapidly comes closer to surpassing Samsung. The Chinese maker saw a 50.3% increase in smartphone shipments to 59.1 million vs last year's 39.2 million.
Apple holds up in Top 3 with 36.4 million shipments; however, it took a significant blow of 30% compared to the 52.2 million units Apple shipped in Q1 of 2018, the most significant decline out of the top six brands this quarter.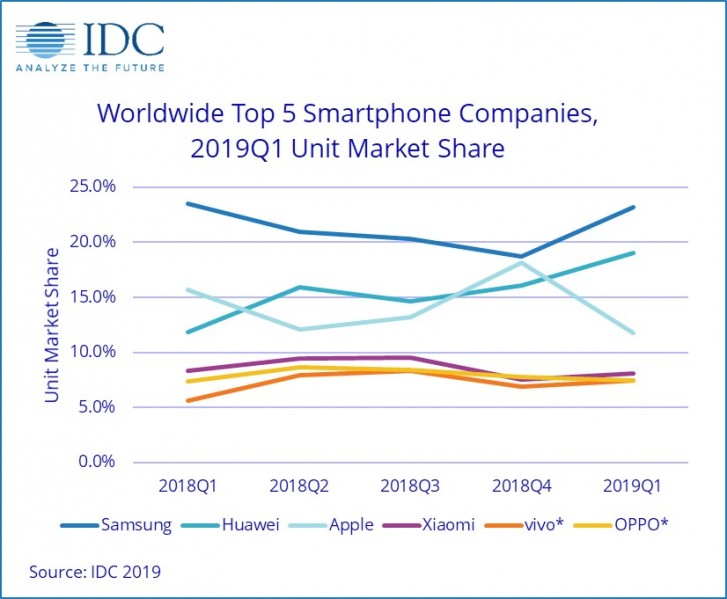 Both Huawei and Apple have been teetering between the #2 and #3 spots throughout 2018. Based on Apple's current trajectory, we anticipate Huawei will remain at the #2 or even reach #1 in 2019. Samsung better watch out for Huawei.
Apple isn't the only one feeling the heat. Xiaomi (#4) saw a 10.2% decline while Oppo (#5) saw just a 6% drop. Like Huawei, vivo (#5) also saw a boost in shipments by 24%. With vivo sitting at 23.2 million shipments and Oppo at 23.1, IDC recognizes both brands as honorable enough to be 5th.
Despite the overall market decline, Huawei is really pushing ahead and is getting closer to its goal of becoming the number 1 smartphone maker in the world by 2021. It has seen tremendous growth over the past few years and leading innovation among Chinese phone makers in design and image optics.
Related
I think tou misunderstood artivle little bit, it is global sales and yes Huawei has bigger international market than Apple. Huawei is second and it surpassed Apple, as much as I hate both brands, Huawei is really pushing everyone and might surpass Sa...
Anonymous
06 May 2019
IW@
At least you now acknowledge that profiling is essential for a vastly better, intuitive, and more intelligent user experience. Just to clarify your statements: 1. Walled garden - Apple's lame excuse for practically zero customizability and tight co...
Anonymous
05 May 2019
m%5
You seem like the person who has had a glimpse of what google, facebook, amazon are doing. However, it looks like it was just a glimpse. I'm going to use numbered points to make the discussion easier to follow and understand: 1. "Walled garde...
Popular articles
Popular devices
Electric Vehicles