Samsung at IFA 2016: Gear S3 hands-on
Gear S3 hands-on
GSMArena team, 31 August 2016.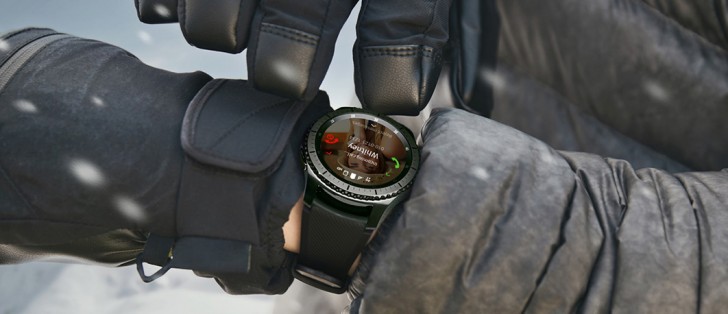 Introduction
Samsung focused this year's IFA solely on its smart wearables and introduced the Samsung Gear S3. It's a smartwatch that improves on both halves of its name - it looks and feels much more like a traditional watch, while functionality is on par with a smartphone.
The Gear S3 is powered by Tizen - Samsung's Linux-based platform that doesn't get much love on phones but shines on your wrist. It's detached from Google's gradual process of adding new features, allowing the Gears to be a step ahead.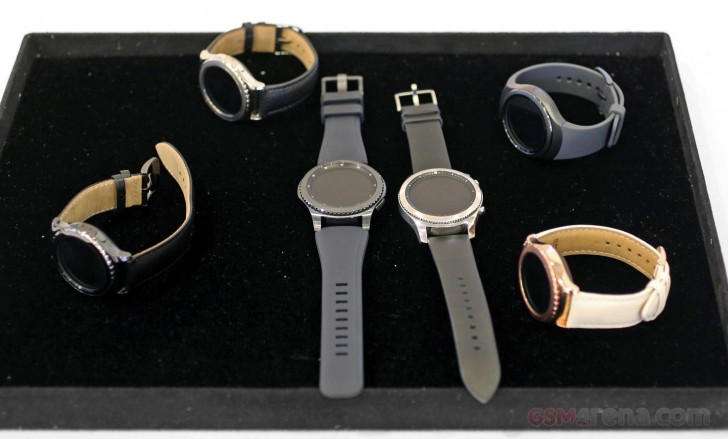 Samsung has created two versions - Classic and Frontier. They are mostly identical, though the latter earns its name with its more adventurous nature.
Another distinction is Wi-Fi only and 3G/LTE. The watches now come with a speaker and a microphone as standard, so they can handle voice calls - the watch can make the call itself or just serve as a hands-free for your phone. Note that only the Gear S3 frontier will have a 3G/LTE version. If you want Wi-Fi only, you can pick between the frontier and classic.
Samsung did a lot to make the watch more independent from the phone too, with the Gear S3 you'll rarely have an occasion where you have to take your phone out.
Samsung Gear S3 at a glance:
Chassis: 316L stainless steel; IP68 water and dust proof
Bands: Leather/rubber; standard 22mm bands work too
Display: 1.3" circular, 360x360px, Gorilla Glass SR+; Full color Always-on display
Platform: Tizen OS; iOS support in open beta
Battery: 380mAh, 3-4 days (double that with battery saver)
By the way, the Samsung Gear S2 will not be discontinued since Samsung thinks it and the new S3 will appeal to different audiences. Size is the defining factor - despite the small difference in screen size (S3: 1.3", S2: 1.2"), the new Gear S3 is much bigger.
Another thing: right now, the watches are only compatible with Android phones, but iOS-support is in open beta in Korea (there's no ETA, however).
AnonD-613932
25 Nov 2016
kjG
I have the Samsung Frontier, I'm going on vacation to the Bahamas in december, the Frontier isn't rated for saltwater? Maybe I miss read the article. But it sounded like it's not safe.
AnonD-72882
07 Sep 2016
g30
I had a Gear , Gear S , and then shifted to Huawei Smartwatch . Always on has been wonderful feature for my Huawei Smartwatch. lot more watch faces then tizen OS. And saying that tizen OS is miles ahead from Android wear is absolutely wrong. I l...
AnonD-557654
05 Sep 2016
I4w
Tizen 6.6.6