Samsung Galaxy A03s review
GSMArena Team, 20 December 2021.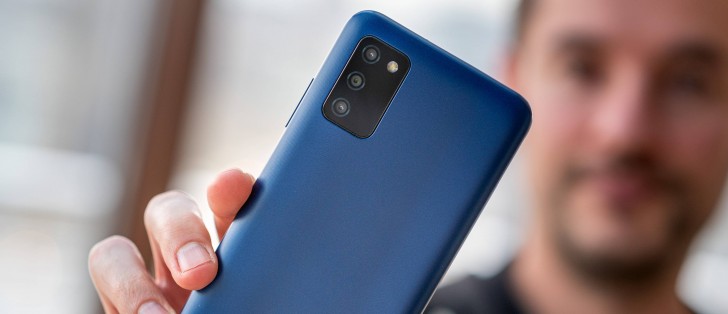 Display
The Galaxy A03s packs a 6.5-inch PLS LCD display with a droplet-shaped cutout and rounded corners. Samsung has named this panel Infinity-V, if you fancy PR terms. It offers a basic resolution of 720 x 1,600 px or about 270ppi density.
A flat sheet of glass protects the screen, but we have no information about its make.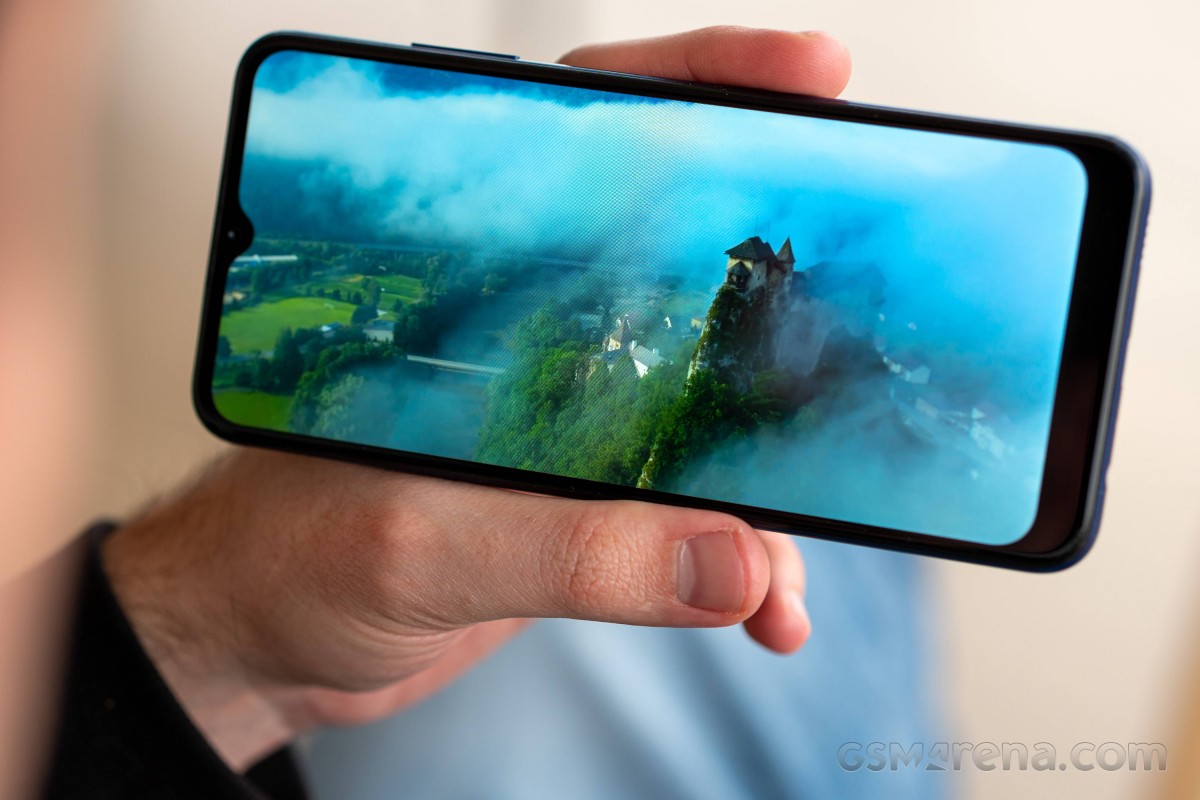 The Galaxy A03s display has no special features - its refresh rate is locked at 60Hz, there is no HDR support, and it can only show colors within the sRGB range.
We've completed our display measurements, and we captured 488 nits of maximum brightness. There is no sunlight boost in either Manual or Adaptive brightness modes. The panel offers an incredibly deep black level for an LCD, and so it posted an excellent contrast ratio of 1718:1.
The minimum brightness we measured at point white was 19.7 nits - that's rather bright and hence a poor result, but it's expected from such a cheap panel.
Display test
100% brightness
Black,cd/m2
White,cd/m2
Contrast ratio
Samsung Galaxy A03s
0.284
488
1718:1
Samsung Galaxy A22
0
391
∞
Samsung Galaxy A22 (Max Auto)
0
597
∞
Samsung Galaxy A22 5G
0.236
385
1631:1
Realme 8i
0.348
433
1244:1
Realme 8i (Max Auto)
0.475
540
1137:1
Motorola Moto G30
0.204
403
1975:1
Motorola Moto G30 (Max Auto)
0.241
468
1942:1
Xiaomi Redmi Note 8 2021
0.376
559
1487:1
Xiaomi Redmi Note 8 2021 (Max Auto)
0.376
620
1649:1
Realme 8
0
458
∞
Realme 8 (Max Auto)
0
657
∞
Samsung Galaxy A02s
0.23
406
1765:1
There are no screen color options on the Galaxy A03s - you are stuck with what you get. The phone supports the sRGB color space but isn't that accurate - the white and gray hues are bluish, while the rest of the colors are somewhat washed out, dull if you will.
Battery life
The Galaxy A03s employs a non-removable battery with an ample 5,000mAh capacity. It should be plenty enough with that 720p screen and the efficient Helio P35 chip.
Indeed, the A03s aced our battery test and scored an outstanding endurance rating of 122 hours. It scored impressively across all scenarios - calls, web browsing, video playback, and even standby.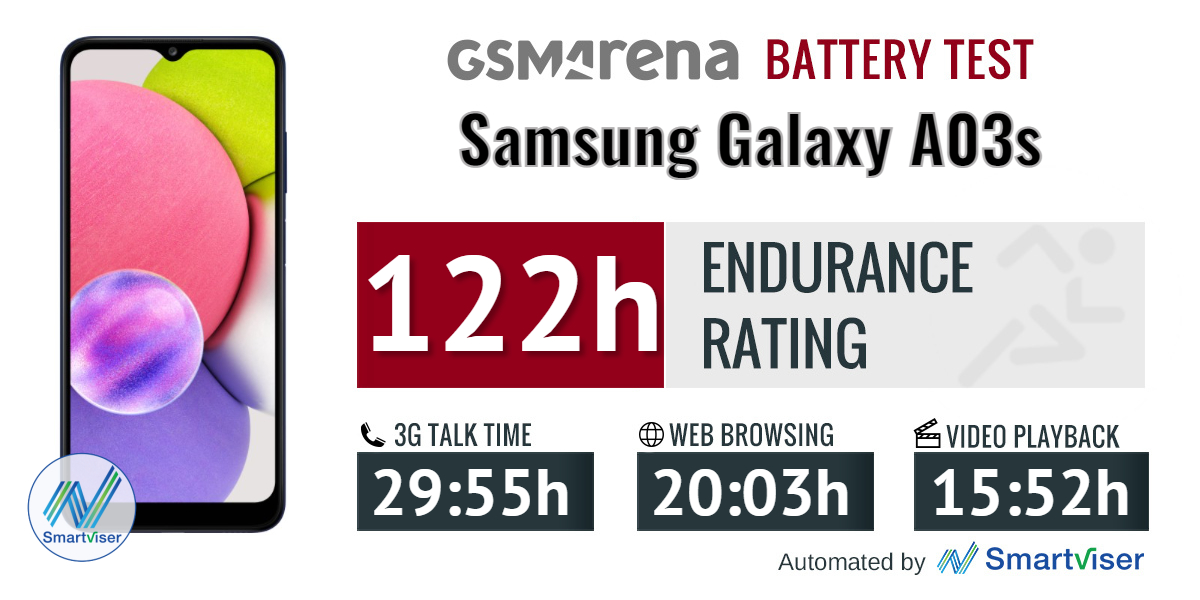 Our battery tests were automated thanks to SmartViser, using its viSerDevice app. The endurance rating denotes how long the battery charge will last you if you use the device for an hour of telephony, web browsing, and video playback daily. More details can be found here.
Charging speed
The Samsung Galaxy A03s has a properly large 5,000mAh battery, but its charging capabilities are uninspiring - the phone ships with a 7.8W power adapter (5V/1.55A).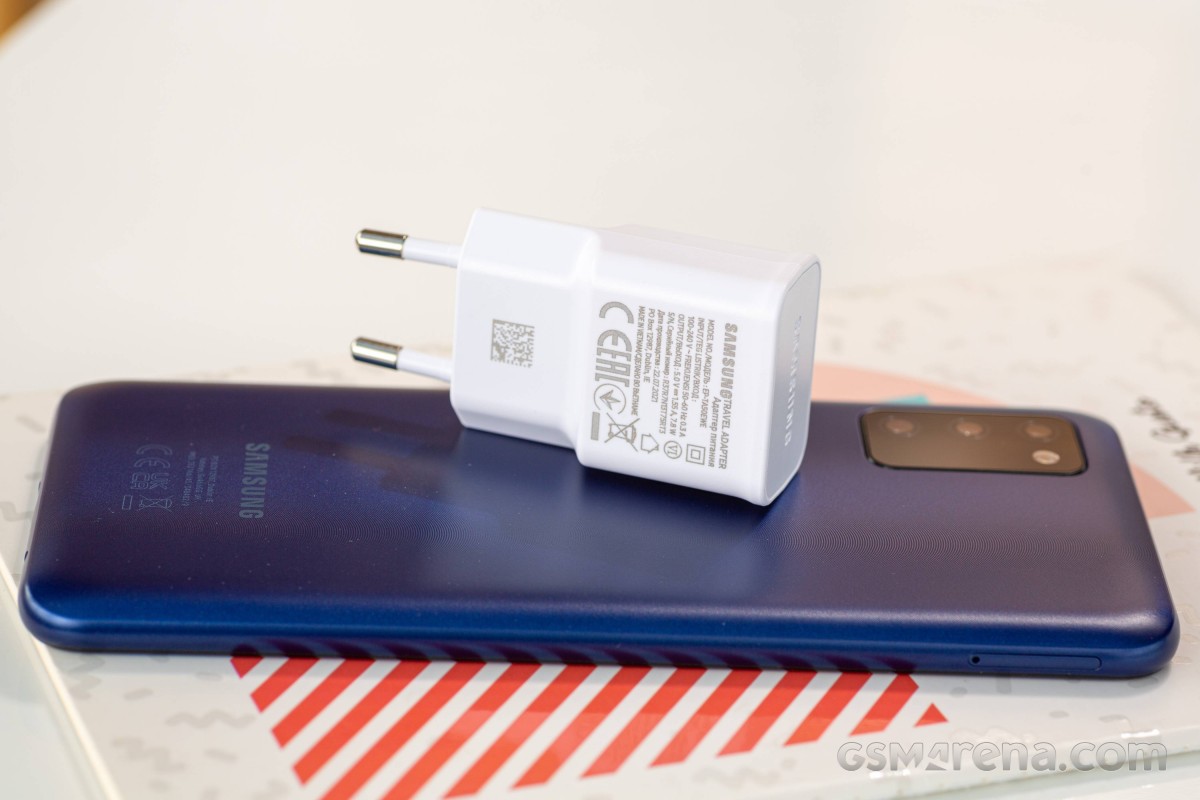 There is no fast charging support. We've tried charging with a 15W Samsung power adapter and got the same charging time as with the bundled 7.8W charger.
So, using the provided 7.8W charger, the phone gets from 0% to 15% in 30 minutes. That's quite slow.
30min charging test (from 0%)
Higher is better
Realme 8 Pro
88%
Realme 8
56%
Xiaomi Redmi Note 8 2021
34%
Motorola Moto G30
32%
Samsung Galaxy A02s
30%
Realme 8i
30%
Xiaomi Redmi 10
26%
Samsung Galaxy A22 5G
23%
Samsung Galaxy A22
23%
Samsung Galaxy A03s
15%
A full charge with the bundled 7.8W power adapter takes 3 hours and 38 minutes.
Time to full charge (from 0%)
Lower is better
Realme 8 Pro
0:38h
Realme 8
1:09h
Xiaomi Redmi Note 8 2021
1:59h
Xiaomi Redmi 10
2:13h
Samsung Galaxy A22
2:20h
Realme 8i
2:21h
Motorola Moto G30
2:28h
Samsung Galaxy A22 5G
2:29h
Samsung Galaxy A02s
2:36h
Samsung Galaxy A03s
3:38h
The Galaxy A03s does not support wireless or reverse wired charging.
Speaker loudness and quality
The Samsung Galaxy A03s has a single, bottom-firing speaker. It scores a Good mark on our loudness test.
The speaker quality is not good, though - bass is completely absent, the mid-tones are mediocre, but the high notes sound fine.
Use the Playback controls to listen to the phone sample recordings (best use headphones). We measure the average loudness of the speakers in LUFS. A lower absolute value means a louder sound. A look at the frequency response chart will tell you how far off the ideal "0db" flat line is the reproduction of the bass, treble, and mid frequencies. You can add more phones to compare how they differ. The scores and ratings are not comparable with our older loudspeaker test. Learn more about how we test here.
I can't have access to wechat. Does this fone support it?
Anonymous
27 Oct 2023
ke5
You can change that in settings
Anonymous
24 Oct 2023
x{6
Hi galaxy a03