Samsung Galaxy A22 5G review
GSMArena Team, 27 July 2021.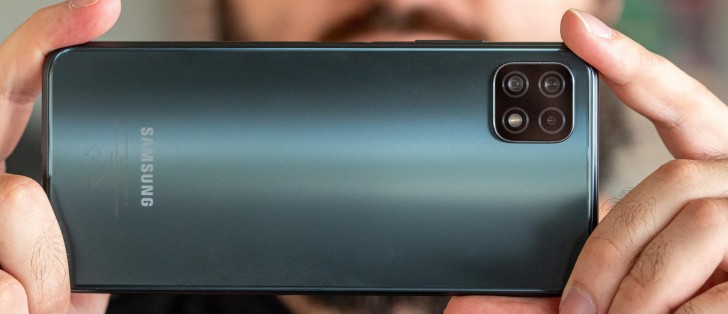 Design and materials
The Galaxy A22 5G generally has a bill of materials to match its budget nature. That is to say - plastics all around. To be fair, that's not necessarily a bad thing by definition. Plastic has plenty of advantages in its own right. The one used here is mostly unremarkable. Still, the middle frame feels pretty sturdy and has a decent shiny finish on it.
Our unit does have a small area of the frame between the volume rocker and power button that flexes and almost feels detached from the rest of the phone. Perhaps it's just our unit.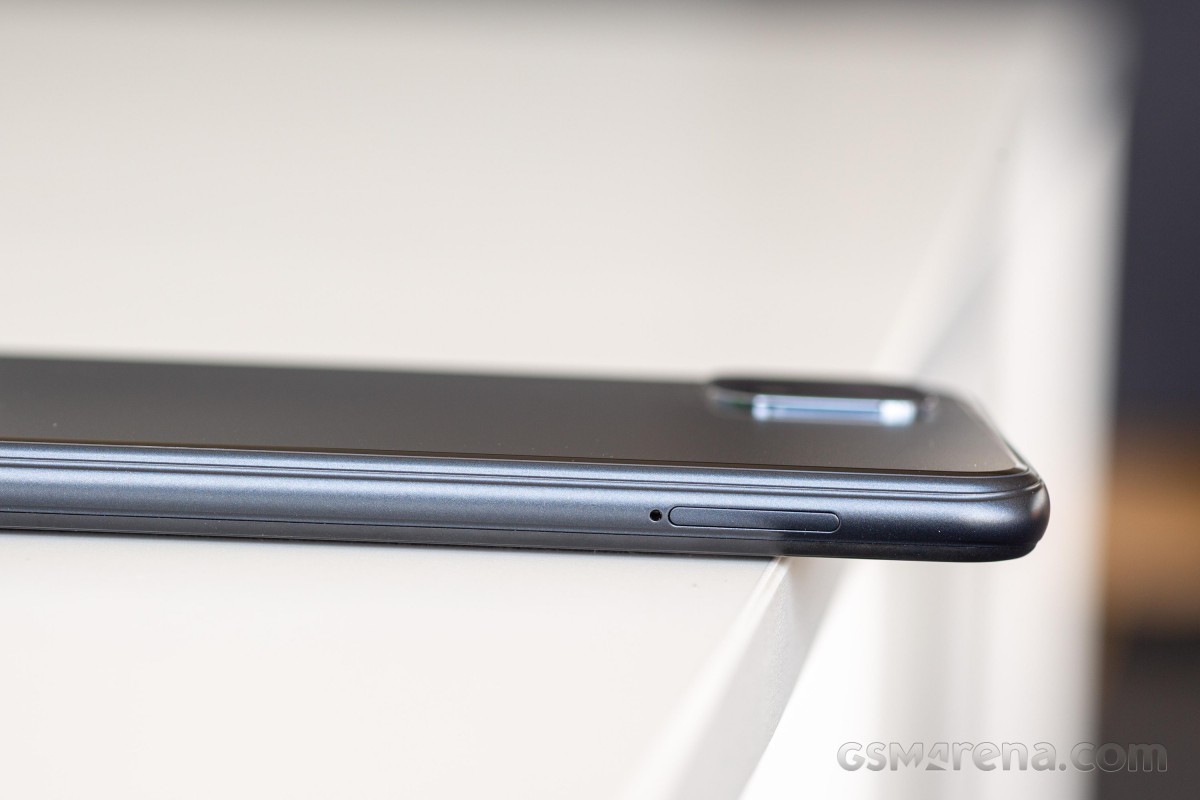 The back panel is a bit underwhelming. The surface has a matte look to it, which is pretty nice, but it is also a complete fingerprint magnet. The surface is quite grippy, but also kind of unpleasant to the touch. Another thing - tapping on the back makes it clear there is a hollow cavity underneath. And if that is the case indeed, we have to wonder why Samsung didn't try a bit harder to reduce the pretty sizeable 9mm profile of the A22 5G. To be fair, this was also the case with the Galaxy A32 5G when we reviewed it, so we are sensing a pattern here.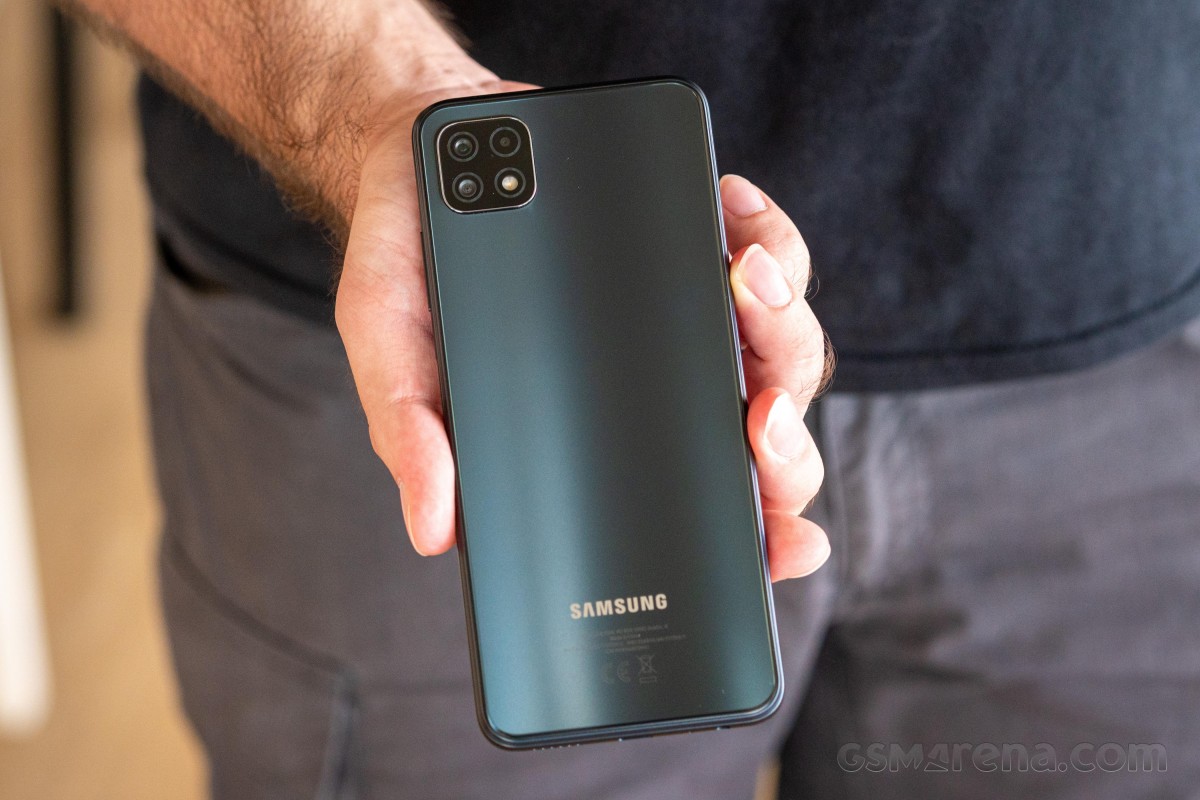 While discussing the back of the Galaxy A22 5G, there is something to be said about the camera island and its design. Mostly, that it is a notable deviation from the rest of the current Galaxy A family, like the A72 and A52. The A32 has a different arrangement, as well. Instead, the A22 has a symmetrical and more traditional-looking camera island, like on the Galaxy M and F series.
On a more positive note - at least the main cameras don't stick out too bad, which makes sense on a thicker device.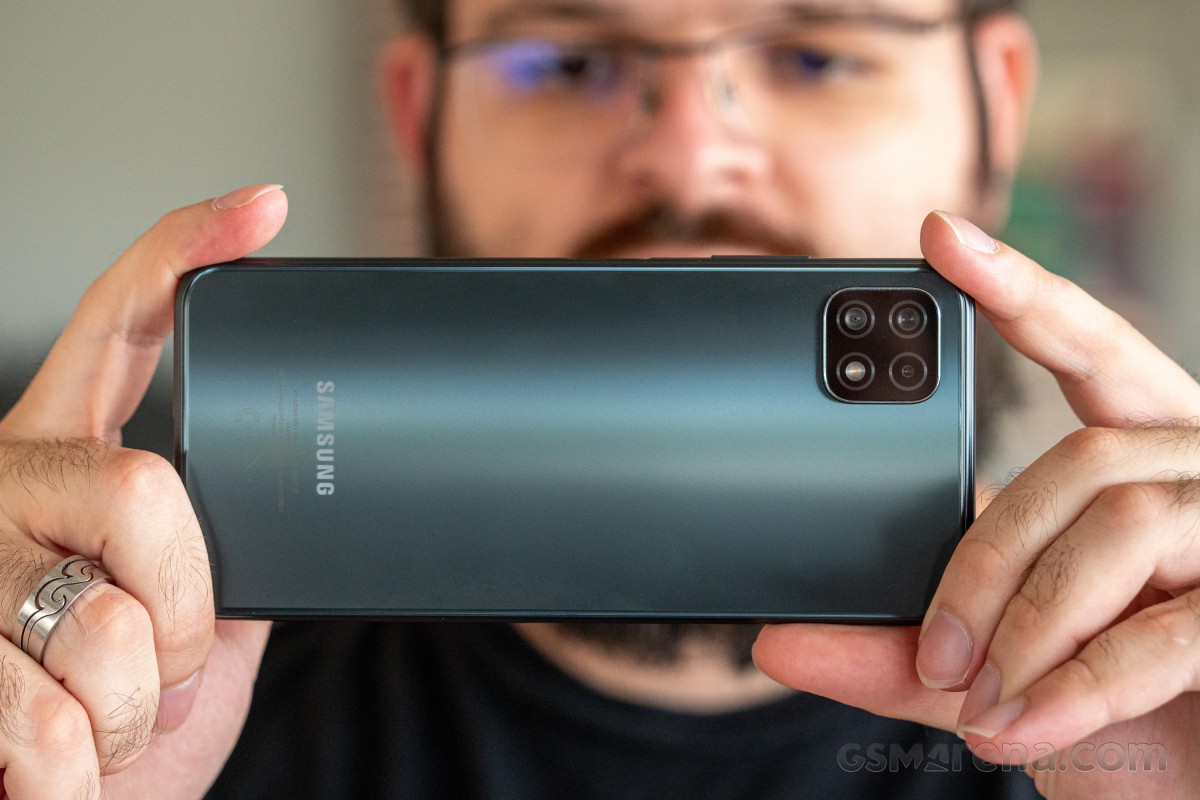 The thick bezels all around the 6.6-inch display are an instant giveaway for the budget nature of the A22 5G. Given that the chin is already as wide as it is, we kind of wish Samsung just embraced the look and made room for the 8MP selfie camera outside of the display instead of digging into it with a shallow but still present teardrop notch. Still, the display looks surprisingly nice, mostly thanks to its FHD+ resolution. But more on that later.
One thing worth noting here has to do with screen protection or rather lack thereof on the Galaxy A22. Samsung is understandably not too keen on discussing its bill of materials in-depth on a budget device like this. Still, unlike the Galaxy A32 5G, which mentions Gorilla Glass 5 for the front, we have no way of knowing what protection is on the Galaxy A22 5G. It is potentially lacking in this department, which is a bit disconcerting.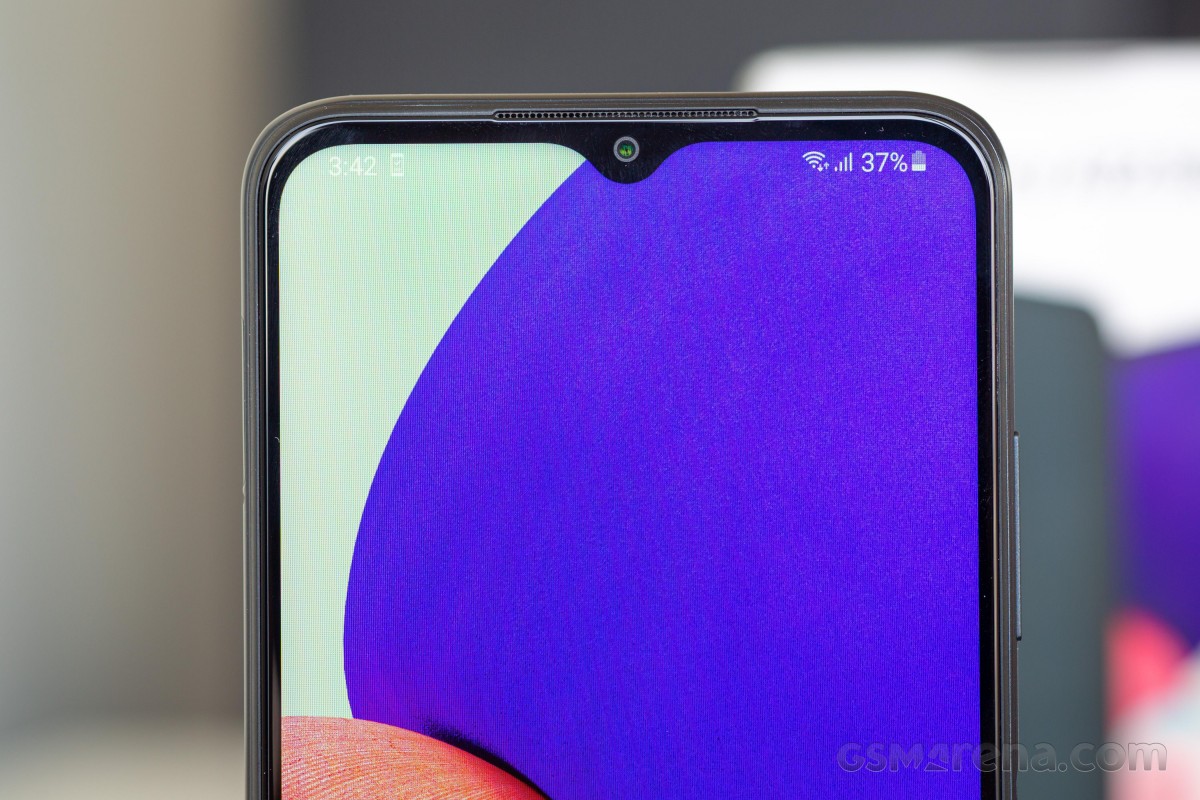 The surface feels decent enough, although its oleophobic coating could be better. There was no pre-applied screen protector on our unit, which is a thing on most other budget phones and an unfortunate omission. No case in the box either.
Another thing that appears to be missing from the A22 5G but is attainable in its price bracket is any form of ingress protection. There is no official rating, not even for splashes and dust. There is no rubber gasket on the SIM tray either.
Controls
The Galaxy A22 5G has a quite standard and surprisingly rich control setup. The bottom side is particularly busy, with a USB 2.0 OTG-enabled Type-C port front and center. It is capable of taking a max of 15W worth of Samsung Adaptive fast charging.
On its sides - the singular, bottom-firing loudspeaker and the main microphone. Also - a trusty old 3.5mm audio jack. Since it often comes up - the Galaxy A22 5G does have an FM radio. A headset needs to be plugged into the 3.5mm jack to double as an antenna, as usual.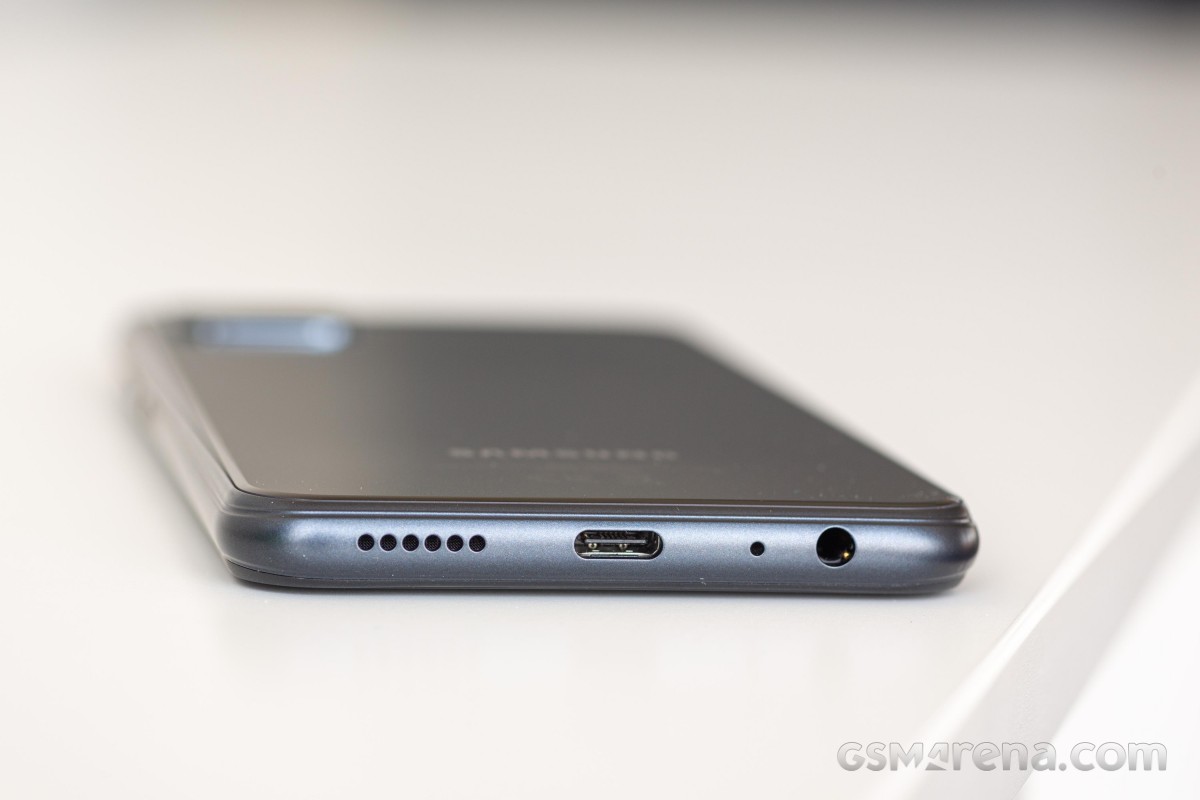 The volume rocker and power button reside on the right side of the Galaxy A22 5G - pretty standard. What is not quite as standard, though, is their relatively high positioning. The power button is easy enough to reach, but if you have smaller hands, then volume adjustments could require some finger gymnastics. Honestly, not the worst thing ever, since that way, the power button can take a much more convenient spot and the volume rockers are rarely used anyway.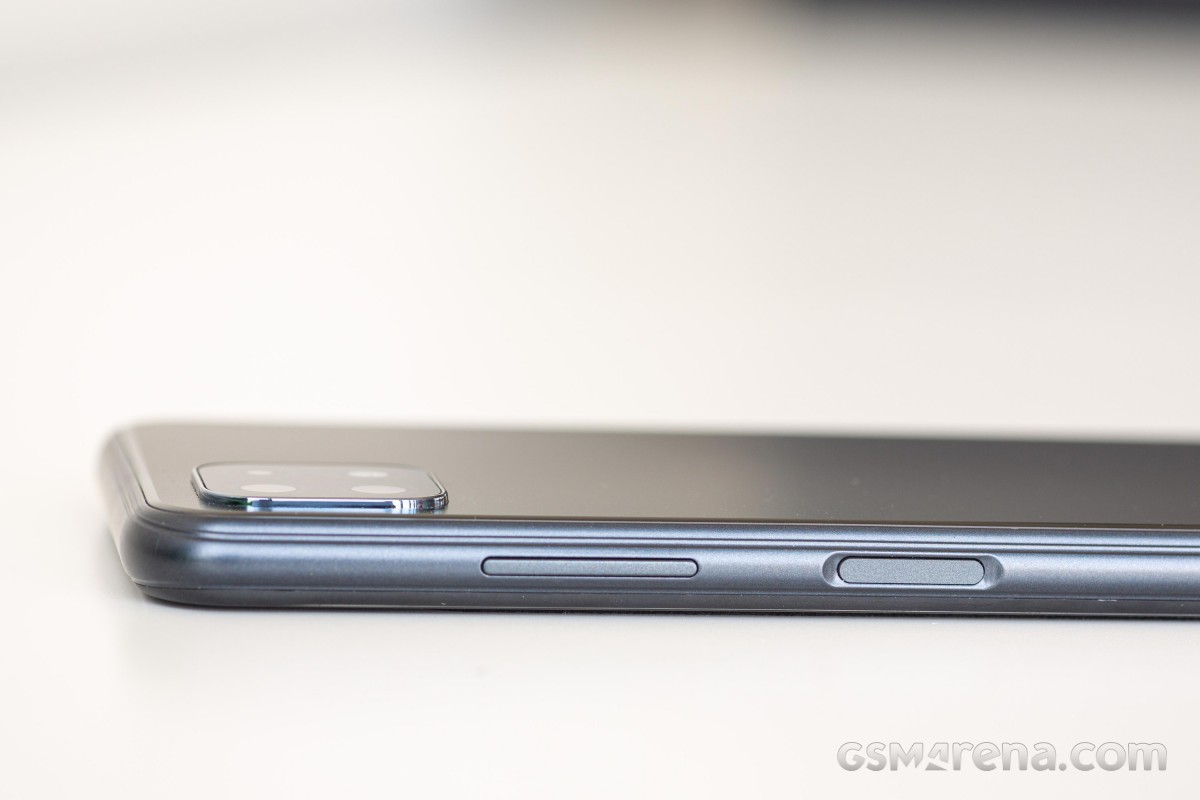 The power button also doubles as a fingerprint reader. It is speedy and reliable. You can also tweak its behavior and decide whether you want it to be always on or require actually pressing the key before it starts reading.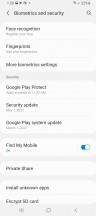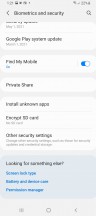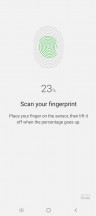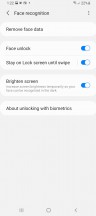 Security and fingerprint settings
The SIM tray on the Galaxy A22 5G sits on the left-hand side. Not only can you buy the A22 in a 4G and a 5G variant, but, as is usually the case with recent Galaxy phones, the A22 exists in both a single and dual SIM variant. Better still, we got the Dual SIM-one, and it still has a dedicated microSD card slot. You don't have to choose between Dual SIM or memory expansion.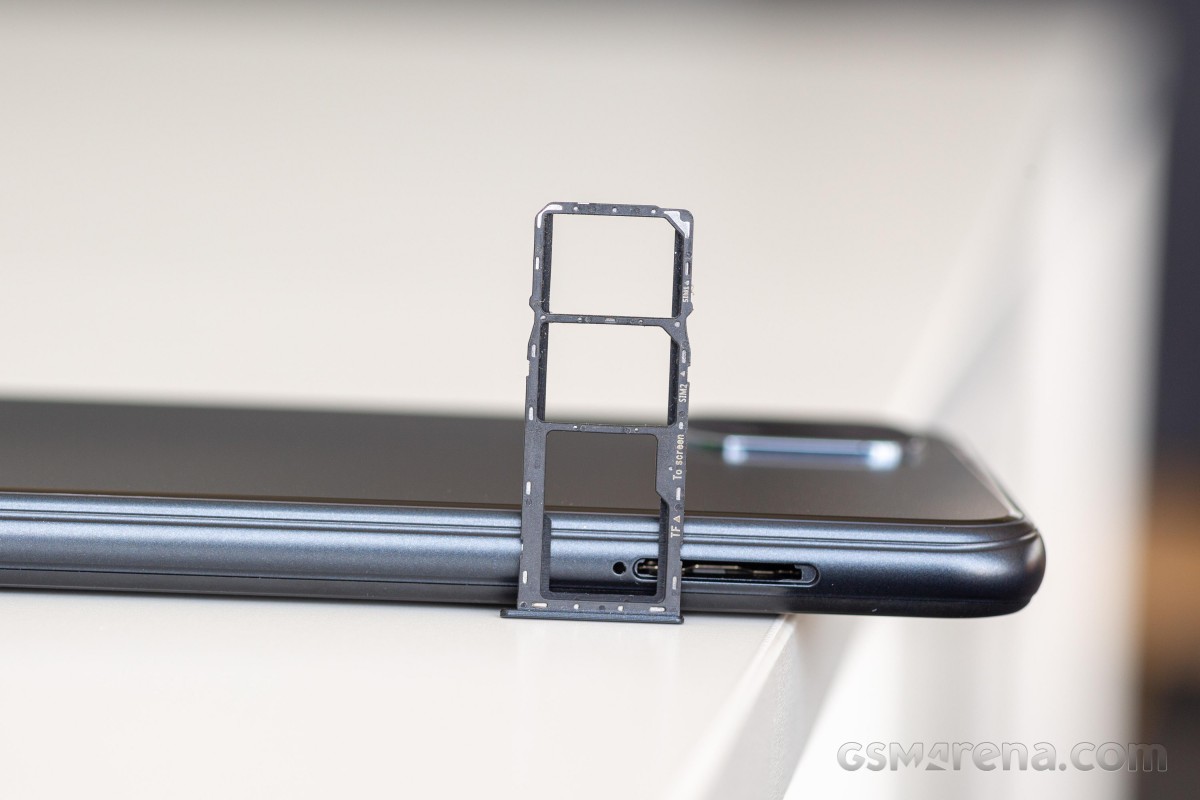 There is pretty much nothing on the top of the Galaxy A22, aside from the secondary noise-canceling microphone.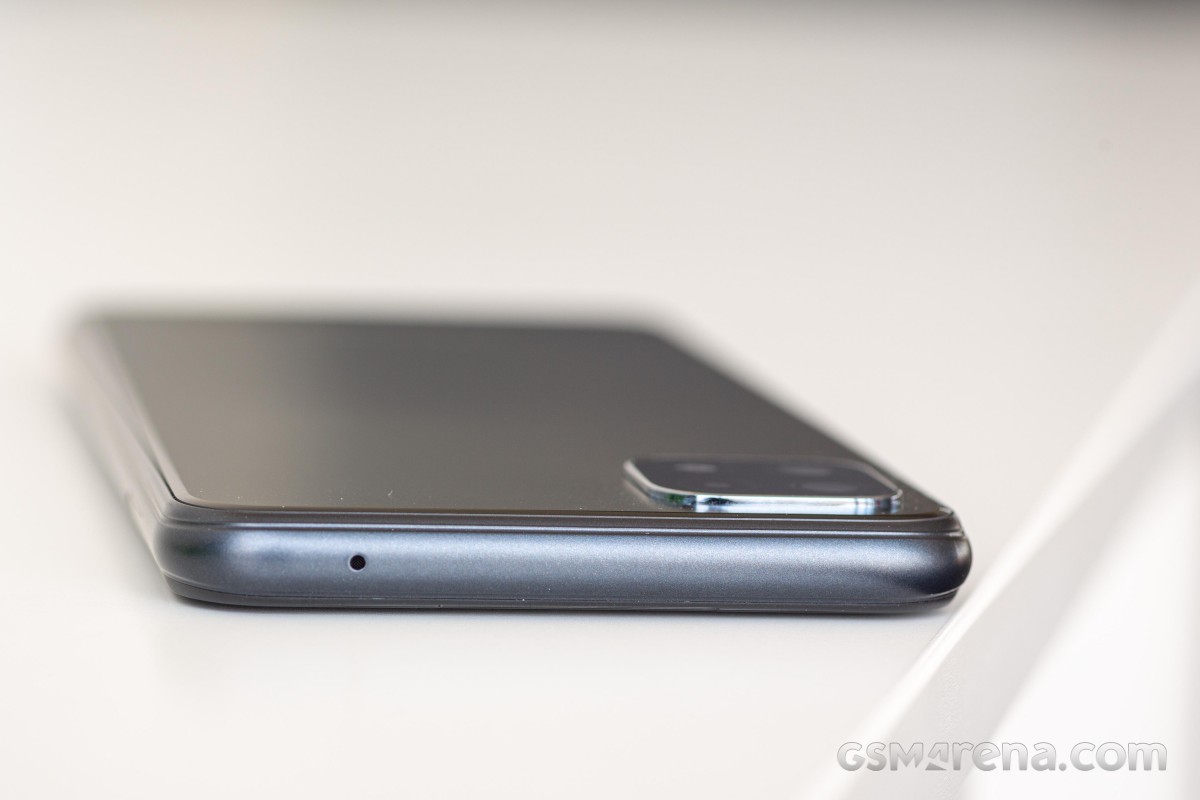 In case you were wondering, there is no notification LED on the Galaxy A22, but that is pretty much the norm nowadays, rather than the exception. Our unit also has NFC, though its presence is market-dependent.
Anonymous
20 May 2023
rJj
After 8 months battery drain fast and fast charging doesn't work
This phone is now on Android 13 and today I updated it to One UI Core 5.1, the update included a security patch dated 1st April 2023. This phone is doing very well for updates, this is the third one it's had this year, according to some source...
ernestsson
05 Mar 2023
pYB
The voice recorder is inordable on playback. My old A20 is much better. Iv'e tried apps to improve volume but the give terrible playback with crackle white noise.