Samsung Galaxy A31 review
GSMArena team, 08 July 2020.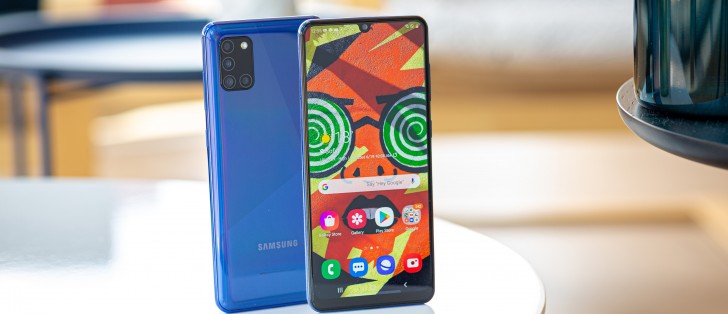 Design
The overall design of the Galaxy A31 has been refreshed for 2020 in a fashion, quite similar to the Galaxy A51, we recently reviewed. In fact, the pair are actually quite similar in terms of overall footprint and silhouette. Measuring 159.3 x 73.1 x 8.6 mm, the A31 is just a bit thicker than its A51 sibling. It also weighs a little over 10 grams more, at 185 grams, which is easily justifiable through the 1,000 mAh of extra juice it has to carry. The same goes for the thickness. The Galaxy M21 actually comes closer to the overall dimensions of the A31, while also sharing a few more similarities in design, especially on the front.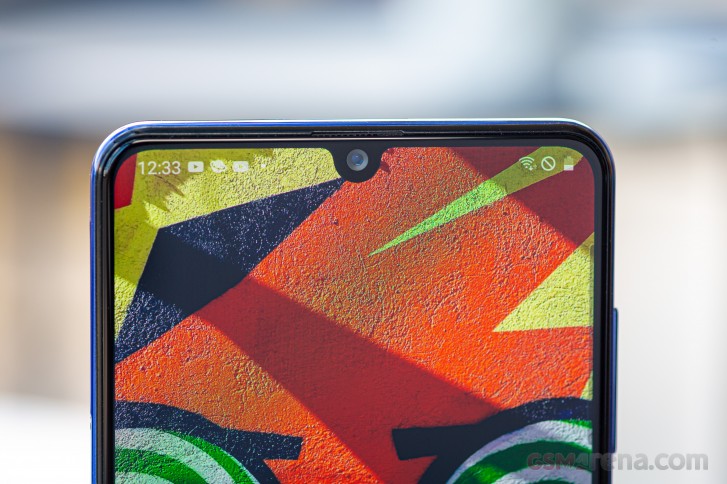 The Galaxy A51 and to a lesser degree - the A41, both managed to noticeably trim down all of the bezels around the display and especially the chin. In this respect, the A31 is still rocking a rather last-gen look, with more "buffer" space on all sides of its 6.4-inch Super AMOLED. Hardly a dealbreaker in the grand scheme of things, but it's still odd to see that even the M21 and M31 appear to have slightly slimmer bezels and chins in comparison.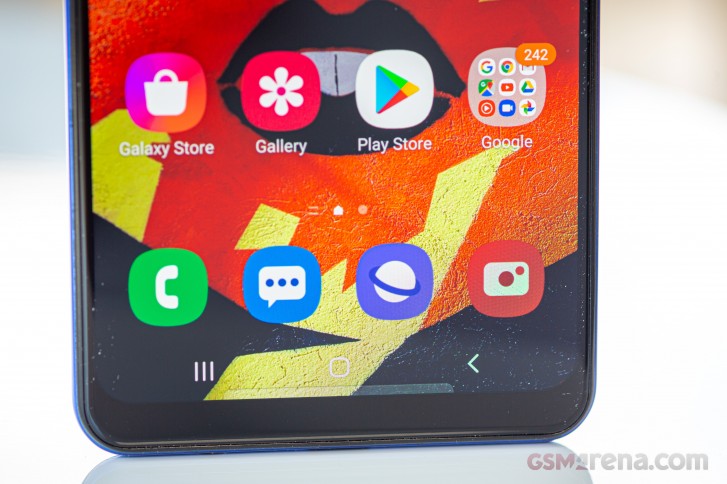 The Infinity-U notch design for the 20MP selfie still looks perfectly modern, even if not as slick as the Infinity-O punch hole on the Galaxy A51. We were kind of hoping that it would provide enough space for Samsung to fit-in a notification LED. While there was space for that, the A31 lacks one, in favor of AOD icons, pop-ups, and animations.
Since we are already knee-deep in frontal comparisons across Samsung's lineup, it is worth noting that the Korean giant hasn't officially specified exactly what kind of protective surface it is using. Most sources seem to agree on Gorilla Glass, with an unknown rating. In contrast, the Galaxy A51 clearly lists Gorilla Glass 3 in its specs and so do the Galaxy M21 and M31. For the sake of clarity - none of these devices offer any official dust or water ingress protection. But we hardly expect it in their price bracket.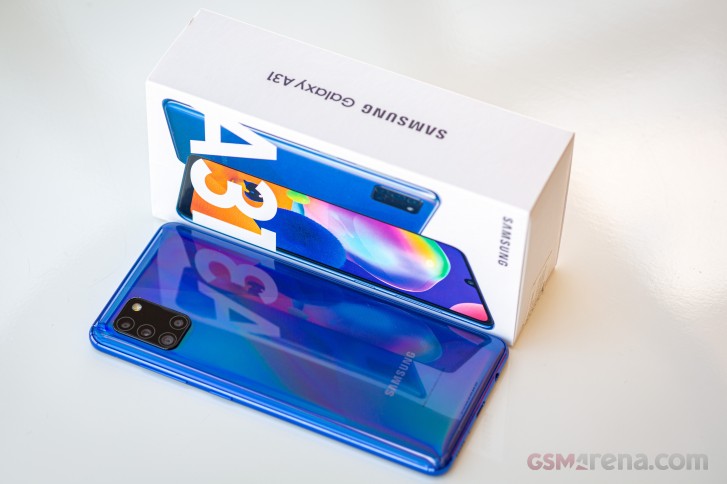 The Galaxy A31 has a traditional three-layer "sandwich" construction, with all three pieces made of plastic. It doesn't feel as premium as metal to the touch, but at least, plastic or not, the middle frame seems really sturdy, with no flex to it. Samsung could have done a slightly better job with its finish, but that's just us nitpicking.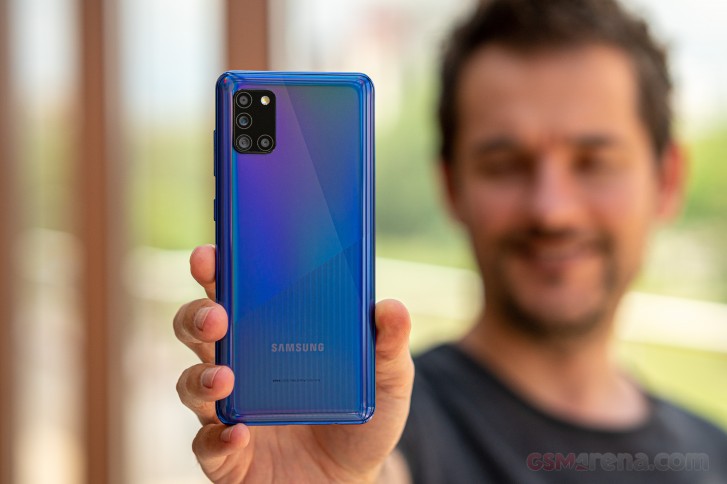 The design team has put a lot of thought and effort into the back of the Galaxy A31. With a trio of seemingly random lines, breaking the surface up into four quadrants of a different shade and a line pattern on the bottom, the A31 looks unique. Even next to devices like the A41 and A51, which also share in this design language, you still get very distinct looks, since Samsung decided to switch up the position of the lines for each one. Our Prism Crush Blue unit really shines, pun intended, once it catches the light and its bottom part starts shining in a full rainbow spectrum.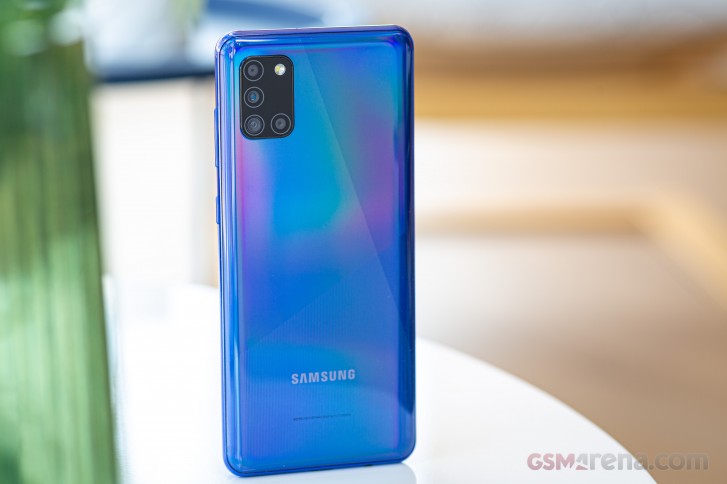 It is worth re-emphasizing again that the curvy back side of the Galaxy A31 is plastic, as opposed to a fancier Gorilla Glass sheet of material. The latter would have inspired a bit more confidence in the overall rigidity of the phone, but also bumped-up costs. Plus, we aren't sure Samsung could have pulled-off as unique of a design on a more specialized surface.
Pressing down on the back with a single finder reveals quite a bit of flex. Perhaps there was room inside for a slightly bigger battery pack, but one was simply not in the budget. Even so, the A31 feels sturdy and well put together. The plastic surface offers plenty of grip. The gently sloping curvature of the back helps with handling, as well. Fingerprints are still plenty.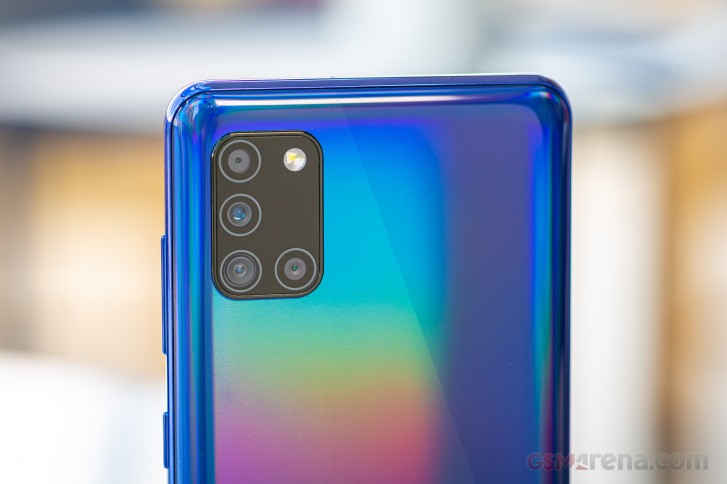 Besides the unique geometric pattern on the back, you can distinctly identify the A31 as a 2020 Samsung phone through its main camera cluster design. Like it or not, oversized rectangular clusters in the top left corner that group all shooters under the same roof is how the company's phones have currently adapted to the ever-growing number of modules. On the Galaxy A31, in particular, the assembly is just slightly raised above the rest of the back and does not introduce wobble.
Controls
The Galaxy A31 takes a conventional approach to its control scheme. On the right - a power button and volume rockers. Ideally positioned height-wise, "clicky" and responsive. Perhaps, just a bit on the thinner side, but not unusably so, even with big fingers.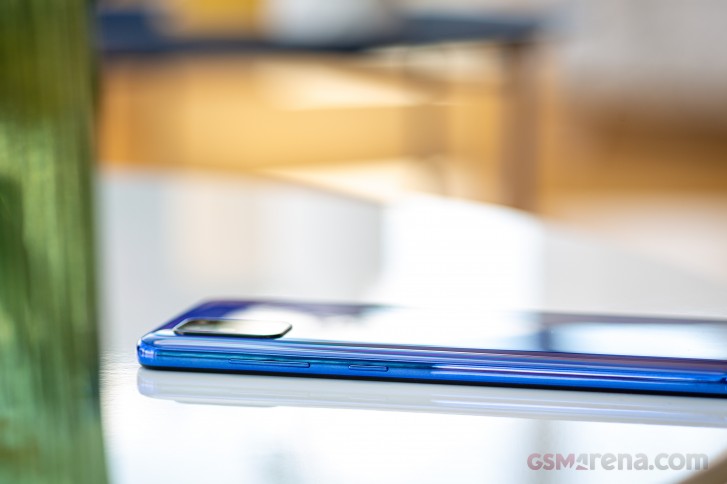 You probably won't be reaching for the power button too often if you opt for one of the biometric security options. On the A31, these include Face recognition and an in-display fingerprint reader.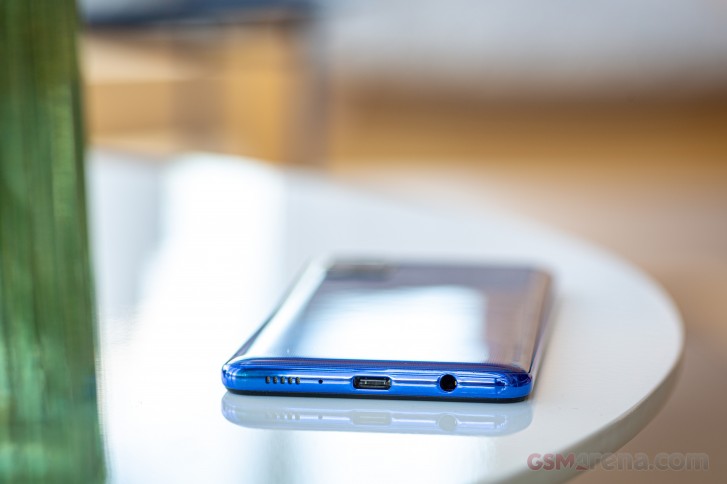 Unfortunately, the particular fingerprint module on the A31 did not impress us with speed. Unlocking the phone from a turned-off display, using the always-on functionality of the fingerprint reader takes a good two to three seconds. Still, at least reading accuracy is high.
On a side note, Samsung now has separate info menus for checking and getting security patches specifically for its biometric security, as opposed to only delivering those together with an overall OS OTA update. Neat.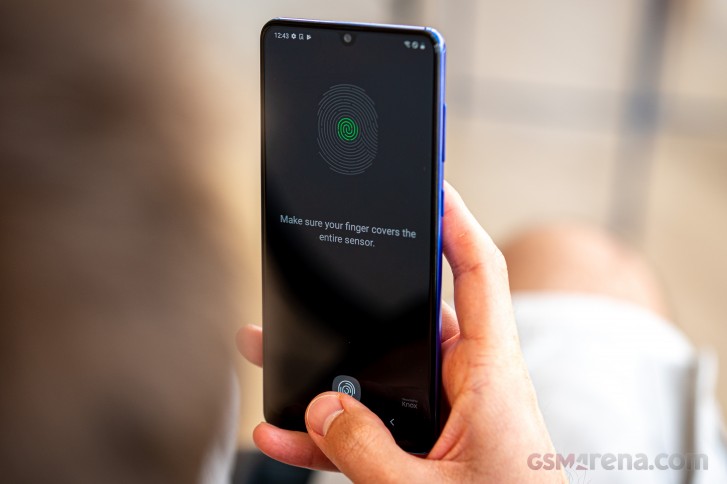 The left side of the bezel only houses a nanoSIM, plus microSD combo tray. Its shape is a bit odd since Samsung went for an extra-wide approach. On one side - two separate nanoSIM slots (or one, if you get a single SIM unit like we did), on the other side - a dedicated space for a microSD card. This way you don't have to choose between a second SIM or more storage, which is a plus in our book.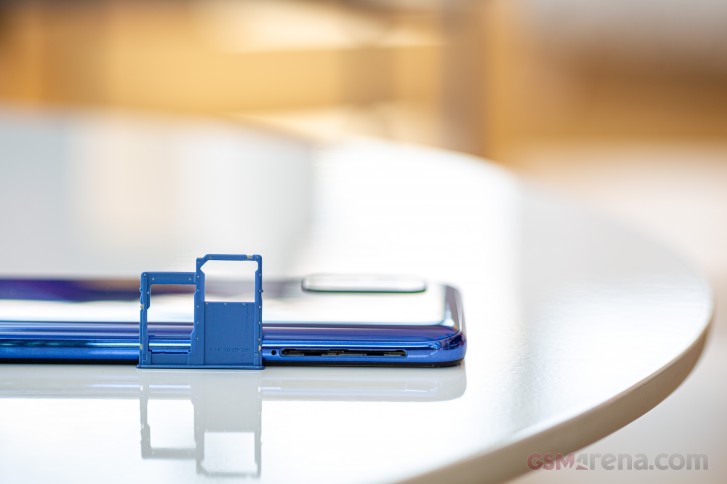 The bottom side of the A31 is rather busy. A USB Type-C port takes centerstage. It supports USB 2.0 speeds and USB OTG, too. Next to it - a trusty-old 3.5mm audio jack on one side and a single bottom-firing speaker, on the other. Unfortunately, the A31 does not have a stereo speaker setup.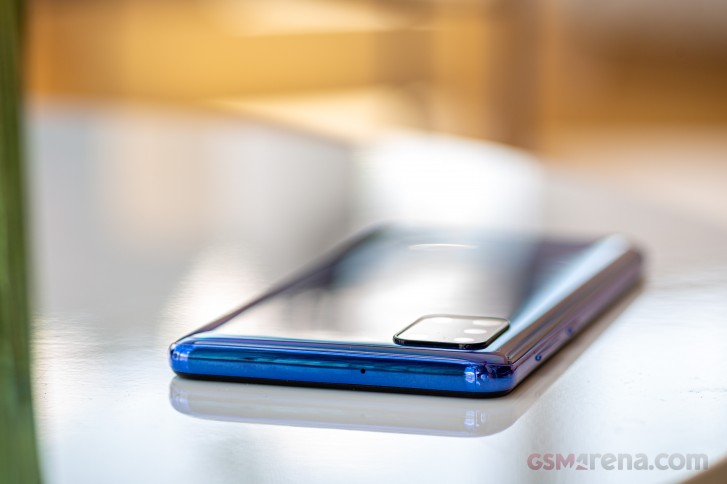 Since we kind of touched upon connectivity here, it is worth noting that the A31 has an FM radio receiver with RDS. Also, NFC, complete with two distinct modes of operation - a full-featured one, with reading and writing and a "Card mode", which only leaves authentication capabilities on, for use with payments, transit cards and the like.
useless phone 1week one of my sim is showing no service
I bought Samsung A31 and in less than two weeks it stopped charging completely and died. I'm quite disappointed especially so because getting it was a huge sacrifice on my side.very disappointed.
If anyone knows how long in minutes or hours I can record with the Samsung Galaxy A 31