Samsung Galaxy A32 review
GSMArena Team, 26 March 2021.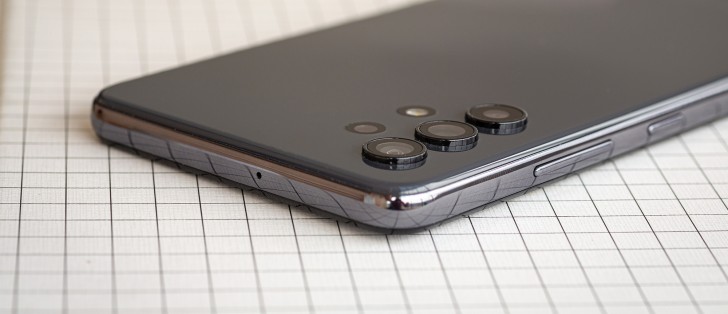 90Hz FullHD Super AMOLED is a welcome sight
The Galaxy A32 (non-5G) is equipped with a properly nice Super AMOLED display with 1080x2400px resolution. Perhaps more importantly, the display supports a (moderately) high refresh rate and can operate at up to 90Hz. All of this is in stark contrast to the Galaxy A32 5G, which gets a notably inferior 60Hz 720p LCD.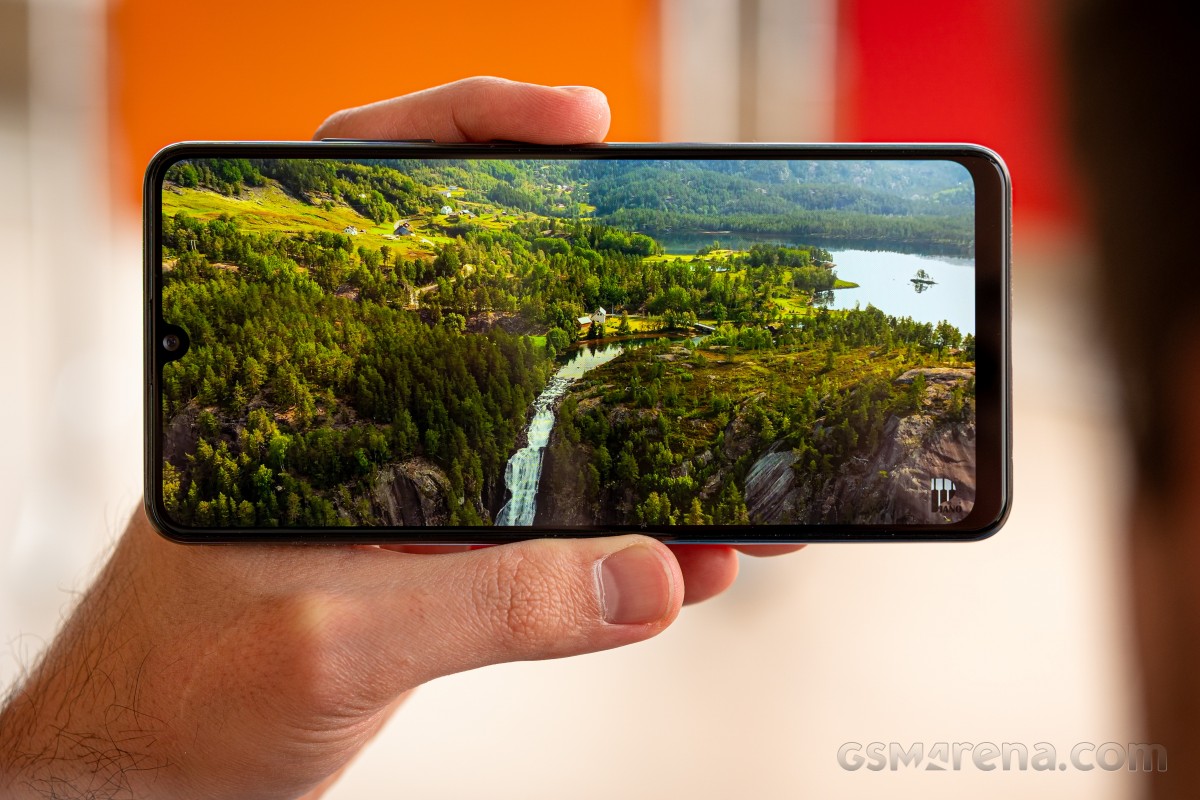 It's indeed one of the better AMOLEDs Samsung has to offer, particularly for the price point. Maximum brightness, for example, was an excellent 814nits in Adaptive mode with the phone under direct bright light, while operating the slider manually in less extreme conditions will get you close to 400nits - a fairly standard number which even the company's top-end model gravitate around. Mind you, even with the Adaptive toggle disabled, the phone will crank up the brightness if you're out in the sun to enable the High Brightness Mode.
This being an AMOLED panel, there's no illumination when displaying black, hence the contrast is essentially infinite (if not strictly mathematically correct). Minimum brightness, meanwhile, was measured at 1.8nits so you're guaranteed comfortable light levels even in very dark environments.
Display test
100% brightness
Black,cd/m2
White,cd/m2
Contrast ratio
Samsung Galaxy A32
0
393
∞
Samsung Galaxy A32 (Max Auto)
0
814
∞
Samsung Galaxy A52
0
386
∞
Samsung Galaxy A52 (Max Auto)
0
794
∞
Samsung Galaxy A31
0
423
∞
Samsung Galaxy A31 (Max Auto)
0
635
∞
Samsung Galaxy A42 5G
0
395
∞
Samsung Galaxy A42 5G (Max Auto)
0
570
∞
Samsung Galaxy A12
0.292
398
1363:1
Samsung Galaxy A12 (Max Auto)
0.349
472
1352:1
Xiaomi Redmi Note 10 Pro
0
457
∞
Xiaomi Redmi Note 10 Pro (Max Auto)
0
725
∞
OnePlus Nord N10 5G
0.304
440
1447:1
Realme 7 Pro
0
459
∞
Realme 7 Pro (Max Auto)
0
585
∞
Xiaomi Mi 10T Lite
0.348
476
1368:1
Xiaomi Mi 10T Lite (Max Auto)
0.455
596
1310:1
vivo V20
0
438
∞
vivo V20 (Max Auto)
0
621
∞
Xiaomi Redmi Note 9T
0.337
413
1226:1
Xiaomi Redmi Note 9T (Max Auto)
0.412
471
1143:1
The color modes on the Galaxy A32 are the same as most other Samsungs that aren't the absolute most affordable ones. You get the Vivid and Natural presets with Vivid covering a wide color gamut and Natural tuned for sRGB content. In our testing, Natural mode was indeed super accurate at rendering our sRGB test swatches, while Vivid (the one out of the box) was okay to good in displaying DCI-P3 content. A bump of the Cool-to-Warm slider in Vivid mode lets you almost completely cancel out the faint blue tint of the white point without much sacrifices elsewhere.
Samsung makes no claims for HDR capabilities on the A32's display, and indeed we didn't get HDR streams in any of the popular apps we check - Netflix, Amazon Prime Video, and not even YouTube.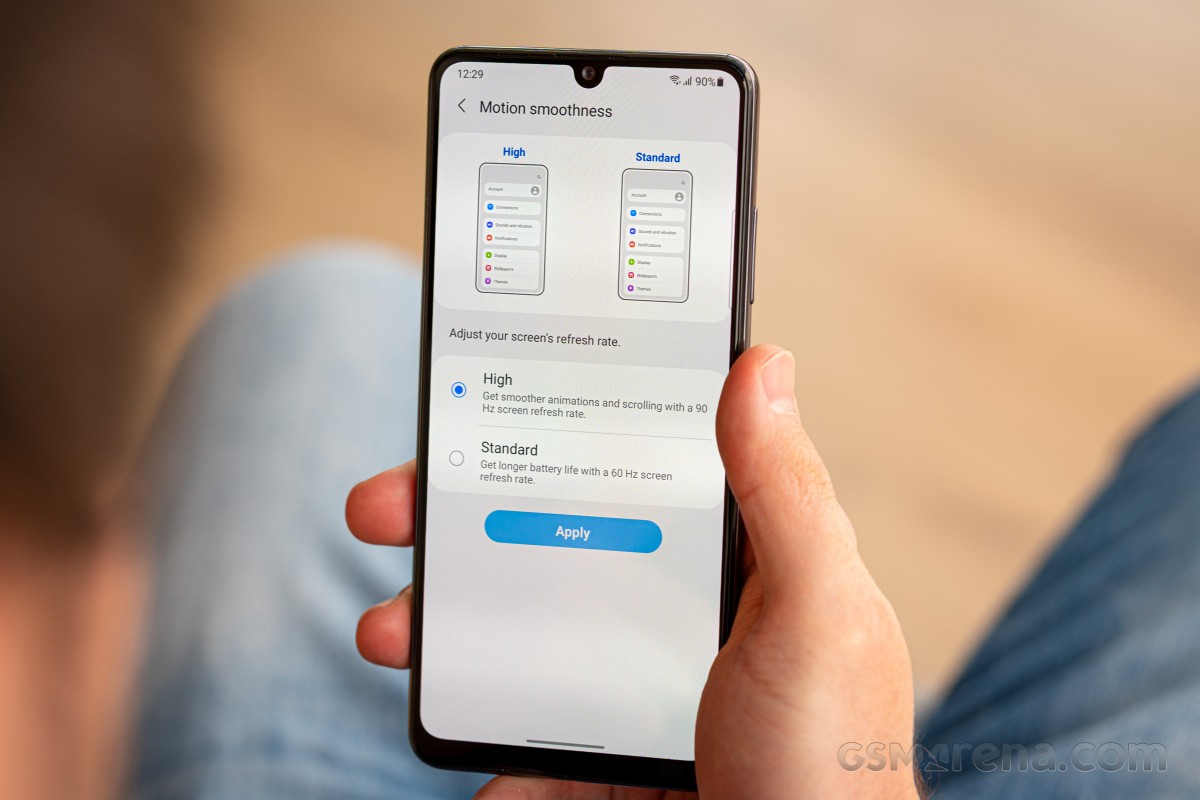 This being a 90Hz display, you get to pick whether to run it at its max refresh rate or the standard 60Hz. In the latter mode, everything everywhere gets 60Hz. In 90Hz mode, you get the high refresh rate across the UI, as well as in social media apps and browsers, plus video playback apps - there's no smart downswitching to 60Hz even for video playback. The phone will switch down to 60Hz for the camera viewfinder or for apps that explicitly require it - such as Google Maps.
Samsung Galaxy A32 battery life
The Galaxy A32 has a 5,000mAh battery inside, a fairly common capacity for midrangers of the day - Samsung's own A-series has a ton of phones with that big of a powerpack. This particular model does have a 90Hz display, and it's FullHD, too, so it's perhaps one of the more taxing panels, though the relatively modest chipset should help offset that.
Indeed, the Galaxy A32 posted excellent results for battery life. Running the phone in 90Hz mode, we measured 16 hours of Wi-Fi web browsing, and 18 hours of offline video playback. With 33+ hours of voice calls and decent standby numbers, the Galaxy A32 posted an Endurance rating of 119h.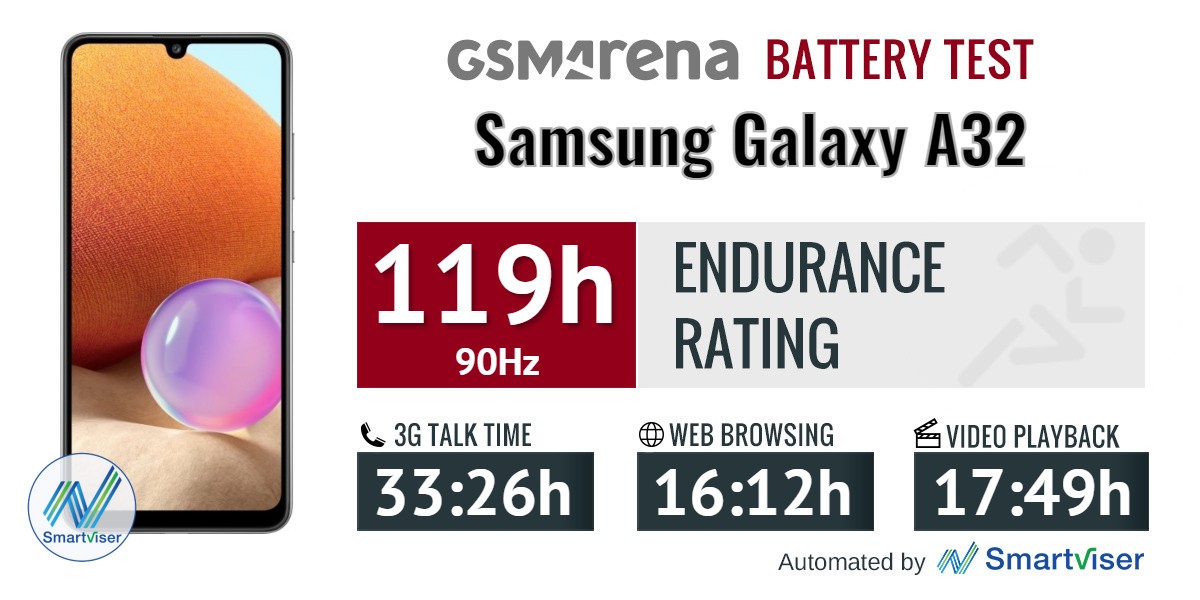 Switch the phone to the standard 60Hz refresh rate, and you stand to gain an hour of Wi-Fi web browsing or about an hour and a half of looping videos. It seems like too small a benefit to sacrifice the 90Hz smoothness for.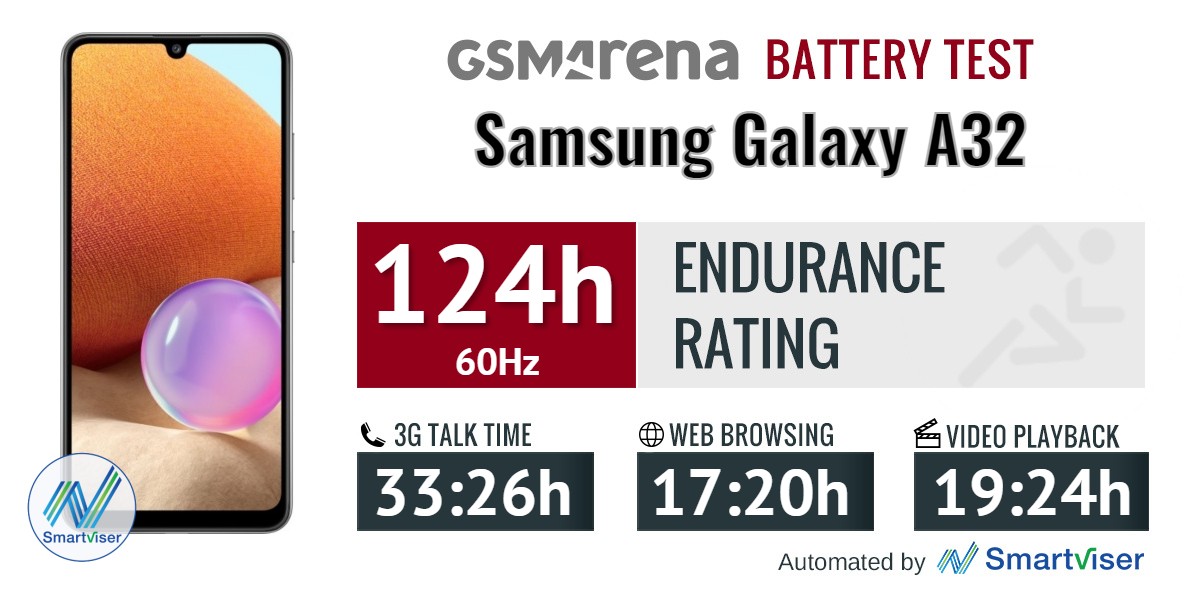 Our battery tests were automated thanks to SmartViser, using its viSerDevice app. The endurance rating denotes how long the battery charge will last you if you use the device for an hour of telephony, web browsing, and video playback daily. More details can be found here.
All test results shown are achieved under the highest screen refresh rate mode. You can adjust the endurance rating formula manually so it matches better your own usage in our all-time battery test results chart where you can also find all phones we've tested.
Charging speed
As most lower-end Samsungs, the Galaxy A32 ships with a 15W adapter that has Samsung Adaptive Fast Charging stamped on it, a name (and technology) that dates some 6-7 years back. Using it, the A32 charges from flat to full in 2:19h, with 25% showing in the battery indicator half an hour into the process. It's slower than most in the class, but at least it's faster to top up than lesser Galaxies like the A02s and A12, if that counts for something.
30min charging test (from 0%)
vivo V20
66%
OnePlus Nord N10 5G
65%
Realme 7
58%
Realme 7 5G
57%
Poco X3 NFC
55%
Xiaomi Redmi Note 10 Pro
50%
Motorola Moto G 5G
36%
Oppo Reno4 Z 5G
36%
Samsung Galaxy A02s
30%
Samsung Galaxy A31
30%
Samsung Galaxy A42 5G
27%
Samsung Galaxy A32
25%
Samsung Galaxy A12
20%
Time to full charge (from 0%)
OnePlus Nord N10 5G
0:52h
vivo V20
0:59h
Realme 7
1:05h
Realme 7 5G
1:06h
Poco X3 NFC
1:15h
Xiaomi Redmi Note 10 Pro
1:21h
Oppo Reno4 Z 5G
1:55h
Samsung Galaxy A42 5G
2:01h
Motorola Moto G 5G
2:11h
Samsung Galaxy A32
2:19h
Samsung Galaxy A02s
2:36h
Samsung Galaxy A31
2:48h
Samsung Galaxy A12
3:03h
Speaker test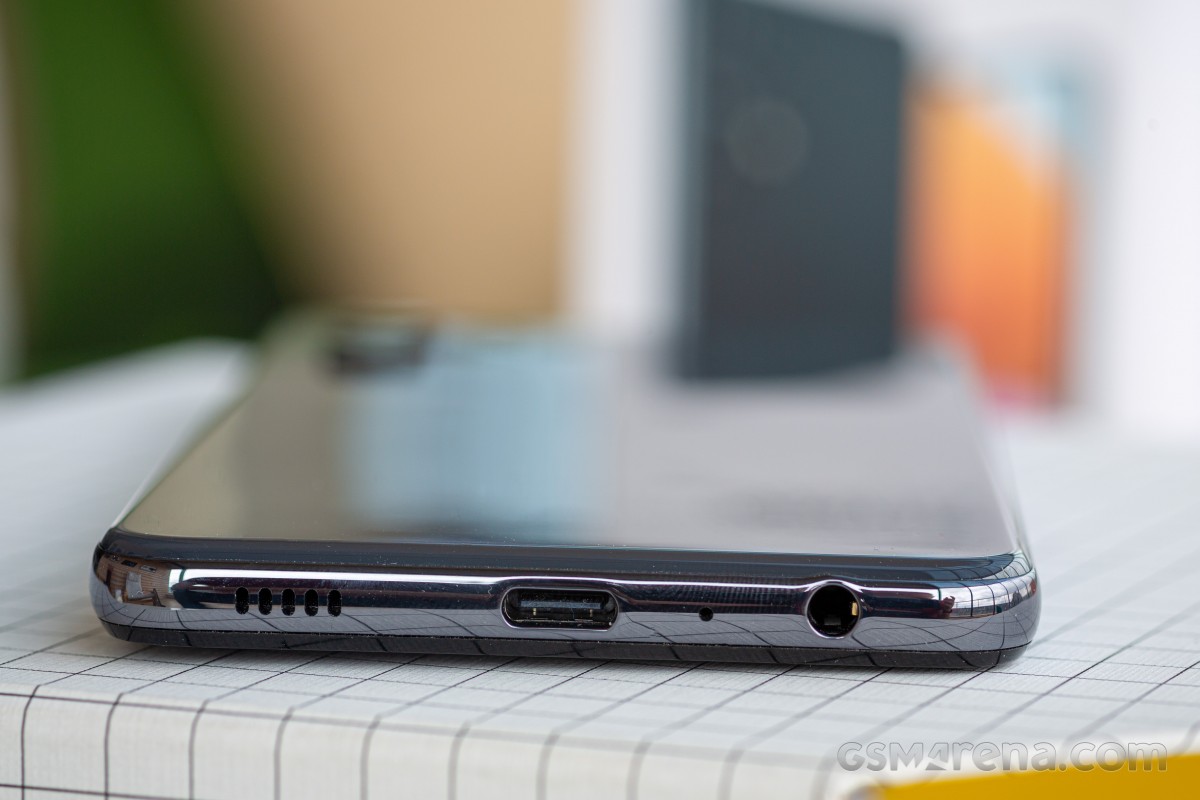 Like most other non-flagship Samsungs, the Galaxy A32 has a single loudspeaker placed on the bottom of the phone. And, like most other non-flagship Samsungs, it's relatively quiet - the A32 earned a 'Below Average' rating for loudness in our 7-track test. Virtually all competitors put out more decibels, and some have stereo speakers too (Redmi Note 10 Pro and Poco X3).
As for sound quality, there's little of note on the Galaxy A32 - it's a basic speaker that's not great, but not evidently flawed either and will do fine for watching videos and the like.
Use the Playback controls to listen to the phone sample recordings (best use headphones). We measure the average loudness of the speakers in LUFS. A lower absolute value means a louder sound. A look at the frequency response chart will tell you how far off the ideal "0db" flat line is the reproduction of the bass, treble, and mid frequencies. You can add more phones to compare how they differ. The scores and ratings are not comparable with our older loudspeaker test. Learn more about how we test here.
Anonymous
25 Oct 2023
M6Y
It is normal.
Anonymous
17 Sep 2023
3ad
How do I connect to wifi