Samsung Galaxy A33 5G review
GSMArena Team, 18 May 2022.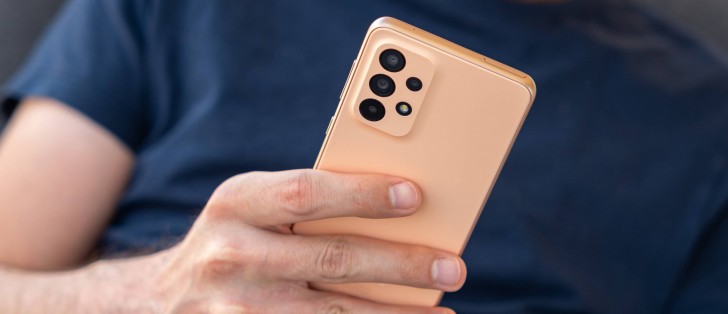 One UI 4.1 on top of Android 12
The Galaxy A33 5G boots the latest Android 12 and One UI 4.1 combo. It omits the occasional feature here and there compared to the flagship Galaxy S22 line, but nothing that can be considered essential for most users.
One major selling point Samsung has for many of its mid-range devices is the promise of extended software support. This is the case with the A33 5G as well. You can expect 4 OS upgrades and 5 years of security patches. A sweet deal if you tend to keep your phones for a while.
One UI remains one of the best and most popular custom Android implementations. In recent years, most changes to the UX have been careful and incremental and have mostly amounted to extra polish and flair. Even users coming from older Galaxy devices should feel right at home, but some new additions to the mix are still worth mentioning. We'll just do a quick overview.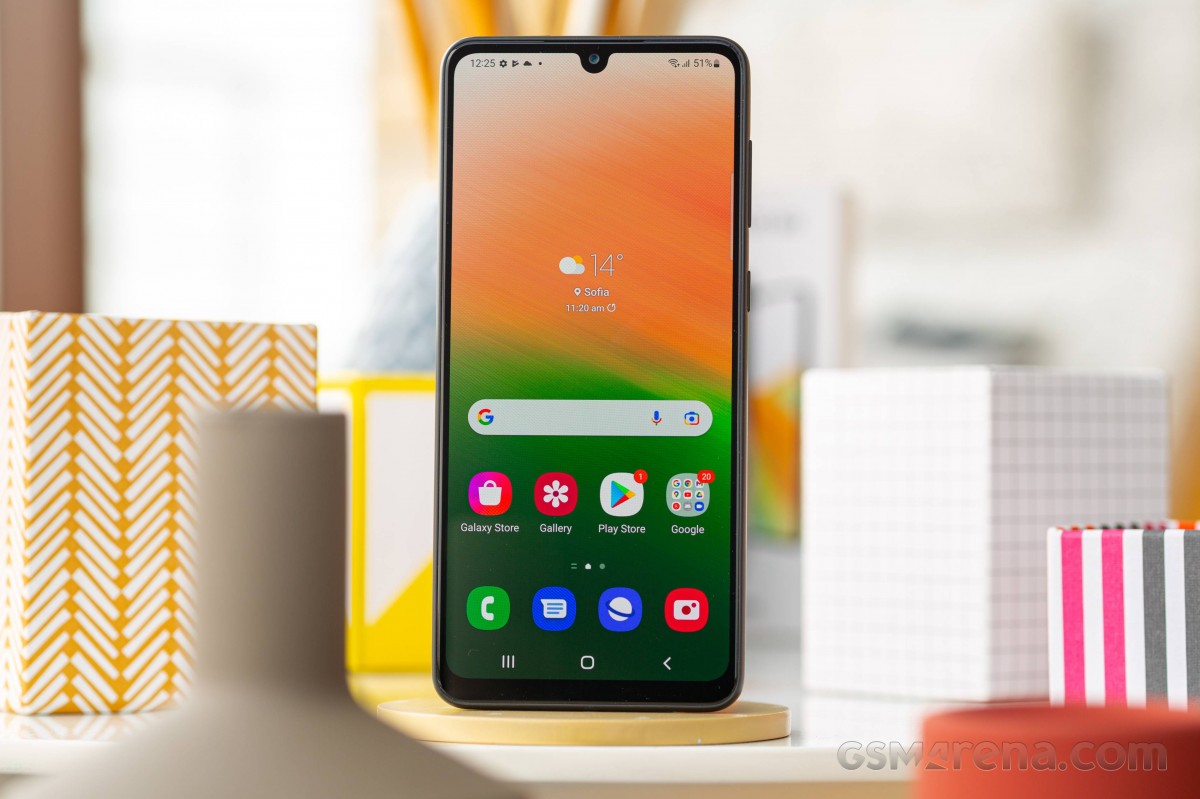 First, there is no Always On Display on the Galaxy A33 5G.
The lock screen looks the same as before with two monochrome shortcuts - dialer and camera. The under-display fingerprint reader will likely be the primary method of unlocking for most, but you can still use face unlock either instead of or alongside it. It can be more convenient in certain situations, but it generally is less secure since it's just using the selfie camera.
The lock screen is largely unchanged, as mentioned, and has a lot of customization options available.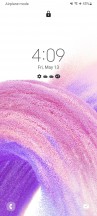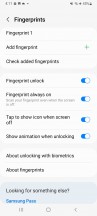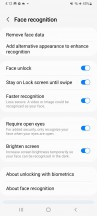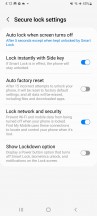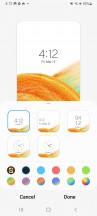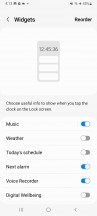 Lockscreen and security options
One UI 4.1 looks even cleaner than v.3.x, but its logic remains the same - there are homescreen, widgets, notification centre, task switcher and an app drawer.
As we mentioned, the Galaxy A33 5G doesn't have all of the One UI 4.1 features. Samsung's new Smart Widgets are one of the weirder omissions. Perhaps these are on their way and simply haven't reached the A33 yet. They are really convenient since they allow joining data from a few widgets into a single one.
One of the new One UI 4 features is Color Palettes. This is the implementation of the vanilla Android 12's Wallpaper colors. There are usually four Color Palette suggestions in addition to the default One UI Blue/Black one. Those are picked automatically by the software, depending on your current wallpaper. The color you choose will become the main one in the newly created theme (think Windows' "accent color").
These accent colors are applied on the dialer, the quick toggles, and other tiny UI bits. You can choose to apply them to the app icons as well.
One UI has always offered great customization. You can use one of a few wallpaper services to automatically change your lockscreen or homescreen. The powerful Theme engine is here as well.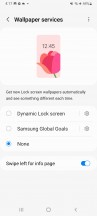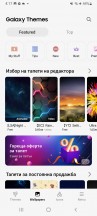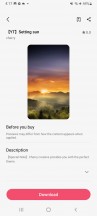 Wallpaper services • Galaxy Themes
The dialer allows you to pick between two layouts for the in-call screen. You can also set up a background image or video for that screen, though it's going to be all the same for all of your calls - you can't have a different one on a per-person basis.
Navigation is highly-customizable as well. You can go with gestures and tweak them to your liking or revert back to old-school buttons and even swap the home and back buttons for a truly retro navigation scheme.
The Settings menu contains a new Privacy Dashboard. Here, you can easily see which apps use some of the most important permissions (for privacy). You can control the camera and control access across apps, opt for clipboard access alerts (useful if you copy passwords, social security numbers, IBANs, among others), and a full-blown permission manager if you like to dig deeper.
You get a whole bunch of options for using your Galaxy with other devices to enable various use cases. Wireless display is the most obvious one. You can just mirror your display this way though, since the Galaxy A33 5G lacks Samsung DeX. It is still reserved for Samsung's flagship devices and hasn't made its way down the chain. Plus, the A33 5G can't do video out from its USB Type-C port, which is kind of the primary way to use DeX.
The Link to Windows feature provides you with an interface to your phone from your computer so you can exchange images, manage notifications on your PC or even make calls from it.
Another option along those lines but with more limited potential is Continue apps on other devices. This requires you to be logged in to your Samsung account on both devices, hook them up to the same Wi-Fi network with Bluetooth enabled and use the Samsung Internet browser or Samsung Notes. You'll then be able to copy and paste text and images across and open the same tabs in the browser.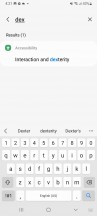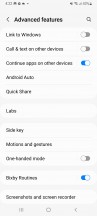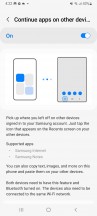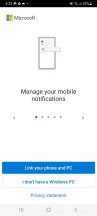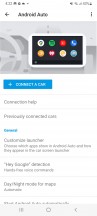 No DeX • Continue apps on other devices • Link to Windows • Android Auto
Other staples of proprietary Samsung software include the Edge panels - the panes that show up when you swipe in from the side and provide tools and shortcuts to apps and contacts. Game launcher, the hub for all your games, which also provides options for limiting distraction when gaming is here to stay as well.
Otherwise, the software package is similar to other Samsung phones, with an in-house Gallery app, the Game Launcher app, and a proprietary file manager. Naturally, Samsung's Internet web browser is also available.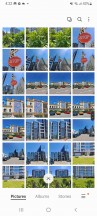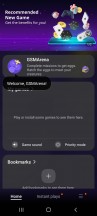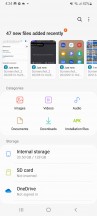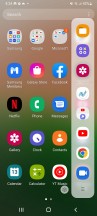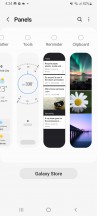 Gallery • Game Launcher • File manager • Edge panel
The Gallery is where you'd find the new Object Eraser feature. Once you enter photo edit mode, you can opt for object eraser from More options. This is a fancier way of saying smart delete - you either paint over an object or tap on it for automatic selection. And then you hope for the best - if the object's surroundings aren't too complex, you will get a good outcome. Otherwise - it's a mixed bag. Samsung's fancy experimental shadow and reflection erasers are not present for now, though.
Beyond all of this, the Galaxy A33 5G comes loaded with a standard set of apps from Samsung, Microsoft and Google.
Granted, the list has gotten a bit extensive, but there is nothing here that we would consider bloat in the traditional sense. Anything you don't personally like or appreciate having on your device can be easily uninstalled or, failing that - disabled.
As always, One UI runs incredibly smooth and provides a truly industry-leading custom Android experience, chock-full of extra features and customizability.
Performance and benchmarks
The Galaxy A33 5G runs on the new Samsung's new Exynos 1280 chipset - the same one that premiered on the new Galaxy A53 5G model. It replaces the Helio G80 if you are coming from the Galaxy A32, or the Dimensity 720 if you have the Galaxy A32 5G. And it is a huge step forward as it offers a much more powerful processor and graphics.
The Exynos 1280 is made on Samsung's 5nm manufacturing process. Its octa-core processor packs two "big" Cortex-A78 cores, clocked at up to 2.4GHz and six "small" Cortex-A55 ones, working at up to 2.0GHz. The A78 are newer cores than the A75 and A76 used as part of Helio G80 and Dimensity 720.
The chipset comes with Mali-G68 GPU, a nice upgrade over the previous Mali-G52 and Mali-G57.
And finally, the Exynos 1280 has an integrated 5G modem.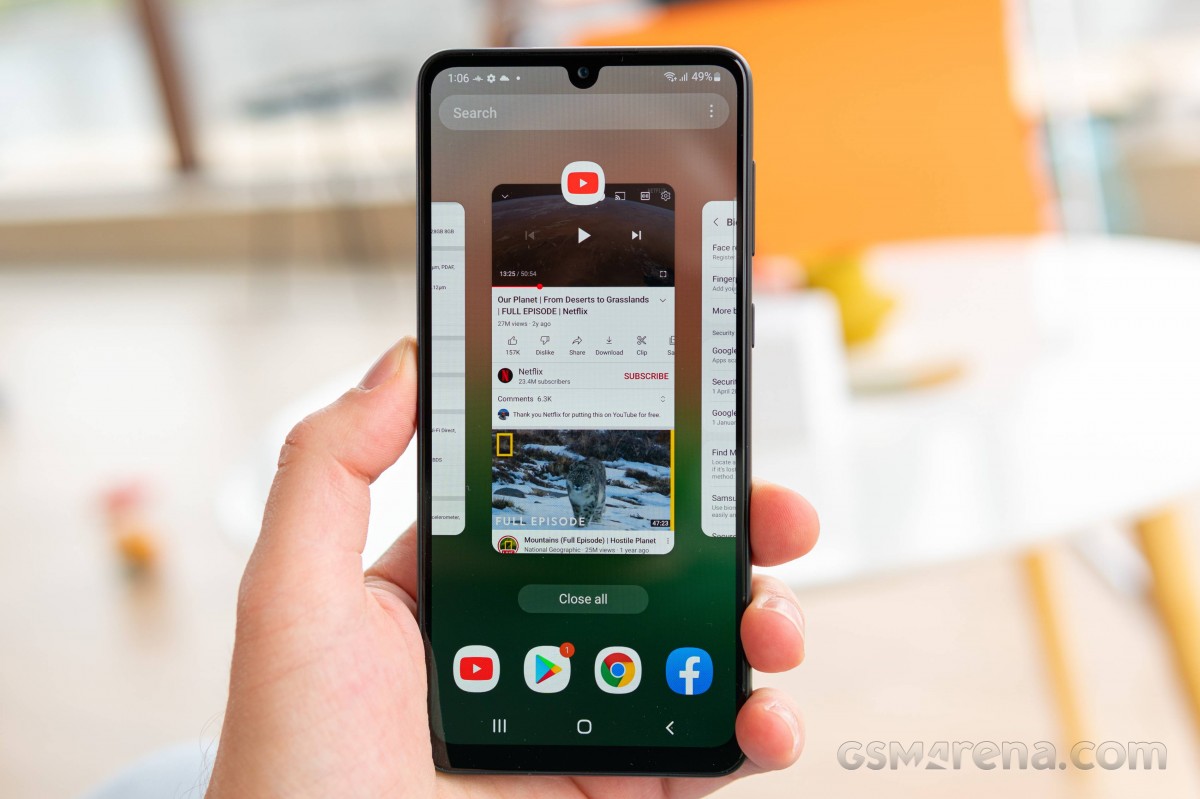 The Galaxy A33 5G processor is noticeably faster than the one inside the A32 and A32 5G. The Galaxy A52s has a more powerful Snapdragon 778G 5G chipset with both superior CPU and GPU, and until the A52s is discounted, it will keep popping as the chart topper in the mid-range performance sections.
GeekBench 5 (multi-core)
Higher is better
Samsung Galaxy A52s 5G
2801
Realme 9 Pro+
2335
Xiaomi Redmi Note 11 Pro+ 5G
2225
Xiaomi Redmi Note 11 Pro 5G
2063
Poco X4 Pro 5G
2063
Realme 9 Pro
2020
Sony Xperia 10 IV
1908
Samsung Galaxy A33 5G
1900
Samsung Galaxy A53 5G
1891
Realme 9 5G
1823
Samsung Galaxy A32 5G
1673
Samsung Galaxy A32
1277
GeekBench 5 (single-core)
Higher is better
Realme 9 Pro+
814
Samsung Galaxy A52s 5G
771
Samsung Galaxy A53 5G
743
Samsung Galaxy A33 5G
742
Xiaomi Redmi Note 11 Pro+ 5G
736
Realme 9 Pro
694
Xiaomi Redmi Note 11 Pro 5G
688
Poco X4 Pro 5G
687
Sony Xperia 10 IV
662
Realme 9 5G
610
Samsung Galaxy A32 5G
505
Samsung Galaxy A32
361
The GPU performance has seen a massive and welcome upgrade over the Galaxy A32, and it is among the best performers in this mid-range segment (up to €400 or so).
GFX Car Chase ES 3.1 (onscreen)
Higher is better
Samsung Galaxy A52s 5G
28
Realme 9 Pro+
23
Xiaomi Redmi Note 11 Pro+ 5G
22
Samsung Galaxy A33 5G
20
Samsung Galaxy A53 5G
19
Xiaomi Redmi Note 11 Pro 5G
17
Poco X4 Pro 5G
17
Sony Xperia 10 IV
16
Realme 9 Pro
16
Realme 9 5G
14
Samsung Galaxy A32
8.1
GFX Manhattan ES 3.1 (onscreen)
Higher is better
Samsung Galaxy A52s 5G
49
Realme 9 Pro+
41
Xiaomi Redmi Note 11 Pro+ 5G
38
Samsung Galaxy A33 5G
35
Samsung Galaxy A53 5G
35
Xiaomi Redmi Note 11 Pro 5G
30
Poco X4 Pro 5G
30
Realme 9 Pro
29
Sony Xperia 10 IV
28
Realme 9 5G
25
Samsung Galaxy A32
13
3DMark Wild Life Vulkan 1.1 (offscreen 1440p)
Higher is better
Samsung Galaxy A52s 5G
2491
Realme 9 Pro+
2296
Samsung Galaxy A53 5G
2292
Samsung Galaxy A33 5G
2260
Xiaomi Redmi Note 11 Pro+ 5G
2014
Realme 9 5G
1228
Sony Xperia 10 IV
1213
Realme 9 Pro
1211
Poco X4 Pro 5G
1211
Xiaomi Redmi Note 11 Pro 5G
1204
Samsung Galaxy A32 5G
1185
Samsung Galaxy A32
686
The AnTuTu tests also put the Galaxy A33 5G on par with its segment peers, with the only exception being the Galaxy A52s which is now cheaper and yet faster.
AnTuTu 8
Higher is better
Realme 9 Pro+
495096
Samsung Galaxy A52s 5G
429675
Xiaomi Redmi Note 11 Pro+ 5G
375528
Samsung Galaxy A33 5G
354420
Poco X4 Pro 5G
335353
Samsung Galaxy A53 5G
329802
Xiaomi Redmi Note 11 Pro 5G
288914
Samsung Galaxy A32 5G
226561
Samsung Galaxy A32
174332
AnTuTu 9
Higher is better
Samsung Galaxy A52s 5G
506432
Xiaomi Redmi Note 11 Pro+ 5G
437872
Realme 9 Pro+
416031
Realme 9 Pro
401894
Sony Xperia 10 IV
396008
Samsung Galaxy A33 5G
394918
Poco X4 Pro 5G
384646
Xiaomi Redmi Note 11 Pro 5G
382902
Samsung Galaxy A53 5G
379313
Samsung Galaxy A32 5G
222125
The Galaxy A33 5G has an excellent choice of chipset, powerful enough to handle everything well, including gaming.
We also tested its sustained performance, and it turned out great. The Galaxy A33 5G scored 75% on the CPU throttle test and 99% on the GPU stress test.
Even better, the Galaxy A33 5G never gets hot or overheats, it may become warm, but that's about it.
Overall, as far as performance goes, the Galaxy A33 5G provides an excellent one for its class and price.
hi. i got my A33 5g just this March (2023). i generally love it - the screen is bright, the display colors and smoothness is great, the camera is also great (tho i still have to get used to how to manage the focus lol) i guess i just don't lik...
Anonymous
12 Oct 2023
YMr
Me too feeling same, I bought on January 26th 23. I have the following issues 1) Virtual proximity sensor issue. Screen never off unless you literally touch the phone to ear or skin. 2) In night time when you are outside and call comes and the ph...
Don't bother with them. After reading the stupid comments on here it is obvious that they are trolls. Probably Chinese. I wouldn't have a Chinses phone if it were the last make of phone on the planet.