Samsung Galaxy A40 review
GSMArena team, 30 April 2019.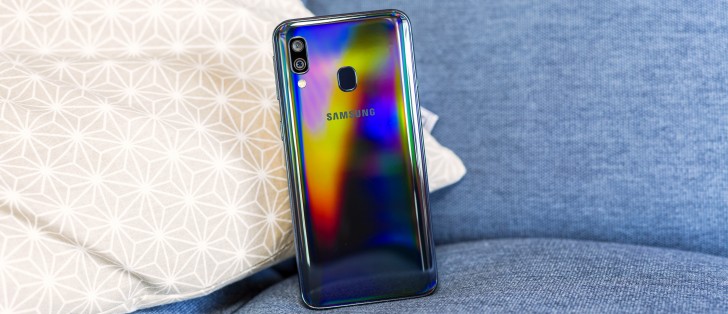 Samsung's brand new One UI on top of Android 9.0 Pie
The new Galaxy A-series from Samsung all come with Android 9.0 Pie out of the box and more importantly, with the more refined and brand new Samsung interface - One UI. It runs smoothly, it has plenty of features and it's optimized for one-handed use.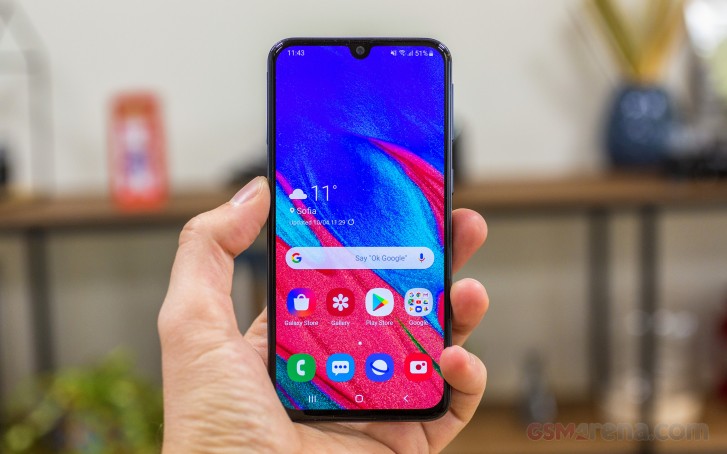 For example, swiping one more time when you open the notification shade will lower the quick toggles within your thumb's reach. The swipe down works in the settings menus as well - the UI elements will be positioned in the lower half of the screen and you can reach them with your thumb.
The icons have also been changed and are now identical to the ones we saw on the Galaxy S10-series. You can also choose between the standard software button navigation bar or the gesture-based navigation. As we've already pointed out in our previous reviews, the gestures are just swipes from the bottom. Depending on the setting you choose, the back and recent apps gestures are swipes from the bottom-left and right while swiping from the middle will always bring you back Home. They are pretty simple to use but not at all that elegant as other solutions.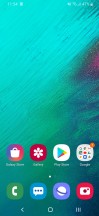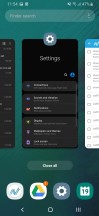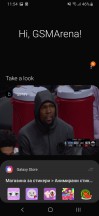 Home screen, recent apps menu and Bixby Home
Also, the quick switch between two apps is impossible. If you are using the quick switch function a lot, you will have to resort to the software button navigation.
The general Settings menu is now way more organized and a bit easier to find stuff. The Display sub-menu, for example, holds all of the display and home screen settings. You can change the color mode from there, switch on the Night mode and the Blue light filter. The Home screen menu lets you customize pretty much everything about the home screen including the app drawer. You can go with an app drawer or just place everything on your home screens. You can bring out the app drawer with a single upwards swipe from the home screen but we found the swipe down option for the notification shade to be particularly useful.
The navigation bar that we've talked about earlier can be customized from the same Display sub-menu. You can swap the recent apps and the back button if you are used to your previous UI that isn't Samsung-made.
Unfortunately, we didn't find an always-on screen option in the menus despite the AMOLED panel. There's nothing in the Lock screen sub-menu as well.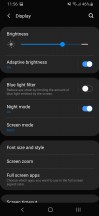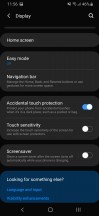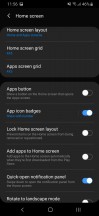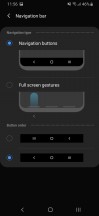 Display menu, home screen settings and navigation bar customization
The Biometrics and security section contains exactly what you'd expect. You can set up your fingerprint and your face to unlock the phone with some additional options. As already mentioned, the fingerprint reader is super fast and reliable but it feels like the chipset is a bottleneck here. The scanner can recognize your fingerprint with just a brief tap but it takes some time for the screen to light up.
The face unlock feature also works pretty well and a couple of additional options could potentially make it more accurate and fast but it's not as secure as the fingerprint reader. After all, it only relies on the front camera for facial recognition.
A couple of useful gestures are buried in the Advanced features menu. There's the double-tap-to-wake function that's been around for years now, the smart alert (the phone vibrates when picked up to notify you about a missed call or text), flip to mute and smart stay (the screen will stay on as long as you are looking at it). The fingerprint reader also supports a swipe gesture to bring down or hide the notification panel. This one is pretty useful and reliable.
Interestingly, Samsung is also offering the option to tone down on some animations and transition animations to speed up the navigation through the menus.
Although obtrusive at times, the Smart pop-up view might come in handy in some cases. You can enable it for individual apps that support split-screen view. When you receive a notification, it pops up on your screen in a small icon and when you tap on it when, it opens up the app in a small window - perfect for multitasking. In some cases, we found that tapping will open up the app in full-screen if you are using another app at the moment.
Under Device care, you will see the standard battery, storage, memory, and security management menus. The battery will perhaps be the most useful one. It offers the usual information about which apps or services have used most battery since the last charge and it gives you pretty granular settings that you can adjust to further improve battery life.
Of course, since this is a Samsung phone, there are lots of pre-installed system apps like Calendar, Clock, Gallery and even a dedicated Galaxy Store. The Samsung Internet web browser is probably the most useful and feature-rich one and it's a great alternative to Chrome once you get used to it.
In terms of performance, the UI runs pretty smoothly without any hiccups or hangs. Animations seem a little bit slower than usual but it appears that the Exynos 7904 handles the rather heavily-customized UI well enough.
Performance
Update, Jun 19: When we first reviewed the phone, various apps reported the chipset as Exynos 7885 but Samsung has recently updated its official page and lists the phone with Exynos 7904. Essentially, this chipset is a 7885 variation with slightly lower clocks but the chipset name aside, the benchmark results below are as valid as ever.
The Galaxy A40 is powered by one of the most powerful in-house mid-range chipsets from the Exynos family - the Exynos 7904. It accommodates an octa-core CPU with 2x high-performance Cortex-A73 cores clocked at 1.77 GHz and 6x power-efficient and smaller Cortex-A53 cores ticking at 1.59 GHz. For graphically-intensive tasks, the SoC relies on the Mali-G71 MP2 GPU.
When it comes to memory, the phone comes only in one flavor - 4GB of RAM and 64GB of internal storage with microSD card slot for expansion.
We kick things off with the usual CPU testing to see where the Exynos 7904 stands. And in single-core performance tests, the chip is right up there with the Snapdragon 660 and the Snapdragon 636. In fact, the score is a tad better in some cases.
GeekBench 4.1 (multi-core)
Higher is better
Xiaomi Mi 8 SE
5908
Honor 8X
5651
Xiaomi Redmi Note 7
5411
Samsung Galaxy A50
5396
Nokia 7.1
4975
Motorola Moto G7
4755
Samsung Galaxy A40
4112
GeekBench 4.1 (single-core)
Higher is better
Xiaomi Mi 8 SE
1890
Samsung Galaxy A50
1715
Xiaomi Redmi Note 7
1650
Honor 8X
1618
Nokia 7.1
1344
Samsung Galaxy A40
1325
Motorola Moto G7
1255
However, in multi-core scenarios, the Exynos 7904 falls short to the competition. The relatively low clocks speed compared to the rest of the chipsets in the price range are probably the culprit.
AnTuTu 7
Higher is better
Xiaomi Mi 8 SE
170218
Samsung Galaxy A50
144574
Xiaomi Redmi Note 7
139075
Honor 8X
137276
Nokia 7.1
117175
Samsung Galaxy A40
106388
Motorola Moto G7
106292
GFX 3.1 Manhattan (1080p offscreen)
Higher is better
Xiaomi Mi 8 SE
23
Xiaomi Redmi Note 7
15
Samsung Galaxy A50
14
Honor 8X
14
Nokia 7.1
10
Samsung Galaxy A40
8.1
Motorola Moto G7
6.9
GFX 3.1 Manhattan (onscreen)
Higher is better
Xiaomi Mi 8 SE
22
Samsung Galaxy A50
13
Xiaomi Redmi Note 7
13
Honor 8X
13
Nokia 7.1
9.7
Samsung Galaxy A40
7.4
Motorola Moto G7
6.4
GFX 3.1 Car scene (1080p offscreen)
Higher is better
Xiaomi Mi 8 SE
13
Samsung Galaxy A50
9.2
Xiaomi Redmi Note 7
9
Honor 8X
7.6
Nokia 7.1
6.3
Samsung Galaxy A40
5.2
Motorola Moto G7
3.8
GFX 3.1 Car scene (onscreen)
Higher is better
Xiaomi Mi 8 SE
12
Samsung Galaxy A50
8
Xiaomi Redmi Note 7
7.7
Honor 8X
6.7
Nokia 7.1
5.9
Samsung Galaxy A40
4.6
Motorola Moto G7
3.5
And as expected, the GPU performance isn't stellar as well. It will probably do just fine for the unpretentious users or those who don't do much gaming but it's measurably slower than pretty much every other alternative in the price range.
It's clear that the chipset isn't designed for heavy users and won't impress you with performance as the emphasis falls on energy efficiency.
Same!!! The A40 is meant to at least be good. I couldn't even use mine.
Boy you just learn how to mount your Sim card properly. A40 is just fine device for social media, web browsing, messaging and listening to music. Mine is 2 years old and I can't find such a compact working horse . And the audii quality is excell...
It's the worst smartphone i have ever had. It has a cheaply made body out of plastic, which scratches really easily, it's very unreliable (i have this phone since two years and it has broken already twice), volume keys and power button stop...