Samsung Galaxy A50, A30, Tab S5e hands-on review
GSMArena team, 25 February 2019.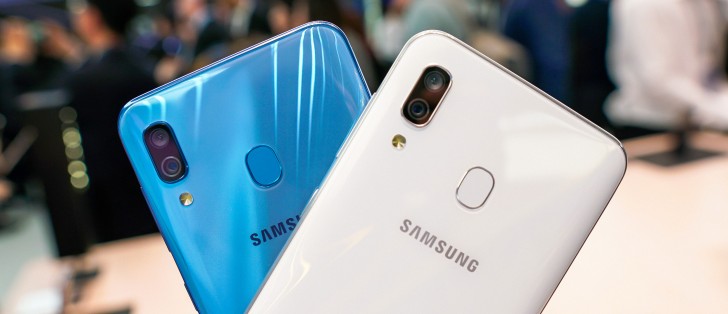 Samsung Galaxy A50 hands-on
As the top-dog in the new Galaxy A-line, or at least thus far, there are plenty of expectations that fall onto the A50. It this is going to be the first step down from the Galaxy S10 or rather the S10e if you go on a pure price basis, or the S10+ if you prefer to compare by size, it has to deliver. Samsung agrees since the A50 has so many features that it could easily pass for a flagship offering. Well, a less premium one, or one from a competitor or a year or two ago. But, you get the point.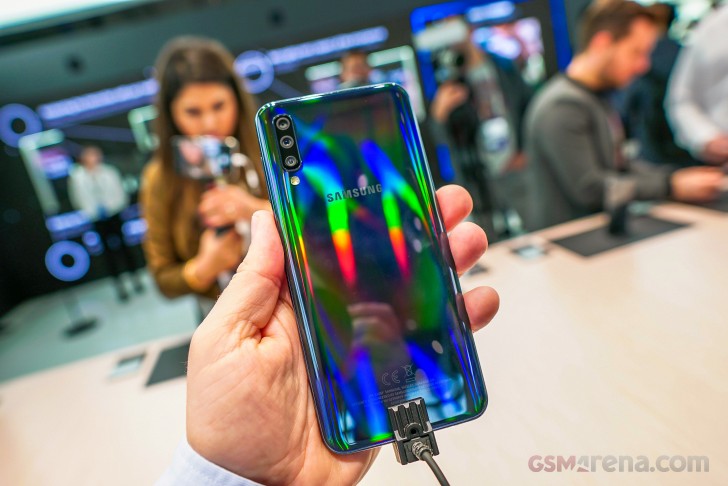 Let's take this one step at a time though and start with first impressions and appearances. The Galaxy A50 makes a pretty solid one indeed. It looks stunning and largely due to its paint job. The Korean giant refers to its new back design as "3D Glasstic", as a joking combination of glass and plastic. And yes, it's no Gorilla Glass for sure, but whatever Samsung did with the color works.
Well, naturally, this is going to be subjective, but the curved back has so much light reflection and refraction going for it that it's actually hard to get a proper shot of it. That darker shade A50 unit you see in the photos is actually Black! Slightly shifting the phone under the strong show floor lights was a really eye-catching sight.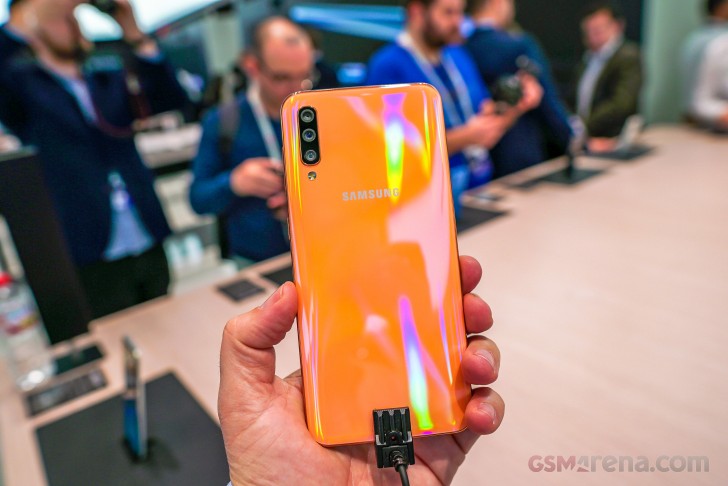 Pretty fun indeed, but we can see how this might not be a perfect fit for regular board meeting attendance. The other shade we captured on camera is actually what Samsung is calling Coral, but even that sounds a bit too specific given the particular color-shifting dye.
On to materials and build quality then. We know full well this is a polarizing statement to make, but we don't really mind the plastic frame on the Galaxy A50. As long as it is reasonably durable, it's a perfectly fine alternative to the popular "glass sandwich" design. That being said, while the A50 felt really well put together and sturdy in our hand, its specs sheet featured no specific mention of extra scratch protection. So, you might just have to cover that beautiful tapestry with a case.
Speaking of in-hand feel, holding the Galaxy A50 is a pretty familiar feeling if you have any experience with a recent Samsung phone. The sides taper in a very familiar way, leaving behind a fairly slim edge. The volume rocker and power button are in their usual location on the right side and equally thin to match. Also, color-coordinated. They felt great - tactile and responsive.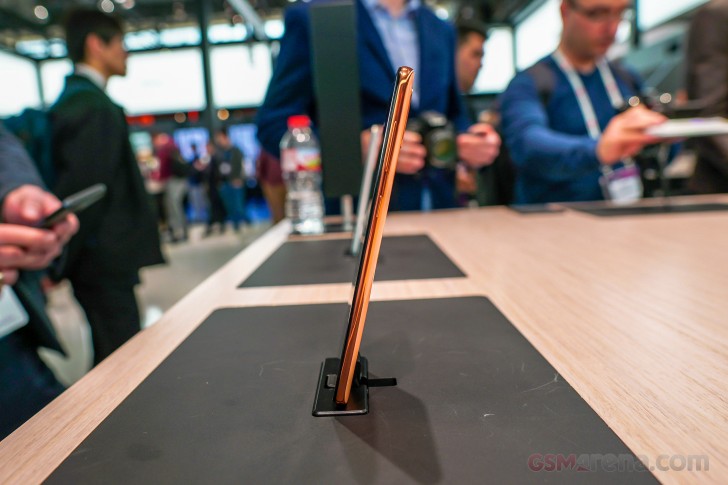 On the left side we find a noticeable absence of buttons. Noticeable since there is no dedicated Bixby key. Samsung's Ai is still there in the OS, just in case you fancy it, but the controversial extra control is missing.
Since we are already on the subject of controls, the Galaxy A50 has the basics covered, and yes, we are talking about a 3.5mm audio jack. It is on the bottom next to the Type-C port and single speaker.
The top of the phone is mostly empty. But so is the back, sans for the camera. So, what does that mean for biometrics? Samsung definitely didn't forget those and the solution is just one of the "bells and whistles" we were talking about - the A50 gets an under-display reader.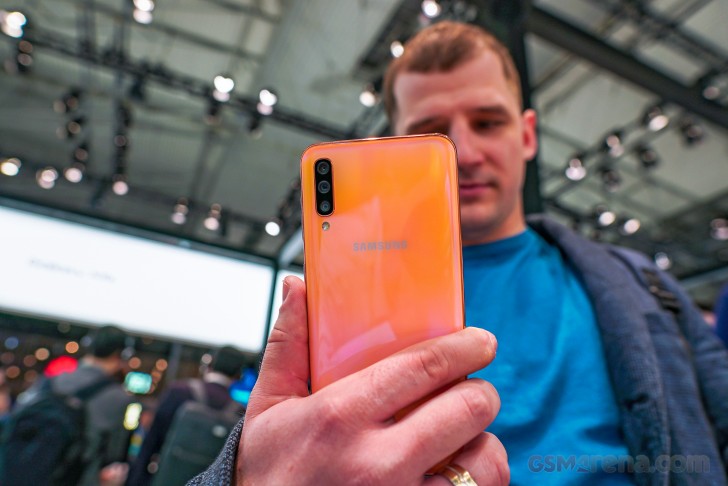 Info is rather scarce on the module itself, but we don't think its exactly identical to the fancy ultrasonic unit on the Galaxy S10 line. A pretty major indication of that is the fact that the A50 has a Super AMOLED panel, instead of rocking the fancy new Dynamic AMOLED moniker. So, it's likely a simpler optical-based unit instead. Performance and accuracy-wise it seemed to do fine, although we reserve final judgment for the full review.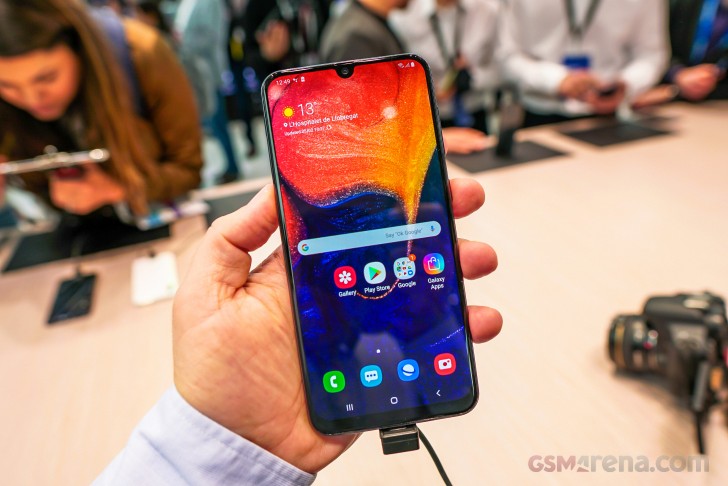 We guess this is a good place to transition to the display. With a diagonal of 6.4 inches, it is a pretty close match to the one on the S10+. Size-wise, of course. Aside from that, it can boast a few fancy features like HDR10+ support or curved sides. The latter one still being a debatable "bonus" for many. The aspect is slightly different as well, with the A50 sporting a less skinny 19.5:9 one. The native resolution has seen a downgrade to 1080 x 2340 pixels, for a ppi rating just above 400. Even so, we find it perfectly sharp.
In fact, the display looks really nice in person. Colors pop, contrast is great, so is brightness. At least subjectively. .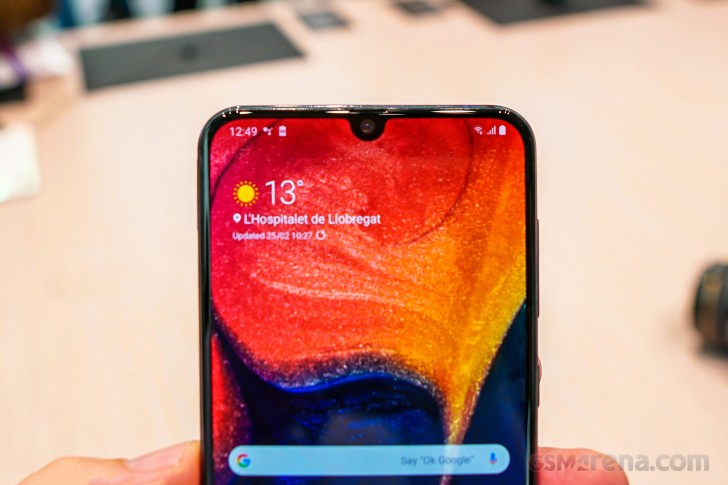 However, speaking of debatable bonuses, there is the matter of the notch. Again, this is going to be a matter of personal opinion, but in our book, the teardrop Samsung opted for (the Infinity-U to use their proper terminology) is probably the least obtrusive option out there. Still, we would have preferred an uninterrupted display any day of the week.
That might have been hard to pull off though since the top and side bezels are pretty thin and Samsung still needed room for its selfie camera up there. On the A50, it's a pretty high-resolution 25MP, f/2.0 snapper. It is fixed-focus, though, which is kind of a bummer. We do wish that one of the autofocus models from Galaxy S models of old could have made its way to the A50 instead. On the plus side, there's the deceptively-named "Selfie Focus" feature with leverages AI for better bokeh selfie portraits.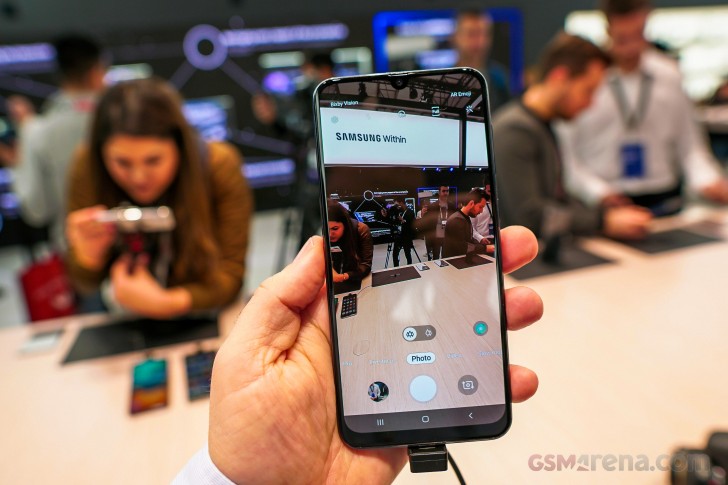 On the back, the A50 gets a trio of cameras. Interestingly enough, Samsung claims the main one of these also has a 25MP resolution. The reason we find this slightly odd is that we haven't really seen such a camera out in the wild. All the while certain other Samsung devices like the Galaxy A9 (2018) and Galaxy A7 (2018) have a very similar 24MP, f/2.7 main snapper.
Anyway, it is joined by an 8MP fixed-focus, f/2.2 ultra-wide and a 5MP, fixed-focus, f/2.2 depth sensor. That's definitely one thing we have to test more in-depth later on.
The same is also true about the Exynos 7 9710 chipset powering the Galaxy A50. This is the first time we are encountering this 4xCortex-A73 + 4xCortex-A53, Mali-G72MP3, 10nm silicon. We did manage to snag a quick GeekBench 4 sore from it at the venue, but keep in mind that these are early units and you should consider those preliminary results.
GeekBench 4.1 (multi-core)
Higher is better
vivo V15 Pro
6527
Xiaomi Mi 8 SE
5908
Samsung Galaxy A50 (MWC)
5004
Motorola Moto G7 Plus
4927
Samsung Galaxy A7 (2018)
4446
Samsung Galaxy A8 (2018)
4418
Sony Xperia XA2 Plus
4144
Samsung Galaxy J7 Pro
3768
Samsung Galaxy A6 (2018)
3718
Xiaomi Redmi 6
3639
GeekBench 4.1 (single-core)
Higher is better
vivo V15 Pro
2386
Xiaomi Mi 8 SE
1890
Samsung Galaxy A50 (MWC)
1705
Samsung Galaxy A8 (2018)
1532
Samsung Galaxy A7 (2018)
1524
Motorola Moto G7 Plus
1334
Sony Xperia XA2 Plus
839
Xiaomi Redmi 6
820
Samsung Galaxy J7 Pro
735
Samsung Galaxy A6 (2018)
733
Just to round things off with the Galaxy A50 for now, it packs a big 4,000 mAh battery with support for Samsung fast charging. Memory is set at either 4GB/64GB or 6GB/128GB with a dedicated microSD slot for expansion. Pretty great loadout if you ask us.
yes it is better but with much dollro $$$
Is the galaxy a50 good enough to dive into a swimming pool with?