Samsung Galaxy A50, A30, Tab S5e hands-on review
GSMArena team, 25 February 2019.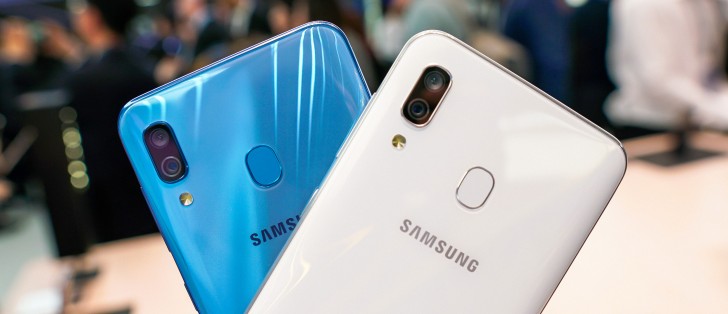 Samsung Galaxy A30 hands-on
Since we already toured the Galaxy A50 in quite a bit of detail and seeing how the Galaxy A30 is pretty much its little brother in most ways, pretty much all of the impressions shared thus far are applicable here.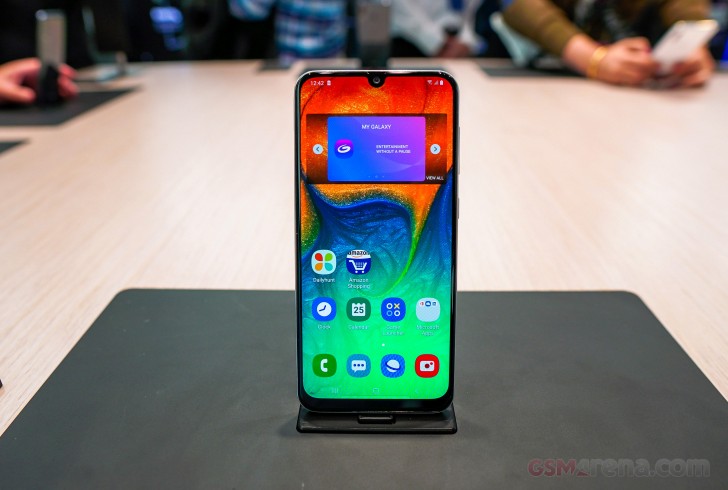 We'll try to mainly focus on the differences between the two, starting with physical ones. When we say "little brother" that shouldn't really be taken literally, since the A30 is physically identical to the A50 to the mm - 158.5 x 74.7 x 7.7mm. Color options do differ between the two, but ever so slightly and only in number, as in - the A30 does not come in Coral.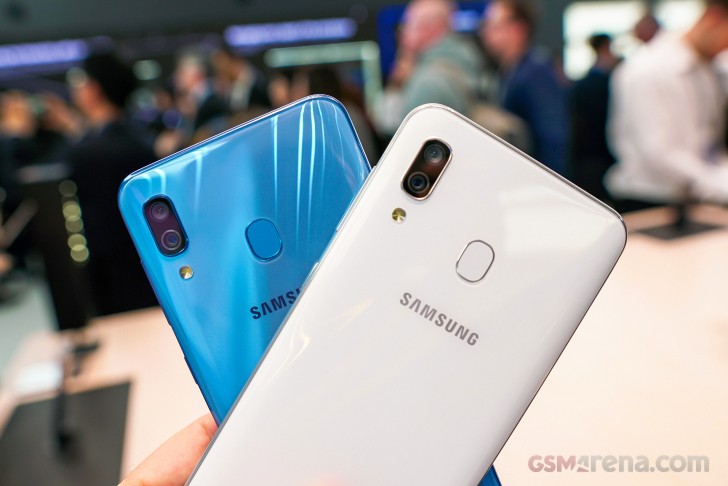 Instead you can see it in our photos in Blue and white, which collectively means you got a taste of the entire new Galaxy A pallete. Those less-than-subtle color shifts, reflections, and refractions we already mentioned are still very much present.
The materials of choice are the same, so mostly plastic and so are the sloping angles. Controls and buttons are in the exact same places. It's basically the same physical handset. Even the IP68 rating is here. Well, except that the A30 has a rear-mounted fingerprint reader.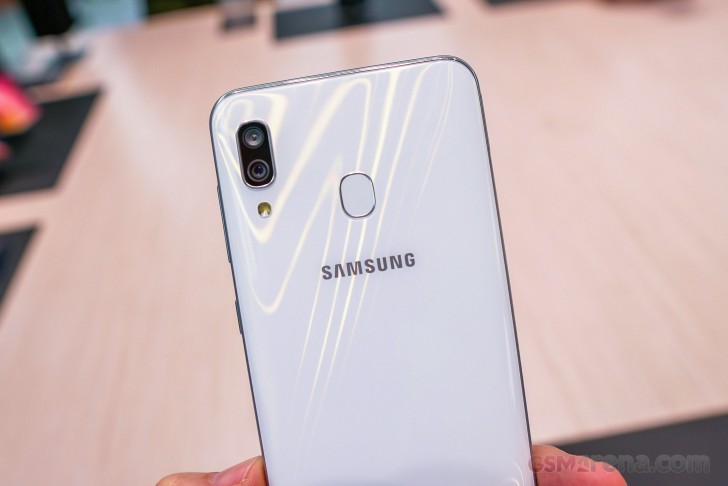 It's perfectly usable and being a conventional control, just as fast and reliable as you would expect out of a standard fingerprint scanner in 2019.
Naturally, that means that there is no under-display fingerprint reader on the A30, ultrasonic or otherwise. We can't really say we're all that surprised, though, since cost does have to be cut from somewhere to create a cheaper model.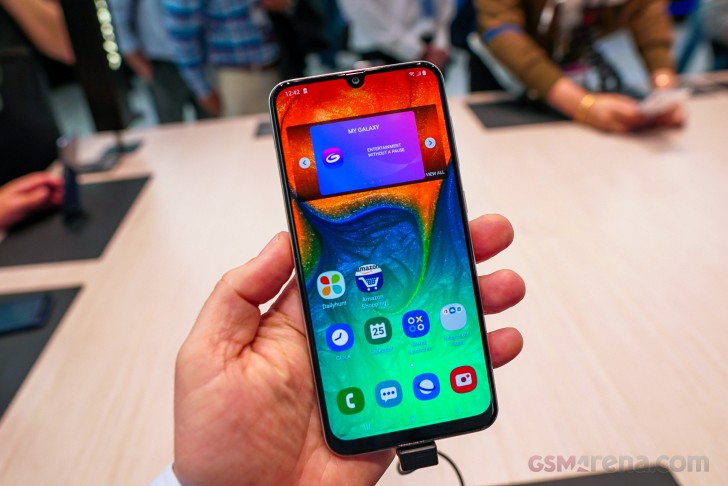 In fact, we are pretty happy to see that Samsung hasn't gone after the display. Instead, the Galaxy A30 is rocking the same large 6.4-inch, Super AMOLED, FullHD+ panel.
Again - no fancy curved sides or HDR10+ support, but just as much great visual fidelity. Popping colors, infinite blacks and what looked like very decent brightness. All things we've frankly come to associate Samsung's AMOLED panels with.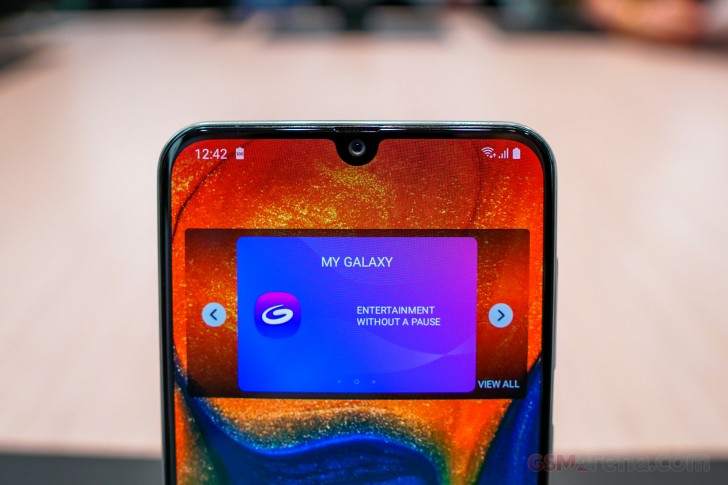 The notch is also just the same and fairly unobtrusive. The only real difference being that on the A30 it houses a 16MP camera (down from 25MP on the A50). This shouldn't really be too much of a downgrade, though, especially seeing how both cameras are fixed-focus to begin with. The Galaxy A30 does boast Face Unlock via said snapper but the A50 has it as well.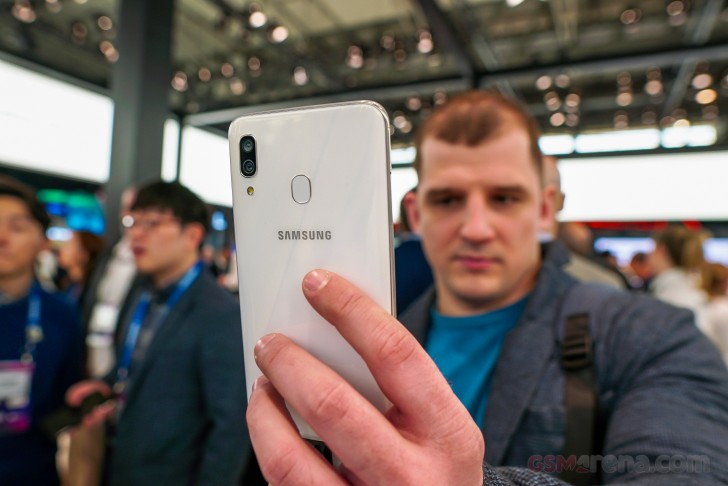 The main camera setup on the Galaxy A30 was likely the other major cost-saving area for Samsung's engineering team. Here we find a 16MP, f/1.7 main snapper and no ultra-wide one. The 5MP, f/2,2 depth sensor is still accounted for, though.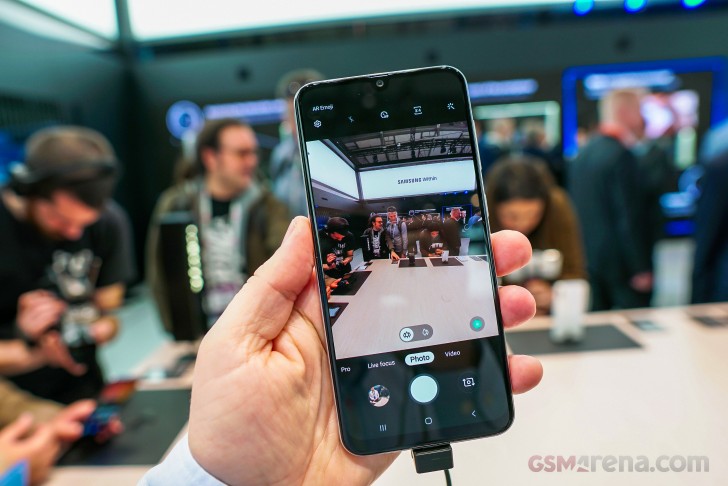 Moving on to internals, we find the last few downgrades on the Galaxy A30. RAM has been reduced to 3GB or 4GB, coupled with 32GB or 64GB of storage, respectively. So, we're glad to see that the microSD slot is still present, since you might just need it here. And just like on the A50 it has its own dedicated slot and does not take up one of the two nanoSIM trays.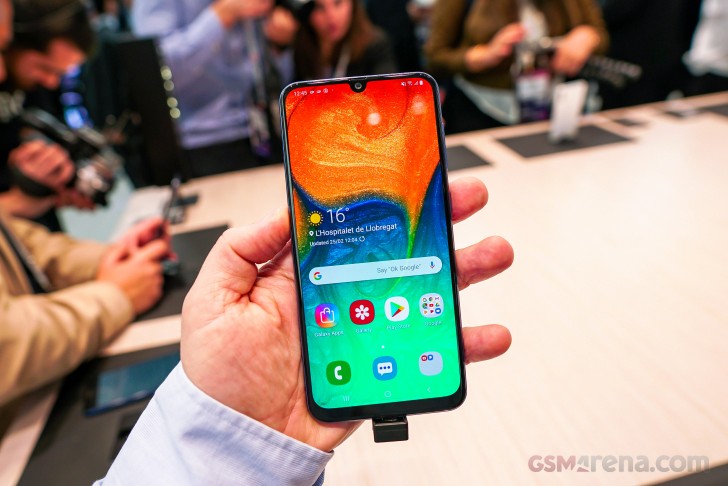 For chipset the Galaxy A30 gets an Exynos 7 7885, which we are a lot more familiar with from devices such as the Galaxy A7 (2018) and Galaxy A8 (2018). It rocks an Octa-core (2x2.2 GHz Cortex-A73 & 6x1.6 GHz Cortex-A53) CPU setup and a Mali-G71 GPU. You can check out one of the aforementioned devices to get an idea of relative performance out of this silicon.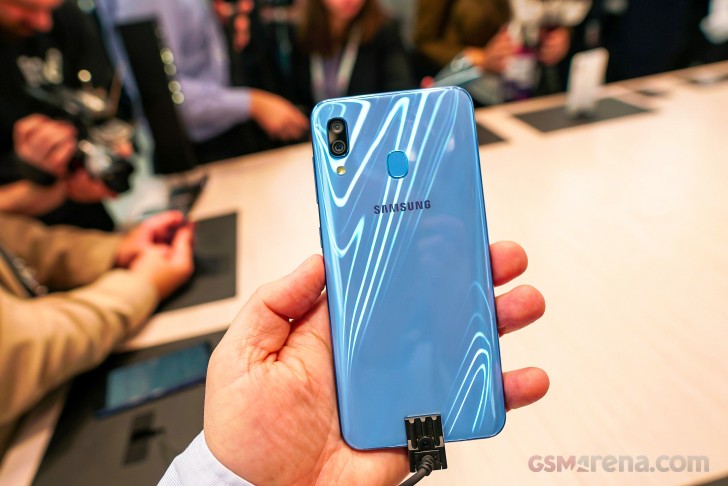 Last, but not least, since Samsung is reusing the body from the A50 it has enough space in there for the same big 4,000 mAh battery. So, we're happy to see it accounted for in its entire capacity. Having less juice would have been less than ideal.
Bought a new A50 after I changed my Huawei Y9.comapred to Y9 Samsung A50 is no where near Huawei 9. Poor network quality (3G and 4G)compared to Y9 Y9 more user friendly Camera only better than Y9. I have regretted picking A50
Bought a new A50 after I changed my Huawei Y9.comapred to Y9 Samsung A50 is no where near Huawei 9. Poor network quality (3G and 4G)compared to Y9 Y9 more user friendly Camera only better than Y9. I have regretted picking A50
Anonymous
01 Jun 2019
sxr
Its normal dudee