Samsung Galaxy A5 (2017) review: Alphabet soup
Alphabet soup
GSMArena team, 20 January 2017.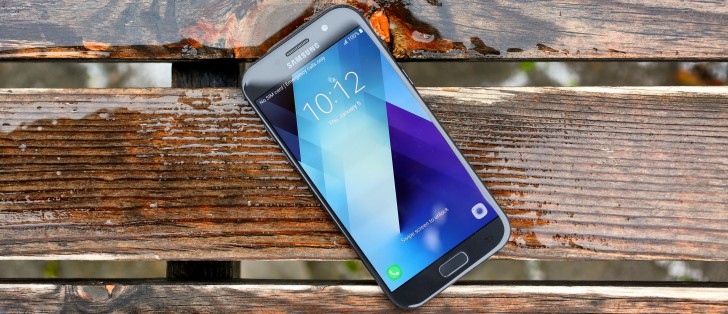 Software
Remember the Note7? The Galaxy flagship phablet (that wasn't meant to be) introduced a redesigned Samsung user interface called Grace UX. The Note7 being absent, the 2017 A-series are the only phones to come with the updated Android overlay out of the box, but it is also being seeded as we speak with the Nougat update for the S7 and S7 edge. Mind you, in the A5 (2017)'s case it's on top of Android 6.0.1 Marshmallow, though a bump to Android 7 is in the works.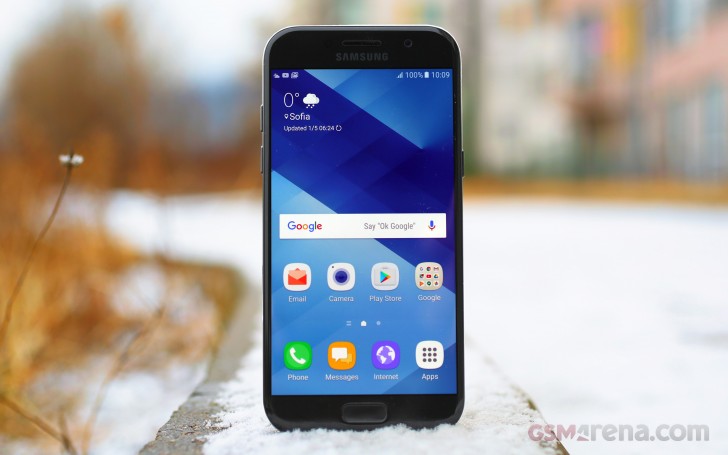 This generation of A-series is the first to feature Always On Display (AOD). Three main views are available - Clock, Calendar and Image, with some customization available. Notifications from third-party apps show up (something that didn't work when the S7 launched, but was added later).
The Always On Display dims when ambient light is low and will shut off when the Galaxy A5 is in your pocket. This saves energy, but you can be more explicit about it and put AOD on a schedule (or it may just be that you don't like the extra light while you sleep).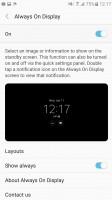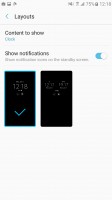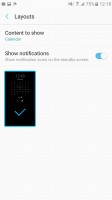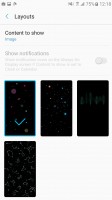 Always On Display: Settings overview • Clock • Calendar • Image
The lockscreen can be secured with the fingerprint reader. It's not the fastest we've seen, but it's no slower than the readers that flagship Samsungs use.
The fingerprint reader can do more than that. Web sign-in remembers the passwords you use for sites and can automatically fill them in when you touch the fingerprint reader. You can also secure your Samsung account (more on that in a bit).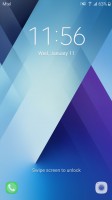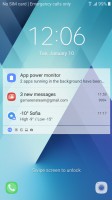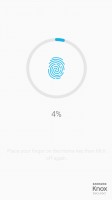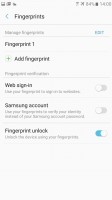 Lockscreen: plain • with notifications • Setting up a fingerprint • Reader options
The Homescreen has the Briefing pane on the left (which you can disable) and supports themes and icon packs. More interestingly, it supports sort of a 3D Touch feature, not unlike the one found on the Google Pixel phones - you tap and hold on an app and a contextual menu appears. However, it offers just basic app handling actions and is not tied to the actual functionality of app.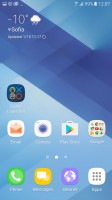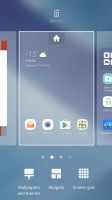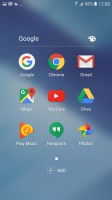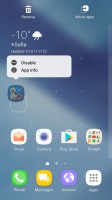 Homescreen • Homescreen settings • Folder view • Contextual menu
The notification area should be quite familiar as well. A line of quick toggles is available above the notifications. Pulling the shade further down reveals all toggles, a brightness slider and a handy search field (Google prefers to put the search field on the homescreen instead).
We like the idea of the Block notifications button, it allows you to quickly mute notifications from pushy apps (games are often guilty of crying for attention when you haven't played them in a while). Still, we don't like the aesthetics of it.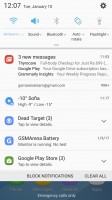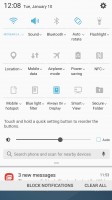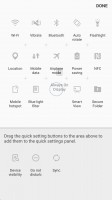 Notification area • Expanded view • Editing toggles
The app switcher is the usual rolodex, but unlike the A3 here it offers split-screen multitasking (standard on Nougat, but this is Samsung's implementation in Marshmallow). The apps that can go in multi-window have an icon next to the X, and that's one way of doing it - the other is to hold the task switcher capacitive key.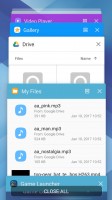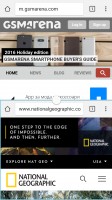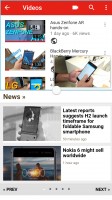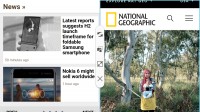 App switcher • Multi-window multi-tasking
The App drawer has a search field that looks through the apps you have installed, but also suggests apps from Galaxy Apps (you can search the Play Store if you prefer).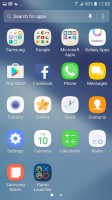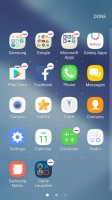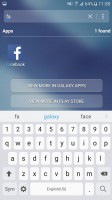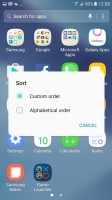 App drawer • Organizing apps • Searching • Sorting
Being a somewhat larger phone than the A3, the A5 also gets a one-handed operation mode. It's part of the Advanced features menu where you can also enable other actions like double press on the Home button to launch the camera and screenshot capture with a palm swipe.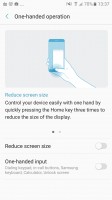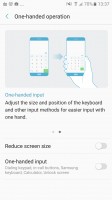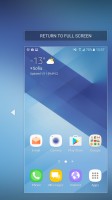 App switcher • One-handed operation
Secure folder creates a separate zone so sensitive files (photos, documents, etc.) and apps can be locked away from prying eyes. Once you enter the Secure folder, taking a photo with the camera or snapping a screenshot places the file in the Secure folder. To access those from the regular gallery, you'll first have to move them.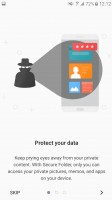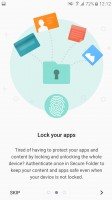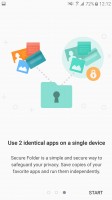 Secure folder • Fingerprint authentication • 2 apps, 1 phone
The reason you want to secure your Samsung account with your fingerprint is that you get 15GB of cloud storage for free. Everything from contacts to photos can be synced and you get to choose which files are synced over LTE and which are left for when Wi-Fi is available (contacts, calendar and notes don't use much data, but photos do).
After using this phone for 2 years ... I can definitely say this is a great phone and you'll struggle to find these specs today in another phone for this price. It's sad to see so many phones switch over to rear fingerprint sensor when it is so...