Samsung Galaxy A5 and A5 Duos review: Five star
Five star
GSMArena team, 30 January 2015.
TouchWiz gallery
The gallery on the Samsung Galaxy A5 is the more sophisticated one compared to the simplified found on the Galaxy A3. It can be viewed by time or by album and filtered by several categories. Event is the basic view, which groups photos based on time and location, but it's the other modes that caught our interest.
Pinch zoom will change the size of the thumbnails and can also open and close individual photos. Batch operations are supported and that includes not just copy/delete but also image rotation.
The TouchWiz gallery also uses the DLNA Wi-Fi capabilities to show content on other devices setup on the same network.
Viewing images on the Samsung Galaxy A5 is a joy as its screen is big enough and the Super AMOLED panel is lovely with its deep blacks, vivid colors and immense contrast.
Music player with loads of customizability
Unlike the Samsung Galaxy A3, the Galaxy A5 comes with the TouchWiz music player and Google's Play Music app. TouchWiz's music player is jam-packed with features and supports a wide variety of file formats, including FLAC. Music is sorted by several categories and you can hide some categories you don't need. Folder view is available and so is scanning for DLNA servers (Quick Connect helps with this).
The Now playing screen gives you the usual options: timescroll, playback controls, an AllShare shortcut. A coverflow-like list of album art lets you know what the next song will be and is an easy way to skip right to it. The music player will also try to find the lyrics for the song you're listening to.
There's also the Music square - the phone scans your music library rating each track in terms of tempo (Exciting or Calm) and emotion (Passionate or Joyful). It can then load a playlist matching your chosen tempo and mood. The emotion axis in the graph can be switched to Age, which makes it easy to automatically create a playlist of classics or contemporary hits.
Samsung has enabled several audio-enhancement features. The SoundAlive equalizer presets are cleverly organized into a square similar to the Music Square. The presets balance between Treble and Bass, Vocals and Instrumental. You can also just tap the Auto toggle or enable a Tube amp effect, 7.1 channel virtualization, along with Studio, Club and Concert Hall effects.
The advanced equalizer view gives you a proper seven band equalizer you can tune manually and enable additional effects like 3D, Bass and Clarity.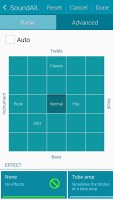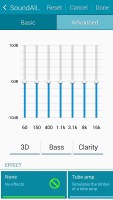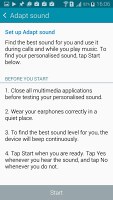 Extensive sound customizability
Finally, there's a stereo FM Radio app. It can automatically scan for stations in your area and also use the loudspeaker for playback.
Great video player
A Samsung video player is pre-installed and it actually has a good set of features. Subtitles are supported and you can adjust font size and color, add an optional background and a few other tweaks. There's no DLNA support or wired TV out, leaving Miracast as your only way to put a video on a larger screen.
You can also pop videos out of the app and use as a resizable overlay on the homescreen or over apps.
Codec support on the Galaxy A5 is overall good but not without issues. AC3 audio didn't play at all, some videos with AAC audio were troublesome as well. The same goes for DTS sound too. Otherwise videos played without other issues up to 1080p resolution.
Audio output is excellent
The Samsung Galaxy A5 did about as good as its Galaxy A3 sibling in our audio quality test. That may not sound like much of a compliment considering the higher price, but the Galaxy A3 was actually a far better performer than its price tag suggests. And the Galaxy A5 still gets a small edge here and there.
The Galaxy A5 had perfectly clean output when connected to an active external amplifier and high volume levels for one of the better performances in this scenario out there.
Plug in a pair of headphones and stereo crosstalk and intermodulation distortion creep in. While the distortion is lower than it is on the Galaxy A3, the Galaxy A5 surprisingly demonstrated somewhat worse stereo separation quality. Add in the slightly higher volume levels on the more expensive smartphone and the scales start tipping in its favor.
And here go the results so you can see the details for yourselves.
| | | | | | | |
| --- | --- | --- | --- | --- | --- | --- |
| Test | Frequency response | Noise level | Dynamic range | THD | IMD + Noise | Stereo crosstalk |
| Samsung Galaxy A5 | +0.02, -0.07 | -94.5 | 91.4 | 0.0044 | 0.012 | -93.8 |
| Samsung Galaxy A5 (headphones attached) | +0.23, -0.11 | -92.4 | 90.4 | 0.017 | 0.190 | -44.1 |
| Samsung Galaxy A3 | +0.02, -0.08 | -94.2 | 91.8 | 0.0039 | 0.014 | -93.6 |
| Samsung Galaxy A3 (headphones attached) | +0.33, -0.02 | -92.7 | 90.9 | 0.067 | 0.208 | -51.2 |
| HTC One mini 2 | +0.02, -0.09 | -94.8 | 93.8 | 0.010 | 0.011 | -93.5 |
| HTC One mini 2 (headphones attached) | +0.08, -0.03 | -94.9 | 93.8 | 0.028 | 0.022 | -90.1 |
| Motorola Moto G (2014) | +0.01, -0.06 | -91.6 | 92.4 | 0.0089 | 0.014 | -91.7 |
| Motorola Moto G (2014)(headphones attached) | +0.02, -0.09 | -91.6 | 92.4 | 0.011 | 0.017 | -45.7 |
| Apple iPhone 5s | +0.02, -0.05 | -93.6 | 93.7 | 0.0013 | 0.0068 | -90.3 |
| Apple iPhone 5s (headphones attached) | +0.12, -0.00 | -93.4 | 93.3 | 0.0016 | 0.060 | -76.1 |
| Oppo R5 | +0.02, -0.08 | -93.4 | 92.5 | 0.0009 | 0.398 | -93.2 |
| Oppo R5 (headphones attached) | +0.66, -0.01 | -93.3 | 92.9 | 0.011 | 0.385 | -68.6 |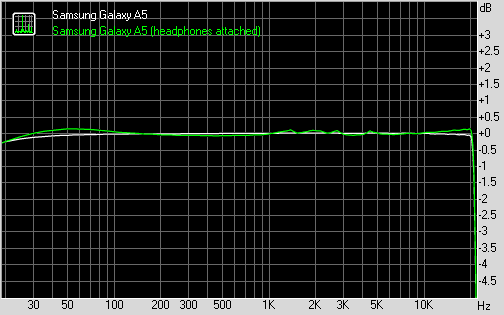 Samsung Galaxy A5 frequency response
You can learn more about the whole testing process here.
Iam using phone least 6 year Very good.. No any complaints... nice camera picture quality...
A5 is a good phone. Got this in 2014 and still using it. Tough battery, my kids are using it to watch youtube videos. Not for high end gaming though but good for browsing, music and Netflix. Can still shoot clear pics and videos in good lighting...
Still using it today and works well. Battery still lasts one day with my usage (I don't play games on the phone) and performances are still more than acceptable.