Samsung Galaxy A7 review: Alpha leader
Alpha leader
GSMArena team, 9 March 2015.
Gallery with DLNA and facial recognition
The gallery on the Samsung Galaxy A7 sorts photos either by time or by album. Based on time and location, it can also group photos by event. Yet another option uses facial recognition, which helps you find all photos featuring a specific person.
Pinch zoom will change the size of the thumbnails and can also open and close individual photos. Batch operations are supported and that includes not just copy/delete but also image rotation. While selecting multiple images you can tap the double-pointed arrow to view images in full-screen, one by one (great for picking the best out of several similar shots).
The TouchWiz gallery also uses the DLNA Wi-Fi capabilities to show content on other devices setup on the same network.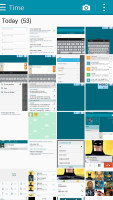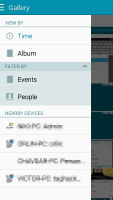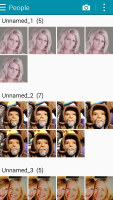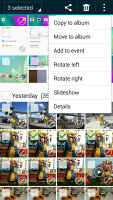 TouchWiz gallery • filtering by people in the shot • batch operations
Viewing images on the Samsung Galaxy A7 is a joy as its screen is big enough and the Super AMOLED panel is lovely with its deep blacks, vivid colors and immense contrast. Don't forget to use screen modes to tweak the display to your preference or let Adaptive display do it automatically based on the current photo.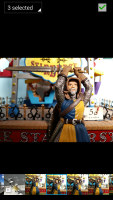 When selecting multiple photos you can go full-screen
Music player
The Samsung Galaxy A7 comes with the full-blown TouchWiz music player, which is among the most feature-rich apps we've seen. It supports lossless music (FLAC) and can play music to and from DLNA devices. Folder view is also available.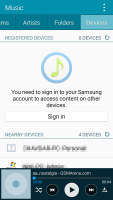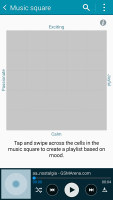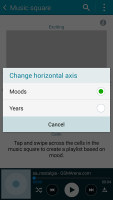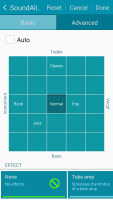 Music player • DLNA support • Music square automatically builds playlists
Aside from the traditional song sorting methods, the Music square can create playlists based on mood and tempo. Alternatively you can use years instead of mood to easily create a rocking '80s playlist.
A similar square is used make picking an equalizer preset simple. A more advanced feature is Adapt sound, which automatically selects the best settings based on your headphones and hearing. You can also use the 7-band equalizer to manually tune the player.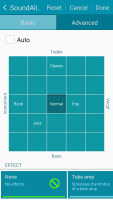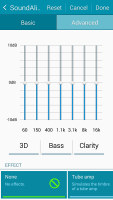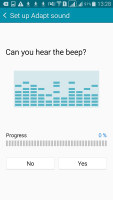 Extensive sound customizability
Google Play Music is also on board - it's a good offline music player, but online play is its forte. It can play Instant Mixes, it doubles as a music store or a cloud storage for your audio.
Finally, there's a stereo FM Radio app, which Samsung has been neglecting in recent flagships. The app supports RDS and can record radio broadcast (which may be disabled in some regions for legal reasons). There's an option to stream radio over the Internet if the FM signal is weak.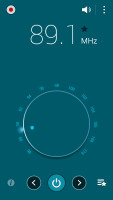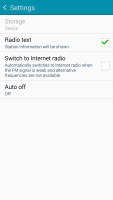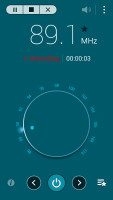 FM Radio with Internet radio support and broadcast recording
Great video player
The Samsung video player also supports DLNA, but there's only wireless screen mirroring, no MHL TV out. Subtitles are supported and you can adjust font size and color, add an optional background and a few other tweaks. You mileage may vary when using subtitles over DLNA.
Videos normally play start in Multi Window mode so you can keep browsing videos, simply stretch the video window to full-screen. Alternatively, you can view videos in a pop-up window.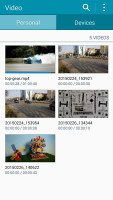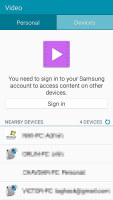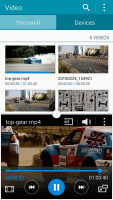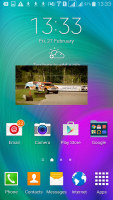 Video player • DLNA support • player defaults to Multi Window mode • Pop Up play
Codec support on the Galaxy A7 plays MP4 and MKV videos up to 4K, however multichannel audio is not an option. Both H.264 and next-gen H.265 are supported.
Audio output is solid
The Samsung Galaxy A7 is a marginal improvement over its Galaxy A5 stablemate when it comes to audio output. The two performed so similarly that you are unlikely to detect any differences in real life, but our sound card did notice some marginal upgrades.
The Galaxy A7 demonstrated perfectly clean output when connected to an active external amplifier and above average volume levels for one of the better performances in this scenario out there.
Plug in a pair of headphones and stereo crosstalk and intermodulation distortion creep in. Not quite the best we've seen, but certainly in the upper half of the charts here. Add in the very decent volume levels and you end up with a solid performance.
And here go the results so you can see the details for yourselves.
| | | | | | | |
| --- | --- | --- | --- | --- | --- | --- |
| Test | Frequency response | Noise level | Dynamic range | THD | IMD + Noise | Stereo crosstalk |
| Samsung Galaxy A7 | +0.02, -0.07 | -95.2 | 92.4 | 0.0040 | 0.0083 | -93.4 |
| Samsung Galaxy A7 (headphones attached) | +0.21, -0.11 | -95.0 | 92.2 | 0.033 | 0.179 | -52.2 |
| Samsung Galaxy A5 | +0.02, -0.07 | -94.5 | 91.4 | 0.0044 | 0.012 | -93.8 |
| Samsung Galaxy A5 (headphones attached) | +0.23, -0.11 | -92.4 | 90.4 | 0.017 | 0.190 | -44.1 |
| Samsung Galaxy Note 4 | +0.01, -0.04 | -96.6 | 93.4 | 0.0015 | 0.0086 | -94.2 |
| Samsung Galaxy Note 4 (headphones attached) | +0.03, -0.02 | -96.8 | 93.5 | 0.011 | 0.035 | -55.2 |
| Apple iPhone 6 Plus | +0.04, -0.04 | -94.0 | 94.0 | 0.0013 | 0.0064 | -72.0 |
| Apple iPhone 6 Plus (headphones attached) | +0.10, -0.04 | -94.0 | 93.9 | 0.0016 | 0.087 | -64.1 |
| Oppo R5 | +0.02, -0.08 | -93.4 | 92.5 | 0.0009 | 0.398 | -93.2 |
| Oppo R5 (headphones attached) | +0.66, -0.01 | -93.3 | 92.9 | 0.011 | 0.385 | -68.6 |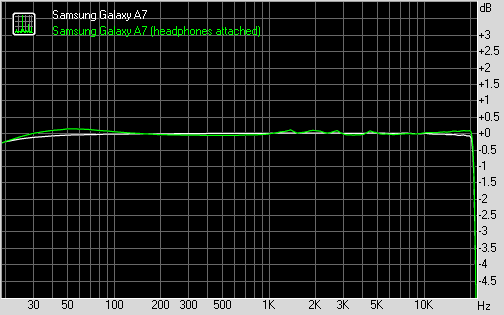 Samsung Galaxy A7 frequency response
You can learn more about the whole testing process here.
What in gods name were they thing. Shoot the developers or anyone involved in placing this A7 tab on the market! I guess they never tried to actually use the A7 tablet. Its like a maze, You should be able to setup the tablet by going to the Sett...
It has a finger print sensor at home screen