Samsung Galaxy C7 review: A Note for the masses
A Note for the masses
GSMArena team, 29 August 2016.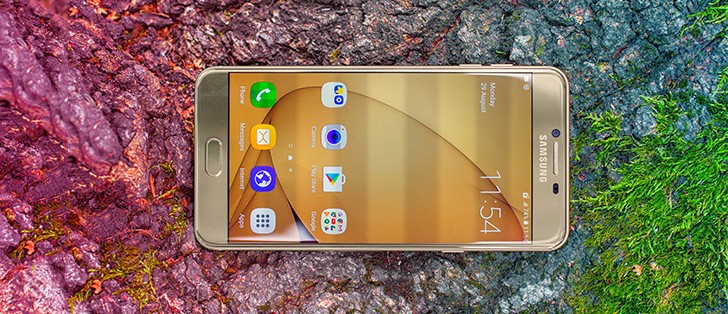 Telephony and loudspeaker
The Samsung Galaxy C7 uses the standard Samsung dialer, which combines the call log, favorites and general contacts interfaces as well. It is also a Dual-SIM device, the SIM card manager lets you pick a preferred SIM for voice, text and data.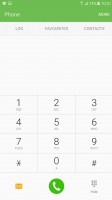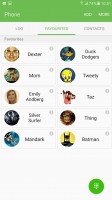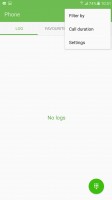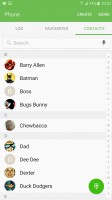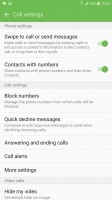 Dialer • Dialer • Call log • Contacts • Call settings
The Do Not Disturb mode can be put on an automated schedule. When it's on, only priority notifications can get through and you decide what should be categorized as "priority" - it can be anything from calls from select contacts to reminders from key apps.
In our loudspeaker test, the Galaxy C7 managed to score an Average mark. However, just a tenth of a decibel more and it would have joined its smaller sibling, the C5 in the Good rank and that is well within the margin of error.
| | | | | |
| --- | --- | --- | --- | --- |
| Speakerphone test | Voice, dB | Pink noise/ Music, dB | Ringing phone, dB | Overall score |
| Samsung Galaxy A7 (2016) | 66.2 | 64.8 | 66.8 | Below Average |
| Samsung Galaxy A5 (2016) | 65.8 | 66.0 | 66.5 | Below Average |
| Huawei Mate 8 BG | 67.8 | 65.8 | 66.6 | Below Average |
| Samsung Galaxy S6 edge+ | 65.8 | 64.8 | 70.4 | Average |
| Xiaomi Mi Max | 67.1 | 66.2 | 68.1 | Average |
| LG V10 | 66.1 | 64.7 | 70.7 | Average |
| Samsung Galaxy A9 (2016) | 65.5 | 72.2 | 65.2 | Average |
| Samsung Galaxy Note5 | 65.3 | 64.6 | 73.5 | Average |
| Samsung Galaxy C7 | 67.3 | 67.8 | 72.8 | Average |
| Xiaomi Redmi Note 3 | 66.5 | 66.6 | 75.8 | Good |
| Samsung Galaxy C5 | 67.4 | 69.0 | 72.9 | Good |
| LeEco Le Max 2 | 74.9 | 69.3 | 77.2 | Very Good |
| Huawei Nexus 6P | 74.7 | 77.8 | 72.1 | Very Good |
| Xiaomi Mi Note | 75.9 | 68.9 | 83.3 | Excellent |
| Sony Xperia XA Ultra | 88.9 | 79.3 | 82.7 | Excellent |
Text input
The Galaxy C7 uses an updated version of the Samsung Keyboard. It's quite comfortable, with a dedicated numbers row, a row above that for word suggestions and additional characters on each key (accessible via long-press).
The dedicated symbol input is arranged in separate pages, which isn't exactly to our taste, but we are willing to overlook such shortcomings considering the other powerful options the keyboard offers.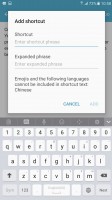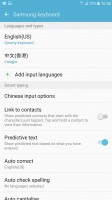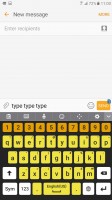 Keyboard • A lot of options to play with
If that seems too tall, you can scale the keyboard down (or up, if you want bigger keys). We don't like that the Space key is quite short, though.
Additional typing tools include swipe input, My Hot Keys (predefined phrases that can be typed by long-pressing a number key) and voice dictation.
Messaging
The default messenger is also pretty conventional. You get a simple unified interface and quite a lot in the way of attachment options. We particularly like the small camera interface baked right in for taking a quick snap and attaching it as you type.
As for e-mail, there is Gmail, which since its inclusion of external inbox support has really become a one-stop choice for most users.
However, Samsung has also thrown in its own e-mail client. This is convenient enough if you want to keep some communications separate, but we were at least hoping that you could lock the app up in Samsung's Private mode. Sadly, this functionality is only reserved for Gallery, Voice recorder and My Files.
The Galaxy C7 generally has a pretty slimmed-down and de-cluttered ROM on board, with probably the small exception of a couple of social apps that Samsung decided to throw in. These are Instagram and WhatsApp and both can be disabled, but not Uninstalled unless you root the phone.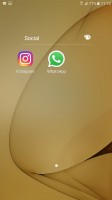 Instagram and WhatsApp are pre-loaded
Other apps
One thing we definitely can't fail to mention is that Samsung has included its powerful Game Launcher on the new "C" family of devices as well. It not only groups all your games in one place, but also has two power saving modes at its disposal, so you can play longer. They both cap the max frame rate to 30 fps and also increasingly lower the resolution at which the games are played. The latter might also come in handy for any particularly graphically demanding titles that the C7 can't handle at its native 1080p resolution.
The launcher also offers options to disable notifications during gaming, and also a floating toolbar that can be used to capture screenshots or trigger video recording.
Samsung continues to bundle the Microsoft app package that includes Word, Excel, PowerPoint, OneNote and Skype.
Google Drive is pre-installed, however, the actual document editors are not (they are a free download, though). The rest of the Google app suite is all accounted for as well.
The Samsung-customized web browser features Web sign in - a feature that works as a password manager secured by your fingerprint. This makes log-ins as simple as unlocking the phone.
S Health is on board though without the advanced sensors (heart rate, blood oxygen) its functionality is more limited. It can still track walking/running/cycling and you can manually input water and coffee intake and so on.
Smart Manager is a hub that controls several key areas - battery, RAM, Storage and Device security. This gives you tools to track down apps that drain the battery, use too much RAM and clean-up unnecessary files.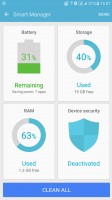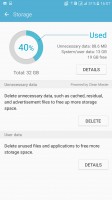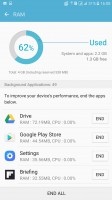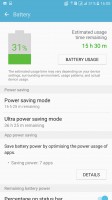 Smart Manager • Cleaning up the storage • Cleaning up the RAM • Battery management
The My Files app is the default file browser. It features Google Drive integration. You can ZIP folders to make them easier to share as a single file.
The Galaxy C7 gets access to S Voice as well. Samsung's voice assistant has really come a long way and it is a breeze to use for small tasks hands-free. You can even set you own trigger word to start up voice recognition.
Finally, there's Galaxy Apps, Samsung's own app store. Galaxy Essentials is a good place to find great tools (like Kids Mode), but for general app shopping, you would probably be better off with Google Play.
Anonymous
26 Mar 2021
uZa
All time the best of Best we went to upgrade Samsung Galaxy C7000 to More unique more power full battery because this phone is unique love 💕 you Samsung
Anonymous
06 Feb 2020
KcW
rss
Already has months ago. You need to install samsung kies3 on your laptop and then connect it to upgrade it.