Samsung Galaxy Camera review: Half-press to play
Half-press to play
GSMArena team, 25 January 2013.
Standard TouchWiz phonebook
While the Samsung Galaxy Camera doesn't have telephony features, it still has the standard TouchWiz Contacts app. It packs a wide range of features and since contacts are synced with Google's servers, you'll quickly get the same contacts on the Camera that you have on your Android phone.
The Contacts app is organized into three tabs - Groups, Favorites and Contacts. As usual, there are various options to filter contacts by phone numbers, groups and multiple sorting. You can swipe a contact to the left to jump straight to the SMS composer (but swiping to the right for calls doesn't work, obviously).
Tapping on a contact reveals all the details available. If you and the contact are using Gtalk, there will be a second tab available here, showing the latest message from that contact.
Anyway, going back to the contact info, it's perfectly organized into different sections for phone, email, etc. Again, you can text or email a contact with the Samsung Galaxy Camera, but not call them (at least until someone figures out how to enable telephony over 3G).
If the phonebook finds duplicate contact entries, it'll prompt joining them. Furthermore, there're a plethora of options once you hit the Menu button. You can view the call history, as well as join, unjoin and share contacts.
There's plenty of contact information you can assign to each contact and it still remains neatly organized. You have all the types listed (numbers, email addresses, etc) and, just like the previous version of TouchWiz UI 4.0, there's a plus sign on the right - tapping it adds another item of that type. Pressing the minus sign under it deletes the unneeded field.
Of course, the real flexibility of the phonebook becomes apparent when you sign into your social networks. After syncing, the phonebook will automatically merge contacts (you can do it manually too), so that the contact details are pulled from the social networks too.
We tested the loudspeaker performance of the Samsung Galaxy Camera. It's not the loudest, but it's good enough for reviewing videos you've shot or watching a movie.
Speakerphone test
Voice, dB
Pink noise/ Music, dB
Ringing phone, dB
Overal score
Nokia Lumia 920
61.6
64.8
65.8
Below Average
Samsung Galaxy Camera
61.8
60.7
66.6
Below Average
Apple iPhone 5
66.8
66.1
67.7
Below Average
HTC One X+
64.6
65.8
74.6
Average
Samsung I9300 Galaxy S III
75.1
66.5
75.0
Good
Samsung Note II N7100
70.0
66.6
80.5
Good
Nokia 808 PureView
71.1
64.6
78.0
Good
Google Nexus 4
71.0
66.6
78.8
Good
Motorola RAZR XT910
74.7
66.6
82.1
Very Good
LG Optimus G
74.6
71.3
82.7
Excellent
Samsung Ativ S
73.7
73.5
82.7
Excellent
Sent from my camera: texting and email
The messaging department is quite straightforward: you get a list of recent conversation threads and a compose message button, that's it. There's application-specific search that lets you quickly find a given message among all your stored SMS and MMS.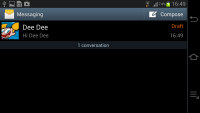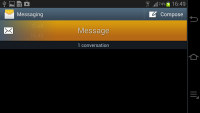 The Galaxy Camera messaging center
Message threads are shown with speech bubbles, similar to an IM program. Composing a message is easy - you type in the name of the recipient (only a few letters will do, you'll get autocomplete suggestions) and then type your message (there's a char and message counter on the right). If you attach multimedia to the message, it will be turned into an MMS message.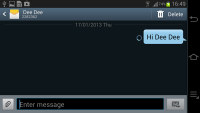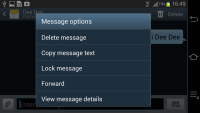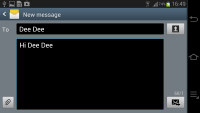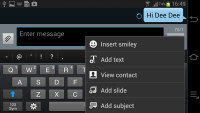 Reading a message • message options • composing a message • attaching multimedia
Moving on to email, the Gmail app has grown handy shortcuts at the bottom of the screen but is mostly unchanged. It supports batch operations, which allow multiple emails to be archived, labeled or deleted. The default app supports multiple Gmail accounts, but there's no unified inbox. A convenient feature allows you to swipe sideways to move between messages.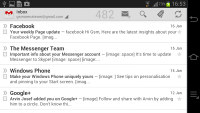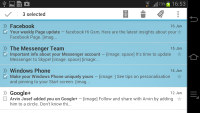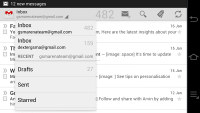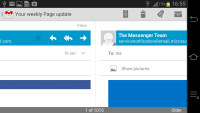 The Gmail should be pretty familiar to everyone by now
There is also a generic email app for all your other email accounts and it can handle multiple POP or IMAP inboxes. This one has much of the same features as the Gmail app like batch operations and swiping between messages (though this isn't as nicely animated). It has a color-coded Combined inbox, which makes it easy to manage multiple email accounts.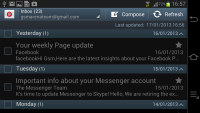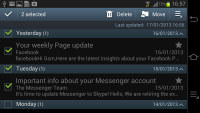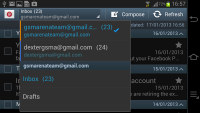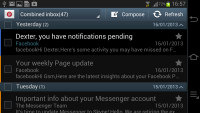 The standard email app also does a good job • the combined inbox
Google Talk handles the Instant Messaging department. The G-Talk network is compatible with a variety of popular clients like Pidgin, Kopete, iChat and Ovi Contacts.
Text entry is handled by the standard Samsung QWERTY keyboard, which offers very big and comfortable keys. If you're going to type in landscape mode, you'll have to surrender most of the screen to the keyboard, which leaves little for the message box.
The Samsung keyboard packs some cool features out of the box. By default a horizontal swipe will switch the case (upper or lower), but you can enable continuous input, which is similar to Swipe and the like. You can use the built-in offline voice recognition to dictate the message too.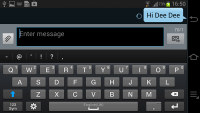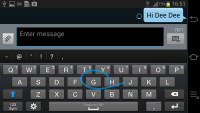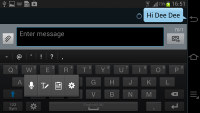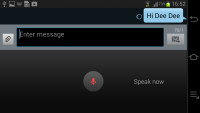 QWERTY keyboard • continuous input • voice input
There are two other modes: one for handwriting recognition and one that shows the recent items in the clipboard.
The flash of my samsung galaxy dont work pls help me... :,(
goldenhomes
10 Apr 2013
vG0
surely Samsung are innovators and days forward . so people today might not exactly recognize the technological innovation , as well as the avoid it . me individually its actual an excellent option . and also imagine it will certainly provide good . b...