Samsung Galaxy Fold 2 rumored to have 120Hz internal screen, S-Pen
Vlad, 20 April 2020
The upcoming Samsung Galaxy Fold 2 is to feature some nice improvements to its screens, compared to its predecessor, according to a new leak.
The internal display will allegedly be 7.59", with 2213x1689 resolution, and 120Hz refresh rate. So it would be ever so slightly larger than the current Fold's, as well as a bit higher-res, but overall it's got a very similar pixel density, so the user experience shouldn't be very different.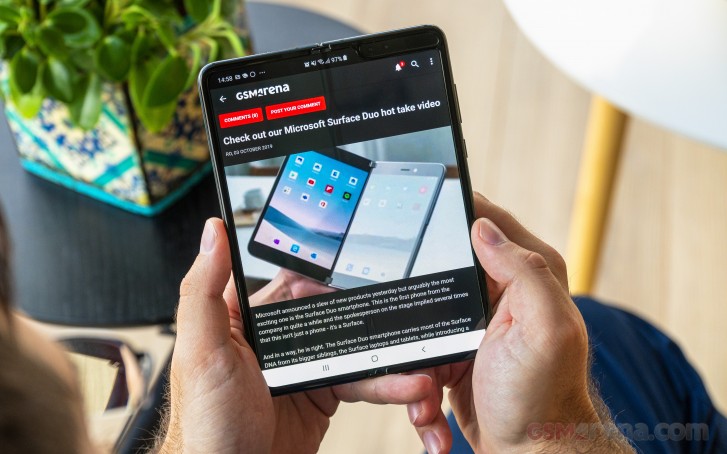 Original Samsung Galaxy Fold
What will positively influence that is the end of the side-notch, which is to be replaced with a hole-punch camera (as apparently the under-screen tech wasn't ready in time), as well as the higher refresh rate. Additionally, the Fold 2 is said to feature Ultra Thin Glass (UTG) on the folding screen, like the Galaxy Z Flip. The UTG will still be covered by a plastic layer, though.
The Galaxy Fold 2 will also have an S-Pen, which aims to enhance the tablet experience overall. The outer screen will be modernized too, compared to the original Fold's. The Fold 2 gets a 6.23" 819x2267 60Hz panel with a punch-hole camera. That's a much bigger unit than the original's 4.6" screen, so it should definitely make using the next Fold folded a better experience.
These specs come from Ross Young, the Founder and CEO of Display Supply Chain Consultants. While he surely has connections inside the supply chain for the Fold 2, he hasn't quoted any sources an all this info, so perhaps it's best to apply a sensible dose of skepticism. Then again, some of these things have been rumored before, so it wouldn't be a stretch if they all pan out.
Related
I may buy if fold2 comes with s-pen. I will be only interested with it. Because I use tab for my work.
Hold on a minute, isn't there has been a rumour before that S Pen would not make it to Galaxy Fold 2?
Popular articles
Popular devices
Electric Vehicles