Samsung Galaxy Gio S5660 review: Average Gio
Average Gio
GSMArena team, 06 May 2011.
A very decent 3MP camera
The Samsung Galaxy Gio has a 3.2 autofocus megapixel camera for a maximum image resolution of 2048 x 1536 pixels. There is no flash of any kind though, but there are some extra goodies at hand such as face and smile detection and geotagging.
The user interface is standard Samsung for the most part – and that's not a bad thing. It's easily thumbable and offers readily accessible scene and shooting modes.
The Galaxy Gio hasn't got a proper shutter key so you'll have to use the virtual on-screen alternative. To activate face detection, you should switch to Smile shot mode.
The image quality is quite good for a 3.2 megapixel snapper. The contrast is nice as is the color rendering. There is fine amount of captured detail and the noise levels are kept reasonable.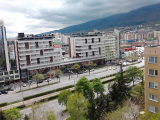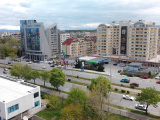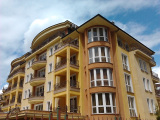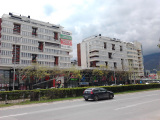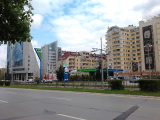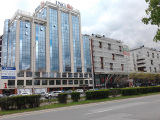 Samsung Galaxy Gio camera samples
Photo quality comparison
The Samsung Galaxy Gio enters our Photo Compare Tool to join the 3.2MP lineup. The tool's page will give you enough info on how to use it and what to look for.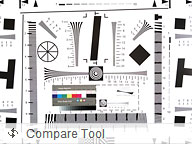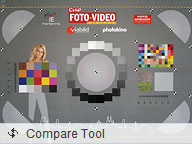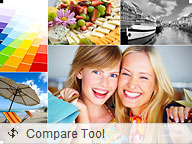 Samsung Galaxy Gio in our Photo Compare Tool
QVGA video
The Samsung Galaxy Gio can record QVGA videos at 15fps. This falls into the barely usable category – OK for MMS, but not much else.
Here is the QVGA video sample from the Samsung Galaxy Gio.
Connectivity
The Galaxy Gio is ready for worldwide roaming with quad-band GSM/GPRS/EDGE and dual-band HSPA with download rates of up to 7.2 Mbps.
The connectivity pacakge offers Wi-Fi (b/g/n), Buetooth v2.1 with A2DP support and USB v2.0. The USB interface is standard microUSB, which makes finding a suitable cable a lot easier.
Android 2.2 Froyo enables Bluetooth file transfers, so there's little else to ask for.
The Samsung Galaxy Gio doesn't pack much internal memory (181MB is downright low for app installation), but it comes with a microSD slot with supports for cards up to 32GB. Thanks to Android Froyo you can install compatible apps on the SD card.
The 3.5 mm standard audio port completes the connectivity tally. You can keep your favorite headphones and use them with the Galaxy Gio hassle-free.
Good browser
The Android browser is arguably the best available on a mobile device. It's fast, generally bug-free and easy to use.
The user interface is pretty much nonexistent at first sight. Once the page loads, all you see is the URL bar and the bookmark button on a line at the top of the screen. Once you zoom in and pan around though even that line disappears (scroll to the top or press menu to bring it back).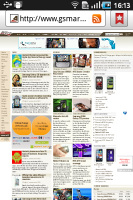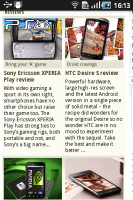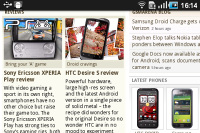 Browsing GSMArena.com on the Galaxy Gio
The minimalist UI is quite powerful – hit the menu key and six keys pop up. You can open a new tab, switch tabs, refresh the page, go forward, and open bookmarks. The final button reveals even more options (text copying, find on page, etc.).
The Galaxy Gio browser supports three zoom methods – dedicated buttons, double tap and multi-touch pinch-zooming. The browser also supports text reflow – a moment after setting the zoom level, columns of text align to the screen width.
The bookmark list shows a thumbnail of the bookmarked page and you also get a "most visited" list in addition to the history.
The screen is big enough to handle complex pages well, though the text isn't as sharp at low zoom levels as it is on phones with higher resolution. Regardless, it's still readable and panning and zooming are fast so the Galaxy Gio scores a good mark in web browsing.
Although the Galaxy Gio is running the Flash-capable Android Froyo, there is no Flash support in the web browser. The situation is quite similar to the LG Optimus One and Samsung Galaxy Ace: the processor is either incapable of handling Flash content (or it's disabled due to performance issues).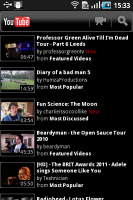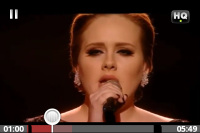 A YouTube app partly makes up for the missing Flash support
The Samsung Galaxy Gio has the YouTube app to partially compensate for the lack of Flash support. Of course, there are plenty of other video sharing sites and sites that use Flash for completely different purposes, but you have to live without them.
My samsung galaxy goi5660 is not connecting to google account server, why pls?
This was my first phone. I got it in July 2011. It was really good, i had it for three years. But compared to the phones of today it doesn't put up much of a fight. It was a good phone for it's time but I wouldn't advise buying this in 2016 (if they ...
I want to download whatsup for samsung gio s5660