Samsung Galaxy J7 (2016) review: Jump start
Jump start
GSMArena team, 20 June 2016.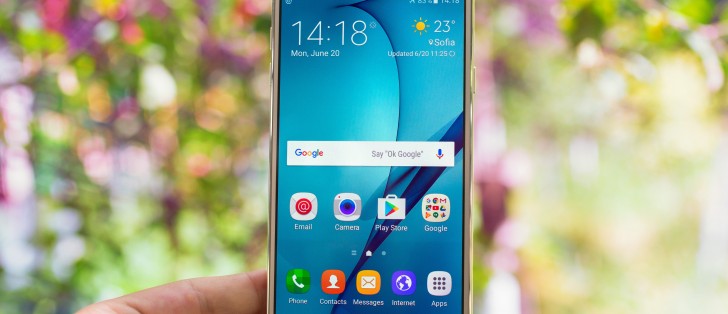 Gallery
The TouchWiz gallery orders photos by time, but you can switch to folder-based Album view. Sharing options include wireless printing, Android Beam and Wi-Fi Direct, but no DLNA (or other way to send an image to your TV).
Several image editing tools are available - from basic cropping, to collage making, to a more capable editor (which supports image correction, effects and drawing).
An additional option lets you pick several photos and stitch them into an animated GIF.
Music player with advanced EQ features, FM radio
The Galaxy J5 (2016) features just the Google Play Music app. It gets the job done by allowing you to sync your music across devices and gives you some control over sound via an Equalizer.
The player itself has a straightforward UI with most functions available as shortcuts on the Now Playing screen.
The Galaxy J7 (2016) also has an FM radio built in (something many Galaxy flagships do not). It can record radio broadcasts (though this may be disabled in some regions). There's no RDS though so the app won't show the name of the station.
Video player
The video player is the only app that works in pop-up window, a feature dating back to the Galaxy S III.
You also get full subtitle support with advanced features to modify their appearance.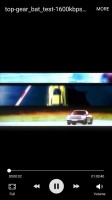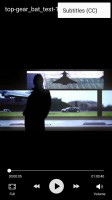 Video player is business as usual
The app lets you play only the audio (if you just want to listen to a music video) and to play the audio via Bluetooth (if you have a BT-enabled speaker handy).
Audio output is good
The Samsung Galaxy J7 (2016) impressed us in the first part of our audio test. The handset showed nicely high volume and excellently clean output for a great showing.
Plugging in our standard headphones caused a moderate amount of damage. The volume dropped from very high to average, and stereo crosstalk rose notably. There was some intermodulation distortion, too, although that wasn't too bad. Overall a decent, if unspectacular showing by the mid-ranger.
Here go the results so you can do your comparisons.
Test
Frequency response
Noise level
Dynamic range
THD
IMD + Noise
Stereo crosstalk
Samsung Galaxy J7 (2016)
+0.09, -0.30
-92.4
90.2
0.0051
0.034
-92.3
Samsung Galaxy J7 (2016) (headphones)
+0.30, -0.08
-92.2
89.8
0.0092
0.226
-54.8
Meizu m3 note
+0.13, -0.00
-91.9
91.9
0.0021
0.0082
-91.3
Meizu m3 note (headphones)
+0.02, -0.20
-90.7
91.2
0.0028
0.050
-53.4
Lenovo Vibe K5 Plus
+0.02, -0.08
-93.8
92.8
0.0037
0.034
-91.3
Lenovo Vibe K5 Plus (headphones)
+0.09, -0.03
-93.5
92.6
0.070
0.075
-49.0
Huawei Honor 5X
+0.02, -0.08
-93.4
90.1
0.0028
0.012
-93.4
Huawei Honor 5X (headphones)
+0.10, -0.03
-92.9
89.8
0.0048
0.071
-78.2
Samsung Galaxy A5 (2016)
+0.02, -0.07
-94.3
92.2
0.0065
0.010
-95.0
Samsung Galaxy A5 (2016) (headphones)
+0.42, -0.01
-93.4
87.1
0.029
0.254
-53.0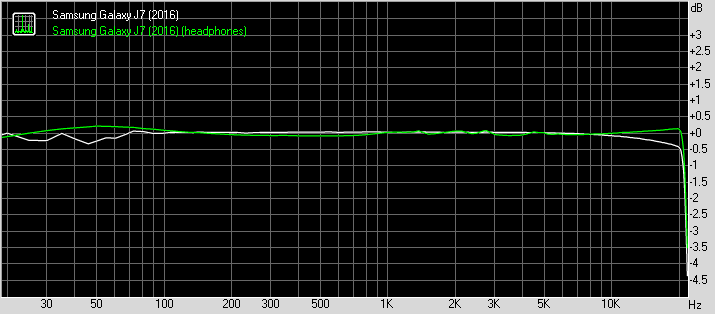 Samsung Galaxy J7 (2016) frequency response
You can learn more about the tested parameters and the whole testing process here.
I am using this for 3+ year, Excellent phone, lack is only one thing you can't connect it with Smart TV.
I have been using it for 3 + years... excellent phone
Restart app open no mobile