Samsung Galaxy M10 review
GSMArena team, 29 March 2019.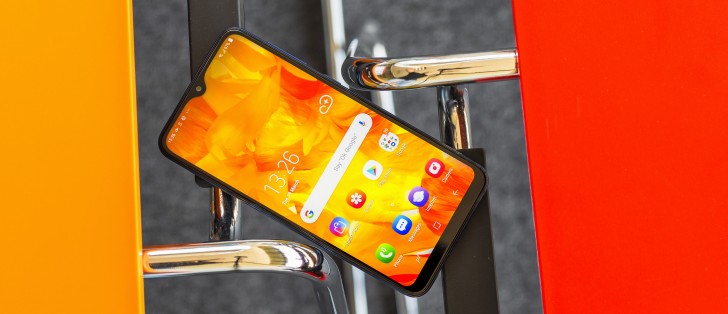 Samsung Galaxy M10 user interface
Just as expected, the Galaxy M10 comes with the in-house Samsung Experience UI, version 9.5 based on Android 8.1 Oreo. Yep, you read that right, the company is launching the handset with Oreo out of the box while most of the competition has already moved over to Android 9.0 Pie. We don't know when the handset will receive an update to Pie or if at all.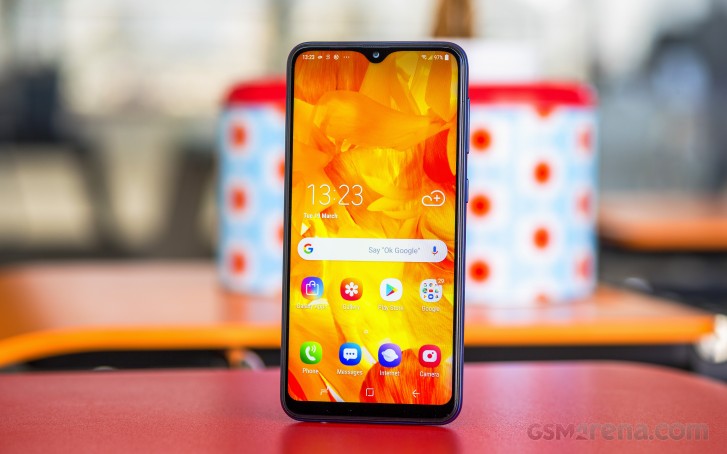 But some of the features like the gesture-based navigation introduced with the new One UI found on the flagship Galaxies, are here as well. You can, of course, opt for the standard software buttons if you don't like the swiping. Swiping from the center bar takes you back home, swiping from the bottom right acts as a back button while a swipe from the bottom left will open up the recent apps. The last two can be swapped if you prefer the traditional layout with the back button/gesture on the left.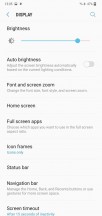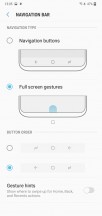 Display settings and navigation bar settings
Also, the general Settings menu has been revamped and it's more in line with the One UI appearance. Some of the settings have been grouped so it's easier to navigate.
As you'd expect from a low-end device, the Galaxy M10 doesn't really surprise with over-the-top features like the rest of the Galaxy devices. But there are a couple of useful ones.
For instance, you can set up a swipe down gesture from the home screen to bring down the notification shade since the default setting will open up the app drawer. The latter can be done by a swipe up gesture so it makes sense assigning the swipe down gesture for the notification panel? After all, the screen is pretty big and it's hard to handle with one hand so this gesture will surely come in handy.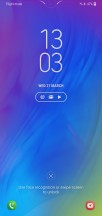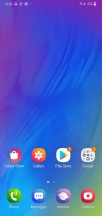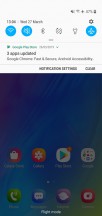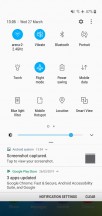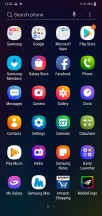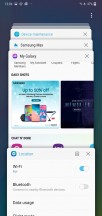 Lock screen, home screen, notification shade, app drawer, recent apps menu
Under the home screen settings sub-menu, you can also set the home screen to rotate along with everything else if that's your thing. And if you are coming from another iteration of a custom Android ROM, you can also disable the app drawer, which would force all apps to appear on your home screens.
Under the Display menu hide a couple of customization options allowing you to change the size of the font and the size of the UI elements. Some icon customization is also available but it's pretty limited - you can choose the default Samsung framing of the icons or go without the additional framing.
Of course, you can change them altogether along with the theme and wallpapers. You can download a bunch from the Galaxy store.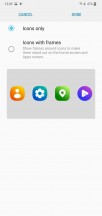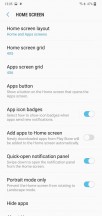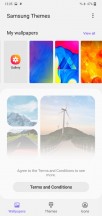 Icon and home screen customization, themes and icons
The Advanced features menu contains most of the useful features that you might end up using. The regular one-handed mode is in there as well as the multi-window shortcut - double tapping on the recent apps button will initiate split-screen mode. However, if you are using the gesture navigation, you will have to go to the recent apps menu and tap on the small sandwich-like icon next to the close button to select the app for the split-screen mode.
The Smart alert option is pretty neat - if you haven't touched your phone for a while, once you pick it up for the first time it will vibrate to let you know that there is at least one notification waiting for you. There's also the flip-to-mute gesture and the so-called Dual Messenger function that lets you use two accounts for the same app.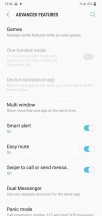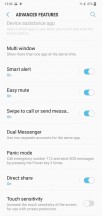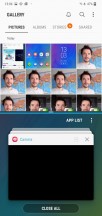 Advanced features menu and split-screen view
The Device Maintenance sub-menu holds all the important stuff like battery management, storage, memory, security and the ultra data saving feature. The latter helps you save some data if you are on a tight mobile data plan. It can limit the background data usage on some apps of your choosing.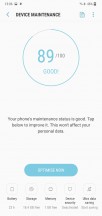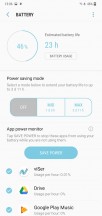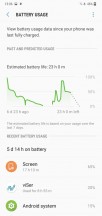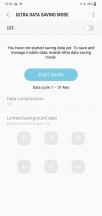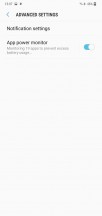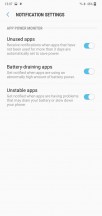 Device maintenance and battery features
The battery menu offers the options you'd expect - three power-saving presets - normal (named 'Off'), Mid and Max. The system constantly analyzes apps running in the background so you can put them to sleep if you are not using them. Or even restrict some apps running in the background at all. The battery usage graph and stats is at hand as well.
Scrolling a bit further down the settings menu we find the Biometrics and security menu. We were surprised to see it at all since the phone doesn't have a fingerprint reader. However, you can set up a face unlock. It's still less secure than the standard fingerprint scanner, though, and the instructions make it clear. There's also an option to enable fast facial unlock but that means making the whole process even less secure - the system prompts you with a message warning you that still images could potentially unlock the handset.
A couple of more options make it a bit more convenient to unlock the device - you can unlock the phone without swiping by just pressing the power button and the device unlocks instantly without swiping. It can also boost the brightness of the screen to illuminate your face for face recognition in poorly-lit conditions.
And regarding usability, we can't say we were impressed with the unlocking speed. After turning on the screen it takes a good one or two seconds to register the face and that's if the right light conditions are met. We also found it to be quite unreliable and erratic. To our surprise, typing in the PIN takes less time than the face unlock to kick in.
Aside from the features that we explored above, Samsung has included tons of pre-installed and proprietary apps. It can be overwhelming for some. On top of the usual ones like Internet, Calendar, Clock, etc., Samsung has included the Amazon Shopping app, a couple of Microsoft software and Galaxy store.
All in all, it's the usual heavy Samsung customization on top of the already aging Android 8.1 Oreo and since the phone uses an octa-core CPU that consists of 8x Cortex-A53 cores, you can't expect the best performance. We found some of the animations, transitions, menus and switching between apps to be sluggish at times so keep that in mind. But we didn't notice hangs or freezes, which is the good news.
Performance
The device is built around an Exynos 7870 chipset that has an octa-core CPU with eight Cortex-A53 cores clocked at 1.6 GHz and a single-core Mali-T830 MP1 GPU. Top-notch performance can't be expected but due to the lack of a high-performance cluster and the 14nm manufacturing process, efficiency is the main advantage of the SoC. Unfortunately, there are some similarly-priced rivals with more powerful chipsets like the Realme 3, for example.
In addition, the configuration comes in two variants - 2GB of RAM with 16GB of storage or 3GB of RAM with 32GB of storage. Needless to say, getting the 2GB/16GB variant would be a bad call in 2019 and not very future-proof.
GeekBench 4.1 (multi-core)
Higher is better
Xiaomi Redmi Note 7
5411
Realme 3
4936
Xiaomi Mi A2 Lite (Redmi 6 Pro)
4388
Xiaomi Redmi S2 (Y2)
4313
Samsung Galaxy M10
3662
GeekBench 4.1 (single-core)
Higher is better
Xiaomi Redmi Note 7
1650
Realme 3
1482
Xiaomi Mi A2 Lite (Redmi 6 Pro)
881
Xiaomi Redmi S2 (Y2)
848
Samsung Galaxy M10
724
As expected, the chipset performs fairly well in multi-threaded tasks but falls short in single-core tests due to the low clock speed and the lack of high-performance cores.
AnTuTu 7
Higher is better
Xiaomi Redmi Note 7
139075
Realme 3
132764
Xiaomi Mi A2 Lite (Redmi 6 Pro)
77964
Xiaomi Redmi S2 (Y2)
77488
Samsung Galaxy M10
64144
GFX 3.1 Manhattan (1080p offscreen)
Higher is better
Xiaomi Redmi Note 7
15
Realme 3
13
Xiaomi Mi A2 Lite (Redmi 6 Pro)
6.5
Xiaomi Redmi S2 (Y2)
6.4
Samsung Galaxy M10
3.2
GFX 3.1 Manhattan (onscreen)
Higher is better
Realme 3
26
Xiaomi Redmi S2 (Y2)
14
Xiaomi Redmi Note 7
13
Samsung Galaxy M10
6.3
Xiaomi Mi A2 Lite (Redmi 6 Pro)
6.1
The GPU is probably the main drawback of the SoC and it makes the phone really hard to recommend for gaming.
GFX 3.1 Car scene (1080p offscreen)
Higher is better
Xiaomi Redmi Note 7
9
Realme 3
8
Xiaomi Redmi S2 (Y2)
3.6
Xiaomi Mi A2 Lite (Redmi 6 Pro)
3.6
Samsung Galaxy M10
2
GFX 3.1 Car scene (onscreen)
Higher is better
Realme 3
15
Xiaomi Redmi Note 7
7.7
Xiaomi Redmi S2 (Y2)
7.4
Samsung Galaxy M10
3.7
Xiaomi Mi A2 Lite (Redmi 6 Pro)
3.4
Aztek Vulkan Normal (1080p offscreen)
Higher is better
Xiaomi Redmi Note 7
8
Samsung Galaxy M10
1
Aztek Vulkan Normal (onscreen)
Higher is better
Xiaomi Redmi Note 7
7
Samsung Galaxy M10
2
Basemark X
Higher is better
Xiaomi Redmi Note 7
21201
Realme 3
19157
Xiaomi Redmi S2 (Y2)
10453
Samsung Galaxy M10
5583
I have it now for 3 years and it's absolutely good, I love this phone 😀
I had bought the M10 and I feel that this phone was created to bolster the M20. All the marketing campaigns focus on the M20 and there's not a whole lot on the M10. Still, this feels way better than its Chinese competitors though I will say...
superb phone. when i bought this i was upset for no fingerprint sensor, why i am not purchasing m20 , and always comparing with m20. because m20 is only 1k costly form this phone. but time passes and passes. after all average phone. but this is also ...