Samsung Galaxy M30s review
GSMArena team, 25 Dec 2019.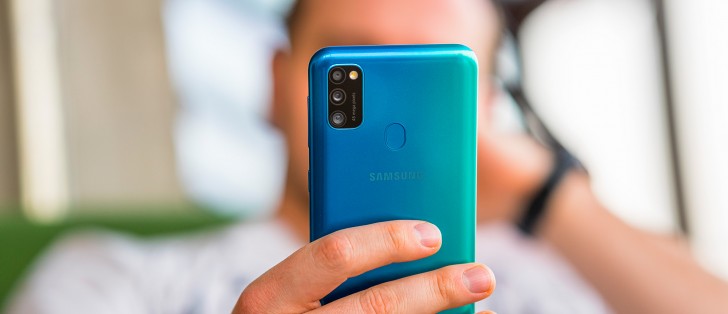 Android 9 Pie-based One UI
It's been a while since Samsung transitioned over from Samsung Experience to the so-called One UI so we are pretty familiar with the new looks and features. And in this handset, One UI shines bright as the design is primarily focused on one-handed use and it's quite useful with this tall 6.4-inch display.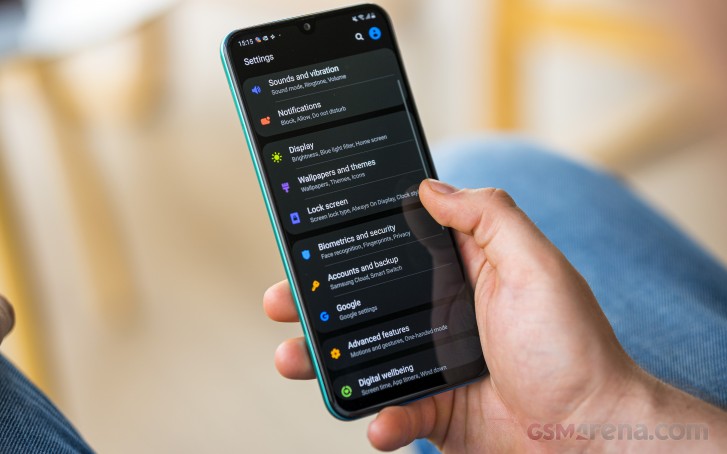 The notification shade, for example, brings down the quick toggles upon a second swipe down so it's easier to reach all the shortcuts with your thumb. All of the system apps and menus are designed the same way - most of the UI elements with which you can interact are within thumb's reach and placed in the lower half of the screen. The same goes for the Settings menu as well - when you open the general settings menu, you can bring down the upper rows down to the bottom for easier reach.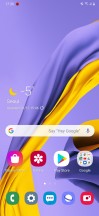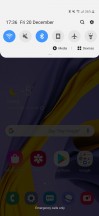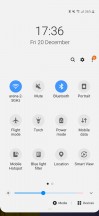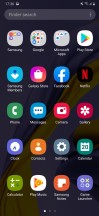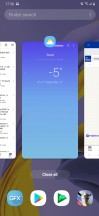 Home screen, notification shade, app drawer and recent apps menu
Anyway, one of the first things we've noticed is that the Galaxy M30s offers an Always-on display feature. This is one of those rare occasions where a mid-range handset packs the highly sought after functionality. It's found in the Lock screen menu and it doesn't offer all of the customization options the flagship models do but the basics are there. You can set it to be always on, or show at current time or show upon a single tap on the screen. The so-called FaceWidgets offer a few other options such as weather, alarm, music or today's agenda - they can be shown on the lock screen and on the always-on display.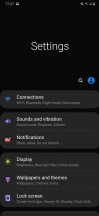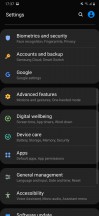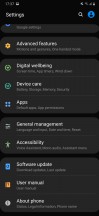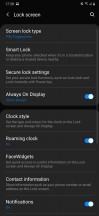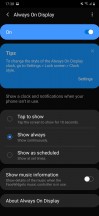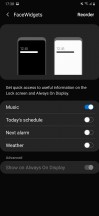 General settings menu, always-on and FaceWidgets
The Display menu lets you tinker with brightness, blue light filter, color calibration and touch sensitivity. The usual stuff. Perhaps you'd be more interested in the system-wide dark mode toggle as well as the Navigation bar sub-menu. The latter lets you choose between the good old software buttons and Samsung's full-screen gesture-based navigation.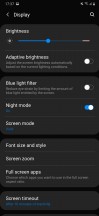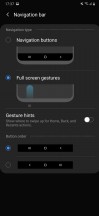 Display settings and gesture navigation options
A single swipe from the middle takes you back to the home screen, swipe up from the left summons the recent apps list and if you swipe up from the right of the center acts as a back button. Pretty straightforward. You can swap the position of the recent apps and back buttons if you are used to the other way around.
As far as biometrics go, the face unlock is decently fast and accurate but, of course, less secure. We have one small complaint about the fingerprint reader. The reader is of the cheaper kind and requires you to swipe your fingertip when enrolling one. It feels as if the scanner is fast enough to unlock the phone but the screen takes a bit more time to light up. It could be due to some software optimization or the chipset isn't fast enough to read the fingerprint data. One thing is for sure - there's a bottleneck somewhere in there and we've seen better fingerprint reader implementations at this price. It's not a deal-breaker by any means but it's something worth considering as well.
If you feel the software sluggish or you are not a fan of animations, Samsung has put a neat toggle that reduces animations. The phone would feel speedier, although we'd like to note that the at no point the phone felt sluggish or choppy. We had a snappy and fluent experience overall with no hangs or freezes.
In the same Advanced features menu, you will find some useful gestures like lift-to-wake, double-tap-to-wake, smart stay (keeps the display on while you are looking at it) and a swipe on the fingerprint reader can bring up or down the notification shade. We found the gestures to be reliable enough.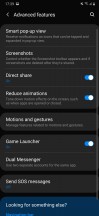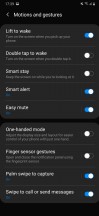 Advanced features, gestures and motion
At the end of the day, if you are coming from a much older Samsung smartphone, you will find the newer One UI a lot whole different. It would take some time getting used to but compared to other custom skins of Chinese competitors, for example, Samsung's skin is considerably more mature in a sense. And there are plenty of features to go through with most of them being a rare sighting in this price range such as the always-on display feature.
Performance
One of the biggest, if not the biggest, upgrade the M30s has to offer over its predecessor is the chipset. The new Exynos 9611 inside offers better power efficiency than the old Exynos 7904 thanks to the refined and efficient 10nm FinFET manufacturing process. The new Exynos is notably more powerful as well due to 4x higher clocked Cortex-A73 cores ticking at 2.3 GHz and the 4x low-energy Cortex-A53 cores working at 1.7GHz. The improved Mali-G72 MP3 GPU on board should also offer better raw performance graphically-intensive tasks.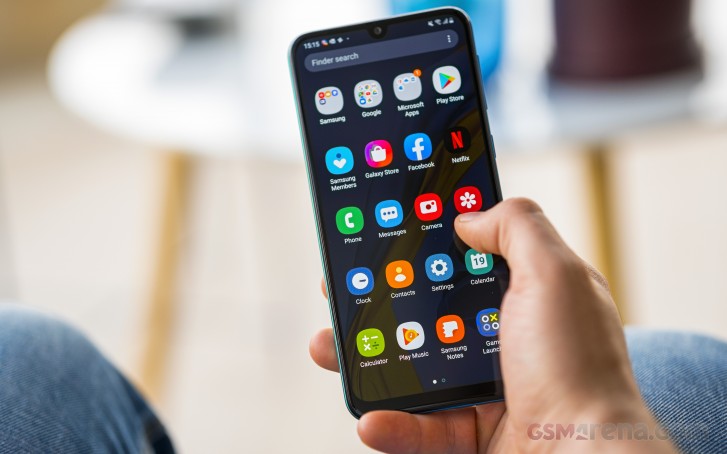 The M30s comes in two flavors, 4GB/64GB and 6GB/128GB and our review unit is of the first kind and features UFS 2.1 storage.
And here's how the chipset fares against the competition.
GeekBench 4.1 (multi-core)
Higher is better
Redmi Note 8 Pro
6999
Xiaomi Mi 9T
6863
Realme 5 Pro
6106
Motorola Moto G8 Plus
5641
Samsung Galaxy M30s
5566
Samsung Galaxy A50
5396
Samsung Galaxy M30
4188
GeekBench 4.1 (single-core)
Higher is better
Xiaomi Mi 9T
2537
Redmi Note 8 Pro
2472
Realme 5 Pro
1913
Samsung Galaxy A50
1715
Motorola Moto G8 Plus
1530
Samsung Galaxy M30s
1489
Samsung Galaxy M30
1311
GeekBench 5 (multi-core)
Higher is better
Redmi Note 8 Pro
1622
Samsung Galaxy M30s
1334
Motorola Moto G8 Plus
1325
GeekBench 5 (single-core)
Higher is better
Redmi Note 8 Pro
493
Samsung Galaxy M30s
350
Motorola Moto G8 Plus
314
AnTuTu 7
Higher is better
Redmi Note 8 Pro
224759
Xiaomi Mi 9T
211915
Realme 5 Pro
182765
Samsung Galaxy M30s
152075
Samsung Galaxy A50
144574
Samsung Galaxy M30
101651
AnTuTu 8
Higher is better
Redmi Note 8 Pro
279355
Samsung Galaxy M30s
180321
Motorola Moto G8 Plus
168699
GFX 3.1 Manhattan (1080p offscreen)
Higher is better
Redmi Note 8 Pro
29
Xiaomi Mi 9T
27
Realme 5 Pro
27
Samsung Galaxy M30s
16
Samsung Galaxy A50
14
Motorola Moto G8 Plus
13
Samsung Galaxy M30
8.1
GFX 3.1 Manhattan (onscreen)
Higher is better
Redmi Note 8 Pro
24
Xiaomi Mi 9T
24
Realme 5 Pro
22
Samsung Galaxy M30s
14
Samsung Galaxy A50
13
Motorola Moto G8 Plus
12
Samsung Galaxy M30
7.3
GFX 3.1 Car scene (1080p offscreen)
Higher is better
Redmi Note 8 Pro
18
Xiaomi Mi 9T
16
Realme 5 Pro
15
Samsung Galaxy M30s
10
Samsung Galaxy A50
9.2
Motorola Moto G8 Plus
7.1
Samsung Galaxy M30
5.2
GFX 3.1 Car scene (onscreen)
Higher is better
Redmi Note 8 Pro
14
Xiaomi Mi 9T
13
Realme 5 Pro
12
Samsung Galaxy M30s
8.7
Samsung Galaxy A50
8
Motorola Moto G8 Plus
6.5
Samsung Galaxy M30
4.6
3DMark SSE 3.1 Unlimited
Higher is better
Redmi Note 8 Pro
2439
Xiaomi Mi 9T
2329
Realme 5 Pro
2253
Samsung Galaxy M30s
1477
Samsung Galaxy A50
1353
Motorola Moto G8 Plus
1128
Samsung Galaxy M30
645
As you can see, there are more powerful alternatives in the price range. The Exynos 9611 is more powerful than the Exynos 7904 inside the M30 and does alright most of the time. It still stuttered in certain game titles so if you plan on doing a lot of gaming you might want to look either at rivals with more capable chipsets or at one of Samsung's more premium offerings.
I bought M30s mobile and once their warranty completed, It restarted in loop. Reset factory, Software update not worked. I have visited samsung service center and they told me to change motherboard. It cost 9k almost device price. I have read...
I bought this m30s phone in Jan.2020..After 1.year of running it is hanging.... Not able to use..., Technician says mother board has to be replaced...I never expected this cheap quality from a technical giant company...Most of m30s phones are not wor...