Samsung Galaxy M51 review
GSMArena Team, 11 December 2020.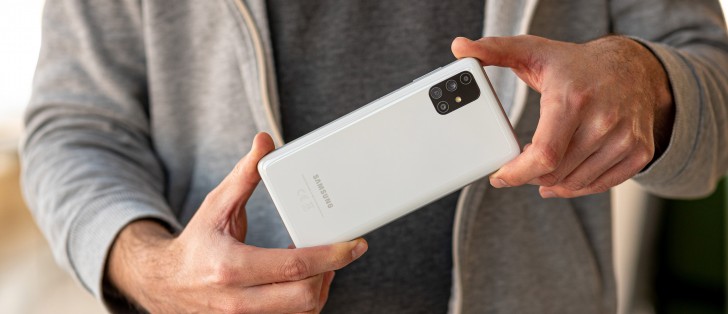 Design
Unmistakably a Samsung, the Galaxy M51 is among the bigger ones. It has to be - with a 6.7-inch display and a battery capacity that makes it sound more like a power bank than a phone, being small and lightweight clearly wasn't on top of this Galaxy's priorities list.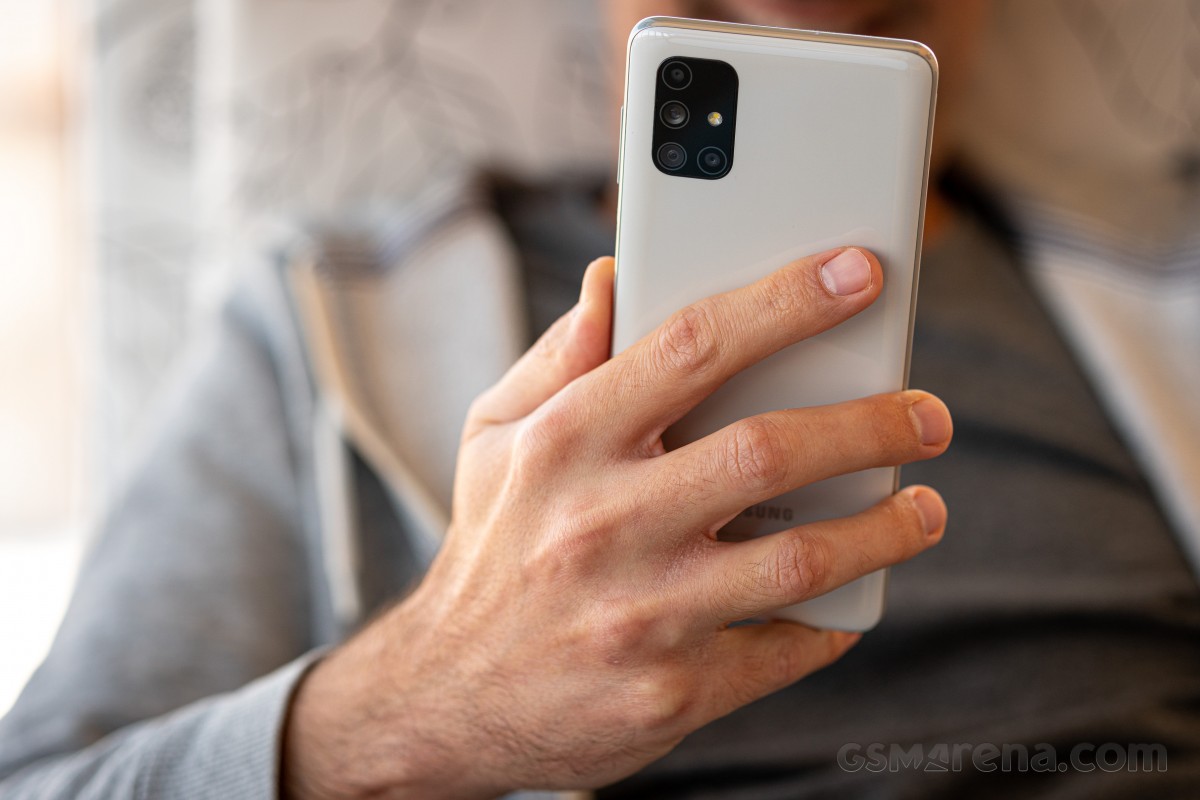 Having said that, it's mostly a reasonably sized handset, as our current perceptions go. Measuring 163.9x76.3x9.5mm, it fits in the same footprint as that A71 we mentioned, and that's not a 'huge' phone per se. However, it is that third number that makes the M51 stand out - with a profile that's almost a full centimeter thick, this phone is thicker than most to have come out in 2020.
The rounded sides from the back do help to mitigate that to some degree, so the phone doesn't feel like a brick in your hand, but even then, it remains a chunky unit.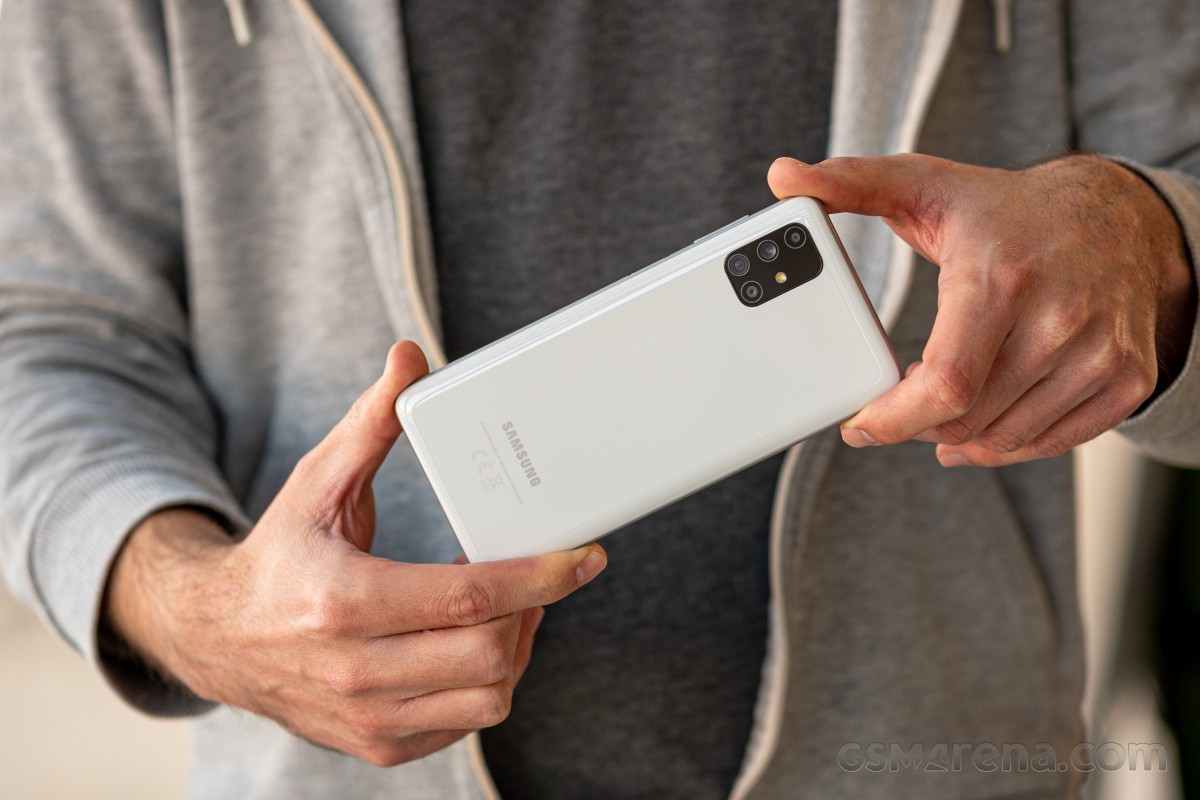 It's not light either, of course, though that's probably less tangible. Don't take this as if we're trying to downplay its 213 grams, but when an iPhone 12 Pro Max is 228g, and the Galaxy S20 Ultra stands at 222g, the M51 somehow doesn't strike us as any sort of an offender here, plus did we say it's got a 7Ah battery inside?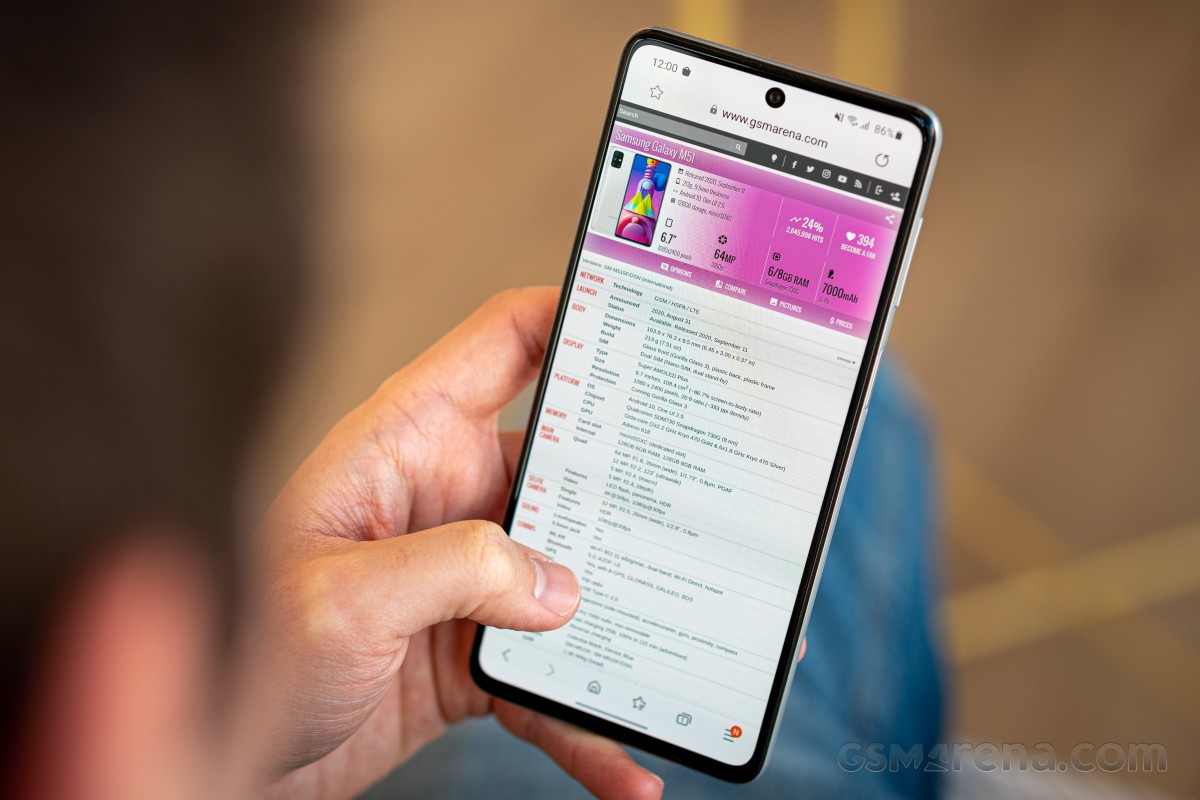 It's no secret how Samsung managed to fit so much lithium in the phone yet its heft isn't verging on insane - they used plastic where those two premium devices above have glass and metal. The Galaxy M51's rear panel is plastic and so is the midframe holding things together.
Once again, plastic is no bad thing when it comes to durability on a smartphone and its only downside, really, is that it doesn't feel particularly posh. But poshness was probably right next to compactness when the M51 was on the drawing board, and you take the good with the bad.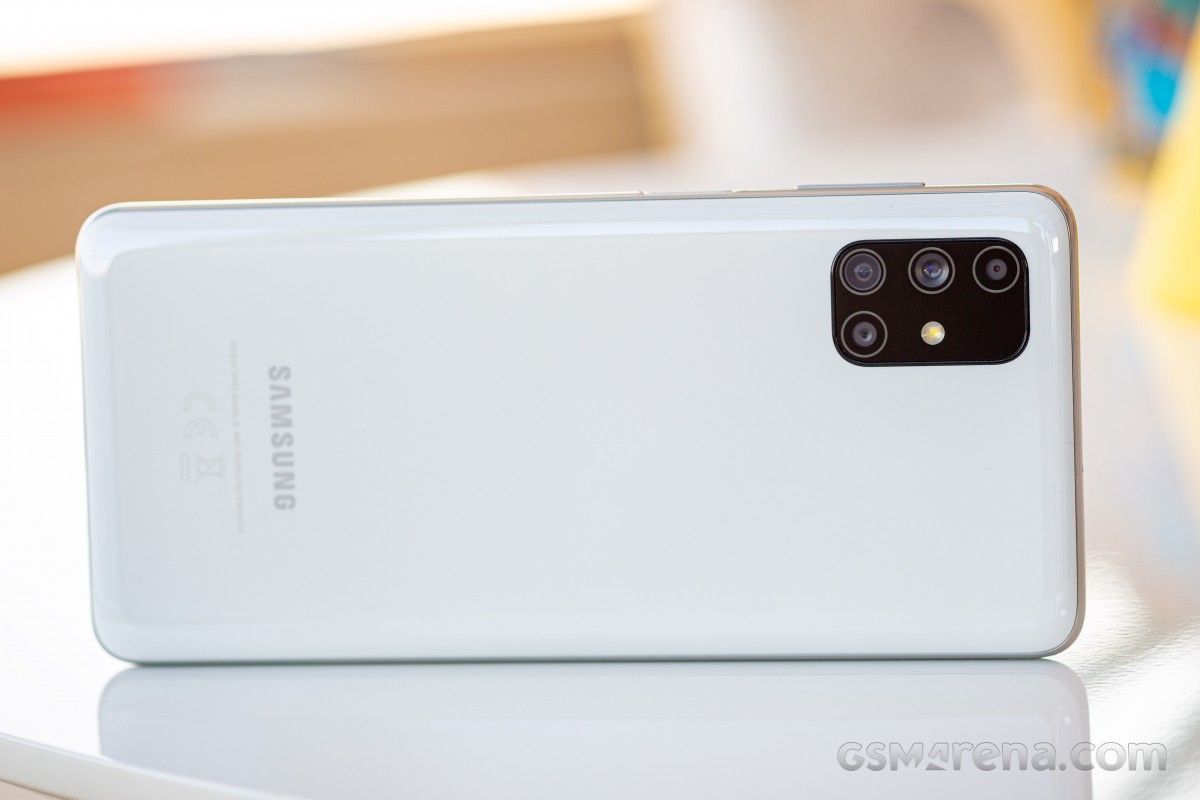 That's not to say the phone feels cheap, no. If anything, the weight and thickness give it a substantial and, by association, a high-quality feel. And a positive side effect of the 9.5mm waistline is that the camera cluster can now fit inside the phone's thickness, as opposed to sticking out a couple of millimeters.
Okay, that's only partially true - there's an ever so slightly raised surround around the camera window, but it's nothing like the protruding assemblies on those that have tiny, sub-7Ah batteries inside.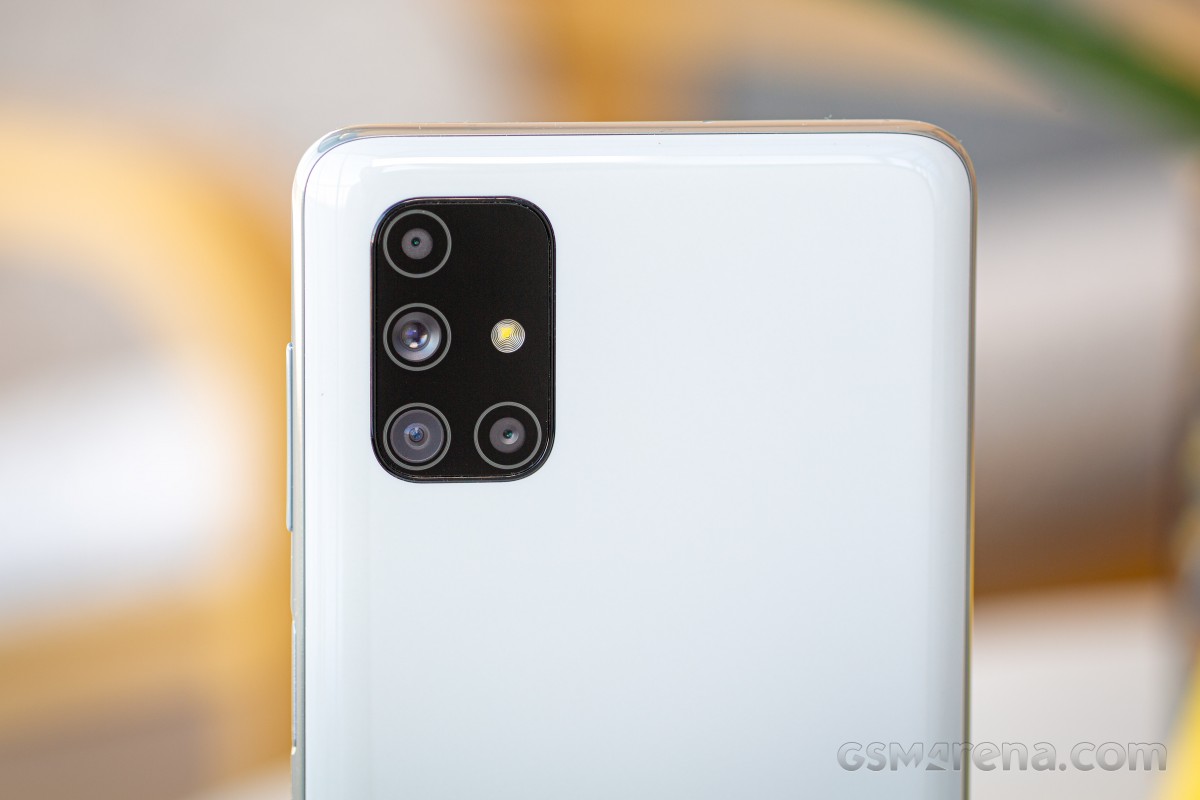 We mentioned the frame was plastic, but let's go over what's where on it. Starting off with the most important bit, the power button/side key/fingerprint reader is on the right.
Several things need to be said here. One, the M51's stature apparently doesn't allow for an under-display fingerprint sensor, even though the OLED display does - Ms don't get one, and that's that. Two, the button/sensor combo is placed high, well above the midpoint, and getting at it, particularly with a left index finger, requires a bit of a stretch. Three, as with all side-mounted fingerprint readers, this one is prone to registering input when you don't want it to - on the way into a pocket, or when you're just holding your hand in your pocket with the phone inside too.
There's a workaround for that last bit in software, where you can set the phone to require a press on the button, instead of just a tap. The position is also something you get used to over time. But why not use an under-display sensor in the first place?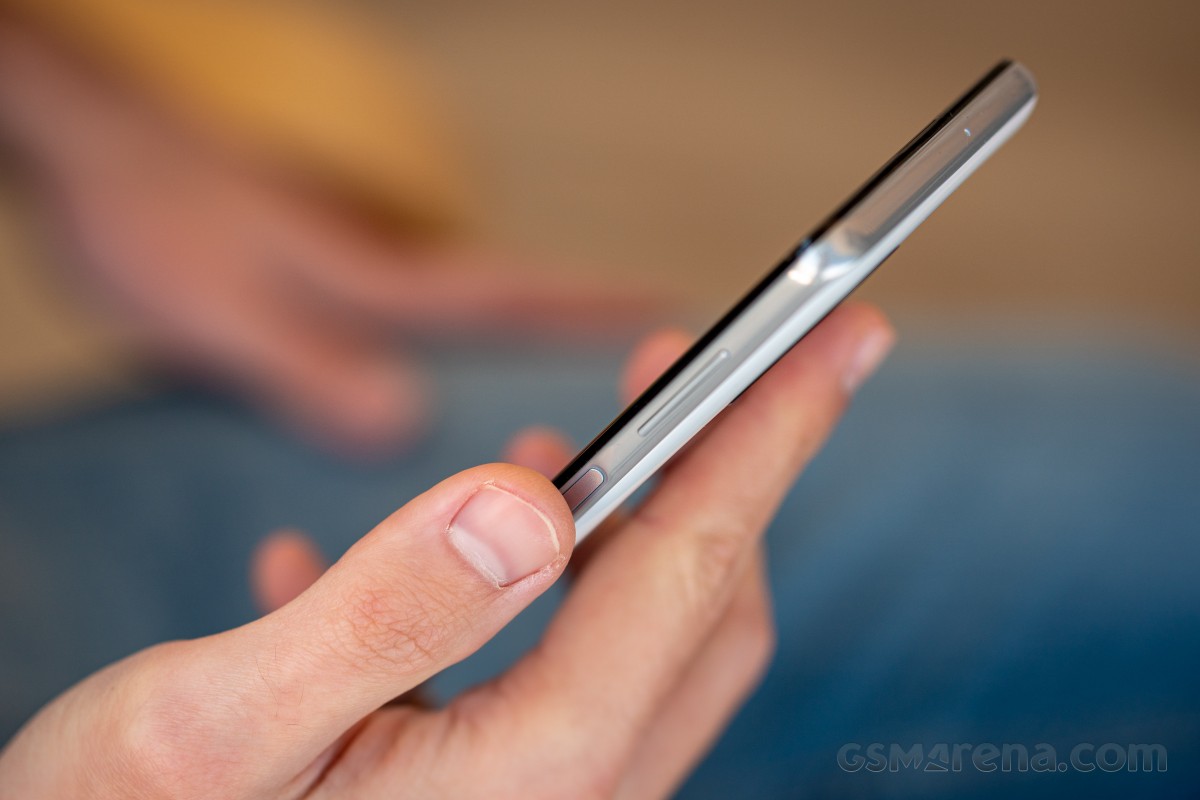 Anyway, above the fingerprint reader is the volume rocker. That's even higher than usual, but we found little issue with its placement. It clicks nicely, too.
On the opposite side, there is the card slot. Triple-card trays have a special place in our proverbial heart. The M51 takes two nano SIMs and a microSD giving you all the versatility you may need.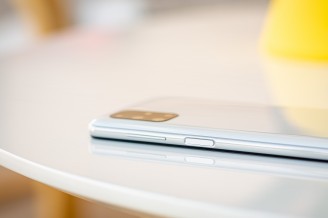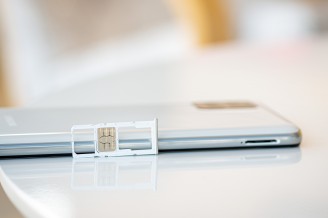 Fingerprint reader and volume rocker on the right • Card slot on the left
There's nothing but a secondary mic on the top end of the frame, leaving all the other important bits on the bottom. There you find the USB-C port, the 3.5mm headphone jack, the speaker, and the primary mic.
Over on the front, you're getting that nice 6.7-inch Super AMOLED display surrounded by... 'sensible' bezels. We wouldn't call the black borders around the screen minimal, but they're not big either - let's say they're befitting both the times and the phone's market position.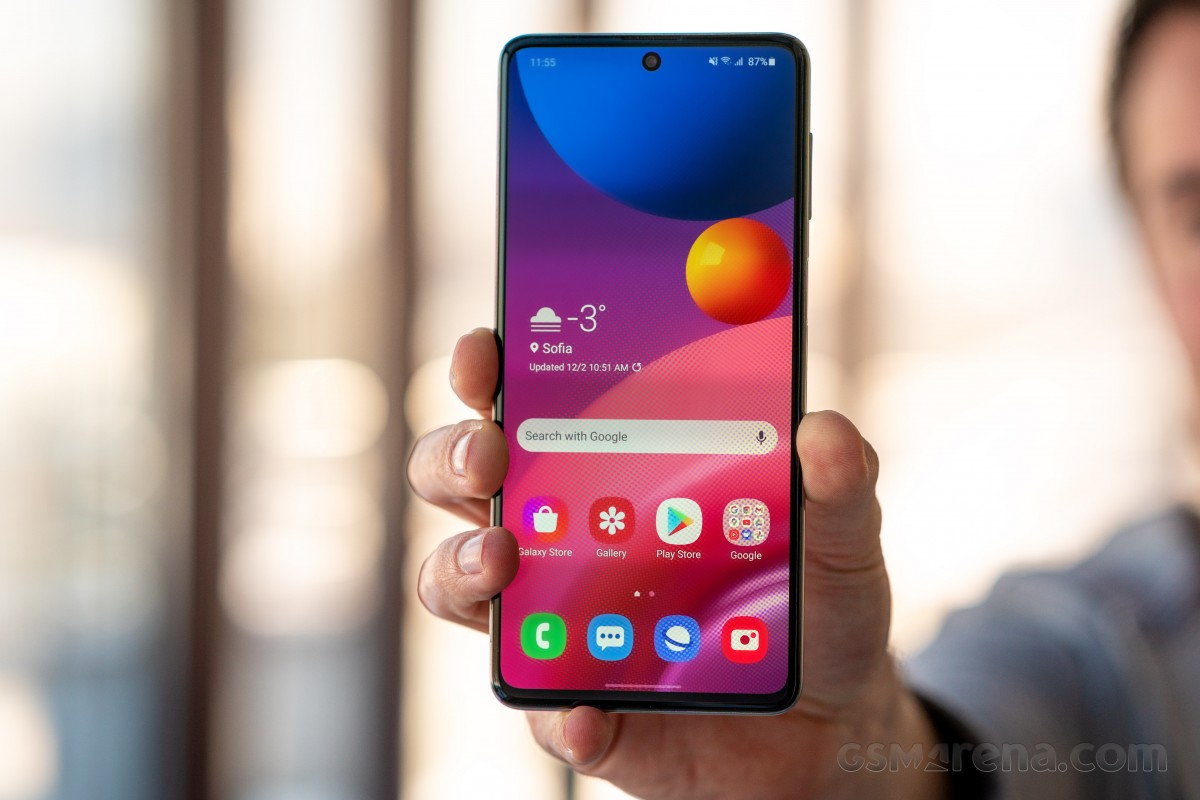 The panel gets the Infinity-O branding, meaning there's a circular punch hole for the selfie camera, and this one is in the middle. We've seen smaller ones, on the Galaxy A51 5G, for example, but an M is an M. A sheet of Gorilla Glass 3+ protects the pixels from scratching.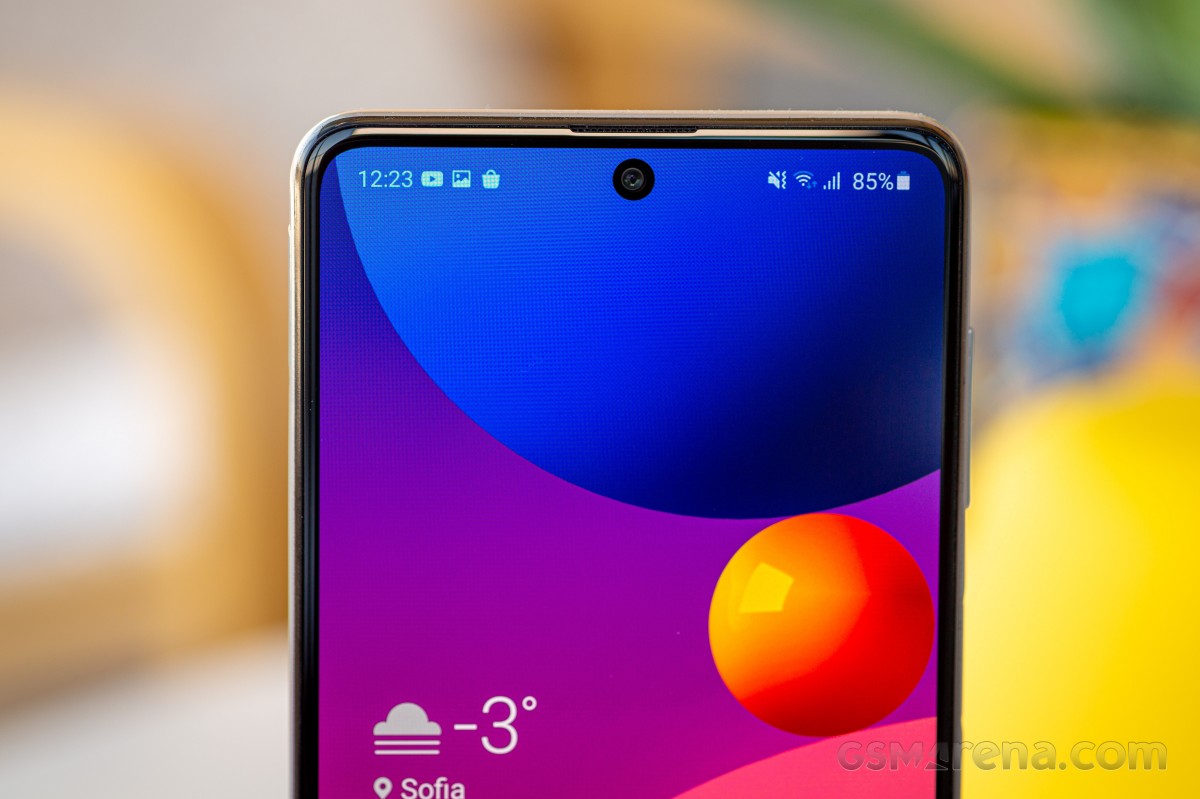 Overall, the M51's design is pretty much like any recent Samsung, big or small, affordable or expensive. The material choices aren't premium, but the plastics used here look and feel good, plus the M51 makes no premium claims anyway. It's big and it's heavy, but not as big or heavy in use as you'd think by looking at the numbers in the specsheet. We certainly don't mind most of the trade-offs Samsung's serving us on this one.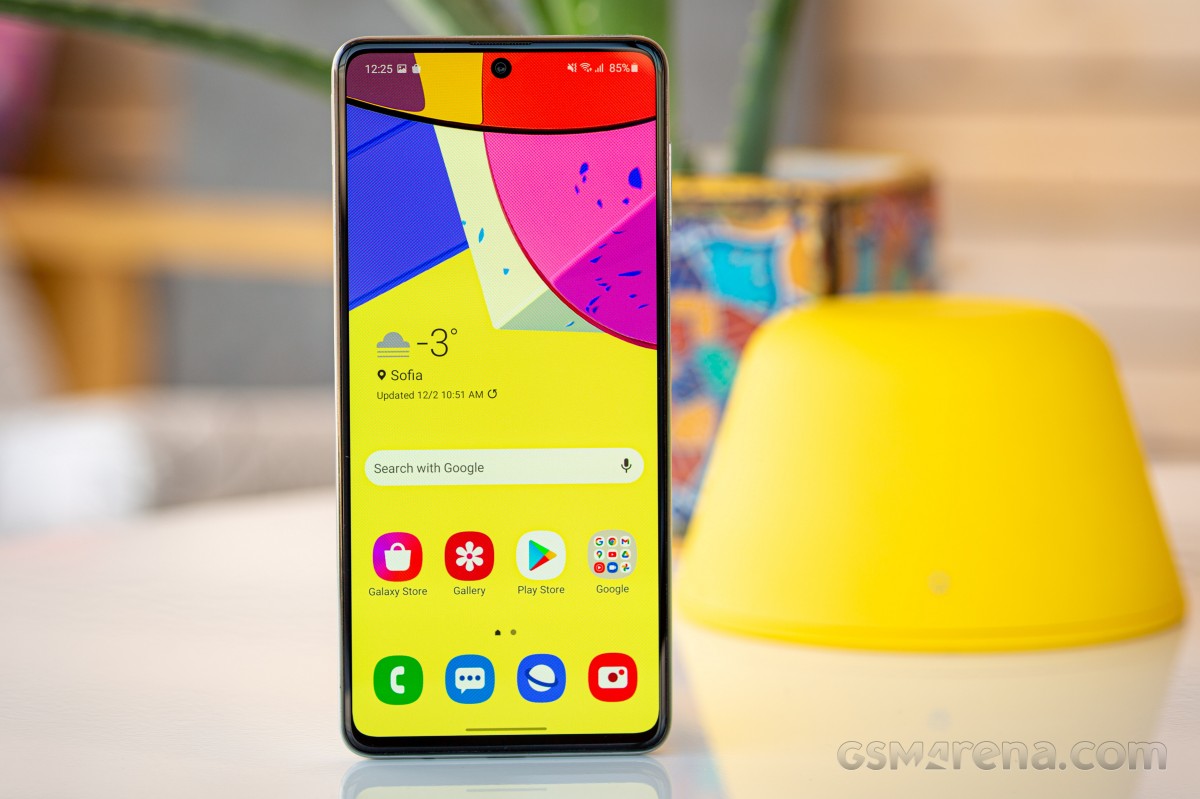 Anonymous
26 May 2023
7k3
I had got Samsung M51 2 years back. I had travelled to hill stations, where there was no cellular network. The phone is not able to catch the network back even when I reached to city. From past 8 days the phone is in service center, still no luck :...
Naitik gupta
19 Apr 2023
CbE
Verry good bro but idont like samsung phone bcoz all samsung phones are over heated while using
I'm anas am using Galaxcy M51 2020 is super phone Battery backup very interesting value for money this phone tnx for samsung