Samsung Galaxy Note10 in for review, unboxing and key features
Ivan, 30 August 2019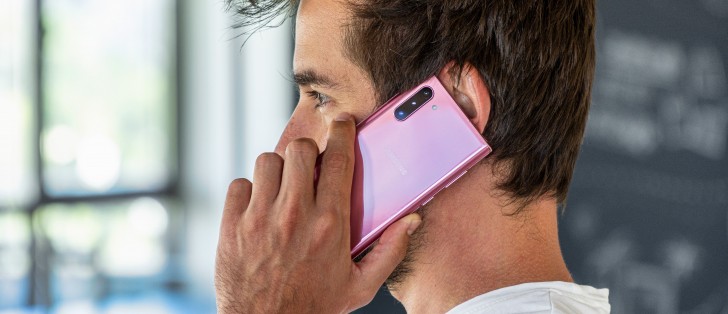 We finally got the Samsung Galaxy Note10 in the office and we need to talk about it. But first - here's an unboxing and key features video to get you in the mood.
This is the smaller, 6.3-inch Galaxy Note10, and if you're looking at it on a paper (or digital) specs sheet next to the gargantuan 6.8-inch Galaxy Note10+, it may appear a bit of a lackluster phone. So you shouldn't. You should go out to a store and hold it in your hands, trust us.
For all intents and purposes this is the compact Galaxy Note a niche group of people have always dreamed of and a large group of Galaxy Note lovers never knew they wanted.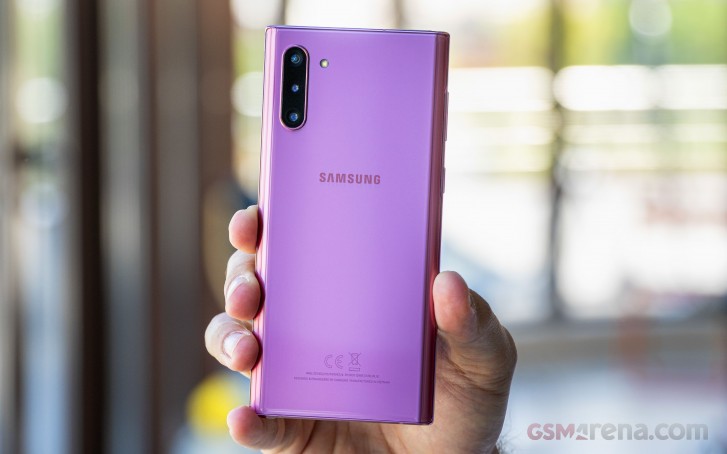 The Galaxy Note10 is roughly the size of a Galaxy S10, only it has thinner bezels and a boxier shape thanks to the squared-off approach to its corners. You'd either prefer the square feel or the round one, but what we're sure most people would prefer is having a larger display, slightly bigger battery and an S Pen.
When compared to its more logical counterpart, the Galaxy Note10+, the Galaxy Note10 feels tiny. Side-by-side images don't give either phone justice - the Plus is truly gargantuan, the Regular petite.
But even if you choose the Galaxy Note10, you're still getting more than enough screen. And speaking of that screen, it looks every bit as high-res and rich as the Galaxy Note10+'s panel, despite the inferior resolution.
The move from QHD to FHD may be beneficial to the battery life as well - from our preliminary testing we're seeing almost the same battery life from the Galaxy Note10 as on the Galaxy Note10+ - that's to say 18 hours of video playback and 12 hours of browsing, which is great and much better than a Galaxy S10 with a similarly-sized battery.
There's one important note about the color - our Aura Pink model is incredibly hard to photograph. When properly lit it looks purple, whereas in reality it's more of a peach color.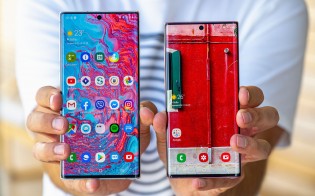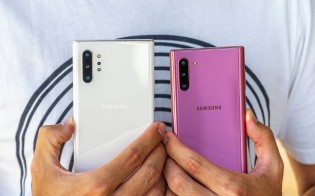 Samsung Galaxy Note10+ and the Galaxy Note10 in hand
So what are you giving up by going with the smaller phone? First is the obvious - the screen, although large enough for content consumption, is nothing compared to the Galaxy Note10+'s. Second is a bit of multitasking prowess - the Galaxy Note10 comes with "only" 8GB of RAM, whereas the Galaxy Note 10+ can go up to 12GB, but we can't really say we can see a difference in performance. You don't get a microSD card either, but with 256GB it's hard to see a point in one. Finally, you don't get to take advantage of Samsung's 45W wired charger (once it comes out), but you still get the 25W speed, which coupled with a smaller battery should charge the Galaxy Note10 in no time.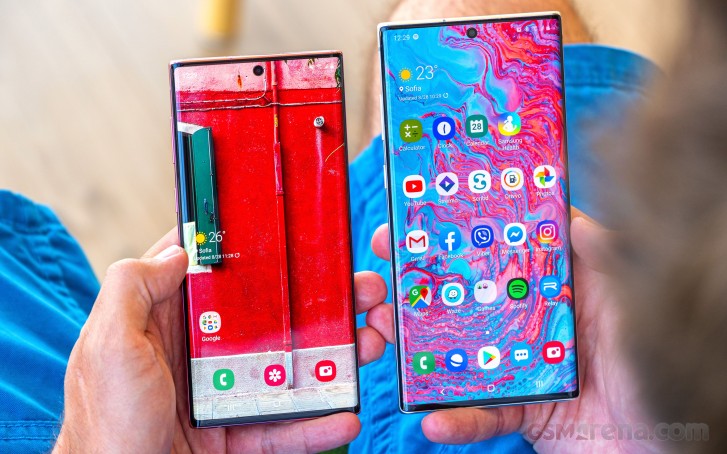 We're busy working on the Galaxy Note10 review and are en route to publish it early next week. Stay tuned!
Related
Dont talk dumb ignorant things, even more when it is almost sure you have not had any samsung flagship device
It is about 1~1.5 % eir wifi and data on, AOD on, autosync on, bt off
Popular articles
Popular devices
Electric Vehicles