Samsung Galaxy Note10 Lite review
GSMArena team, 10 Feb 2020.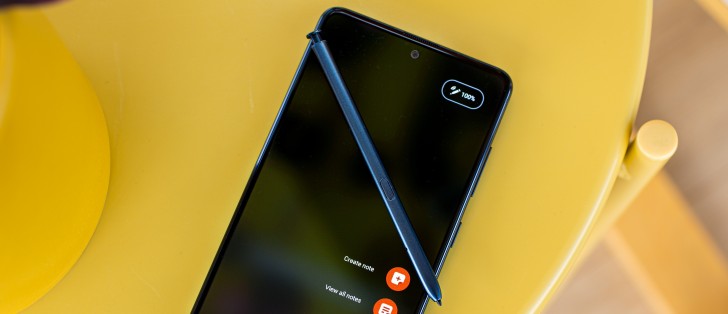 User interface
The Galaxy Note10 Lite runs Android 10 out of the box and that's one key area where it might make more sense than getting a Note9 today - while both have this latest OS version now, you could probably expect major OS updates on the 10 Lite, which the 9 wouldn't get. Solid maybe.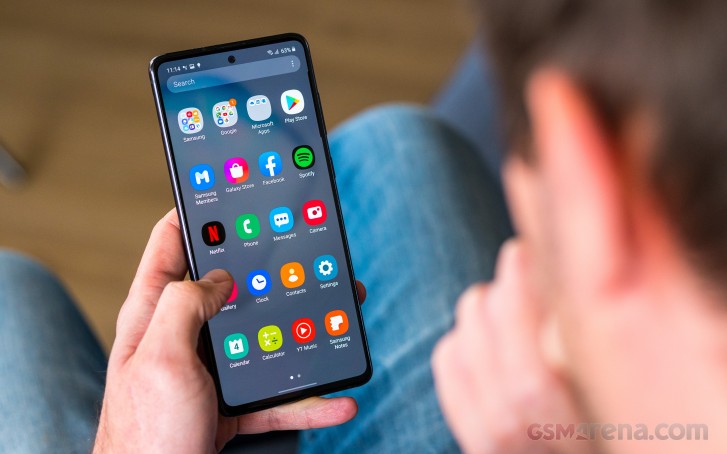 On top of Android 10, there's Samsung's updated One UI 2, which brings minor touch-ups on the already universally liked (not disliked?) One UI introduced on the Galaxy S10. Few of the changes are actually One UI's own, but there are ones brought by Android 10. Perhaps most notably, apps will now have three levels of accessing your location - in the background, only when actively using them, or not at all.
Next up is the system-wide dark mode. While it was available in the original One UI, it was limited to the in-house apps, and you had to manually enable it in the third-party apps that had a dark theme. Now on Android 10 and One UI 2, you switch it in settings and it automagically works in apps that support it (not Maps though, not yet).
Gesture navigation is the other area where there are new bits. You get to pick between the One UI 2 set of actions or go back to the One UI 1 way of doing things. The new way is similar to the current native Android 10 approach with a swipe-in from the sides for 'Back' and swipe-up from the bottom for Home or task switcher. The old way is by swiping up from three separate areas on the bottom that do what the on-screen buttons before them used to do. If you can't be bothered with gestures, the conventional onscreen nav bar remains an option too. It's also the only option if you insist on having the ability to quickly switch between the two last used apps.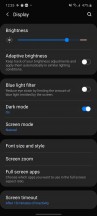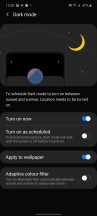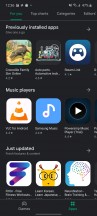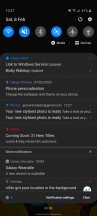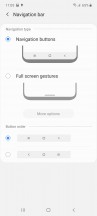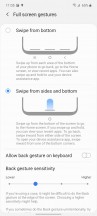 System-wide dark mode • Gesture navigation
When it comes to biometrics, the Note10 Lite gives you two options - the fingerprint reader and face recognition. Recognizing your mug is only camera-based, so it's not overly secure, hence fingerprints will likely be used more. The sensor is an optical solution unlike the ultrasonic ones in the company's higher-end models, but it delivers a similar experience to those. As in, it's nowhere near a good, nearly-instant optical sensor found in, say, a OnePlus 7T. The less than ideal animations don't help with perceived speed, either. It's a usable reader, it's just not one we can praise.
Ah, it's a Note - there's an S Pen. It offers much the same features as on the Note9, but is missing some of the goodies introduced on the Note10, namely the gestures in the camera. Oh, well.
Other staples of S Pen functionality remain, however. Screen-off memo is available, letting you just pull out the stylus when the phone is in standby and go right ahead and write a note, which you can then pin to the always-on display or save for later reference.
When you pull out the S Pen with the phone unlocked, the Air command menu appears (though that's a setting that can be turned off, or set to create a note straight away). There are pre-set shortcuts here, which you can customize, and those can be either S-Pen features or shortcuts to apps.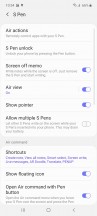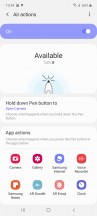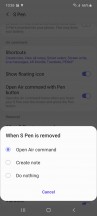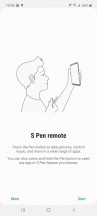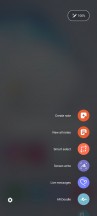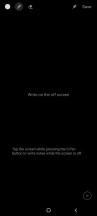 S Pen settings • Air actions • Behavior upon removal • S Pen Remote • Air command • Screen off memo
Advanced screenshot capture is another of the S Pen's unique claims to fame. Smart select allows you to take differently shaped screenshots, extract text from them, or pin them on the screen. Alternatively, you can create short GIF animations. Then there's Screen write that takes a fullscreen snap that you can write on with the full set of different pens and brushes (and then crop, if you will).
There are numerous other smaller use cases for the S-Pen as part of the Air view set of actions. For, example, you can hover over an image in the gallery for an enlarged preview, or over a calendar entry for more details. You can also scroll up and down by hovering the S-Pen over the edge of the screen.
The basics of the UI are the same as on any other Samsung rocking One UI 2 and very similar to One UI One ones. The shift of actionable UI elements towards the bottom for easier reach has been widely praised, and the iconography is quite likeable too.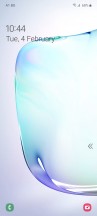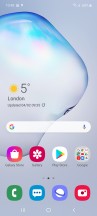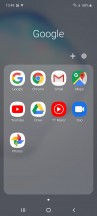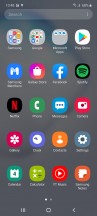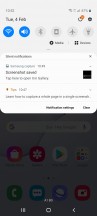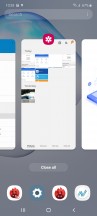 Lockscreen • Homescreen • Folder view • App drawer • Notification shade • Task switcher
Edge panels is a well-known, long-standing feature that gives you quick access to apps, actions, tools, etc. with a single swipe from the side. You can choose which side the handle is located on, as well as adjust its position along the edge of the phone. In the Edge screen sub-menu, you will also find Edge lighting - it's a feature that can light up different types of peripheral glow for notifications, and as you've probably guessed, there are tons of options and styles to choose from.
Synthetic benchmarks
One of the Galaxy Note10 Lite's most notable 'lite' touches is the chipset - not because it's bad or underpowered all in itself, but because it's old - the Exynos 9810 was introduced with the Galaxy S9 in the Spring of 2018, and it's the Spring of 2020 now more or less. It was the flagship chipset at the time, but today it needs to face stiff competition from current midrange silicon, as well as rival smartphones in the price range with 2019 high-end SoCs.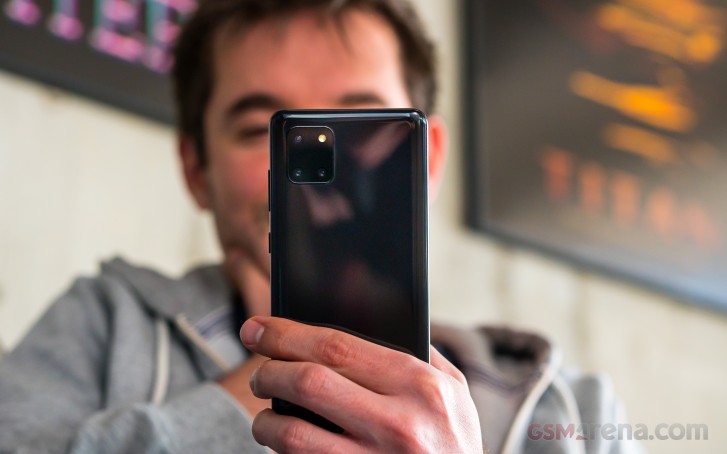 Anyway, the Exynos is manufactured on a 10nm process and has an octa-core CPU (4x2.7GHz Mongoose M3 & 4x1.7GHz Cortex-A55). The GPU is a Mali-G72 MP18. We have the 6GB RAM version for review, while an 8GB version is also in existence.
Samsung's pursuit of top single-core performance to rival Apple's chipset designs means the Mongoose of 2018 is still relatively competitive today. Single-core results in GeekBench 5.1 are within 10% of Snapdragon 855 devices like the LG G8X ThinQ, Samsung's own S10 Lite and the Xiaomi Mi 9T Pro. It's not quite so under multi-core loads, where the Note10 Lite is now lagging behind.
GeekBench 5.1 (multi-core)
Higher is better
Honor V30 Pro
3204
LG G8X ThinQ
2870
OnePlus 7T Pro
2803
Samsung Galaxy S10 Lite
2732
Redmi K20 Pro/Mi 9T Pro
2732
Oppo Reno Ace
2627
Google Pixel 4 XL
2267
Samsung Galaxy S10+
2190
Samsung Galaxy Note10+
2154
Samsung Galaxy Note9
2092
Samsung Galaxy Note10 Lite
2027
GeekBench 5.1 (single-core)
Higher is better
Samsung Galaxy S10+
827
Honor V30 Pro
778
Samsung Galaxy Note10+
776
OnePlus 7T Pro
773
LG G8X ThinQ
746
Redmi K20 Pro/Mi 9T Pro
744
Samsung Galaxy S10 Lite
738
Samsung Galaxy Note9
689
Samsung Galaxy Note10 Lite
688
Oppo Reno Ace
619
Google Pixel 4 XL
591
For what it's worth, the Galaxy Note10 Lite pulls ahead of the similarly equipped Note9 in Antutu 8, though the different OS versions might have some say in that. Later models, however, are significantly in front of the Note10 Lite in this all-round benchmark.
AnTuTu 8
Higher is better
Honor V30 Pro
500571
OnePlus 7T Pro
493901
Realme X2 Pro
467653
Samsung Galaxy S10 Lite
459497
Samsung Galaxy Note10+
438622
Redmi K20 Pro/Mi 9T Pro
437823
Oppo Reno Ace
434063
LG G8X ThinQ
411980
Google Pixel 4 XL
403267
Samsung Galaxy S10+
399901
Samsung Galaxy Note10 Lite
341212
Samsung Galaxy Note9
315447
Xiaomi Mi Note 10
256717
Graphics performance isn't up to date either, or up to the price bracket's level, at least. The closest potential is the Huawei P30 Pro, itself using silicon due for immediate replacement.
GFX 3.1 Manhattan (1080p offscreen)
Higher is better
OnePlus 7T Pro
80
Realme X2 Pro
78
Honor V30 Pro
76
Oppo Reno Ace
72
Redmi K20 Pro/Mi 9T Pro
71
LG G8X ThinQ
70
Xiaomi Mi 9
70
Samsung Galaxy S10+
69
Google Pixel 4 XL
69
Samsung Galaxy S10 Lite
69
Samsung Galaxy Note10+
68
Huawei P30 Pro
54
Samsung Galaxy Note10 Lite
47
Samsung Galaxy Note9
45
Xiaomi Mi Note 10
30
GFX 3.1 Manhattan (onscreen)
Higher is better
LG G8X ThinQ
58
Honor V30 Pro
57
Realme X2 Pro
57
Redmi K20 Pro/Mi 9T Pro
57
Oppo Reno Ace
56
Samsung Galaxy S10 Lite
56
Xiaomi Mi 9
56
Huawei P30 Pro
50
Samsung Galaxy Note10 Lite
41
OnePlus 7T Pro
40
Samsung Galaxy Note10+
38
Samsung Galaxy S10+
37
Google Pixel 4 XL
34
Xiaomi Mi Note 10
27
Samsung Galaxy Note9
25
GFX 3.1 Car scene (1080p offscreen)
Higher is better
OnePlus 7T Pro
48
Realme X2 Pro
47
Oppo Reno Ace
44
Samsung Galaxy Note10+
43
Samsung Galaxy S10 Lite
43
Samsung Galaxy S10+
42
Honor V30 Pro
42
LG G8X ThinQ
42
Xiaomi Mi 9
42
Redmi K20 Pro/Mi 9T Pro
42
Google Pixel 4 XL
41
Samsung Galaxy Note10 Lite
29
Huawei P30 Pro
29
Samsung Galaxy Note9
28
Xiaomi Mi Note 10
17
GFX 3.1 Car scene (onscreen)
Higher is better
LG G8X ThinQ
38
Realme X2 Pro
37
Redmi K20 Pro/Mi 9T Pro
36
Honor V30 Pro
35
Oppo Reno Ace
35
Xiaomi Mi 9
35
Samsung Galaxy S10 Lite
34
Huawei P30 Pro
27
Samsung Galaxy Note10 Lite
25
Samsung Galaxy Note10+
24
OnePlus 7T Pro
24
Samsung Galaxy S10+
23
Google Pixel 4 XL
21
Samsung Galaxy Note9
15
Xiaomi Mi Note 10
15
3DMark SSE OpenGL ES 3.1 1440p
Higher is better
OnePlus 7T Pro
6238
Honor V30 Pro
6088
Redmi K20 Pro/Mi 9T Pro
5733
Samsung Galaxy S10 Lite
5641
Google Pixel 4 XL
5538
Xiaomi Mi 9
5450
Oppo Reno Ace
5392
Samsung Galaxy Note10+
4984
Realme X2 Pro
4726
Huawei Mate 30 Pro
4432
Samsung Galaxy S10+
4420
Samsung Galaxy Note10 Lite
4015
Samsung Galaxy Note9
3342
3DMark SSE Vulkan 1440p
Higher is better
Honor V30 Pro
5627
OnePlus 7T Pro
5514
Realme X2 Pro
5337
Redmi K20 Pro/Mi 9T Pro
5000
Google Pixel 4 XL
4955
Oppo Reno Ace
4905
Samsung Galaxy S10 Lite
4892
Samsung Galaxy Note10+
4763
Samsung Galaxy S10+
4295
Huawei Mate 30 Pro
4233
Xiaomi Mi 9
4068
Samsung Galaxy Note10 Lite
3706
Samsung Galaxy Note9
3316
To sum up the Galaxy Note10 Lite's performance, we need to put it into context. If you're looking for a capable and speedy smartphone with a stylus, but you'd rather not pay top dollar for the current proper Notes, then the Note10 Lite is precisely that. If you don't care for the stylus, other phones on the market will deliver more power. But if you don't care for the stylus, maybe Notes aren't for you in the first place.
Anonymous
23 Jun 2022
s3K
How can I get my samsung Galaxy note 10 lite screen
You better buy samsung galaxy note 10 plus its better than lite
You better buy samsung galaxy note 10 plus its better than lite