Samsung Galaxy Note10+ long-term review
Vlad Bobleanta, 20 Dec 2019.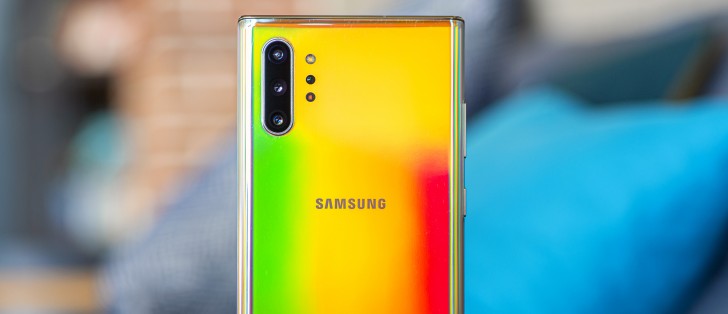 Design, build, and handling
The Notes have traditionally been boxier handsets with sharper corners than their S-series counterparts from the same year, and that's no different with the Note10+. It also sports slimmer bezels than the S10 models, both on the sides and top and bottom. That makes for a more technical look on the Note10 lineup next to the S10 counterparts.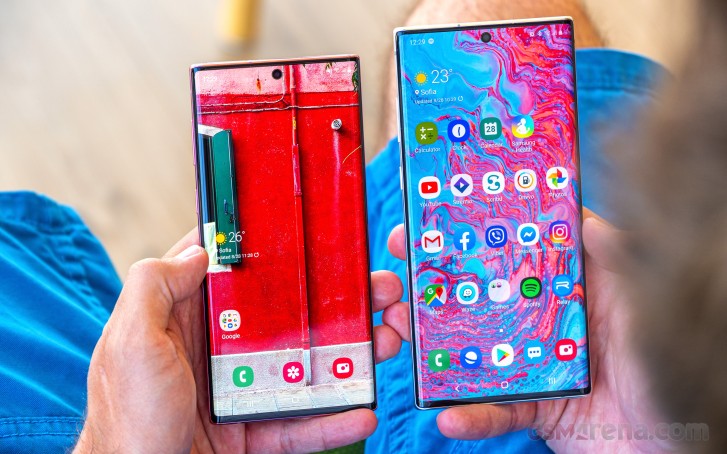 And while the sharp corners do make the Note10+ easily recognizable against S-series units, it's not its most distinct feature - the centered punch hole camera is. We can't say anyone around here was really a fan of the S10 selfie camera cutout, much less the pill-shaped one on the S10+ - it interferes with status icons and takes up space on the screen (even more so if you decide to hide it with a black strip).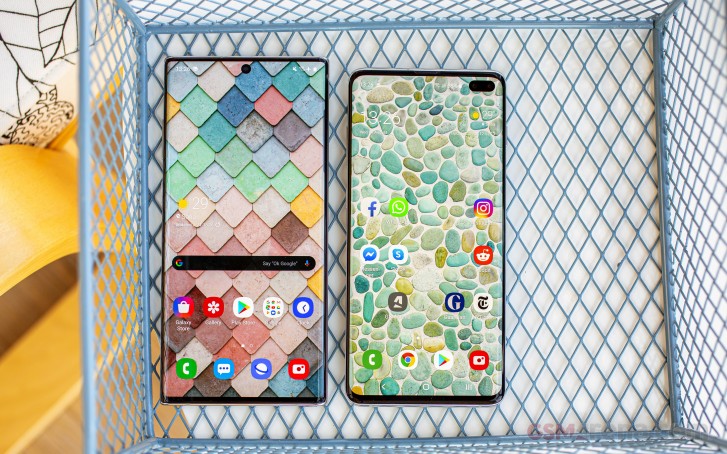 Well, the punch hole is in the middle on the Note10+ and that means icons are generally where you'd expect to find them. It's also a tinier cutout, so it takes up less space than the ones on the S-series.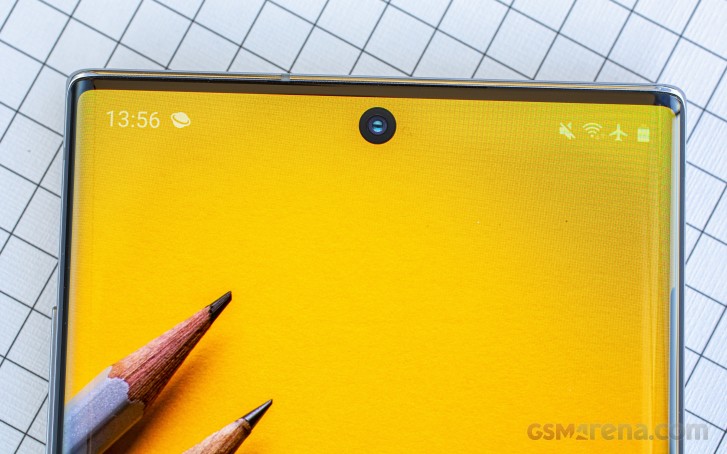 It's still a hole in the display, and even though you do develop punch-hole blindness for the purposes of UI elements, the cutout comes back to prominence if you decide to stretch a YouTube video to fill the screen, for example. In all fairness, that's not entirely Samsung's fault and a better way does exist - Netflix only stretches to the selfie camera's bottom, avoiding holes in your shows.
Back to them nearly non-existent bezels and curved edges that, aside from their fans, have vocal opposition around the office for no less than two reasons. For one, having the display, and consecutively the touch screen, reach all the way to the very extremes means that touch input will be registered when you don't want it to.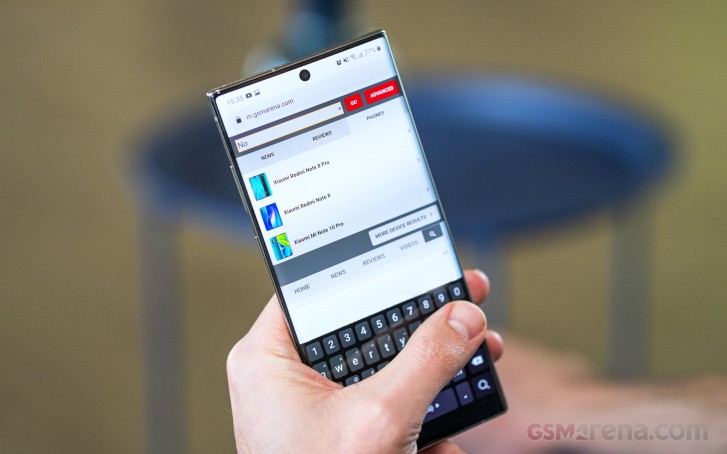 Great as Samsung's palm rejection may be, we found ourselves pressing the wrong things with the soft base of the thumb when trying to stretch across to the other side of the display - that's when operating with one hand only. That's a relatively specific set of circumstances and to make it even more so, we experienced it only with a bare Note10+. When using it with a case (a Samsung silicone one and a third-party alternative), we didn't seem to have that issue. As a side note, we can recall the same experience with the small Note10.
Speaking of, cases are generally a good idea, as the glass-and-aluminum sandwich with minimal bezels is one quality drop away from being totaled. We appreciated the pre-installed screen protector, but being a plastic one, it got scratched up after some time. Hence, we eventually got rid of it on all the units we had in use. After that, we didn't really get scratches, large or minor, as has been our experience with Galaxy Notes previously. Mind you, most of us here do tend to be careful with our tech. Then again, we would have been happier if Samsung offered first-party screen protectors which don't get in the way of the fingerprint reader operation.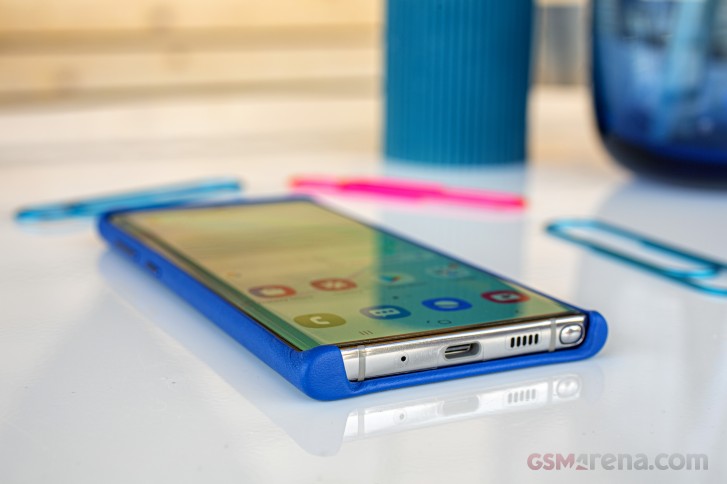 One peculiar aspect about living with the Note10+ is that it shines colorful reflections left and right without you expecting it. It's a big phone alright and some portion of it does occasionally stick out of jeans pockets pointing Aura Glow inspired shots of light in unpredictable directions as you walk. Deeper pockets, maybe?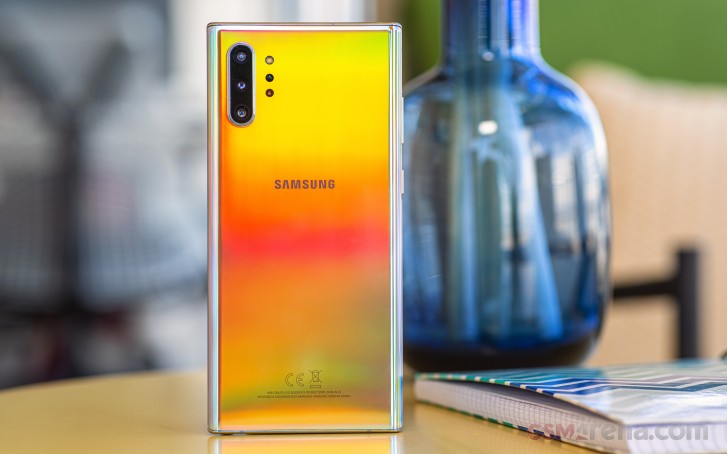 Once again, the Note10 non-plus is obviously more compact and will fit in jeans pockets more readily. The plus has an odd advantage over the small one when int comes to size, though - being precisely as thick as the Note10, the Note10+ feels all the more impressive thanks to its bigger footprint. A tangibly superior footprint to thickness ratio, we just came up with that.
The Note10 and Note10+ gathered some early hate for their atypical power button placement - having forever been on the right, a relocation to opposite side was considered a blasphemy. We weren't overly fond of it ourselves in the beginning, but the reality is that we got used to it in virtually no time and it's nowhere near even being a issue. If you're swapping phones on a weekly basis, it may be disconcerting, but since most people aren't phone reviewers, using your own Note10+ for a a few days will have you wondering what all the fuss was about.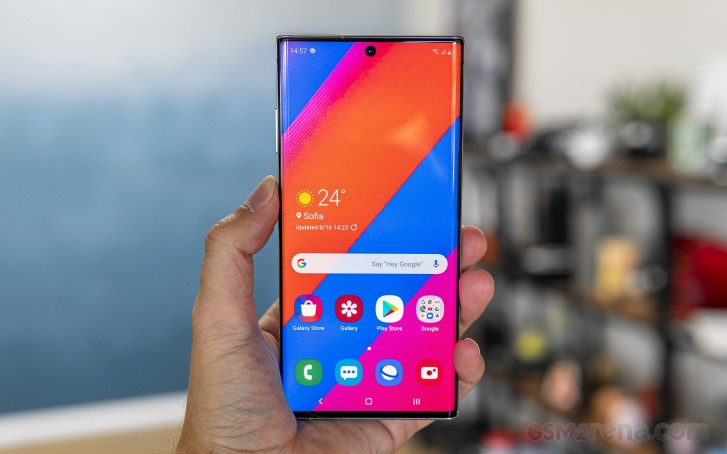 We were in for another reality check when it came to the removal of the headphone jack. While we're obviously not fans of having less options, we found the absence of the 3.5mm jack didn't really make a significant difference in our use. Outside of trying to hook up the Note10+ to an older car's stereo through an aux input, we really didn't see ourselves needing the jack. Perhaps the bigger inconvenience was that finding the original Samsung adapter for sale to help out in that particular use case wasn't an easy task. Not at the time around the Notes' release, at least.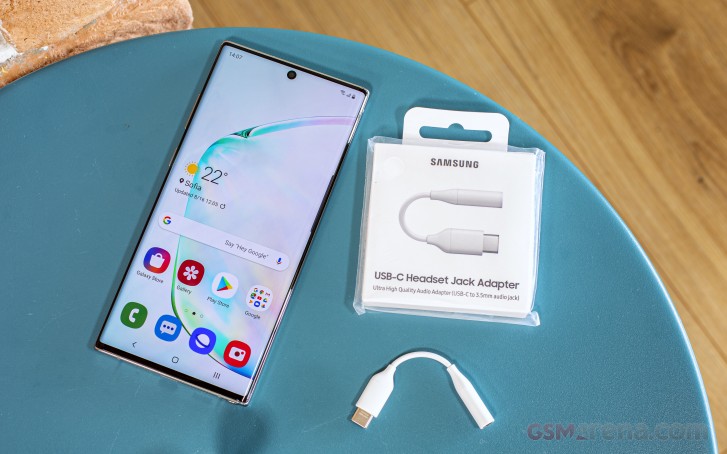 Hi my galaxy note 10+ is having dificult on getting update also my spen doean't connect.
Hi. My Samsung not 10 plus have an error about its pen. I think it error began when I updated it to android 12. Can everyone help me to repair my phone?
Same disconnecting and reconnecting issues with Wifi, for me too!