Samsung Galaxy Note8 review
GSMArena team, 16 September 2017.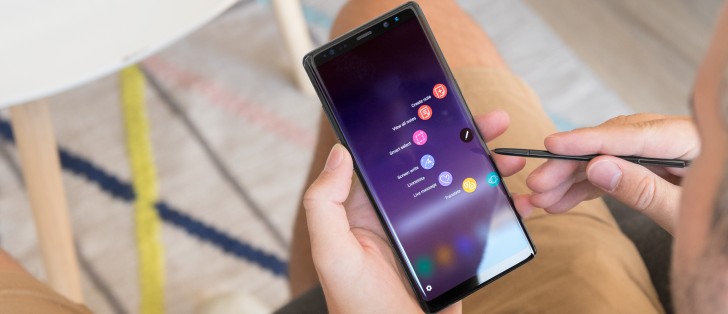 Telephony and loudspeaker
The Samsung Galaxy Note8 is available in single SIM and dual SIM versions. We have for review the dual SIM flavor, for a change, and the second slot is of the hybrid variety.
The call log and phonebook are still in the same combined interface. The dialer itself can be summoned from any tab by tapping on the green button in the bottom right corner.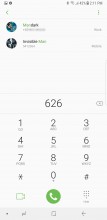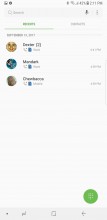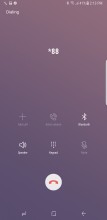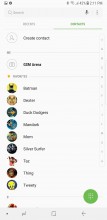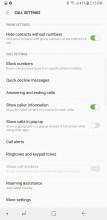 Dialer • Call log • In a call • Contacts • Call settings
The Do Not Disturb mode can work on an automated schedule. When it's on, only priority notifications can get through, and you decide what counts as "priority" - it can be anything from calls by select contacts to reminders from key apps.
The Samsung Galaxy Galaxy Note8 has a single, bottom-firing speaker - that setup hasn't changed for a while on Samsung flagships, and we wish we'd see stereo speakers some day. Single it may be, but it managed to pump out enough decibels for a 'Good' rating in our testing.
| | | | | |
| --- | --- | --- | --- | --- |
| Speakerphone test | Voice, dB | Pink noise/ Music, dB | Ringing phone, dB | Overall score |
| BlackBerry Priv | 62.1 | 61.7 | 66.5 | Below Average |
| BlackBerry KEYone | 62.2 | 66.0 | 67.7 | Below Average |
| Sony Xperia XZ Premium | 62.9 | 65.2 | 71.6 | Below Average |
| Sony Xperia XZ1 | 65.4 | 68.0 | 69.1 | Average |
| Samsung Galaxy Note5 | 66.9 | 67.1 | 71.8 | Average |
| Samsung Galaxy Note8 | 67.8 | 69.5 | 71.5 | Good |
| Samsung Galaxy S8+ | 68.5 | 69.4 | 71.6 | Good |
| Samsung Galaxy Note7 | 69.7 | 69.9 | 72.3 | Good |
| Apple iPhone 7 Plus | 68.3 | 72.2 | 72.9 | Good |
| Huawei P10 Plus | 64.8 | 69.8 | 82.5 | Good |
| HTC U11 (Theater) | 69.2 | 72.7 | 78.4 | Very Good |
| HTC U11 (Music) | 68.7 | 73.0 | 79.1 | Very Good |
| LG V30 | 66.9 | 72.3 | 84.5 | Very Good |
| Google Pixel XL | 73.4 | 72.1 | 84.1 | Excellent |
| Huawei Mate 9 | 83.1 | 74.5 | 85.0 | Excellent |
Text input
The Galaxy Note8 uses the Samsung Keyboard, which long-time Samsung users swear by. It's quite feature-packed, with a dedicated numbers row, a row above that for word suggestions and additional characters on each key (accessible via long-press).
If that seems too tall, you can scale the keyboard down (or up, if you want bigger keys). We don't like that the Space key is quite short, though.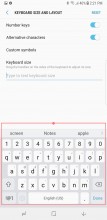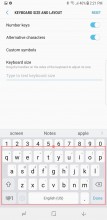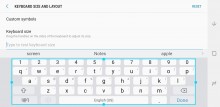 Keyboard size: Default • Smallest • Largest in landscape
Additional typing tools include swipe input, My Hot Keys (predefined phrases that can be typed by long-pressing a number key) and voice dictation.
Other apps
Samsung continues to bundle the Microsoft app package that includes Word, Excel, PowerPoint, OneDrive and Skype.
The Samsung-customized web browser makes use of the Samsung Pass service and features Web sign in - a password manager secured by your iris or fingerprint. This makes logins as simple as unlocking the phone and people can't peek over your shoulder to see your password.
That's good to have, as using a third-party password manager may not work with anything other than fingerprint (Last Pass doesn't), and the fingerprint reader isn't super conveniently placed. That said, you'd be losing the syncing across non-Samsung devices if you opt for Samsung's solution.
Samsung Health is the company's health tracking app that makes full use of the heart rate and blood oxygen sensors. It also tracks walking/running/cycling and you can manually input water and coffee intake and so on.
Device maintenance can be accessed from Settings, not just from the Edge panel. It still offers the same features and takes care of battery, RAM, Storage and Device security. This gives you tools to clean-up unnecessary files or track down apps which drain the battery or use too much RAM. There are buttons to do this one by one, but also one big Optimize now button to do it all.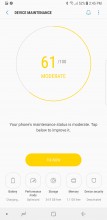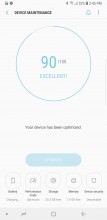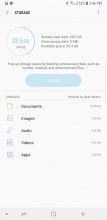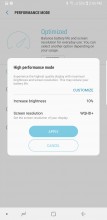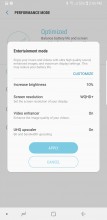 Device maintenance • One-tap optimization • Storage • Performance modes
Battery management has two power saving modes - Medium and Maximum. Medium limits display resolution and CPU speed decreases brightness and turns off the AOD and the background network usage. Maximum is even more severe, setting a black background and disabling most of the smartphone's functionality, to help you squeeze a few hours of usage on even very low charge.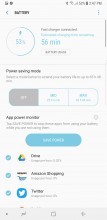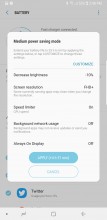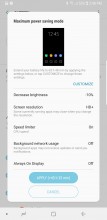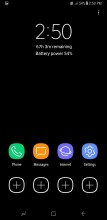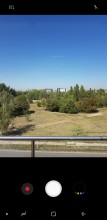 Battery management • Medium power saving • Maximum power saving
The My Files app is the default file browser. It features Google Drive and Samsung Cloud integration. You can ZIP folders to make them easier to share as a single file, and you can do batch actions.
Finally, there's Galaxy Apps, Samsung's own app store. Galaxy Essentials is a good place to find great tools (like Kids Mode), but for general app shopping, you would probably be better off with Google Play.
Anonymous
08 Oct 2021
tA$
Note 10 lite is somehow Made from Note 9 Chipset and Note 8 Back Camera but with bonus Ultrawide, so yeah it depends on what do you need? You need flagship grade or somewhat flaghsip but it is on the midrange grade?
Anonymous
08 Oct 2021
tA$
Yeah it is okay if you don't have much money to afford the secondhand phone but at the same time want the best spec