Samsung Galaxy Note9 won't have an under-display fingerprint sensor, new rumor says
Vlad, 13 February 2018
Last October a report came out saying that Samsung's Galaxy Note9, scheduled to launch this fall, would be the company's first smartphone to come with a fingerprint sensor embedded in the display.
Today though a new rumor from Samsung's home country of Korea claims that won't be the case. The project that was supposed to bring this technology to the Note9 has been stopped recently, and the decision was made to go with a rear-mounted fingerprint scanner once again.
A number of suppliers have been working on the under-display sensors for Samsung for the past two years, but the technology has been delayed yet again due to technical difficulties. Sources in the parts industry say that the accuracy and durability of such a sensor are both lower than for a traditional unit.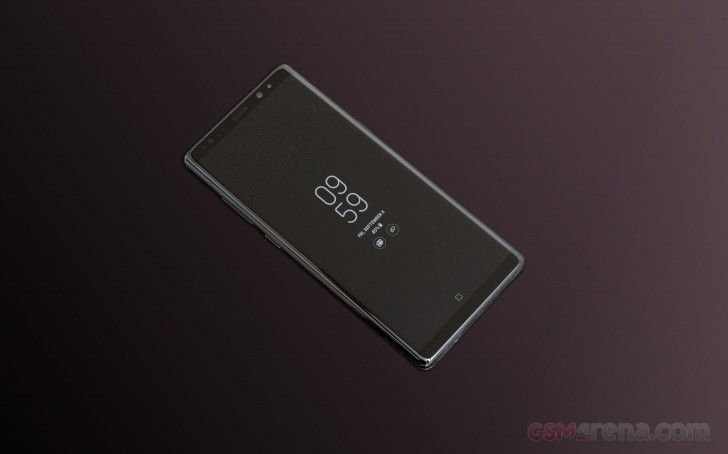 Samsung Galaxy Note8, also lacking an under-display fingerprint sensor
Accuracy suffers when an optical sensor is employed because the fingerprint input is received through a semi-transparent display - the OLED touchscreen. If a capacitive model is used then there are concerns regarding durability, since this would be mounted on the top surface of the display.
Ultrasonic sensors don't have any of these problems but they're expensive and there are apparently still yield issues to be solved when it comes to them. They also take longer to recognize a print than conventional scanners.
Samsung LSI, Qualcomm, Synaptics, Taiwan's IGES TEC, and Korea's Beyond Eyes are all working on developing such sensors, using one of the three technologies described above. Hopefully by next year all the problems will be sorted out and under-display fingerprint sensors will become much more prevalent.
At the moment there's only one officially announced handset that comes with such a scanner - the vivo X20 Plus UD. It has a Synaptics-made optical sensor under its screen.
Related
Fingerprint works absolute fine and i hope it comes back
Anonymous
15 Feb 2018
g8B
how disappointing.
Anonymous
15 Feb 2018
pVM
Apart from screen tech (and even there they are relatively slow at this point) samsung phones are following for years. Some of the least battery size for the total device size last year. Relatively small BtS ratio if you do not include the curve...
Popular articles
Popular devices
Electric Vehicles