Samsung Galaxy Note 10.1 review: Second time lucky
Second time lucky
GSMArena team, 17 August 2012.
User interface
The Samsung Galaxy Note 10.1 runs Android 4.0.4 Ice Cream Sandwich with a few extra touches courtesy of Samsung's own TouchWiz UI. It adds several cool customization options, some really useful shortcuts here and there and the mini apps are a great multitasking boost.
Before we get started, here's a short video of the UI in action. The newly designed S Pen also makes an appearance.
The Ice Cream Sandwich interface is probably well familiar already, but Samsung has made some UI changes to the overall experience.
Starting on the homescreen, the navigation keys are placed in the bottom left corner: Back, Home and Task switcher (plus a screenshot key courtesy of TouchWiz). The search shortcut is visible on all homescreens in the top left, the app drawer in the top right and finally, the notification area with quick toggles (again, a TouchWiz thing) in the lower right corner.
The homescreen panes may look like default ICS homescreens, but it's got a nice trick up its sleeve - the pinch gesture familiar from TouchWiz phones has been added to the Note 10.1 and it lets you add, delete and rearrange homescreen panes easily.
The same pinch gesture can be used in the app drawer to again let you rearrange pages. You cannot delete or add new pages this way though.
The taskbar at the bottom has an arrow that flips up a row of what Samsung calls Mini Apps. The Galaxy Tab 2 10.1 had them too, so they're not new, but they're still exclusive to the Samsung tablet family.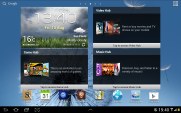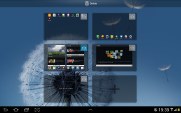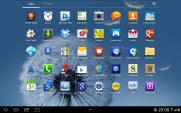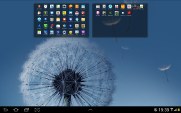 The pinch gesture works on the homescreen and app drawer, just like on a TouchWiz phone
Mini Apps are small, independent windows that are overlaid over anything else - the homescreen, regular full-screen apps, anything. You can fit two or three of those on the large 10.1" screen and they really improve the multitasking abilities of the tablet.
Available Mini Apps include a dialer, messaging, email, calculator, music player, S Memo and S Planner, even a task manager. If you're not using some of those apps, you can always choose to hide them.
Each Mini App has a button in the top left that launches the corresponding full-featured app and a close button in the top right. Such overlaid windows have been a staple of desktop OSes, but they feel a little odd in Android at first.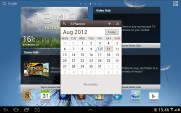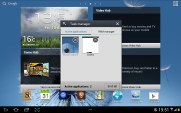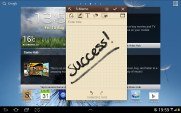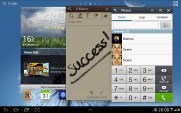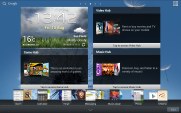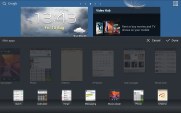 Several of the available Mini Apps
The notification area has the connectivity toggles that we've come to know from the smartphone edition of TouchWiz. They offer more functionality than the stock ICS quick settings - including GPS, Wi-Fi and Bluetooth controls - which saves you the extra effort of entering the extended settings menu. The rest of the toggles are Notifications, Sound, Auto-rotation and Flight mode.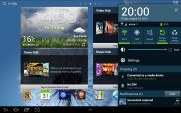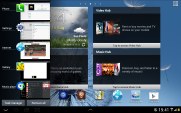 The notification area has been improved too • The task switcher
The screenshot button available in the bottom left corner can be quite useful in combination with the S Pen - once you've snapped a screenshot (you can press and hold the S Pen's button to do that too), it appears on the screen and lets you scribble some notes over and save the image for later, share it or queue it up to print.
The Samsung Galaxy Note 10.1 comes with a rich package of pre-installed apps - the S Memo, S Note, S Planner, Social Hub, Music hub, Pulse reader, AllShare, Polaris Office, Video player, Video maker and My files. The Photoshop Touch and Adobe Ideas are a nice perk too, which we'll cover in more detail later.
One feature that certainly many will appreciate is the split screen view mode, which allows you to work with two apps simultaneously. Sadly it's not just any two apps, but two out of the Video player, Polaris Office, web browser or the S Note app.
You can copy text across apps, which can be quite convenient at times. Or you could simply open the web browser to check something without interrupting the video you were watching. Now add the Mini apps, and the Galaxy Note 10.1 becomes a true multitasking king among the slates.
Synthetic benchmarks
The second-gen Samsung Galaxy Note 10.1 is powered by the same Exynos 4 Quad chipset as the Galaxy S III, with a quad-core 1.4GHz processor and Mali-400MP GPU. And thanks to the 2GB of RAM, it should cope with anything you throw at it.
In the single-threaded BenchmarkPi, the quad-core Note 10.1 took advantage of its higher clock speed and bested its competitors.
Benchmark Pi
Lower is better
Samsung Galaxy Tab 7.7
520
Samsung Galaxy Tab 2 10.1
495
Google Nexus 7
421
Samsung Galaxy Note
420
Samsung Galaxy Note 10.1
366
Linpack is optimized for multi-core CPUs, but that only helped the Exynos 4 Quad extend its lead over the Tegra 3 found in the Nexus 7.
Linpack
Higher is better
Samsung Galaxy Note 10.1
185
Google Nexus 7
124.3
Samsung Galaxy Note
105.2
Samsung Galaxy Tab 7.7
86.5
Samsung Galaxy Tab 7.0 Plus
76.8
When it comes to 3D graphics, the Mali-400MP GPU has repeatedly proven its worth and once again and this case is no exception. A clean sweep for the Exynos 4 Quad so far.
NenaMark 2
Higher is better
Samsung Galaxy Note 10.1
58.9
Samsung Galaxy Tab 2 10.1
23.8
Samsung Galaxy Note
33.9
Samsung Galaxy Tab 7.7
43.4
Google Nexus 7
55.6
The picture didn't change in the first of the two browser benchmarks we ran. Despite being put at a disadvantage due to running ICS, instead of Jelly Bean, the Samsung slate blew the competition out of the water.
SunSpider
Lower is better
Samsung Galaxy Note 10.1
1194
Samsung Galaxy Tab 2 10.1
2188
Samsung Galaxy Note
2867
Samsung Galaxy Tab 7.7
1953
Google Nexus 7
1703
new Apple iPad
1722
BrowserMark adds HTML5 to the equation, but that didn't prevent the Galaxy Note 10.1 from scoring yet another victory. There's just no escaping the fact that the Exynos 4 Quad is the most powerful chipset in the Android tablet world.
BrowserMark
Higher is better
Samsung Galaxy Note 10.1
162657
Samsung Galaxy Tab 2 10.1
94662
Samsung Galaxy Note
57995
Samsung Galaxy Tab 7.7
89659
Google Nexus 7
131788
new Apple iPad
103264
I still have this device and still working. Aside from poor outdoor visibility, it is working perfectly fine and no issues so far.
I have this device and my issue with it right now is that it won't switch on the wifi ,what could be the problem
i have used galaxy note 10.1 from 2014 till now still working well the challenge is battery am so attached to this device ...any assistance to replace the battery?