Samsung Galaxy S21 Ultra 5G review
GSMArena Team, 25 January 2021.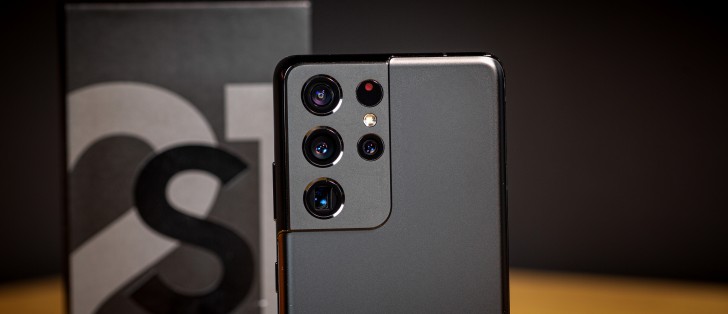 Android 11 and One UI 3.1 with S-Pen support
The Galaxy S21 lineup launches straight on Android 11, and with Samsung's recent promise for 3 major OS updates, that means your new Galaxy S21/+/Ultra should be eligible to receive Android 14 in 2023.
The Samsung launcher on top of Google's OS is OneUI 3.1 - that's 0.1 more than what we got with the recent updates to Android 11 on last year's Galaxies. The 0.1 increment makes for a subtle difference, not to mention that going from 2.5 to 3 wasn't strictly a leap either, but let's still have a look at the software on the Galaxy S21 family here.
The Galaxy S21 Ultra also comes with a Wacom layer on top of the screen and supports Wacom-compatible styluses, including all S-Pens. Samsung has launched a new S-Pen for this Ultra that's bigger and, well, more pencil-like than the rest, and a Bluetooth-enabled S-Pen Pro is on the way, too. This pen support is exclusive to the Ultra and is, in fact, a first-ever on a Galaxy S phone.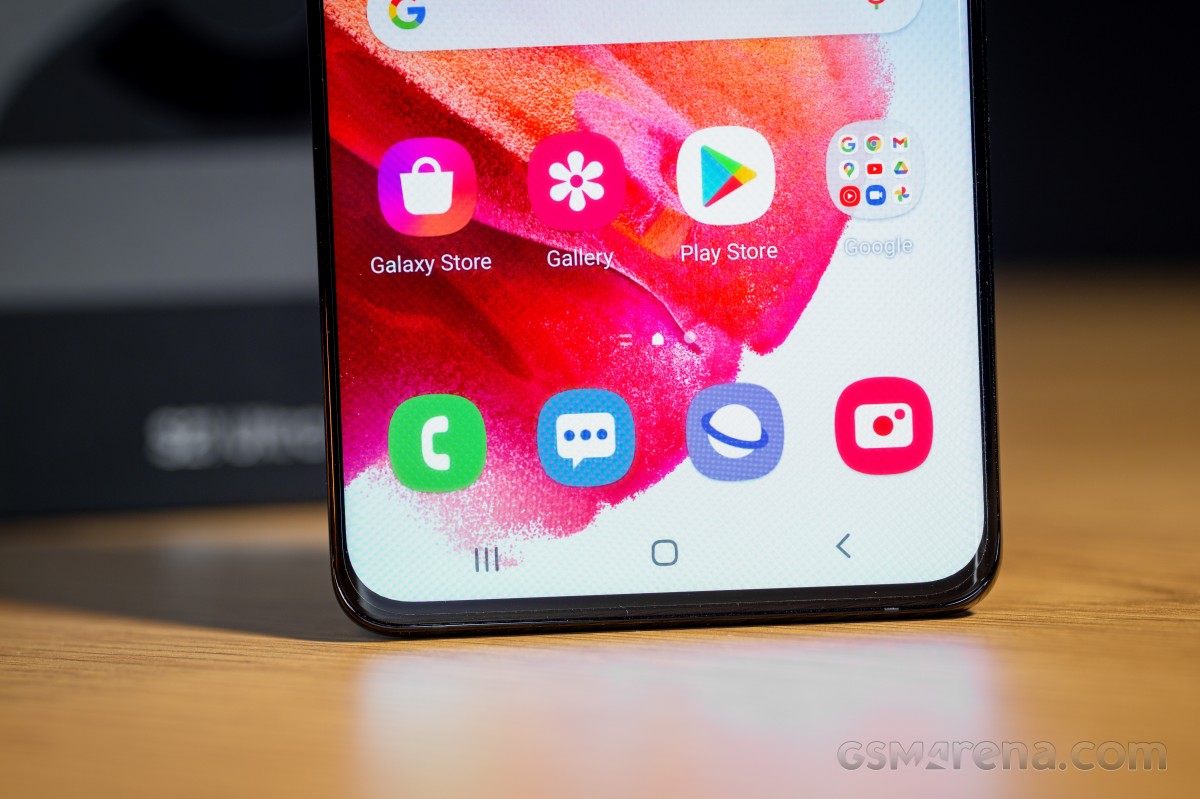 The One UI basics are generally similar to previous iterations though you can spot the occasional change here or there. For example, the default lockscreen shortcuts - dialer and camera, are now monochrome - they used to match the respective apps' colors. Oddly enough, if you pick different apps, they will keep their colors - it's not really a first-party vs. third-party type of differentiation either.
Among the functional changes on the lockscreen is the added wellbeing widget - you can now keep track of how much time you spend on your phone without even unlocking it. Meanwhile, the always-on display settings have been simplified.
Unlocking the phone is best done using the ultrasonic fingerprint reader embedded in the display, and its performance is outstanding - it is the fastest one we've experienced, the conventional bunch included!
So, with the new-gen hardware, the software needs fewer taps to register a print, and that's welcome if minor refinement. The option is there if you want to use face unlock - it can be more convenient in certain situations, if generally less secure since it's just based on the selfie camera.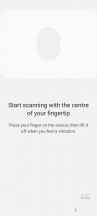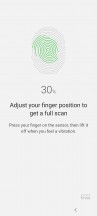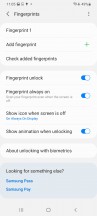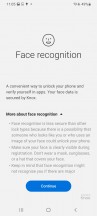 Fingerprint enrollment and security
Another notable change is that pulling the notification shade covers the entire screen underneath, even if there's just one notification card or none at all. Previously, the portion of the screen below the last notification would remain visible if darkened. While we're here, the quick toggles can now be edited directly from the plus button at the end of the list instead of going into the menu.
Coming courtesy of Android 11, there is now Notification history, too. It's accessed from the Settings menu, so it's not within immediate reach, but it's there for those occasions when you dismissed a notification too quickly and you can't seem to find what it was about. Just make sure to enable it, because it's off out of the box.
Android 11 has a new way of handling notifications for instant messenger apps called Bubbles, and One UI 3 adopts it, too. That's in addition to a previously available similar feature offered by Samsung by the name of Smart pop-up view. You'll find these settings under the 'Floating notifications' submenu, where you can alternatively turn both of them off and opt for the old-school cards only interface.
Bubbles is an extension of the Conversations feature, another new development. You tap on an icon in the initial incoming message notification. It turns into a conversation that you can then minimize to a bubble, or what was known as a 'chat head' - originally Facebook Messenger's default way of dealing with chats.
Smart pop-up view is one of One UI's lesser-known proprietary features. In the pre-Bubbles days, it used to add the chat head functionality to any application of your choosing. Tapping the hovering 'head' icon opens the app in a floating window, which you can further maximize to fullscreen or minimize it again to an icon. Sort of like Bubbles, only slightly different.
Introduced with Google's latest OS version, the new media controls have been implemented in One UI as well. You get a stack of the active audio playback apps right below the quick toggles and swiping to the side switches between the apps.
The Media screen was already available on One UI 2.5 pre-Android 11, and it offers similar functionality for picking the output device or using Samsung's Music share feature.
The volume control panel has gotten a makeover too, and now the four sliders are vertical instead of the horizontal ones of OneUIs past.
Yet another of the native Android 11 improvements that Samsung also includes in OneUI 3 is the ability to pin apps to the top of the sheet with Share options. It's one of those things that make you wonder how come it had to wait until v11 for us to get there. Things are much better now, but still, we'd like to remove options too, because that list could sure use some decluttering.
One more thing that Google tweaked in this year's release is the permission handling, and Samsung's implemented it in One UI 3. With this version, you will now see a new prompt for permissions every time an app requests it, letting you deny permission, allow it only while using the app, or just for this one time. If an app requires constant access to permission, you also get a fourth option that takes you to a setting page where you can provide it. This is done prevents the user from accidentally selecting this option while blazing through the permission dialogs.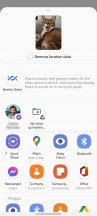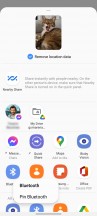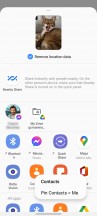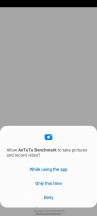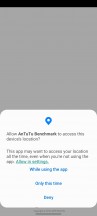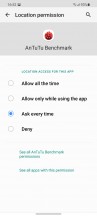 Share options pinning • Permissions handling
The settings menu has seen a subtle but meaningful makeover. Subcategories are made more legible by using a dot separator and extra intervals, while recent searches are now shown as bubbles instead of a list. Additionally, there's a newly added feature to search settings by hashtags - for conceptually related things but found in different places in the menu.
The dialer comes with a bunch of cosmetic changes itself. You get to pick one of two layouts for the in-call screen. You can also set up a background image or video for that screen, though it's going to be all the same for all of your calls - you can't have a different one on a per-person basis.
You get a whole bunch of options for using your Galaxy with other devices to enable various use cases. DeX is the proprietary feature that lets you use the phone as the 'computer' and add a monitor and a keyboard for added productivity - it works wirelessly or over HDMI.
Alternatively, the Link to Windows feature provides you with an interface to your phone from your computer so you can copy images to and fro, manage notifications on your PC or even make calls from it.
Another option along those lines but with more limited potential is Continue apps on other devices. This requires you to be logged in to your Samsung account on both devices, hook them up to the same Wi-Fi network with Bluetooth enabled and use Samsung Internet browser or Samsung Notes. You'll then be able to copy and paste text and images across and open the same tabs in the browser.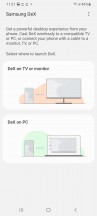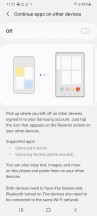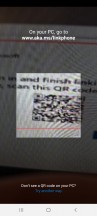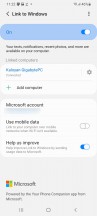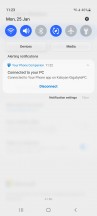 DeX • Continue apps on other devices • Link to Windows
Other staples of proprietary Samsung software include the Edge panels - the panes that show up when you swipe in from the side and provide tools and shortcuts to apps and contacts. Game launcher, the hub for all your games, which also provides options for limiting distraction when gaming is here to stay as well.
Otherwise, the software package is similar to other Samsung phones, with an in-house Gallery app, the Game Launcher app, and a proprietary file manager. Samsung's Internet web browser is also available on the Galaxy S21 Ultra.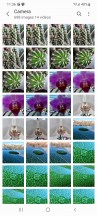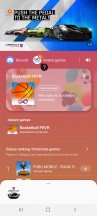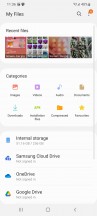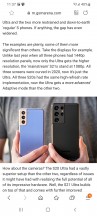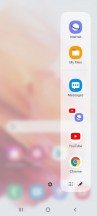 Gallery • Game Launcher • File manager • Internet • Edge panel
S-Pen features
If you are familiar with the S Pen from previous Galaxy Notes, you'd find it easy to use it on this Galaxy S21 Ultra, too. There is also low-latency support in selected apps, which wasn't clear at the time of announcement.
The S-Pen that's sold separately as Galaxy S21 Ultra-exclusive ($39.99) is larger than the Galaxy Note20's, looking and feeling more like a real pen. It has a matte finish and comfortable shape, there is a single button, and, of course, the replaceable pen's head. This looks a lot like the Galaxy Tab S7+ stylus, in fact.
There is also an S-Pen Pro coming, and it will feature Bluetooth connectivity. Now, even if you get a BT-enabled S-Pen from a Note, the Air Actions won't work (you just can't pair it, as this was done by inserting it into the socket - something the S21 Ultra doesn't offer). You'll need an S-Pen Pro for that.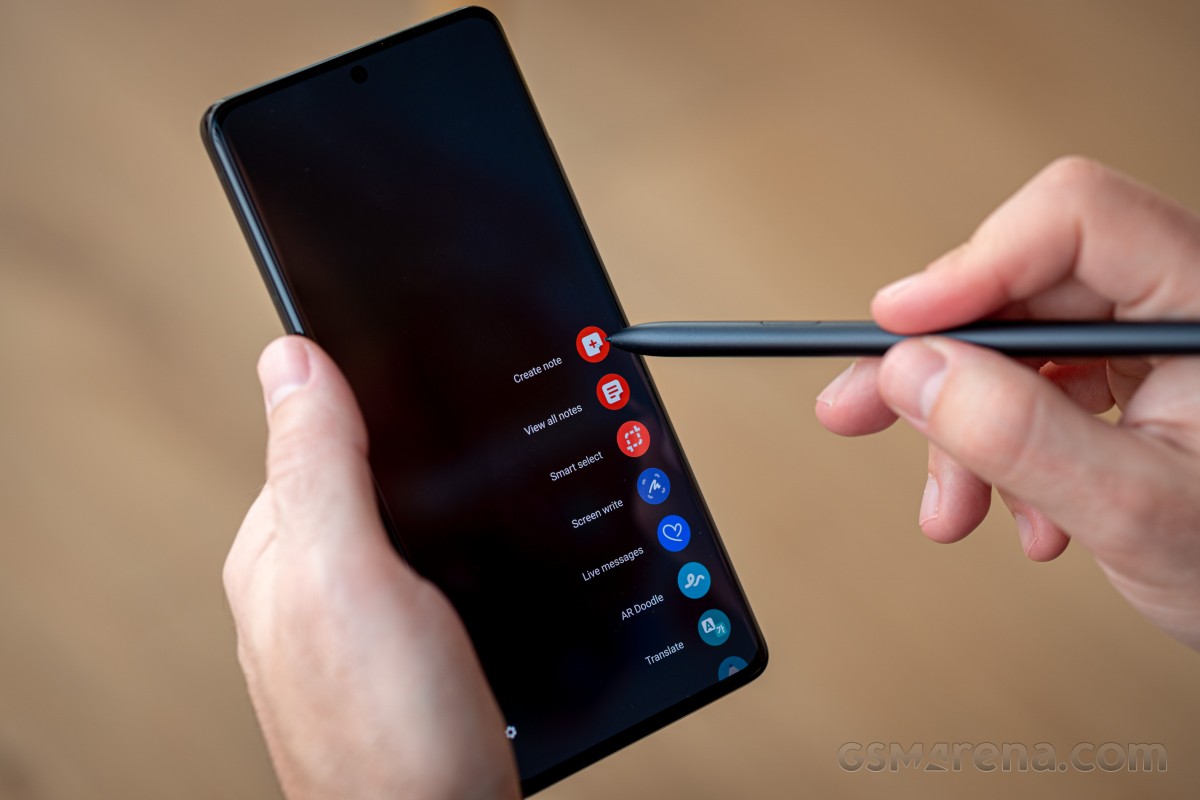 So, at this stage, the Galaxy S21 Ultra supports the basic S-Pen functionality. The more advanced features we've seen on the Note20 and Tab S7 series will come with a software update once the Bluetooth S-Pen Pro launches later this year.
And here are these basic actions.
Screen-off memo is available. Just press the S-Pen button when the phone is on standby and go right ahead and write a note, which you can then pin to the always-on display or save for later reference.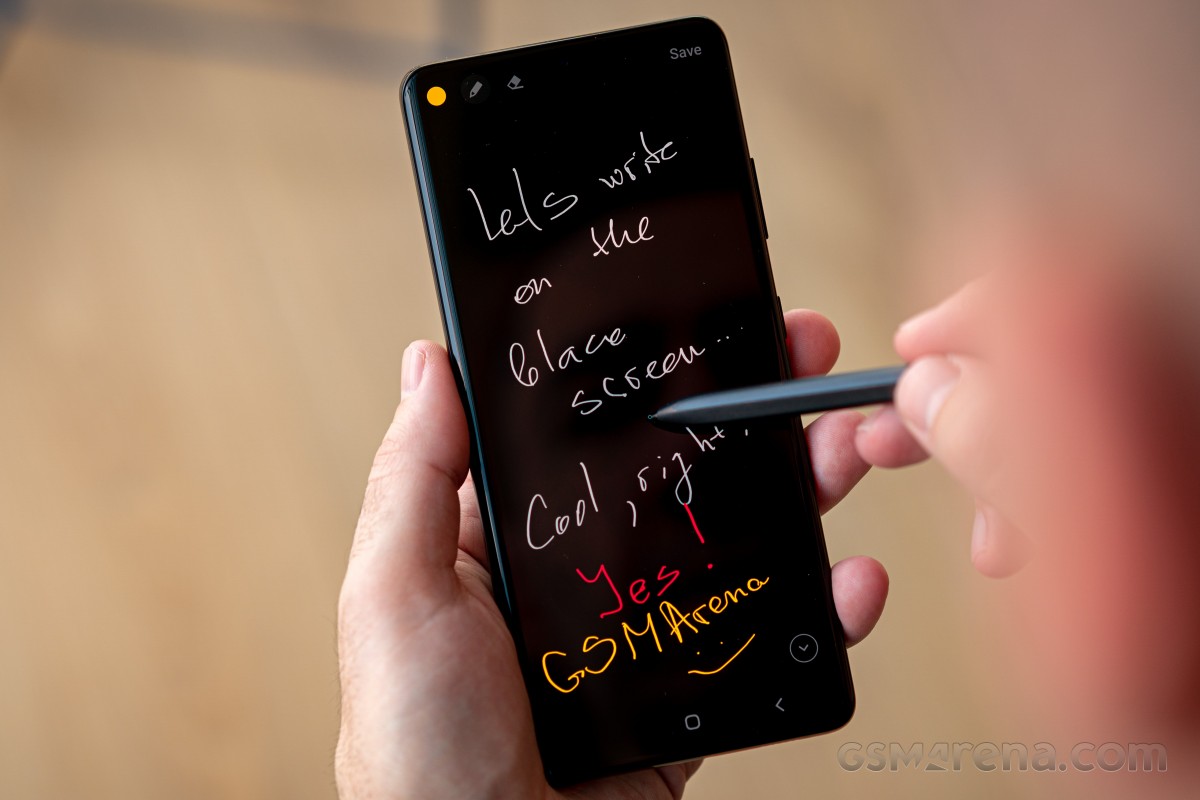 When your S-Pen gets near the display while the phone is unlocked, the Air command menu icon appears. You can either tap on the icon or press the pen button to summon the Air command menu. There are pre-set shortcuts here, which you can customize, and those can be either S Pen features or shortcuts to apps.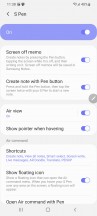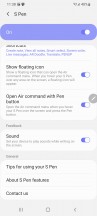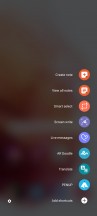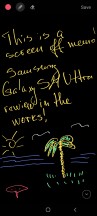 S Pen settings • S Pen settings • Air command • Screen off memo
Advanced screenshot capture is one of the S Pen's main use cases. Smart select allows you to take differently shaped screenshots, extract text from them, or pin them on the screen. Alternatively, you can create short GIF animations. Then there's Screen write that takes a fullscreen snap that you can write on with the full set of different pens and brushes (and then crop, if you will).
There are numerous other smaller use cases for the S Pen as part of the Air view set of actions. For example, you can hover over an image in the gallery for an enlarged preview or over a calendar entry for more details. You can also scroll up and down by hovering the S-Pen over the edge of the screen.
The Notes app seems to be featuring low-latency support and feels like you are writing on a real paper. You can convert handwritten text into word files, diagrams to PDFs, drawings and sketches to PowerPoint Files.
Screen write - this takes a screenshot, and you can start writing on that shot immediately. For example, you see something cool on a video, just hit Screen Write, make a doodle or something and share it with your friends. That simple.
Screen Translate is a cool option, too, though it doesn't translate whole sentences, just words. Pick the language and start hovering over the text with the S-Pen. You will start seeing bubbles with the translations.
The Write on calendar feature has made an appearance, but we couldn't find the proper way to use it. It does exactly what the name says - you write on top of the calendar, and that's pretty much it.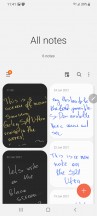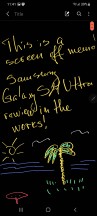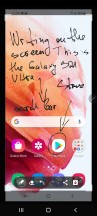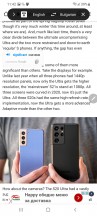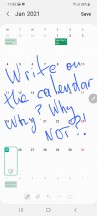 Notes app • Notes • Screen write • Screen Translate • Write on Calendar
Live message is quite cool, too, although you will rarely use it. It uses the camera to capture a video during which you can write and doodle on the image. How cool is that? Mostly useless, but cool.
AR Doodle uses the front camera - if a face is found, you can draw doodles on it, and they will stick to the face. Draw horns and capture a video with the said horns. Or a mustache. It is a ridiculous thing, but we are sure it will find its fans.
Finally, PENUP is powered by the PENUP app - it's a drawing app where you can express yourselves by using the S-Pen as a paintbrush and paint a masterpiece. Or use some of the templates and color one by yourself.
Hi, I even use a 90W charger with my S21 Ultra. What do you need to know?
Finally a stable smooth battery improve no overheating anymore i manually upgraded my s21 ultra to android 13 via samfirm and odin
Anonymous
30 Oct 2022
B3Y
Any charger higher than 25 watt (for example 45 watt/ super fast charging 2.0) still counted as 25 watt (super fast charging) with this phone. So therefore, this phone cannot support any charger that's higher than 25 watt. Also, I have trie...