Samsung Galaxy S6 review: Subject Zero
Subject Zero
Orlin Milinov, 13 March 2015.
Introduction
Choose one word to describe the Samsung Galaxy S6. Gorgeous. Powerful. Special. Different. Thank you. That will do. Galaxy S5 has only one of these under its belt and hint... it starts with a P.
The Samsung Galaxy S6 is not the next big thing. It's "project zero". The reboot. But was there really anything wrong with the S-line - the standard-setter, the home of the super droids? OK, design needed looking at for sure. But hey, other brands do facelifts - Samsung goes for a complete overhaul.
This must've been the message they wanted to send.
And if it means giving up the memory card slot, the removable battery and the waterproofing, so be it. That's part of the message too.
Anyway, the Galaxy S6 was redone from scratch and bids farewell to plastic. Glass and metal is a critically acclaimed combination. Another way of saying it is - depending on how upset you are with the missing card slot and sealed battery - they're copying Apple and Sony. Alright, memory, battery and waterproofing are easy things to get upset about, so let's see what the Samsung Galaxy S6 offers in exchange.
The new look is impressive and exciting and Samsung's trademark AMOLED is the perfect match. It's an immersive 5.1 incher of QHD resolution, for the amazing 577ppi - though "amazing" doesn't work for Samsung. They'll call it "the best ever" - and will be right. And that's just the beginning.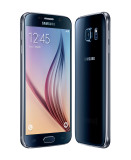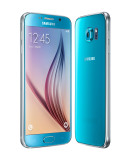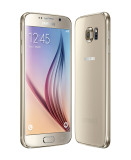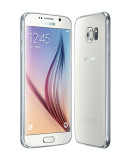 Samsung Galaxy S6 official pictures: black sapphire, blue topaz, gold platinum, white pearl
For the first time in a couple of generations, Samsung is relying solely on its own Exynos platform. This seemed like of nick-of-time decision amid rumors of cooling issues and thermal throttling plaguing the Snapdragon 810 chipset but the fact is the Exynos 7420 (7 Octa) is simply better. The only reason Qualcomm were in the story at all was the uncertainty whether Samsung would be ready for mass production with its own chipset.
Built on a 14nm process, Samsung's chipset allows similar or higher clockspeeds (hence performance) with less power consumption, which by the way means it's easier to cool as well. In the end, the Galaxy S6 is powered by a beastly octa-core processor with four Cortex-A57 cores ticking at 2.1GHz and four Cortex-A53 "efficiency" cores at 1.5GHz. An octa-core Mali-T760 GPU and 3GB of RAM complete the tally.
Samsung worked on the camera department too, equipping the Galaxy S6 with a 16MP rear camera with optical image stabilization and a wide f/1.9 aperture. The 5MP selfie cam also got a f/1.9 aperture for superior low-light capabilities.
The connectivity package is better than ever with dual-standard wireless charging support out of the box, Samsung Pay, a better and faster fingerprint scanner and LTE Cat.6 connectivity. Let's get into the details, shall we?
Key features
Thin (6.8mm) profile, premium dual-glass design reinforced by a metal frame
5.1" Super AMOLED of QHD (1440 x 2560) resolution, class-leading ~577ppi, Corning Gorilla Glass 4
Exynos 7420 64-bit chipset, octa core processor with four 2.1GHz Cortex-A57's and four 1.5GHz Cortex-A53 cores, Mali-T760 MP8 GPU, 3GB of RAM
Android 5.0.2 Lollipop with TouchWiz and Samsung Pay
16MP camera, f/1.9 aperture, 4K video recording, LED flash, optical image stabilization
5MP front-facing camera, f/1.9 aperture, QHD video, HDR
32/64/128 GB of built-in storage
Active noise cancellation via dedicated mic
Fingerprint scanner
LTE Cat.6, Wi-Fi a/b/g/n/ac, GPS/GLONASS/Beidou, NFC, IR port, Bluetooth 4.1, ANT+
Heart-rate sensor, barometer, SpO2
Wireless charging (Qi/PMA)
2,550mAh battery
Main disadvantages
No water or dust protection
Rather pricey at launch, including really steep memory upgrade premiums
No user-replaceable battery
No microSD slot
No FM radio
No stereo speakers
Last season, the water and dust protection was a direct response to Sony's Xperia Z line. The Galaxy S6 gives it up, defying a natural Samsung instinct to match and beat every feature a potential rival may have. A Galaxy S6 Active will likely quell some of the disappointment.





Samsung Galaxy S6 live pictures
But will there be an S6 version with a removable battery and one with a microSD card slot? Of course, Samsung will tell you the Galaxy S6 has the new UFS 2.0 storage, with the "Command Queue" tech used in SSDs. The end-result is 2.7x faster response than that memory found in the previous crop of flagships. A microSD card, regardless of specs, would have compromised the user experience. Plus, the base model starts at 32GB, the other options being 64GB and 128GB.
So, Samsung gave up features that used to give them a competitive edge and decided not to necessarily compete for every spec. Over-confidence or lack thereof? New deal or a knee jerk reaction? There are so many things to discover about the new Galaxy S6 and we are done teasing.
Update, March 16: You've probably already checked out our Samsung Galaxy S6 review over the weekend. By popular request, we've updated a number of section in the review today. Most notably, we've added more daylight camera samples and numerous low-light samples; we've tested how the new UFS 2.0 storage performs; we've revised our Galaxy S6 screen brightness measurement and our loudspeaker loudness measurement. There is more where all that came from, stay tuned for a detailed camera comparison against the Galaxy S5 and Galaxy Note 4 later this week.
Update, April 3: We received a retail unit and retested it. We've updated the battery life and the performance benchmarks (both improved). Our tests showed that the camera, loudspeaker and audio quality are essentially the same as on the pre-release unit we had initially.
Update, April 28: Don't miss the companion video for this review. In case you don't feel like reading this 11-page review, it should get you through the most important points about the Galaxy S6 and the Galaxy S6 edge in under 6 minutes.
Can Samsung s6 Verizon be updated to android version 10
Can Samsung s6 Verizon be updated to android version 10
screen from mine just starded joing purple and after 2 days it was black and this problem is unfixable