Android 7.0 on the Galaxy S7 edge: Grace UX-ed Nougat
Grace UX-ed Nougat
GSMArena team, 01 February 2017.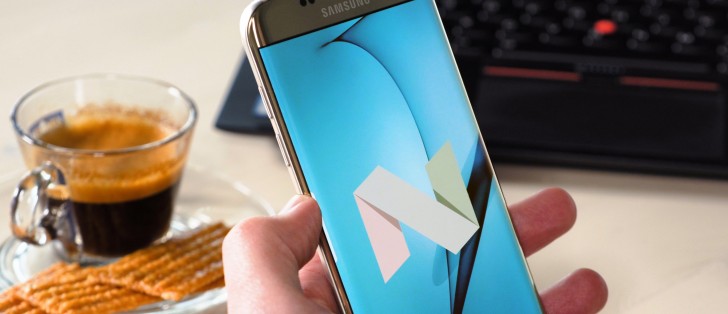 Introduction
Update (03 Feb 2017): We're done retesting. The new battery life numbers have been posted in the Galaxy S7 edge's review, and they're somewhat worse. Benchmark performance has remained mostly unchanged, but we've still published the new numbers to go with the old ones.
For the Nougat bits of software, this article here remains the best source of info. Enjoy!
Software updates never come soon enough if you ask the average user. Manufacturers try to be reasonable and explain countless times that it takes extensive testing before a build is ready for rollout, but no - 'where's my update?!' is all they get.
Indeed, that's been us here at the office for at least a couple of months now, ever since Samsung started beta testing Android 7.0 on the Galaxy S7 and S7 edge. Well, the wait is over - Nougat has finally found its way to our test units.
It's not a small update (a 1.3-gig OTA download), but you wouldn't expect it to be, given the jump in the operating system version. However, the vast majority of the changes you're going to actually see are part of Samsung's overlay, now renamed to Grace UX. Here's a quick list of what's new.
Key changes in Nougat over Marshmallow
Interactive notifications, notification grouping
Native multi-window support (though Samsung already had that in its builds), now with fast double-tap app switching
Key changes to Samsung's overlay
Redesigned quick toggles shade
Thoroughly reorganized settings menu
Option to select resolution at which the interface is rendered
More consistently shaped app icons, all around sleeker interface
Redesigned camera app, now with more swipe actions
We've retesting the performance and battery life to see how the move to Nougat has affected these areas. Once we have all the numbers, we'll duly update the respective reviews. But since it's a very time-consuming process, we figured we'd go over the software in the meantime. We picked the Galaxy S7 edge as it's got everything the S7 does, plus some Edge features.
AnonD-659187
10 Apr 2017
uZa
Not worth the update on nougat also samsung keyboard hanging while writing comment, plz give us patched update samsung
AnonD-659187
10 Apr 2017
uZa
Battery backup is low , keyboard hangs , ui slow , raw imsge capture option removed and you call it an update ?
Battery backup are very poor it's so bad to new update...