Samsung Galaxy S8 review: Essence distilled
Essence distilled
GSMArena team, 21 April 2017.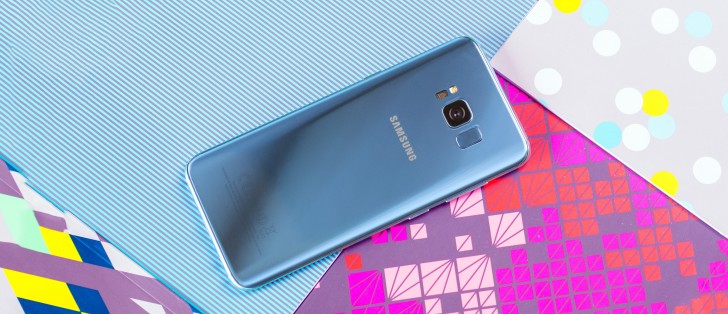 Unboxing
The Galaxy S8's package can easily go unnoticed - it's a similar ink-black box to the one the S7 and Note7 came in last year. The only thing flashy about it is the phone's given name printed in sparkling blue front and center.
The contents aren't unlike the Note7's retail bundle, though the Harman acquisition has brought about an AKG-branded (and engineered, one would assume) set of earbuds.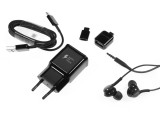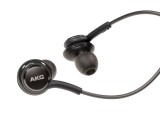 Package contents • AKG headphones
Adaptive Fast Charging is what is says on the charger, but aside from the black color, it's basically the same unit as the one supplied with the S7 and Note7. It's rated at 9V/1.67A and 5V/2A, and complies to the Qualcomm QuickCharge 2.0 standard, but not higher. You also get a male USB-A to USB-C cable and two adapters (Type-C to full-size A and Type-C to microUSB 2.0).
Samsung Galaxy S8 360-degree spin
The Galaxy S8 measures 148.9 x 68.1 x 8.0mm, which is the exact same height as the LG G6 and 2 full millimeters shorter than the Galaxy S7 edge from last year. It's slightly taller than the plain S7, but narrower than pretty much everything, the 5.1-inch S7 included. In fact, it's only a millimeter wider than the 4.7-inch iPhone 7 - Infinity Display, indeed.
We've been trying to point out at every occasion that a 5.8-inch diagonal in 18.5:9 aspect is not directly comparable to a 5.1-inch or 4.7-inch in 16:9 ratio. But the fact is, with the S8 you're getting substantially more actual screen area in device that's easily as pocketable as both the S7 and the iPhone 7.
It's not weightless, though, that's for sure. Tipping the scales at 155g, it's 17g more than that same iPhone 7, but still 8g lighter than the G6. It's 3g heavier than the S7 - not that you'd notice.
Hardware overview
The S8 is a major departure from long-standing Samsung Galaxy design traditions. Now, we might have said something along those lines when the S6 came about, its glass aluminum sandwich replacing the plastic of old, but this is bigger. The Home button's gone missing. The Home button!
A staple of Samsung smartphone design, the physical Home button that you could always count on to take you to the place where you belong has been retired. Samsung's made the switch to on-screen buttons - quite understandable when it's all screen now on the front, but still a huge adjustment for long-time users of phones by the Korean brand.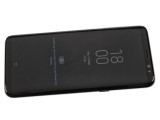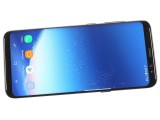 Always On Display is always on (unless you turn it off) • Wake it up for onscreen navigation
The on-screen nav bar is nothing new in the Android world really. In fact, Samsung's perhaps the last maker to adopt it in one way or another. The S8 does a trick we haven't seen before, though, - hard-press that virtual Home button, and the phone will give off a very real and (somewhat) localized vibration response. It's not unlike the iPhone 7's Taptic engine, but you could say that here it's a little more bizarre, as you're pressing the screen, and not a dedicated button cutout.
The Home button had another use, and that's fingerprint recognition. We're inching towards a moment when fingerprint sensors will be placed underneath the display, but we're not there just yet. By the looks of it, Samsung had such a solution planned for the S8, but things fell through. You certainly can't design that fingerprint sensor on the back on purpose - it's got to have been a last minute, last resort type of decision.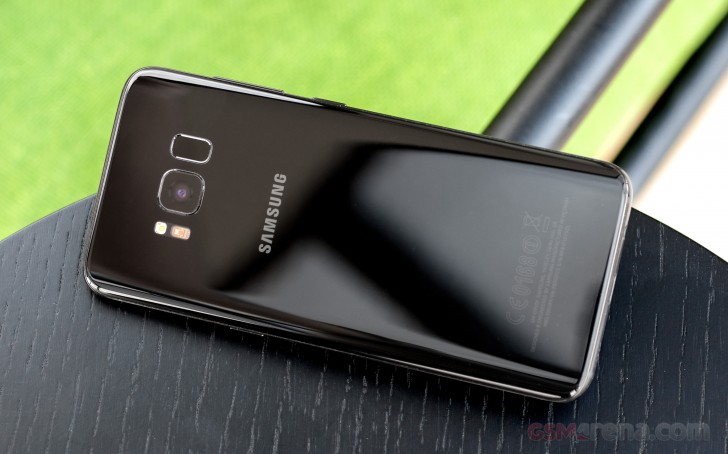 We found ourselves searching for it rather than finding it naturally like on the LG G6 or the Google Pixel. It's also a little easier to reach with the right index finger than the left, some of us here found. What's not debatable is that it's less of a pain to use on the S8 than the S8+ where due to size it's even further.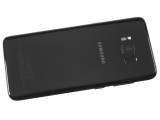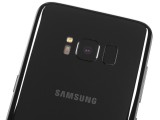 Fingerprint sensor next to the camera • Flash and assorted sensors on the other side
Certainly, the Galaxy S8 has iris recognition to make up for the awkward fingerprint reader placement. That in itself doesn't make its location any less inconvenient. As with all such things you'll eventually get used to it - ask the tens of millions of iPhone 7 users about their own Home non-button.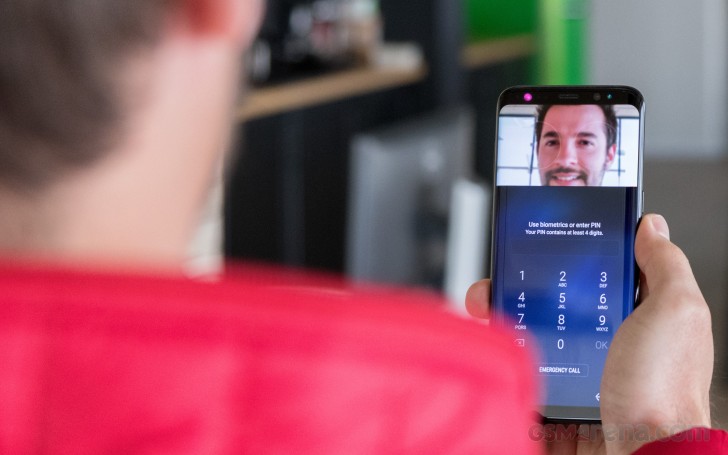 Now that the steam's been vented, let's get to the good stuff. The Galaxy S7 and even S7 edge simply look old next to this S8. Only a year has passed, and yet what was cutting-edge design in 2016, is now just meh when we have the S8's Infinity Display.
Samsung's bezelless is some next-level bezelless even when compared to the LG G6 that introduced us to the concept of wacky aspect ratios a few weeks earlier. The high screen to body ratio is one thing, but Samsung adds the signature curved side edges, and... Well, sorry, G6, you were the best looking phone for a month and your short-lived reign has ended.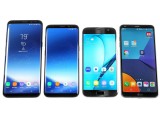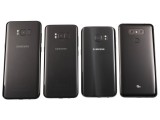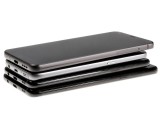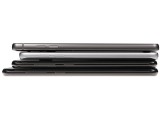 Big one, small one, last year's small one, this year's competitor - all together
We'd better get used to curved screen corners too - the edge-to-edge craze mandates that measures must be taken to preserve those precious display panels in case the unthinkable happens and you drop the thing. LG made a big deal of its G6 design with durability in mind, and while Samsung hasn't mentioned anything about it, the corners speak for themselves.
The Galaxy S8 is Gorilla Glass 5, front and back - Corning's latest toughened glass debuted on the Note7 and it's the protection of choice for the S8 as well. It's better than previous generations in terms of shatter resistance and virtually as good as GG4 when it comes to scratch resistance. It's not a miracle worker, though, and YouTube says that waist-level drops can still be deadly, so handle with care.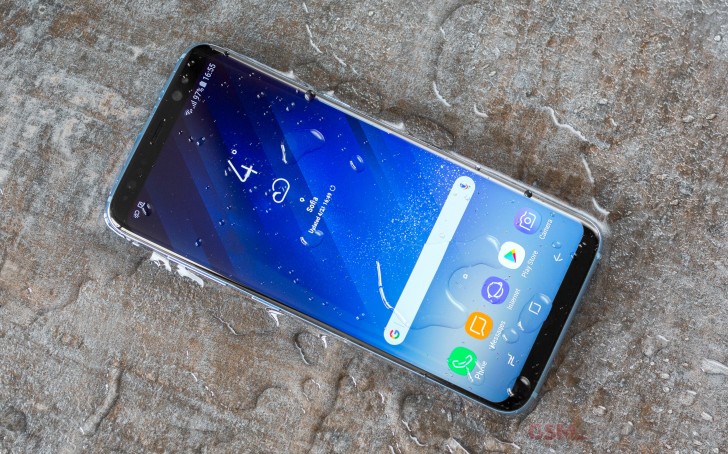 And if you do drop it, it better be in water - the S8 stands a higher chance of survival there. It carries an IP68 rating for dust and water resistance, and should have no issues after being submerged in water up to 1.5m for up to 30 minutes. Water resistance should really be standard on a flagship phone and we don't mean going halfway - looking at you, IP53 Pixel.
The Galaxy S8 will be available in 5 colors, though not all markets will necessarily get them all. The new color for this generation is Orchid Gray and we're torn between that and Coral Blue for our favorite hue. Also history has shown that further down the road Pink Galaxies tend to appear, so that might happen to the S8 as well.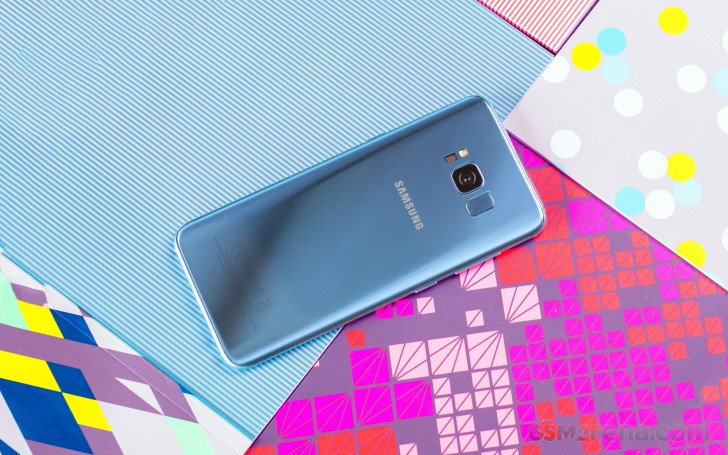 A new design touch with this model is the aluminum frame that's now dyed to match the back color. And unlike the matte finish on the previous model, the S8's frame gets a shiny polish for a change. Perhaps not as durable in the long run, though the dings are so far purely speculative - we haven't managed to hurt an S8 or an S8+ in the days they've been around.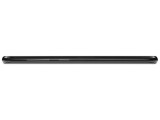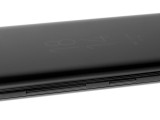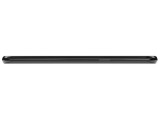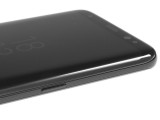 Shiny frame • Volume rocker and Bixby on the left • Lone power button on the right
No color options on the front, though - all versions are black. That is, whatever is left of the front that isn't display, which isn't much. We guess the choice to go all black has a lot to do with the top bezel that's crammed with sensors meaning plenty of cutouts spoiling the look - there's a status LED, an infrared illuminator for the iris recognition, ambient light and proximity sensors, the earpiece, the 8MP selfie camera, and the iris recognition camera itself. Whew.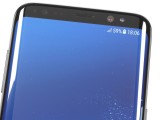 As far as bezels go that's a pretty slim one, and packed with sensors, too
Plus, the black chin and forehead practically disappear when the display is off, fueling the illusion of a truly bezelless design. As our Ice Platinum G6 would attest - you can't quite do that with colored bezels.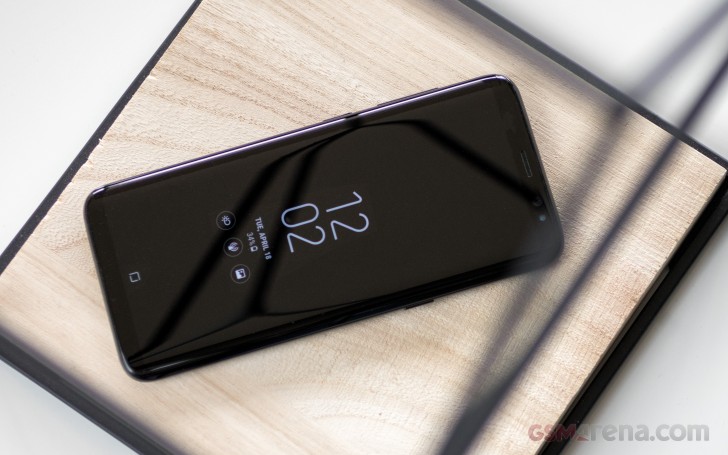 A few other things that need to be mentioned here include the USB-C port on the bottom of the phone with a trusty 3.5mm audio jack to its left. The primary mic is here as well, joined by the (still) single loudspeaker. Up top you'll find the secondary mic (which also enables directional recording, interview-style) and the SIM/microSD slot - ours is the single-SIM flavor, but on dual-SIM models it will be the hybrid type.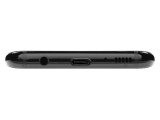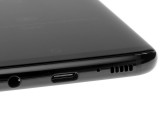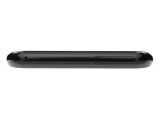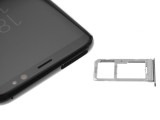 People with OCD, don't look at the USB-C port • Standard Samsung arrangement • card slot on top
It is just us being used to larger phones, or is the S8 super narrow? Well, it's both. The smaller Samsung flagship is really easy to use single-handedly and doesn't require much stretching, unless you need to reach out for the notification shade. Even that is doable, though, with some grip readjustment, but you should still be able to support the bottom of the handset with the heel of your hand.
Samsung galaxy S8 Dual Sim 64GB ROM 4GB RAM UK USED 5.8 - inches Android 7.0 Nothing, 12Mp + 8mp Smartphone - midnight Black "₹53, 990
after a month use, charging is destroyed and repair and maintenace in the Philipiines is awful
I've been using this phone for like 3 or 4 years maybe, and what i say? Its a wonderful phone, and yes fingerprint scanner is not on the right place but i am really enjoying this phone.