Samsung Galaxy Tab S7 FE review
GSMArena Team, 1 Sept 2021.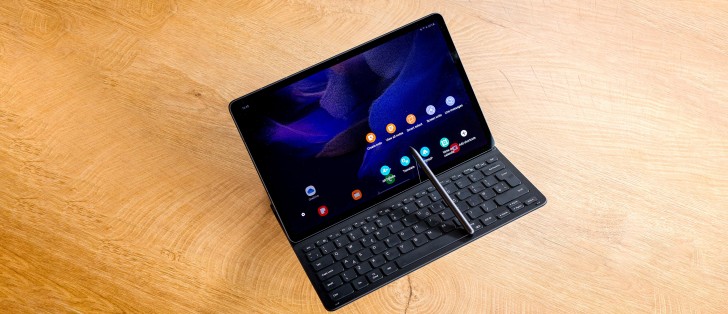 Android 11 with One UI 3.1
The Galaxy Tab S7 FE, just like the rest of the Tab S7 slates, supports regular tablet view, DeX desktop-like experience, and numerous S-Pen features. That's why we will divide our software tour into three parts - tablet view, DeX view, S-Pen features. The tablet and desktop mode are easily switchable, and intuitive to work with. The S-Pen experience is compatible with both modes, and its behavior can be customized for both.
The Galaxy Tab S7 FE runs on One UI 3.1 at launch, which is based on Android 11.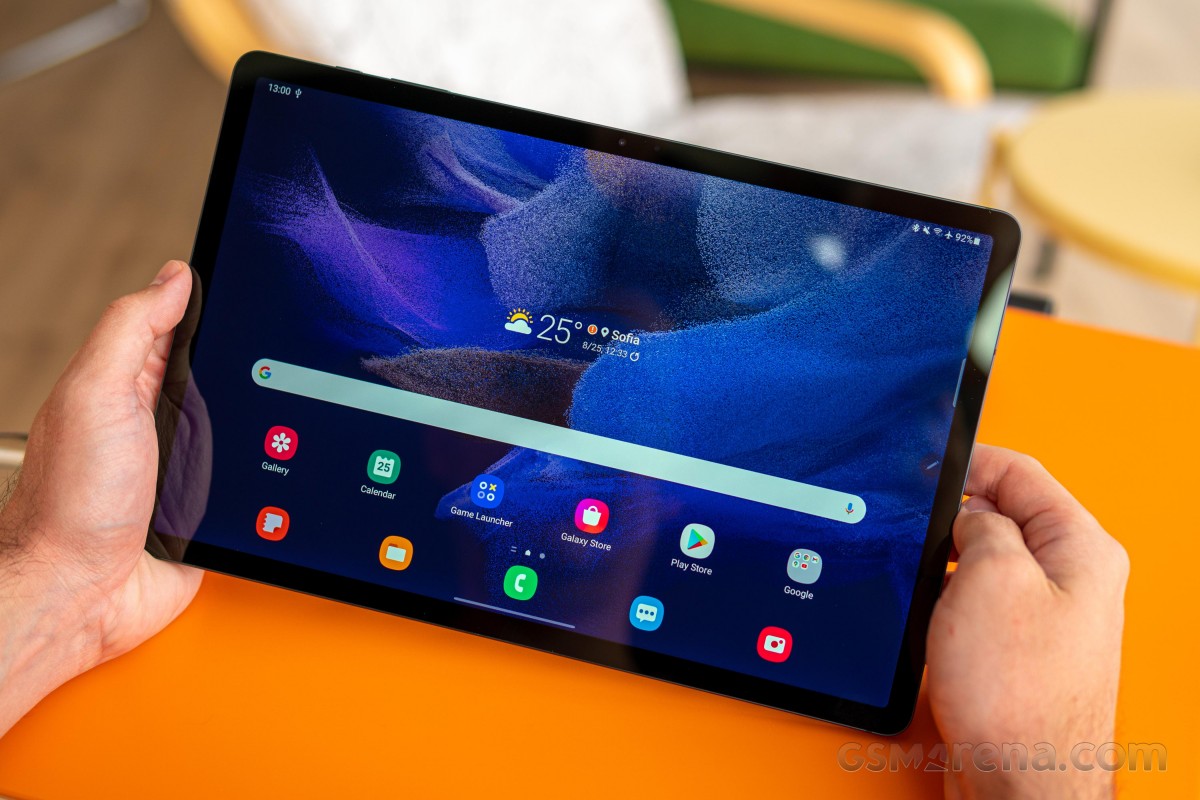 The Galaxy Tab S7 FE defaults to its tablet view by default. Unless you manually switch to desktop (DeX) mode, this is how you will use the slate. There are a couple of major differences between tablet and desktop view - the interface and icon scaling, the homescreen look and behavior, and how multi-tasking is done.
Tablet View
So, the One UI tablet view is basically an enlarged version of the One UI we've all seen on the most recent Galaxy smartphones. Let's take a peek.
The default lock screen shortcuts - Samsung Notes and Camera, are monochrome in OneUI 3.1. Widgets are supported here if that's your thing.
The basics of the UI are the same as on any other Samsung rocking One UI 3. You populate homescreen pages with apps, folders, and widgets; there is an app drawer, too. The (optional) leftmost page is either Google Discover or Samsung Free (previously Samsung Daily). The notification area is familiar, too.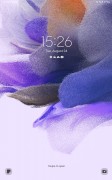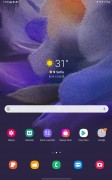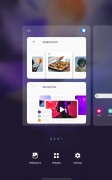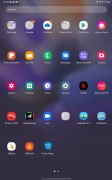 Lockscreen • Homescreen • Samsung Free • App Drawer • Notifications
The Galaxy Tab S FE supports gesture navigation, as usual. We opted for the newer method where a swipe-in from the sides acts as 'Back', and a swipe up from the bottom takes you Home. Oh, if you like it old-school, the classic nav bar remains an option.
Our Samsung Galaxy Tab S7 FE is the 5G model, but even if you get the Wi-Fi-only, you can still connect it to an Android phone and use its Phone app to make calls.
Biometric security on the Galaxy Tab S7 FE is somewhat disappointing. The tablet has no fingerprint scanner. All it can do is simple facial recognition. It is convenient far less secure compared to a fingerprint reader.
Multi-tasking in the tablet view is done as on the recent Galaxy Smartphones - via the Task Switcher, which has been updated to show at least six apps and has a Close App button. While in the task switcher, you just tap on an app icon, and you can choose between Split Screen view and Pop-Up view. Not all apps support pop-up, but the majority can do Split Screen view.
You can have only one visible pop-up app at a time, and you can have it even when working in split-screen - meaning you can have up to three active apps. You can open more than one pop-up of course, and the previously minimized ones go into this floating stack of icons around the top right part of your screen until you close them all.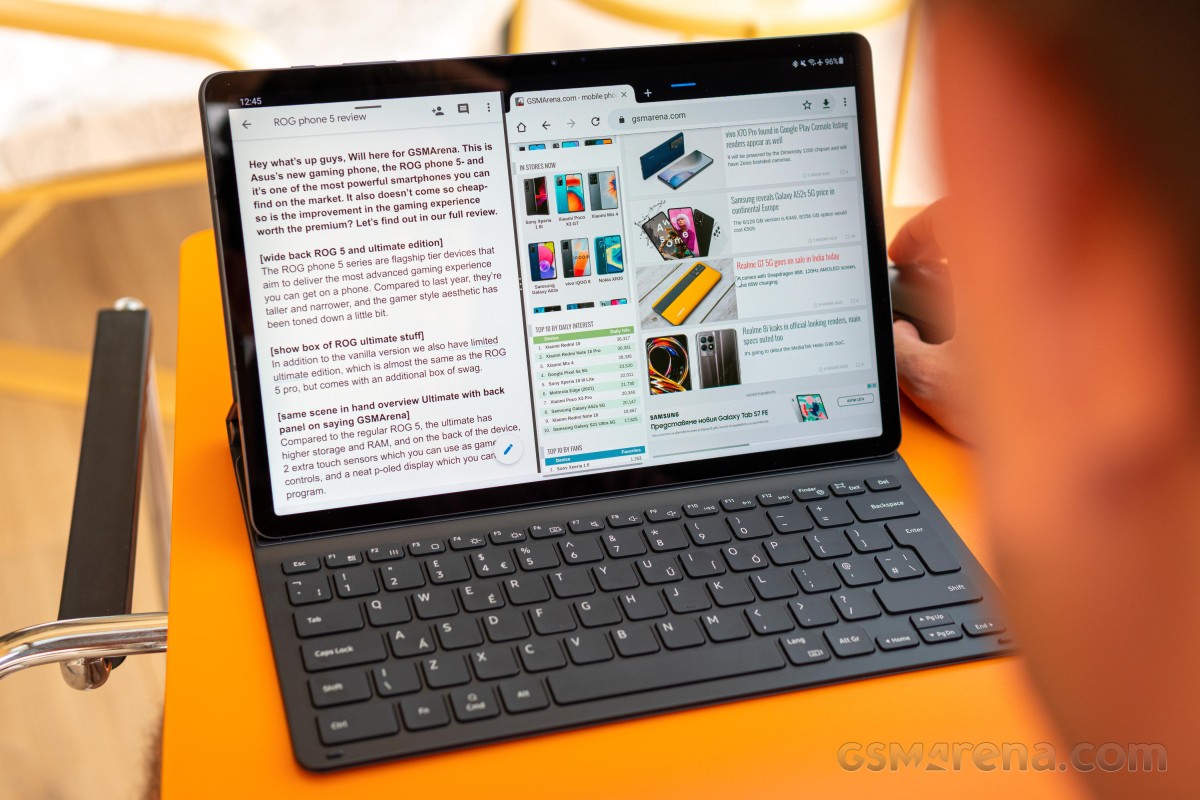 At first, we tried to do the Split Screen view by tap, hold and drag on an app thumb, but this only leads to full-screen view. It would have been nice to launch the Split View this way, too, if we, say, drag the app to one of the sides (like on Windows 10).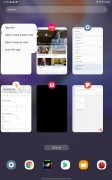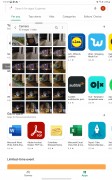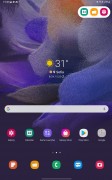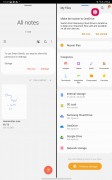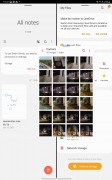 Task Switcher • Pop-up view • Pop-up stack • Split view • Mixed view
'Edge panels' is a well-known, long-standing feature. It gives you quick access to apps, actions, tools, etc. with a single swipe from the side. You can choose which side the handle is located on and adjust its position along the edge of the phone.
Edge Lighting is not available on the Galaxy Tab S7 FE. Always-on screen is not available, either.
The usual Samsung apps are pre-installed - Gallery, Bixby, Game Launcher, Video. OneDrive app is also pre-installed. You can download Samsung Internet, Samsung Music, among other Samsung-made apps from the Galaxy Store.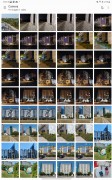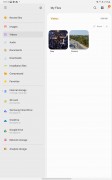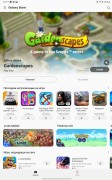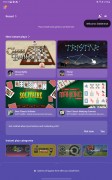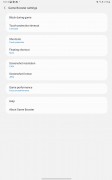 Samsung Gallery • My Files • Galaxy Store • Game Launcher
And just a quick note before we wrap this part up - while we've used the Tab S7 FE mostly in portrait orientation, everything is also optimized and will work in landscape view - from the homescreens, through the setting menus, and all the apps we had installed.
DeX (desktop) View
The DeX mode, not to be mistaken with the wireless DeX option, is a desktop-oriented interface for the Galaxy Tab S7 FE. You can trigger the DeX view from Settings or the Notification Center. The Samsung logo will appear, and your Android OS will switch from tablet to desktop-friendly mode.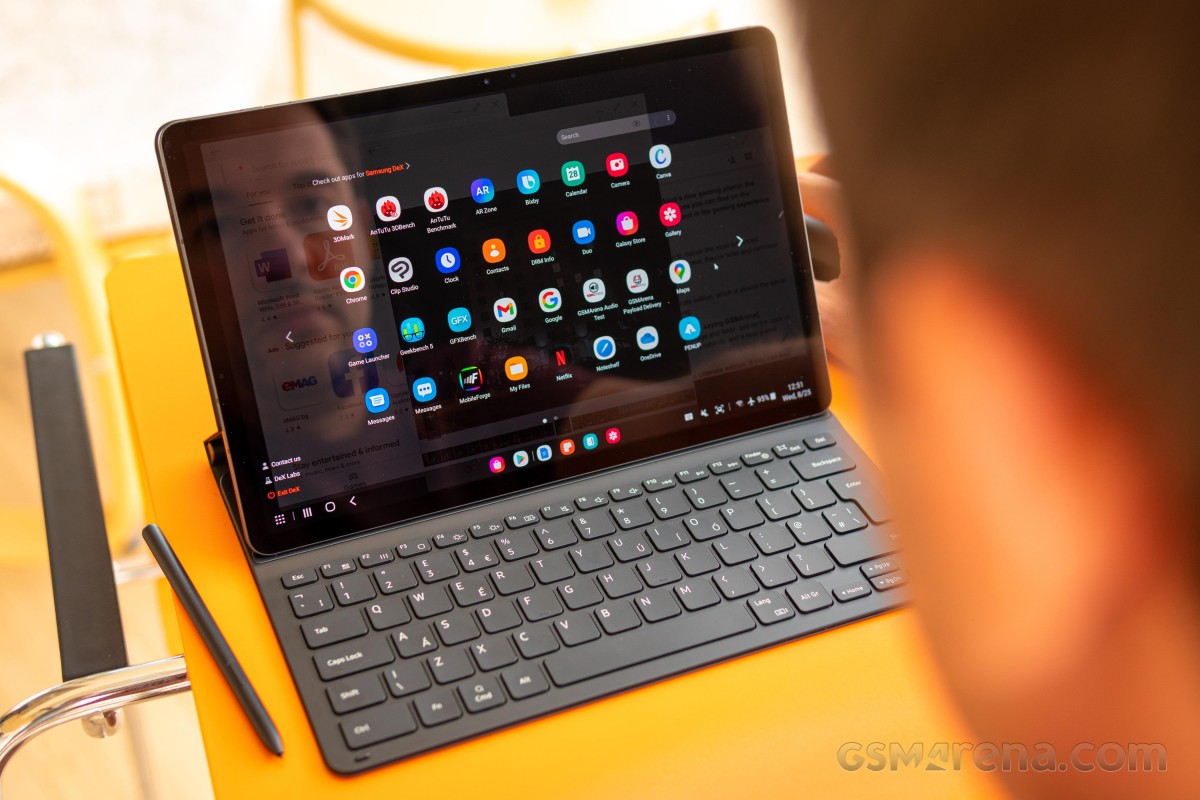 And it is exactly what the name suggests. The Galaxy Tab S7 FE is exclusively in landscape mode with a Windows-like desktop where you put your apps. The Notification Center with the toggles has moved to the bottom right corner and is easily reachable with your right hand.
There is a taskbar at the bottom, which houses all currently opened apps. Upon transitioning from tablet to DeX and vice versa, your apps will not close, and you will not lose progress. You can choose auto-hide taskbar if you are not a fan of it being always visible.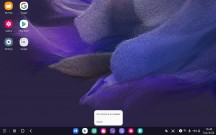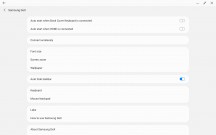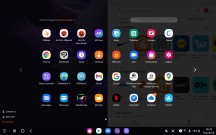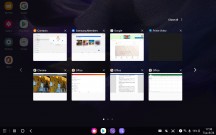 The taskbar options • Auto Hide task bar • App drawer • Task Switcher
The taskbar contains the app drawer and navigation shortcuts on the left, the currently active apps - in the middle, and the status bar (and notification center) - on the right. You also get volume and screenshot shortcuts here.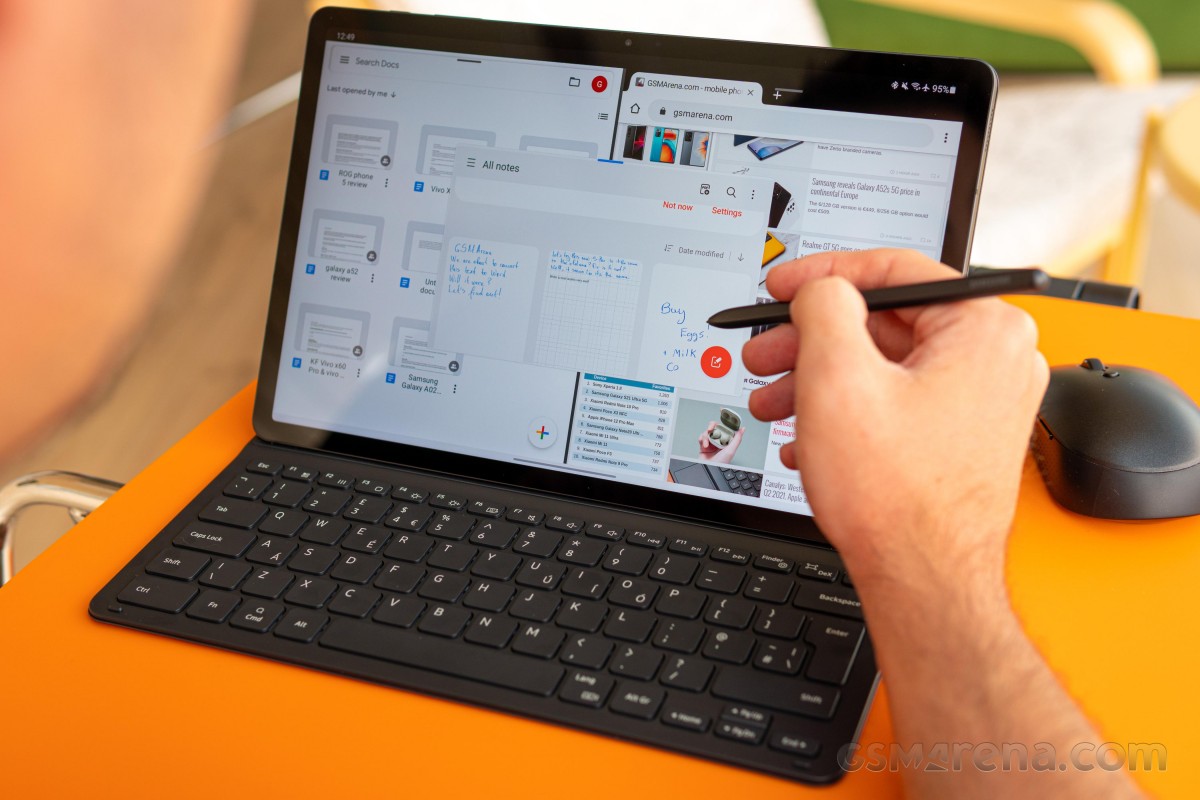 Right-click functionality is available everywhere across the DeX view, be it the taskbar, desktop, or system apps. You can trigger it with the usual tap and hold, or by a mouse, of course.
When you are in DeX mode, all apps open in window mode and at the top you will have the well familiar trio of __⬜╳. Most of the support native full screen in DeX mode, but even if they don't - the One UI will tell you that and it will still maximize the app properly in full screen, it may just need to be refreshed. We had no issues with the full-screen option on any app - both compatible (not needing a refresh) and not optimized (needs a relaunch).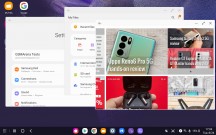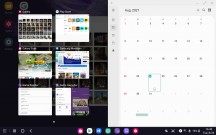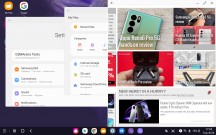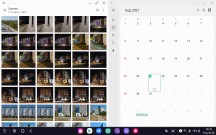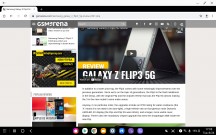 Windows • Windows • Windows • Windows • Full screen
You can stack a large number of windows, just like you would normally do on Windows and macOS. You can also snap windows in Split View, just like one Windows 10.
The DeX view is the most convenient way to use mouse and a keyboard. You can either opt for the rather expensive Keyboard Cover, or just pair your favorite Bluetooth keyboard and mouse. There is native support for both, and everything works as expected. You can use all popular office apps, web browsers like Chrome, mail clients such as Outlook, Photoshop, Maps, and whatnot - all in their desktop versions.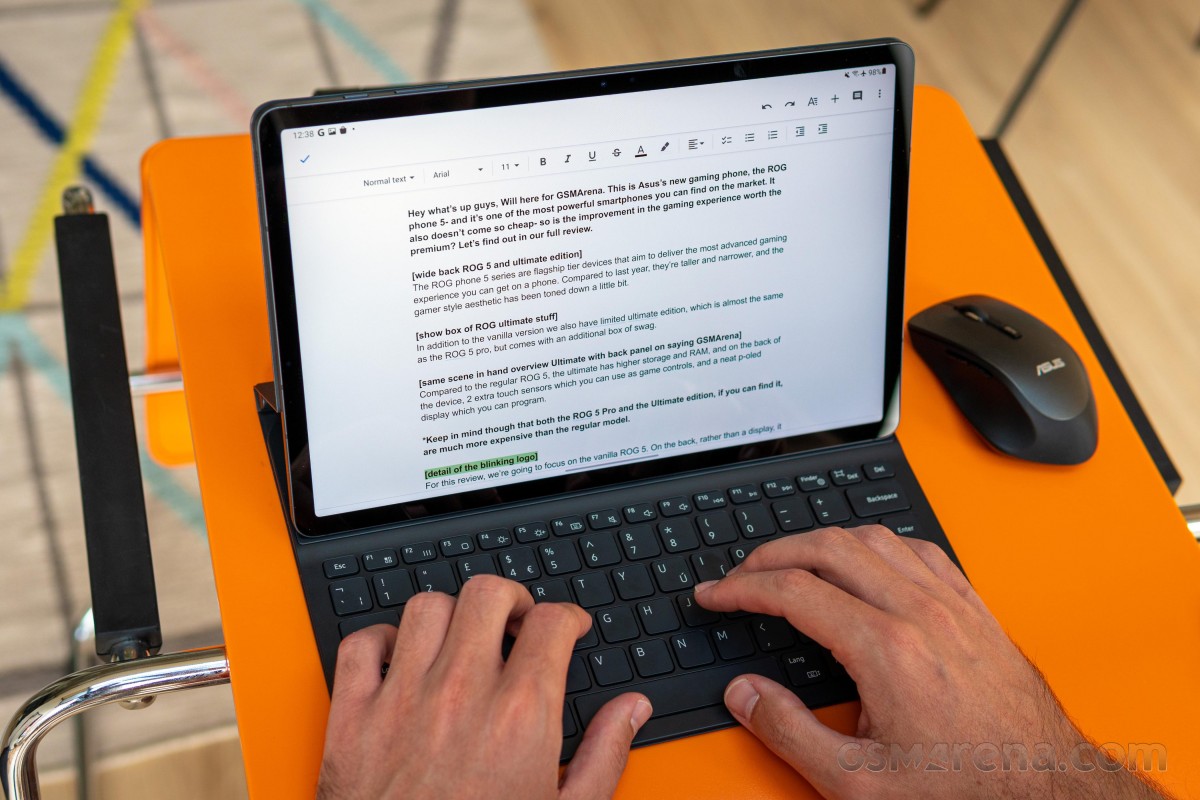 You can also use USB-C flash drives or hubs to access additional accessories like all kinds of external storage, input devices, even speakers and headphones.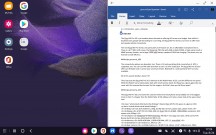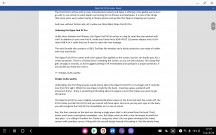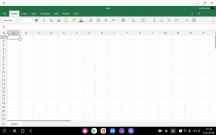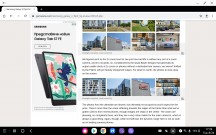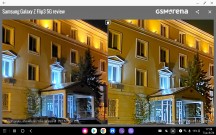 Word • Full Screen Word • Excel • Chrome
The DeX view is the way if you want to turn the Galaxy Tab S7 FE into a laptop and use it for work, writing, image and video editing, uploading various files to servers, and whatever else your work routine requires. The Tab S7 FE can replace your laptop for most tasks, and even it doesn't pack the most powerful mobile processor. If you are thinking of buying a thin laptop or a convertible device, you may as well want to try this Tab S7 FE or some of the other Tab S7 tablets in DeX mode before deciding.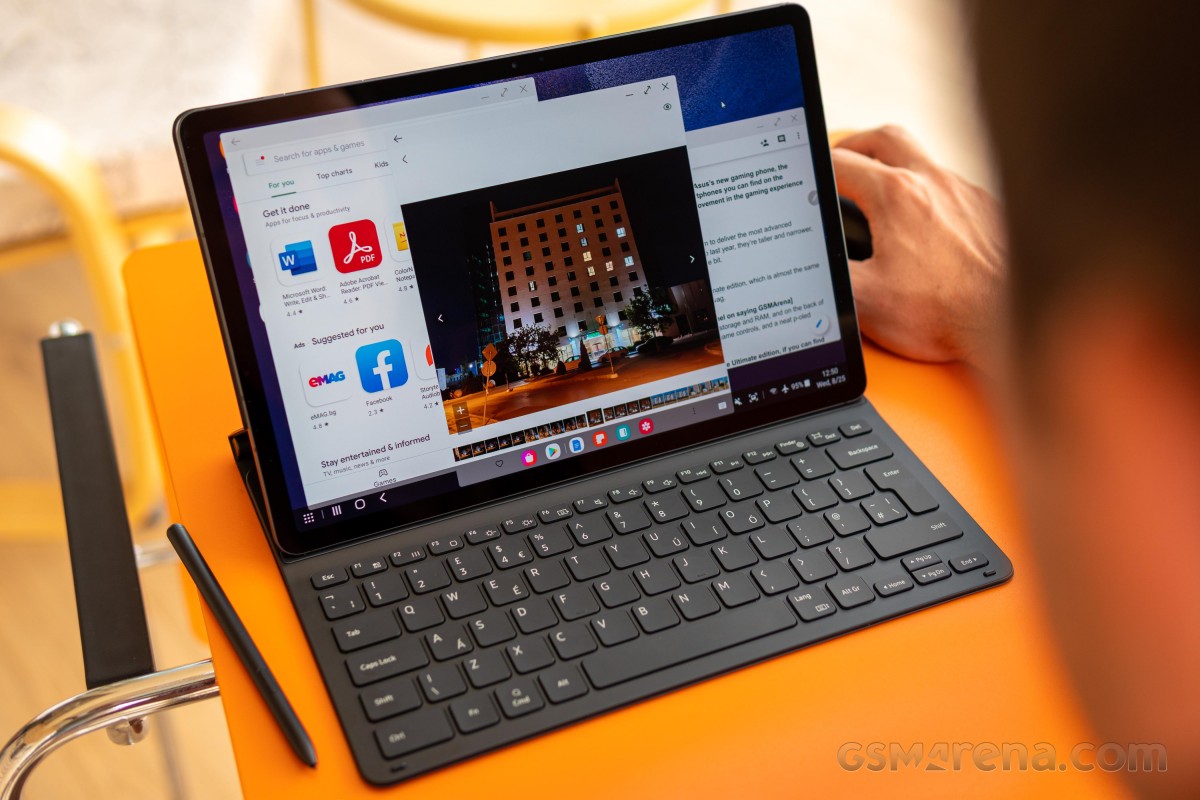 The Galaxy Tab S7 FE supports wireless DeX mode, too - meaning it does not require the DeX dock to connect to a Smart TV screen or projector anymore. The device in question needs to support Screen Mirroring.
Once connected to a TV, you can continue to use your tablet in Table View and have the DeX view on your TV absolutely independent. For example, you can chat on the tablet while switching slides with the S-Pen on the TV. Neat!
You can also use the tablet as a touchpad (and keyboard when necessary) and control what's on your TV (and thus bring no other accessories with you).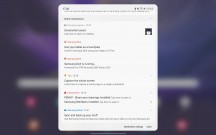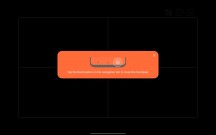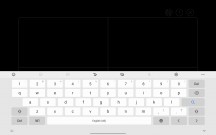 The on-screen touchpad and keyboard
Finally, if you have a Samsung PC, you can use the tablet as a drawing pad or a second screen (toggle in Notification area) to your PC via the Wireless Display support tool. You can also use Samsung Flow app to exchange files between your Samsung devices by just dragging and dropping them.
Indeed, the DeX mode is very powerful and has many possibilities. Be it just for the desktop experience, or wireless connection, or even secondary screen option - it gives you a lot of freedom even if the Tab S7 FE is the only Samsung device you own.
Anonymous
13 Oct 2022
wrb
2,6 gigs is enough to do most thing, if not all things possibly done with an android device
JustBought
08 Sep 2022
XS$
Bloatware like shit, just bought it and fck it already take 2.8GB of RAM.. with 7xxmb reserved, the only remaining RAM u have is 2.6gb LOL.. with that, this tab cannot do multi-task.. battery capacity seems like very good for work, nah fck it.. whats...