Samsung Galaxy Watch review
GSMArena team, 10 September 2018.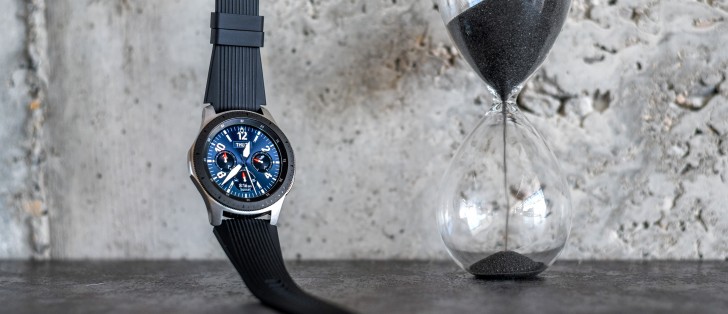 Unboxing
Our 46mm Galaxy Watch was an early review unit so it came bubble wrapped along with its now familiar charging dock. Interestingly, the charging dark was labeled 'Gear S4', probably a cunning move by Samsung to keep the Galaxy Watch name under wraps for as long as possible before it leaked.
Production packaging will contain the Galaxy Watch, Charging Dock, Travel Adapter and QSG (Quick Setting Guide).
Both the 46mm and 42mm Galaxy watches come with two strap sizes. The default silicon strap is best described as functional but ideally suited for fitness-related activities. The silicon straps are differentiated from Samsung's other Gear offerings by incorporating grooves that run parallel to the strap as opposed to diagonally.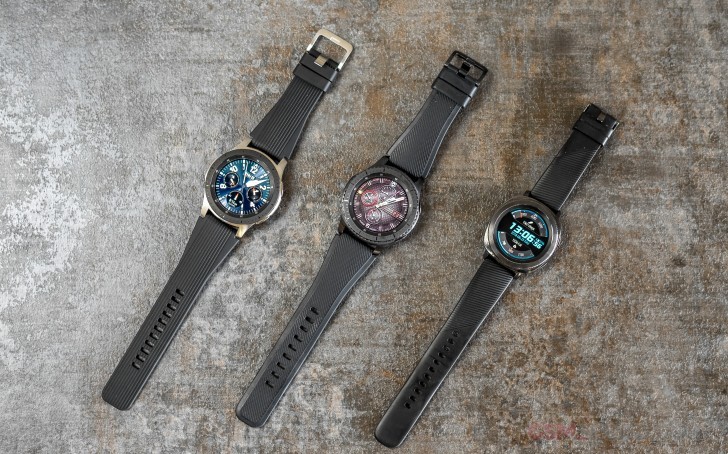 Galaxy Watch (left), Gear S3 Frontier (middle) and Gear Sport (right)
The interior of the strap is concave and provides the right amount of stretch to get a comfortable fit. At no point did we find that the strap caused unnecessary sweating against the wrist.
The included dock charges the Galaxy Watch wirelessly while magnetically affixing the watch itself in a landscape orientation making for a convenient bedside clock. The charging LED comes through as obtrusively bright for this sort of use case though.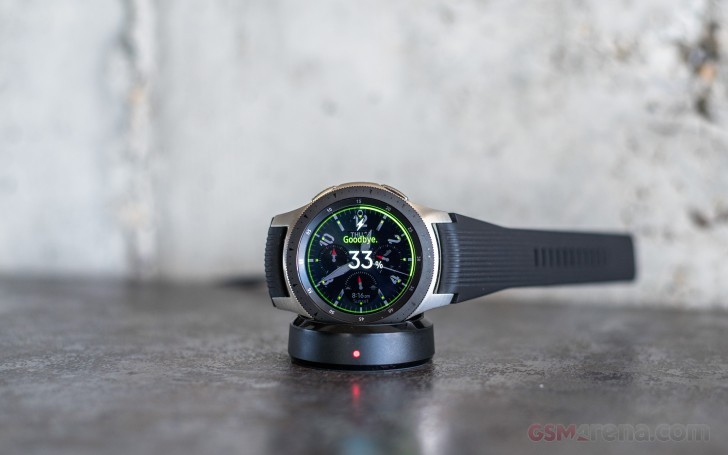 It still irks that the dock utilizes micro-USB and not USB-C - come on Samsung. During its 'Unpacked' event, Samsung also announced the Wireless Charger Duo which can charge both your Samsung phone and your Samsung Galaxy Watch simultaneously. Additionally, the recently introduced Wireless Charger Pad 2018 should also be capable of charging the Galaxy Watch.
Design
The Galaxy Watch is available in two sizes providing attractive options for those with big and small wrists.
The larger 46mm variant with its 1.3" display is only available in Silver currently (the color of our review unit).
While the 42mm variant with its 1.2" display is available in Midnight Black or Rose Gold.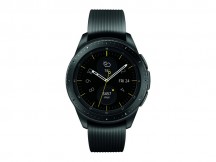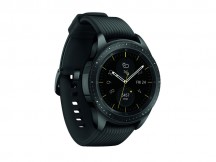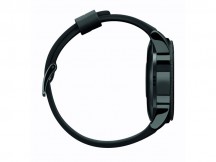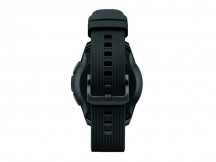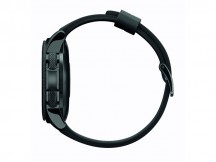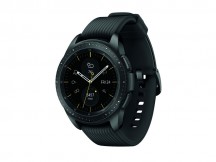 Midnight Black 42mm Galaxy Watch
The main watch body is machined from 316L corrosion resistant stainless steel and polished to a high sheen, and its 5 ATM/IP68 waterproofing and MIL-STD-810G accreditation ensures that the Galaxy Watch can accompany us on the majority of our adventures.
The Super AMOLED touch-enabled display is protected by Corning's Gorilla Glass DX+, which according to Corning provides superior scratch resistance approaching that of alternative luxury cover materials. Navigation is assisted by Samsung's ubiquitous Rotating Bezel which as always is a joy to use, providing an unobstructed view of the screen at all times as you navigate through the features of the Galaxy Watch.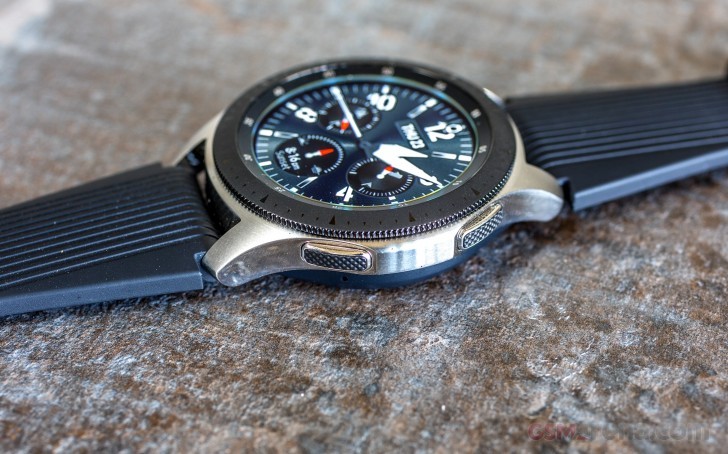 The two watch buttons performing the Home and Back functions are made from the same surgical grade stainless steel with black rubberized inserts for extra 'grippiness'.
While the overall design is informed by the Gear S3 Frontier, the bezel has significantly more and shallower teeth than those of the Gear S3 Frontier. Visually, this results in a smoother, less rugged design and a more sophisticated appearance.
The Silver 46mm model comes with a black bezel, subjectively we're not fans of the resulting two-tone effect. We'd much sooner see a silver bezel paired with the Silver case. Conversely, the 42mm models have bezels that better match their case colors for a more coherent look.
We're not able to categorically determine the material the bezel is made out of, on closer inspection though, if we had to make an educated guess, it appears to be some form of composite. This would not only save weight but facilitates easier color matching. This could explain why Samsung didn't provide a silver bezel as it would appear Matt and therefore couldn't match the polished stainless steel of the Silver case.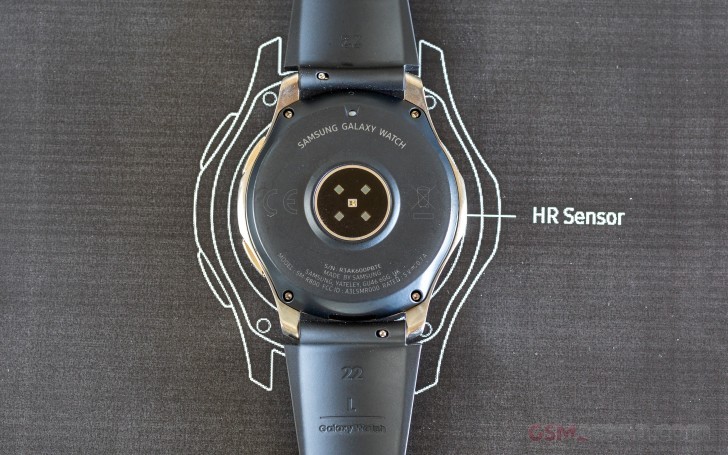 Turning the Galaxy Watch over and we see the Heart Rate Monitor (HRM) sensor inset within the black composite rear case cover.
Controls & Navigation
Nothing much has changed in the way that you interact with Galaxy Watch compared to Samsung's previous offerings but in summary:
You interact with the Galaxy Watch through the rotating bezel, the touchscreen, and the physical Home & Back buttons. You can also use Bixby, more of that later.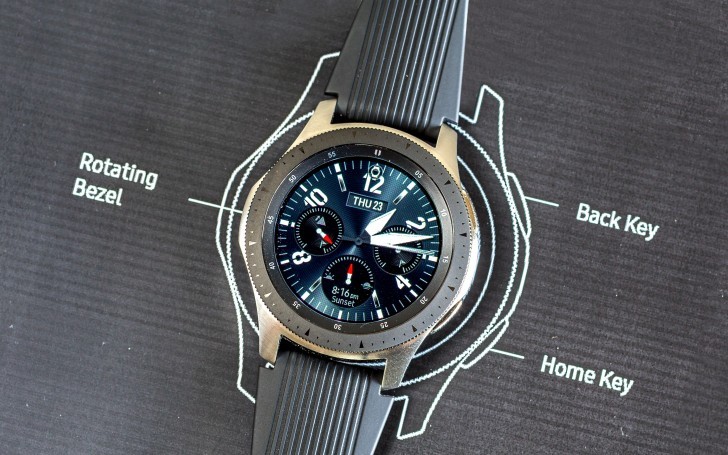 Older Samsung Gear watches packing the older Tizen 3 had an annoying quirk. In that, the screen timing-out took you back to the watch face when next woken - annoying if you were halfway through something and got interrupted. Increasing the screen time-out time-resolved this but impacted battery life.
With the Galaxy Watch packing Tizen 4.0, this has been resolved. A new 'Show Last App' setting allows you to specify how long an app remains available to be returned to after the screen has timed out.
With its combination of touch screen and rotating bezel, and Tizen's 4.0's UI, the Galaxy Watch is a joy to use.
Agree! Samsung 4 [40mm] Watch does not even last a day. Disappointment for such an expensive watch. Thinking of taking it back. :(
galaxy watch esp. active 2 is not worth it... for using just for a few months... try to go for wareanty but they said not covered for warranty as it just totally shut down... in the end theys aid its the mother board is damage... and it will cost you...
Mine the same spends more time on charge than I wear it. Has to be charged daily. Utter Rubbish...buying a fitbit today??? Galaxy offered no help at all poor poor customer service. Never again