Samsung Galaxy Z Flip3 5G review
GSMArena Team, 20 August 2021.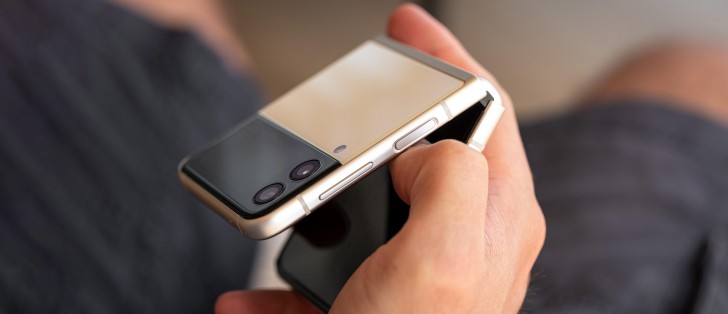 Not only does it fold, the display now also refreshes twice as fast
One key omission on the Flip and Flip 5G's displays was a high refresh rate - sure, the phones were impressive because of the foldability, but at a time when even entry-level phones had HRR, the Flips didn't. Well, the Flip3 covers that base as well, offering 120Hz capability.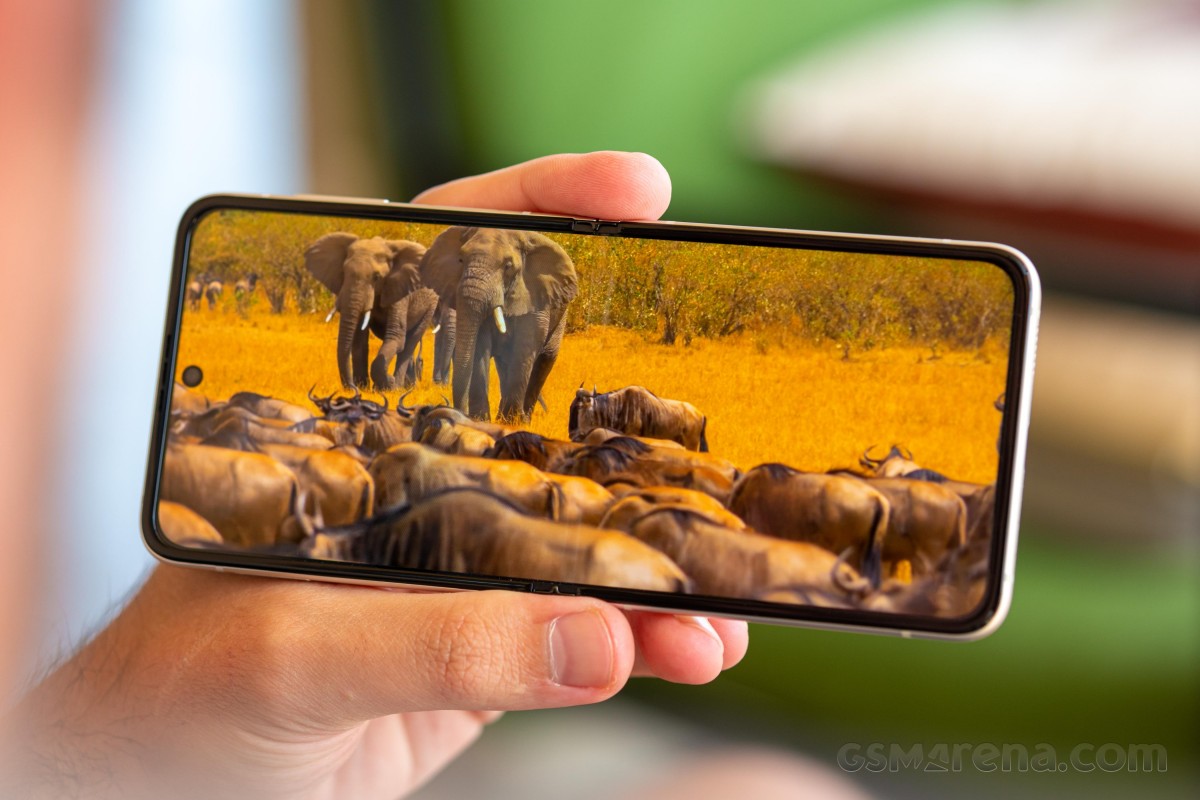 The foldable 6.7-inch Dynamic AMOLED 2X display has a 1080x2640px resolution (425ppi) in a 22:9 aspect ratio - it is pretty tall indeed. The Flip3 isn't mentioned in Samsung Display's press release on the Eco²OLED technology, but regardless of what layers lie underneath, the Flip3 is, indeed, a lot brighter than the previous generation and, in fact, as bright as the Fold3.
We measured 935nits on the Flip3 with adaptive brightness enabled and the phone under direct light - not quite the 1000+ of the Galaxy S21 Ultra, but way more than the original Z Flip and a bit higher than the S21 and S21+. Operating the slider manually, we got 503nits from the Flip3 - again, substantially brighter than the Flip (1) and also brighter than all of the S21s.
Display test
100% brightness
Black,cd/m2
White,cd/m2
Contrast ratio
Samsung Galaxy Z Flip3 5G
0
503
∞
Samsung Galaxy Z Flip3 5G (Max Auto)
0
935
∞
Samsung Galaxy Z Flip
0
377
∞
Samsung Galaxy Z Flip (Max Auto)
0
596
∞
Samsung Galaxy Z Fold3 5G
0
489
∞
Samsung Galaxy Z Fold3 5G (Max Auto)
0
922
∞
Asus Zenfone 8 Flip
0
518
∞
Asus Zenfone 8 Flip (Max Auto)
0
735
∞
Samsung Galaxy S21+ 5G
0
459
∞
Samsung Galaxy S21+ 5G (Max Auto)
0
883
∞
Apple iPhone 12 mini
0
627
∞
Apple iPhone 12 Pro
0
802
∞
Sony Xperia 5 III
0
327
∞
Sony Xperia 5 III (Max Auto, Creator mode)
0
590
∞
Xiaomi Mi 11
0
498
∞
Samsung Galaxy S21 Ultra 5G
0
458
∞
Samsung Galaxy S21 Ultra 5G (Max Auto)
0
1023
∞
Samsung's color handling is business as usual. There are two modes - Vivid and Natural, the first one being the default. In Vivid mode, you get a five-position temperature slider as well as RGB sliders behind an 'Advanced settings' button. This Vivid mode supports a wide color gamut and is accurate for displaying DCI-P3 content (average dE2000 of 2.7), though it does exhibit the slightest of blue tints. Bump the temp slider one notch to warm, and things get even better (average dE2000 of 2.2).
Natural mode, meanwhile, is very accurate for displaying sRGB content - here we got an excellent average dE2000 of 1.4 and a white point that's precisely spot on.
The display of the Galaxy Z Flip3 5G is HDR10+ capable, and we got HDR streams in popular services like Netflix, Amazon Prime Video, and YouTube.
The 120Hz refresh rate is accessed from the Motion smoothness menu item in display settings. There are two options - Standard and Adaptive, with the latter being the setting out of the box. It behaves in a way similar to the Galaxy S21 Ultra, meaning it's one of the more adaptive implementations - instead of simply switching between 120Hz and 60Hz depending on content and activity, it can go to other values to deliver the optimal balance between smoothness and battery life.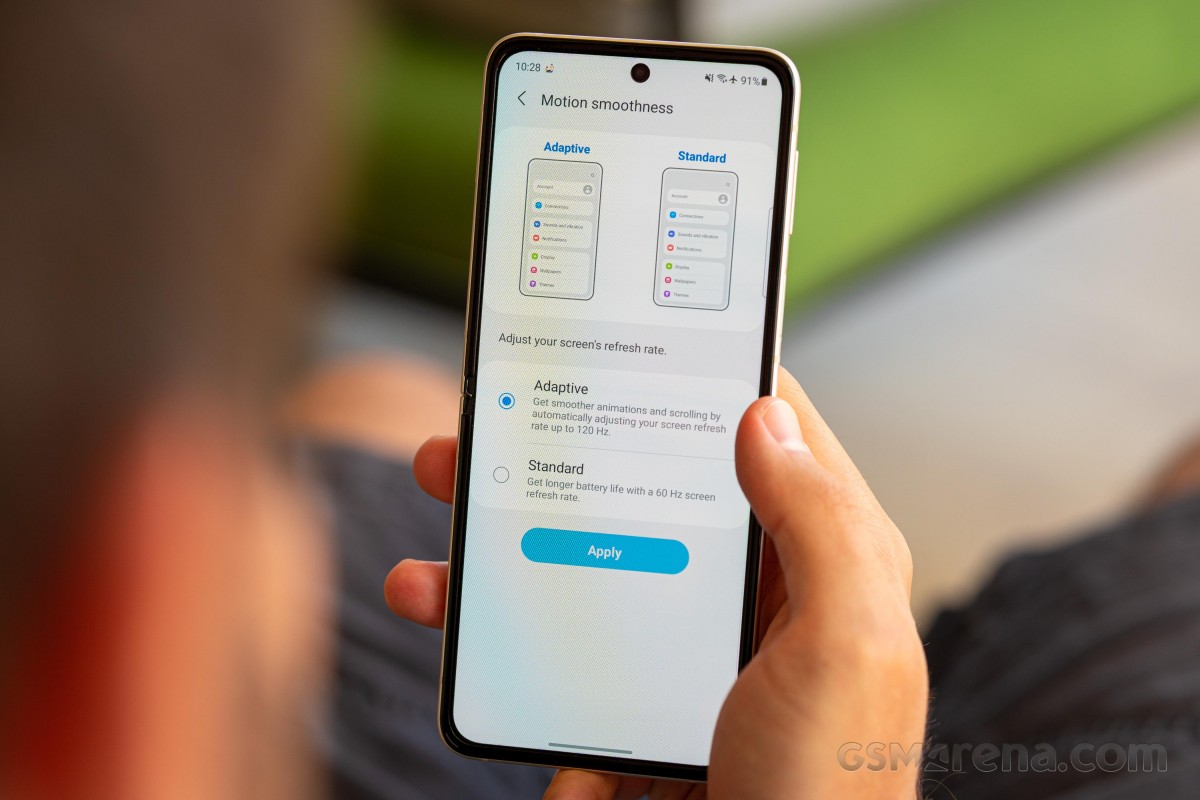 For example, in video streaming apps, we saw 48Hz, 60Hz, and 120Hz readings, depending on the content - 48Hz for 24fps, 60Hz for 30fps and 60fps, and 120Hz for HDR content regardless of frame rate.
In most other instances, when navigating through the UI or using general-purpose apps - social networks, browsers, the gallery - the phone will maintain 120Hz for as long as you're touching the display and switch down to 60Hz a few moments after the last touch. As usual, there are certain apps that default to 60Hz, like the camera viewfinder and Google Maps. We also got a 96Hz reading on the lockscreen for a brief period right after unfolding the phone.
As for games, in the Game Booster utility, you now get the option to set the refresh rate to one of three options - 48Hz, 60Hz, and 120Hz. That will lock the screen at the respective setting and only leave it up to the game to provide the high frame rate capability.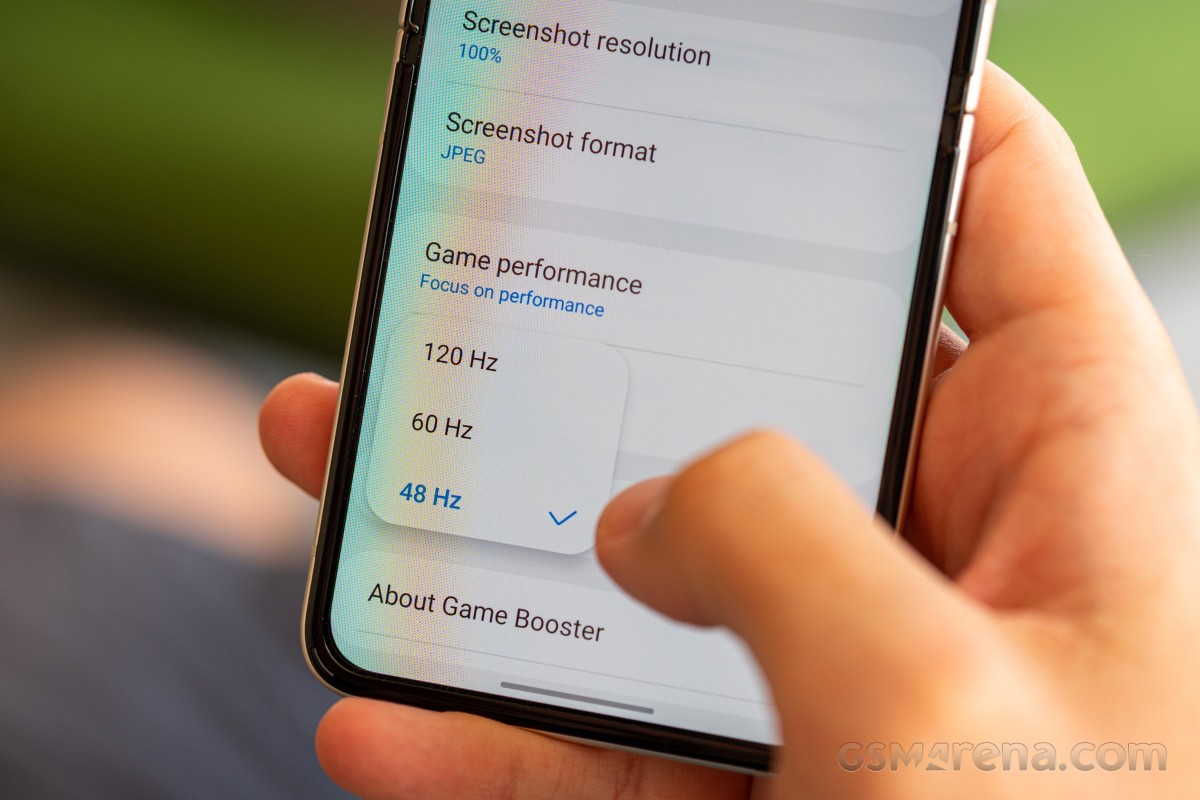 The outer display, or cover display as Samsung calls it, has gotten an increase in size to 1.9-inches in diagonal from the tiny 1.1 inches of the previous Flips. It is OLED as well - Super AMOLED, in fact, and has a resolution of 260x512px and a density of 302ppi. We decided to pass on trying to figure out a way to test its brightness and color accuracy.
One unexpected issue we ran into with the cover display is that the phone can't control its brightness based on ambient light conditions, which means that at night it can be a bit too bright for your sleepy eyes. Since there's no ambient light sensor on the outside of the phone, perhaps at least a rudimentary time-based brightness approach can be adopted, but as of writing the review there's no such provision in settings.
Samsung Galaxy Z Flip3 5G battery life
Among the less exciting bits of the Flip3's hardware is its battery - the 3,300mAh capacity has been carried over from last year, and on the new model, it needs to cope with a high refresh rate screen (adaptive as it may be) and a newer, more power-hungry chipset (more powerful too, of course, but that's beside the point here). Having said that, we realize that weight and space constraints were key factor when choosing battery capacity for the Flip3, so the designers stuck to their priorities.
Predictably, then, the Flip3 didn't excel in our tests, though you could probably rationalize around its numbers if you feel like it. Numbers are numbers, though, and 10 hours of Wi-Fi web browsing is too little - the vanilla S21 can do 11h, the iPhone 12 mini is good for 12h, the Zenfone 8 and the Xperia 5 III stand at twelve-and-a-half. Similarly, just under 12 hours of video playback are below what non-foldable competitors can offer, though the mini is in the Flip's ballpark. Voice call longevity is not great either, and standby is decent per mAh for an SD888 device, but the mAhs are few, and it is an SD888.
In the end, the Galaxy Z Flip3 5G's overall Endurance rating works out to 69h. That's the same as the iPhone 12 mini, but less than pretty much anything else you can get for the money. Keep in mind, though, that the Flip folds.
We carried out the web browsing test in the Adaptive refresh rate mode, while constantly monitoring the current refresh rate thanks to Android 11's built-in tool. Our web browsing script refreshes pages every 10s, and every refresh triggered a spike in the refresh rate to 120Hz, which then dropped back down to 60Hz 1-2s later. We reckon that's a behavior fairly representative of real-world use - you swipe on the screen, refresh rate shoots to 120Hz, you then read for a bit, it goes down. As for video playback, we switched the phone to the Standard refresh rate mode, since in Adaptive Mode, the tool we use for the test kept the screen at 48Hz for our 24fps test video, and we feel the bulk of the content out there is 30fps for which the phone will use a 60Hz refresh rate.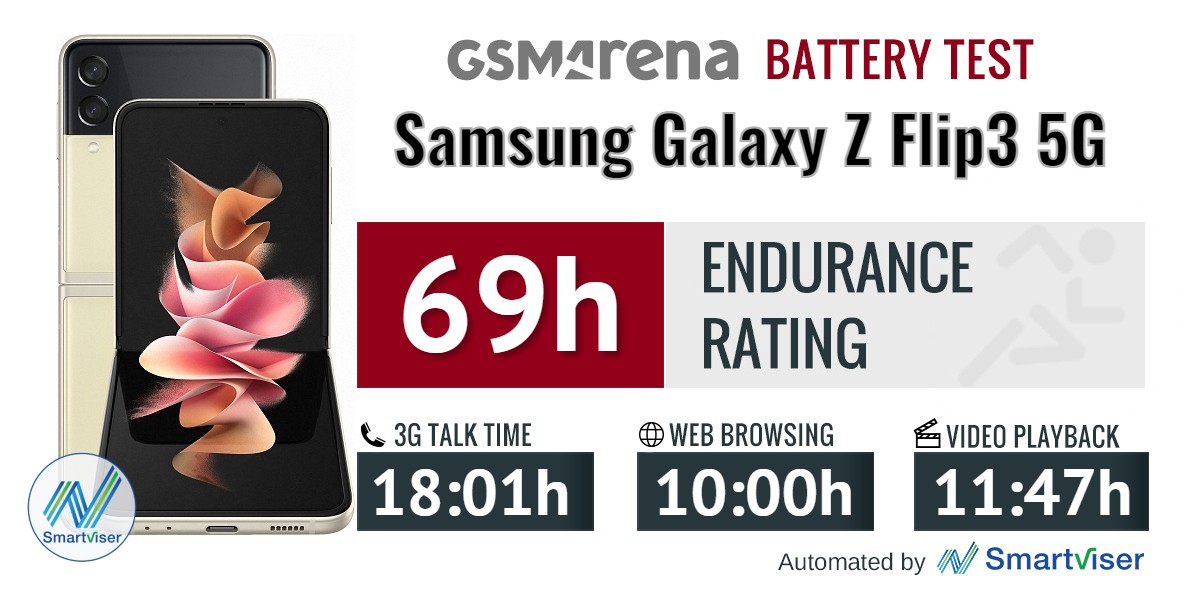 Our battery tests were automated thanks to SmartViser, using its viSerDevice app. The endurance rating denotes how long the battery charge will last you if you use the device for an hour of telephony, web browsing, and video playback daily. More details can be found here.
Video test carried out in 60Hz refresh rate mode. Web browsing test done at the display's highest refresh rate whenever possible. Refer to the respective reviews for specifics. To adjust the endurance rating formula to match your own usage - check out our all-time battery test results chart.
Charging speed
The Flip3 ships without a charger, but in some markets, pre-orders will be bundled with Samsung's 25W adapter that supports USB PowerDelivery with PPS. That is one of the more sensible choices if you somehow don't have any chargers lying around, since it's going to give you broad support for other devices and some level of future-proofing. However, it's going to be overkill for the Flip3, which maxes out at 15W - that's QuickCharge 2.0 and Samsung's Adaptive Fast Charging that came out with the Galaxy S5.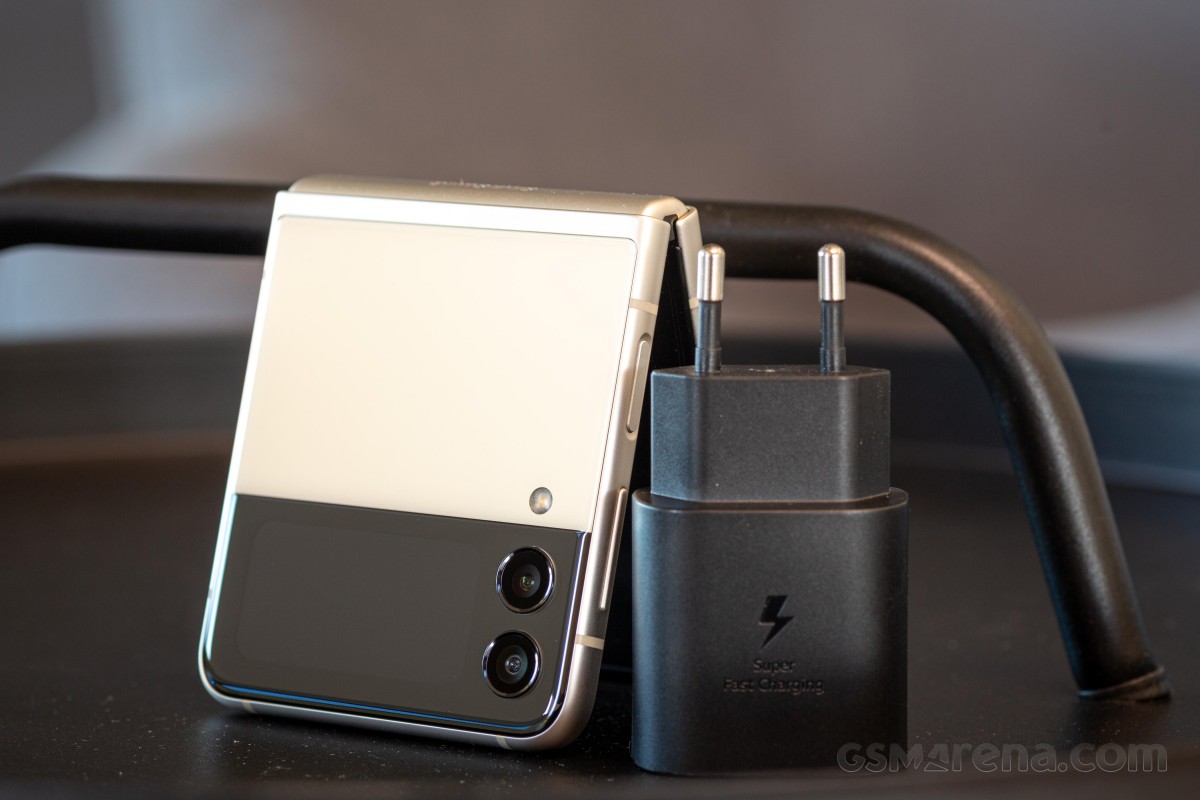 We tested the Flip3's charging speed with that 25W charger, the assumption being that you won't be going out of your way to find an older QuickCharge 2.0 unit in 2021. Still, we dug up one of those as well. We got the same numbers out of both, and they weren't in any way impressive, predictably. Even with the smallish 3,300mAh battery, the phone took 90 minutes for a full charge from flat, and it was showing 40% at the half-hour mark.
30min charging test (from 0%)
Higher is better
Oppo Find X3 Pro
100%
OnePlus 9 Pro
99%
Xiaomi Mi 11
83%
vivo X60 Pro
68%
Samsung Galaxy S21 5G (25W PD)
55%
Samsung Galaxy S21+ 5G
54%
Asus Zenfone 8 Flip
53%
Sony Xperia 5 III
49%
Samsung Galaxy Z Flip3 5G
40%
Samsung Galaxy S21 5G (18W QC3.0)
40%
Time to full charge (from 0%)
Lower is better
Oppo Find X3 Pro
0:28h
OnePlus 9 Pro
0:32h
Xiaomi Mi 11
0:50h
vivo X60 Pro
0:58h
Samsung Galaxy S21+ 5G
1:12h
Samsung Galaxy S21 5G (25W PD)
1:13h
Samsung Galaxy S21 5G (18W QC3.0)
1:25h
Samsung Galaxy Z Flip3 5G
1:30h
Asus Zenfone 8 Flip
1:40h
Sony Xperia 5 III
1:50h
The Galaxy Z Flip3 5G is certified by the Wireless Power Consortium to adhere to the Basic Power Profile for wireless charging up to 4.4W. Samsung says it should be able to take up to 10 watts which is technically off-spec, but that's how it's historically been with Galaxies. The Flip3 can also be used for charging other devices (Wireless PowerShare), though, with that small battery, it doesn't have much to spare, does it?
Speaker test
One of the few notable upgrades on this year's Flip is the addition of stereo speakers. The setup is classic - one bottom-firing speaker and a second one above the display, directed forward, also serving as an earpiece (or is it the other way around?). Samsung doesn't force a correct-side-up type of approach, so the two speakers will switch between the left and right channel depending on the handset's orientation in the landscape, while the top one will handle the left channel when in portrait.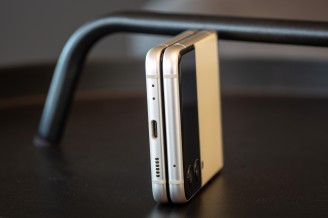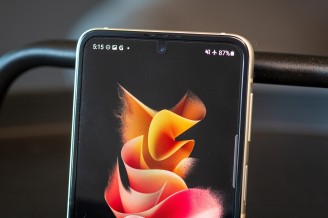 Bottom speaker (the grille on the left) • Earpiece is left channel when in portrait orientation
The Galaxy Z Flip3 earned a 'Very Good' rating for loudness in our test, same as the Galaxy S21+ and S21 Ultra. It sounds very similar to the S21 and S21+ too, with only marginally more pronounced treble response, while the Ultra remains a little boomier than the rest. Still, if you want the best-sounding speakers in a compact package, that has to be the Zenfone 8.
Use the Playback controls to listen to the phone sample recordings (best use headphones). We measure the average loudness of the speakers in LUFS. A lower absolute value means a louder sound. A look at the frequency response chart will tell you how far off the ideal "0db" flat line is the reproduction of the bass, treble, and mid frequencies. You can add more phones to compare how they differ. The scores and ratings are not comparable with our older loudspeaker test. Learn more about how we test here.
Anonymous
11 Sep 2023
syN
I suggest not to buy Samsung flip and folding phone.these mobile phone is having display problem always. I had bought 2 mobile of Samsung Galaxy z flip 3. And display is having problem after 12 month of purchase and customer service center is as...
The name of the game is convenience! A galaxy z flip 3 is on it's way, for $199. It's miraculous, the ongoing evolution of technology that I can carry with me-anywhere! (Cannot do this with any other device!) Can't wait!G.
Anonymous
29 Mar 2023
teT
Great phone so much better than my old phone the 11 pro max love this Z flip 3