Samsung Galaxy Z Flip5 to have much larger cover display, invisible crease
Vlad, 01 December 2022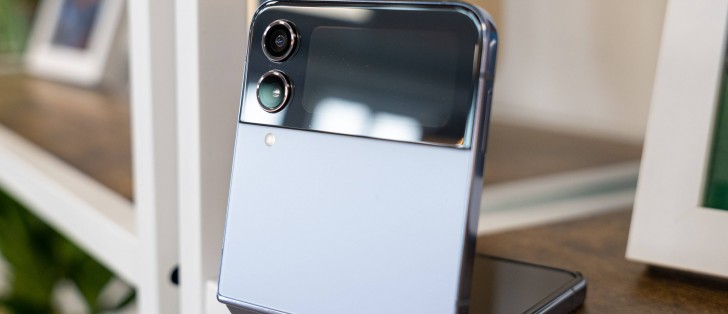 Samsung's upcoming Galaxy Z Flip5, which isn't due to launch for a few months, might rectify two of the main issues people still have with its predecessor, the Z Flip4. At least if today's rumor on the matter pans out. In the rumor's corner is the fact that it comes from Display Supply Chain Consultants CEO Ross Young, who has been accurate about such things in the past. In the other corner is the fact that on occasion he does get the odd thing wrong, so keep that in mind.
Anyway, here's hoping that the Galaxy Z Flip5 will indeed, as Young claims, come with a much larger cover display. This will apparently be around 3.3" to 3.4", which is an order of magnitude more than the 1.9" screen we're currently getting on the Flip4.
As I told my Super Followers yesterday, there are a couple of important changes coming to the Z Flip 5... pic.twitter.com/rEcD2DvaWw

— Ross Young (@DSCCRoss) December 1, 2022
For what it's worth, Oppo's upcoming Find N2 Flip, a direct competitor to Samsung's Flip line, has leaked earlier today with a big outer display of its own. And while that one clearly dwarfs the Flip4's, the Flip5 might catch up to and even overtake its rumored 3.26" size.
The internal screen is also due to get an upgrade, according to Young, and that's in the crease department. Specifically, the Flip5 is said to sport a new hinge design which will "reduce the visibility of the seam". It's unclear whether it will also reduce the feeling of the crease, but we'll take what we can get here.
Samsung's Chinese competitors have consistently put out devices with less visible (and less palpable) creases in their folding screens, so it's good to see the Korean company making some progress here. Better late than never, as they say.
Related
AnonD-762416
09 Dec 2022
Sec
You're nothing but another boring Samsung hater. Why do you hate innovation? What's wrong with you? Why hate better things?
good grief, organize your argument. and stop comparing it to cars, this is about phones, not cars
Im not contradicting myself, nor do I "hate" Samsung. I don't like them, since Ive had awful customer care in the past, but that's not the point. The point is that someone had said the Zflip 4 had the camera of the s22. I had ar...
Popular articles
Popular devices
Electric Vehicles