Samsung Galaxy Z Fold2 review
GSMArena team, 11 September 2020.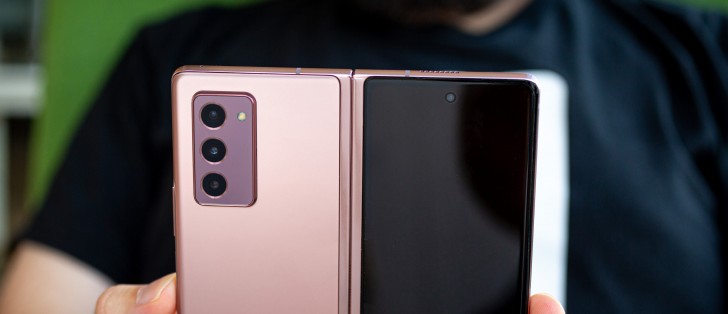 Flex mode and ergonomics
Although it might not seem like it on the surface, most everything about the Galaxy Z Fold2 design has changed, or has been refined, compared to its predecessor.
Let's kick things off with the hinge first, since that is a major highlight. Even from a purely visual standpoint, it is easy to see that the Galaxy Z Fold2 has less of a gap when folded. This has been achieved through a lot of engineering work on both the hinge itself, as well as advancements in foldable display technology, allowing for a tighter r-curve.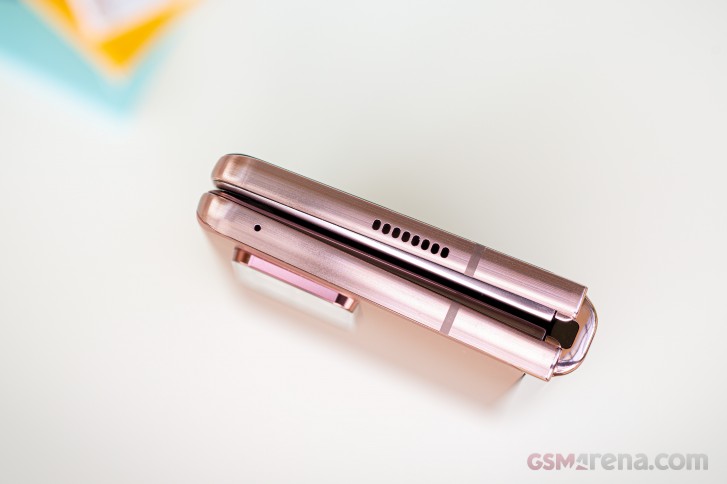 This is about as tight of an inward-closing mechanism as current technology allows. The air gap, while definitely a lot smaller, is a reality that users have to live with and one that should not be ignored.
One of the biggest issues we had with actually using the old Galaxy Fold on a daily basis was pocket lint finding its way into the crack and onto the screen, consequently getting rubbed into it during use. This is still a problem on the Z Fold2, though notably less severe.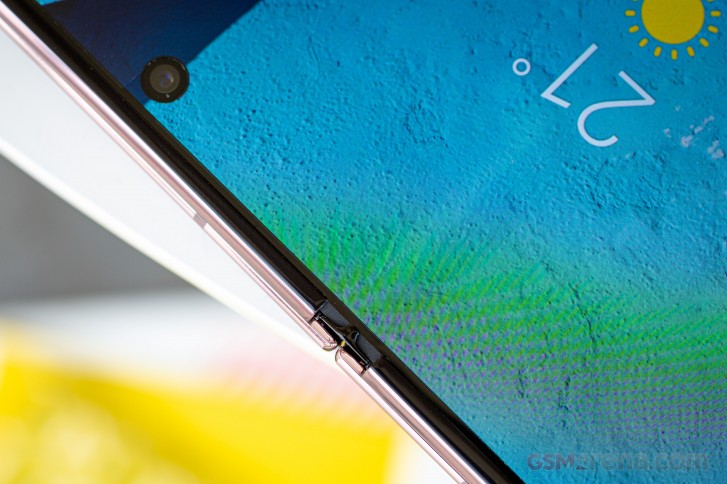 The hinge mechanism has been massively upgraded on the Z Fold2. The way the old Galaxy Fold hinge worked, involved two main anchor points, in a fully-closed and fully-open state. The hinge required a decent amount of pressure to force the hinge to leave these positions and it moved with and non-linear motion between said states. All of this has changed thanks to a new internal mechanism, employing advanced elastics and a cam design. Samsung refers to it as "an advanced engineering marvel" and we are willing to agree just by looking at it on the outside.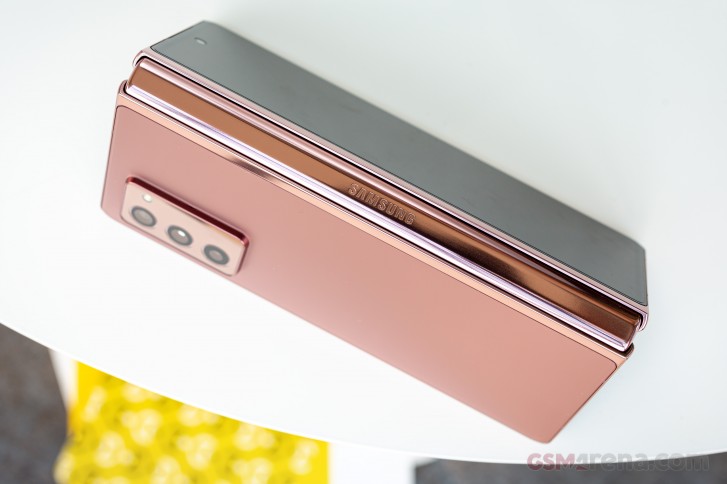 The hinge on the Z Fold2 provides perfect linear motion with consistent tension within its full range. It's not just a massive improvement to use and a major boost in structural rigidity confidence, but it actually provides a good amount of extra utility. Namely, what Samsung refers to as Flex mode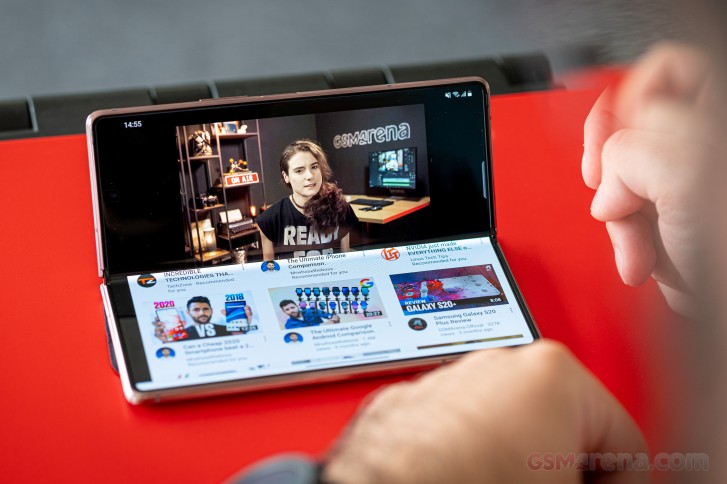 Flex mode and its accompanying Flex View set of UI and UX solutions encompass a set of new ways to leverage the foldable form factor. These all hinge (pun intended) on the Fold2's ability to have its two halves stable at an angle to one another so it can stand semi-open on a flat surface. A feat that was nearly impossible, or at least very awkward on the old Galaxy Fold.
We will get more into the varying aspects of Flex View in the software section, but, basically, a growing number of supported apps, both from Samsung and third parties, like Google Duo, have specific UI variants implemented for Flex View, that, typically separate the controls from the content on the two halves of the display, kind of making them semi-independent, like having two separate monitors.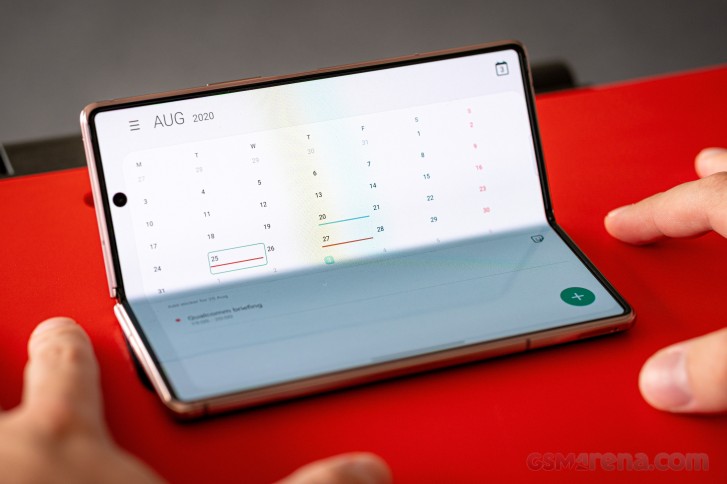 Flex Mode also extends to other specific use cases, like the ability to use the external display on the Fold2, propped at an angle, for content consumption, with the rest of the phone acting as a stand.
Also, using both the rear and the front cameras in Flex Mode has its place, including things like video calling and taking selfies.
There are some notable limitations that are worth mentioning. You can't have the Z Fold2 propped on a table in a way that exposes both the main cameras and the outside display for selfie purposes. That is only possible with a fully-open device. A state in which the Z Fold2 doesn't fit in most gimbals or selfie stick rigs and is kind of cumbersome to hold for prolonged periods.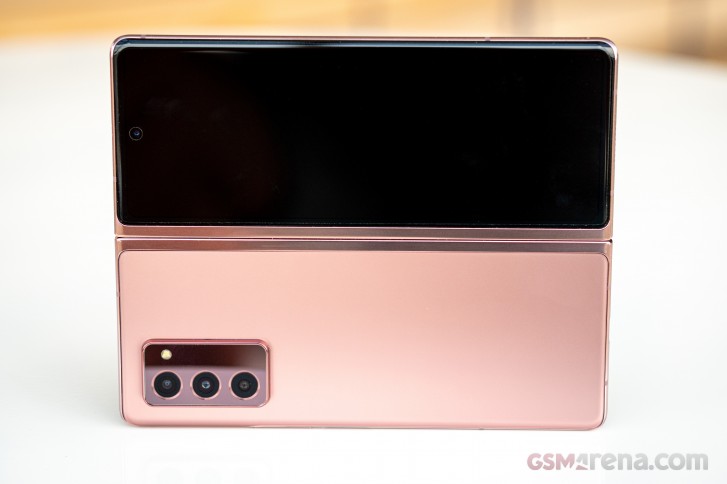 Also, while touch-typing on the bottom half of the device, like a laptop sounds like a no-brainer, it is not easy to pull-off in practice. The surface is still not big enough to get two hands comfortably on there. And the lack of actual tactile buttons doesn't help the typing accuracy either.
Design and construction
With all of the foldable ergonomics and design questions hopefully answered, it's worth mentioning that the overall design of the Z Fold2 has changed quite a bit, as well. It very much reflects the current, overall Samsung design language, including a "boxier" look, with harsher lines, as opposed to the "curvier" overall shape of the old Galaxy Fold. .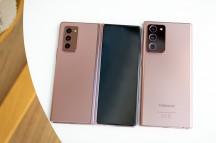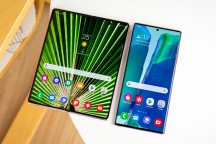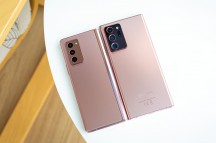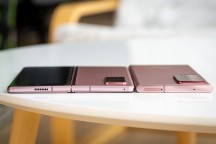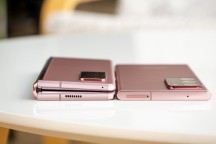 Samsung Galaxy Z Fold2 next to Galaxy Note20 Ultra
Naturally, that extends to the color palette. The selection is, arguably, quite limited on the Z Fold2 and is a choice between Mystic Black and the current "hero" color - Mystic Bronze. Speaking from experience, the latter does grow on you with time, but is still very-much polarizing and is not universally liked.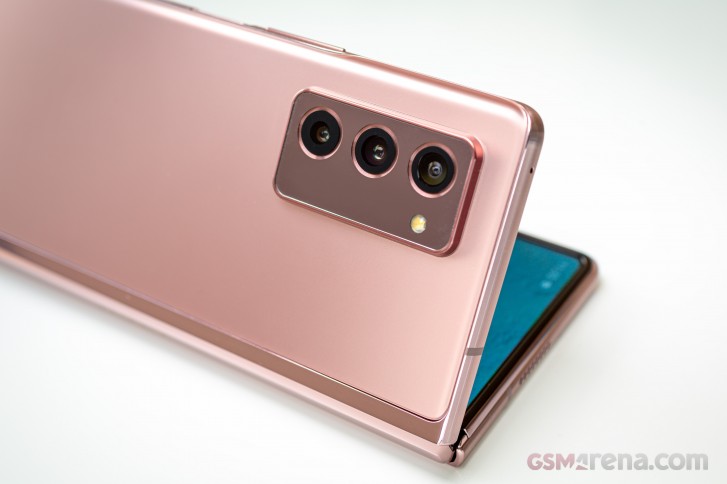 As a nice little bonus, Samsung does let you customize the color of the hinge, on Unlocked models of the Z Fold2. The selection includes: Mystic Black, Metallic Silver, Metallic Gold, Metallic Red and Metallic Blue. Getting a custom color order can potentially delay delivery.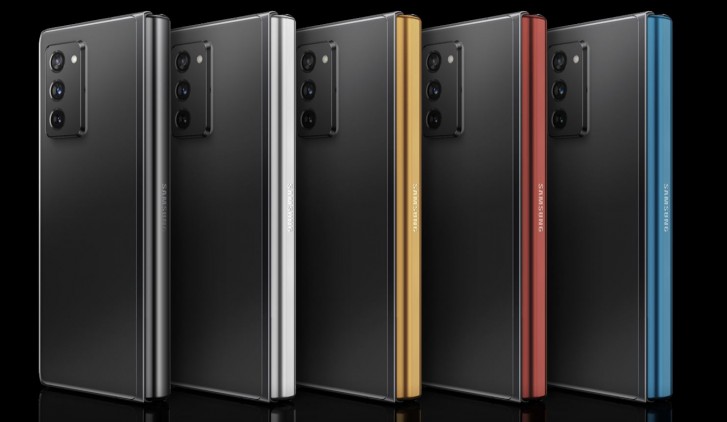 The Galaxy Z Fold2 is a sturdy device. It feels solid, especially when held in its closed state. The new hinge design has no flex in any direction. The internal bristle layer, meant to keep the hinge free of any foreign contaminants, seems also to be doing its job splendidly. Though we haven't exactly buried the unit in sand.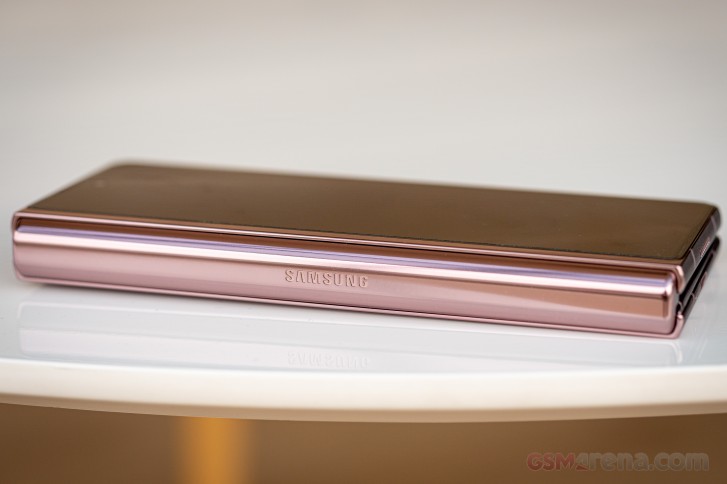 Even when open, we never felt like we would be able to easily bend, twist or snap the device. Especially not accidentally. The formidable heft of the 282-gram body definitely helps in this regard. Though, it should be noted that weight-distribution is done surprisingly well, considering all the engineering complexity involved. The left half (the one with the external display) is a bit heavier than the right, but that doesn't become apparent while handling the Z Fold2, regardless of its state of transformation.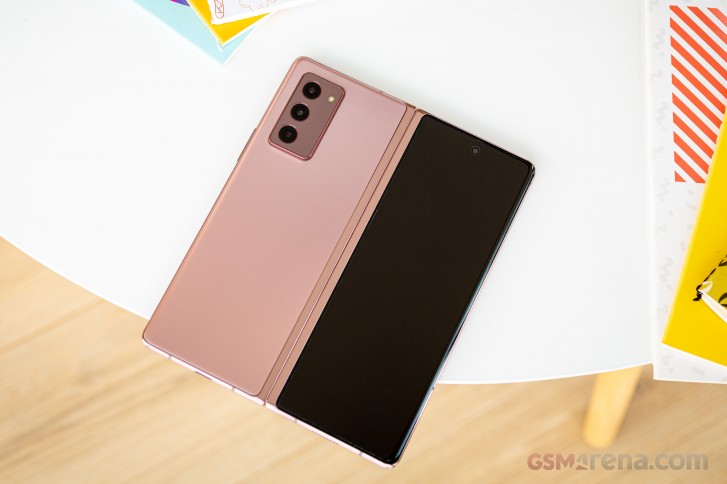 The 6.23-inch cover display is actually rocking the new Corning Gorilla Glass Victus finish, while the back panel, around the main camera module, is made of Gorilla Glass 6, with a nice frosted/matte finish. Great protection all around the exterior of the Z Fold2, while folded.
Time to balance things out with some well-merited criticism and concerns. The main, 7.6-inch Foldable Dynamic AMOLED 2X panel on the Z Fold2 is the main source of worry here. Samsung likes to occasionally remind the community that it has made some significant changes to its foldable panel design - incorporating more "glass-like" materials and shifting layers around for better durability. This is something we first saw on the Galaxy Z Flip and is now a thing on the Z Fold2, as well. Even so, we've all seen the torture tests and what happens when a pointy object manages to puncture the display surface. So, that's something to always keep in mind.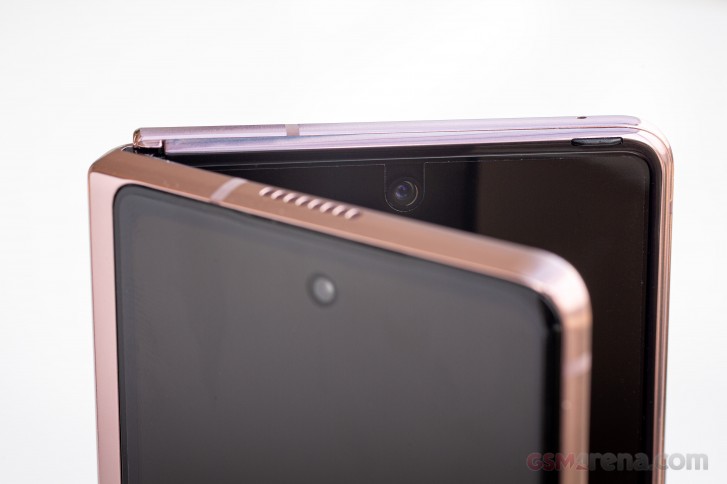 Like we already mentioned, there is a soft protective layer on top of both displays of the Z Fold 2. One that, this time around, is definitely not an integral part of the panel itself, but just there for extra protection. A fact further proven by the footage of people successfully removing said layer, by themselves, without apparent, immediate damage. While Samsung squarely advises against such actions, it is important to note that this layer is quite soft and easy to scratch. Our review unit started showing trails and grooves from nails after just a few days of absolutely normal use. That's a fact that prospective buyers should be aware of and ok with, since it is inevitable.
Same goes for the distinctly plastic feel when swiping across the top surface. Don't expect to gracefully glide a finger across. There is quite a bit more surface traction here than glass. Also, the surface is a real fingerprint and smudge magnet, which further complicated the matter. We almost found ourselves wanting to constantly wipe the internal display down, only to then be conflicted about whether it's a good idea to rum any potential particles already there, into the soft surface. Again, all things prospective buyers need to know and be ready to make peace with.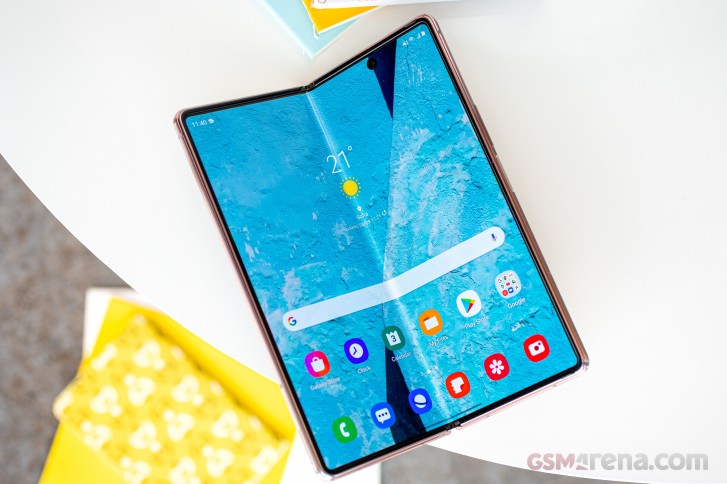 For some extra piece of mind, Samsung is offering Samsung Care+, alongside 24/7 Galaxy Z Concierge service and assistance with the Z Fold2, which includes - "one-time device protection against accidental damage within one year of purchase." That's not a free replacement, though, but it's still better than nothing.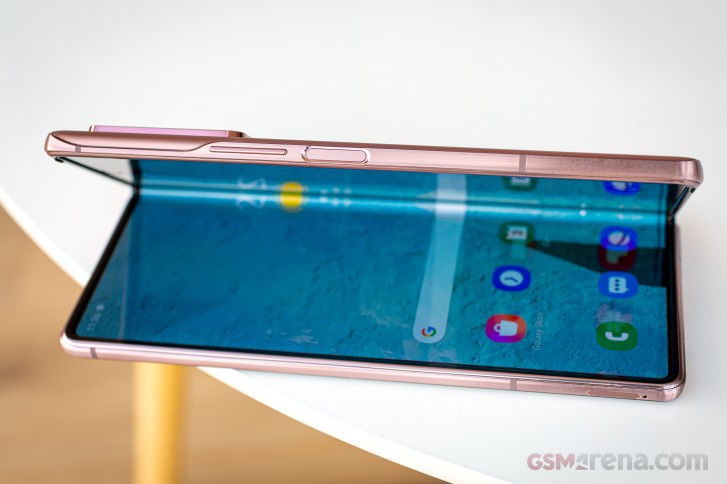 Rounding-off the durability and protection discussion, we just want to note a couple of final points. One is the fact that the big main display on the Z Fold2 is surrounded by a relatively thin plastic black frame. Noticeably thinner than that on the old Fold. You definitely want to be careful with that.
Controls and connectivity
Just a few quick notes on the control payout and connectivity of the Z Fold2, before we move on to actual tests. The power button/fingerprint reader and volume rockers are both conveniently-placed and provide excellent tactile feedback.
The fingerprint reader, itself, is very accurate and extremely snappy. Both expected, since it is a traditional capacitive, dedicated module and frankly a nice change of pace from the still-troublesome Ultrasonic under-display modules Samsung continues to use on its other flagships.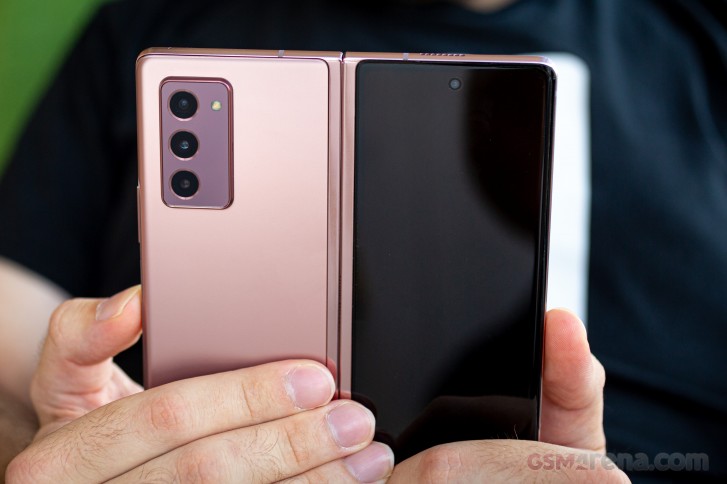 The stereo speaker setup on the Z Fold2 is quite versatile. Rather potent, in terms of quality, as well. But, we have a separate section for that. One complaint we do have is that it is easy to cover both units up when holding the phone in landscape. Not a major issue, though, since you can flip it upside down to eliminate this problem entirely.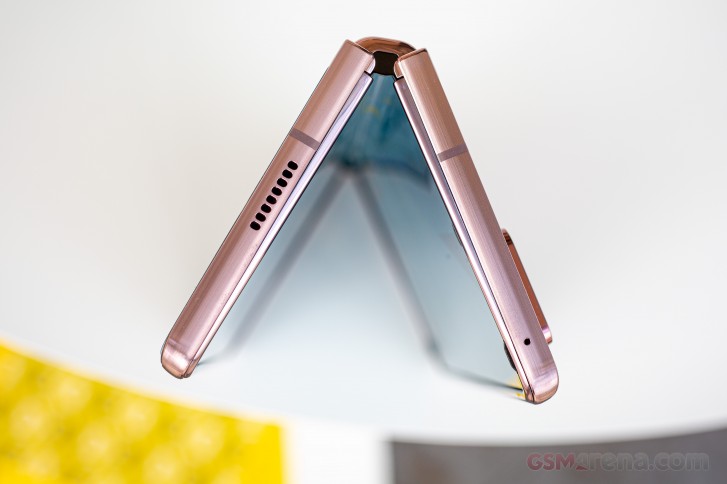 In a big surprise to nobody, the Z Fold2 comes pretty-much fully-stacked in terms of connectivity. A fast USB 3.0 connection sits behind its Type-C port. Since DeX is a thing on the Z Fold2, you can be confident that video-out and USB host mode are both supported, as well. Wired charging is capped at 25W. Wireless charging at up to 11W is also supported and so is reverse wireless charging, at up to 4.5W.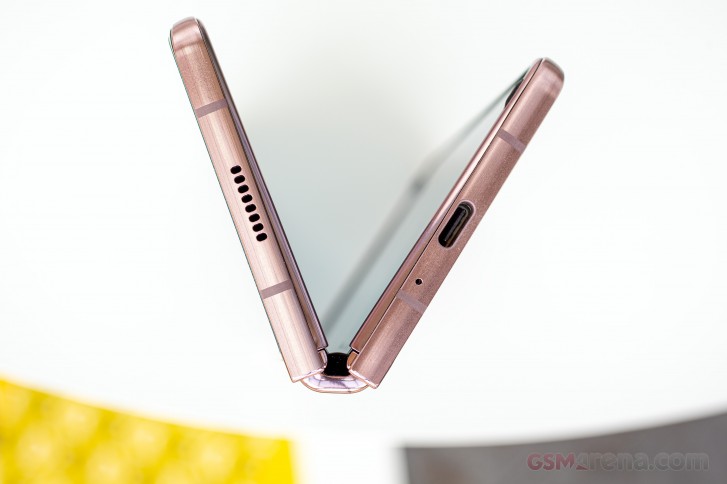 All of the other modern flagship amenities are well-covered as well. Including Dual-band Wi-Fi 802.11 a/b/g/n/ac/6, Bluetooth 5.0, with LE, aptX HD and ANT+ support. NFC is present, with support for Samsung Pay. 5G connectivity is also a thing, with both mmWave and Sub-6.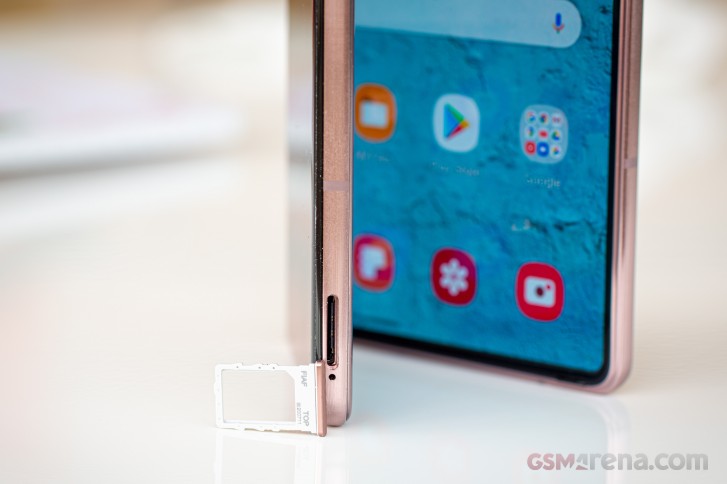 There is only one nano-SIM card slot on the Galaxy Z Fold2, though variants with just an eSIM card or a secondary one will exist on some markets and carriers, as well. 5G availability is market and carrier-dependent too.
Hi I have fold 2 phone , this phone is ever worst phone I bought this mobile 15 days ago and it's screen is showing bubbles neither this phone has fallen nor damaged..but customer care stated to not take it back without paying money I was switch...
Careful what you wish for, Einstein. You might just get it. You wished for the ability to use an S Pen on a Z Fold. Now the Z Fold 3 is here with the ability to do just that. It still embodies the disadvantages of every other Z Fold. Hideously expens...
Firas Abugharbieh
20 Aug 2021
SsG
Unfortunately, Samsung didn't announce there is another version I bought one while in mind there is only 5G version with SD 865+ I received LTE version with SD 865 instead I call this a Fraud by Samsung