Samsung Galaxy Z Fold3 5G review
GSMArena Team, 24 August 2021.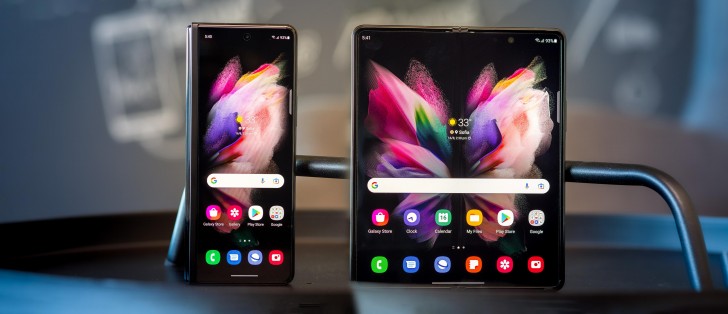 Solid triple camera setup
The Z Fold3 is probably the quintessential device when it comes to versatility. That is to say, it tries its hardest to do as many different things as possible. Literally, it's a phone, a tablet, it has S Pen support, it's waterproof, and that's just from the top of our heads. It is inevitable that it won't be the best at any one given thing, just decent enough. There is arguably a no better example of this than the camera setup on the Z Fold3.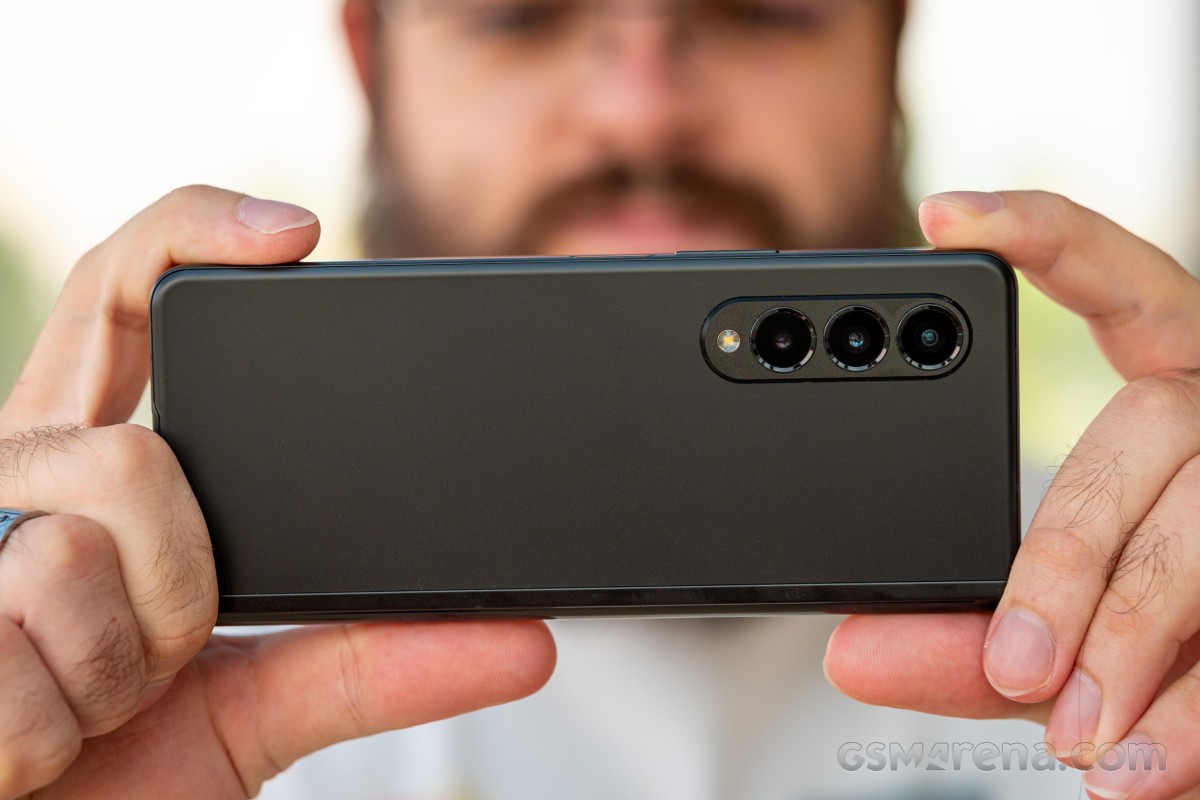 Just like its predecessor, the Z Fold3 offers a versatile main camera setup, though one that is far from cutting-edge and the best Samsung currently has. At the helm - a familiar 12MP Sony IMX555 sensor, with 1.8µm pixels and 1/1.76" area, behind an f/1.8 lens. In terms of extra bells and whistles, it has Dual Pixel Phase detection autofocus and OIS. This is directly borrowed from the Z Fold2.
The main camera sits in the middle of the Z Fold3's distinctly different camera island. Not only has its shape been redesigned from last year, but it now protrudes a lot less, which is a nice generational improvement. Especially seeing how the rest of the Z Fold3's body has also gotten slimmer.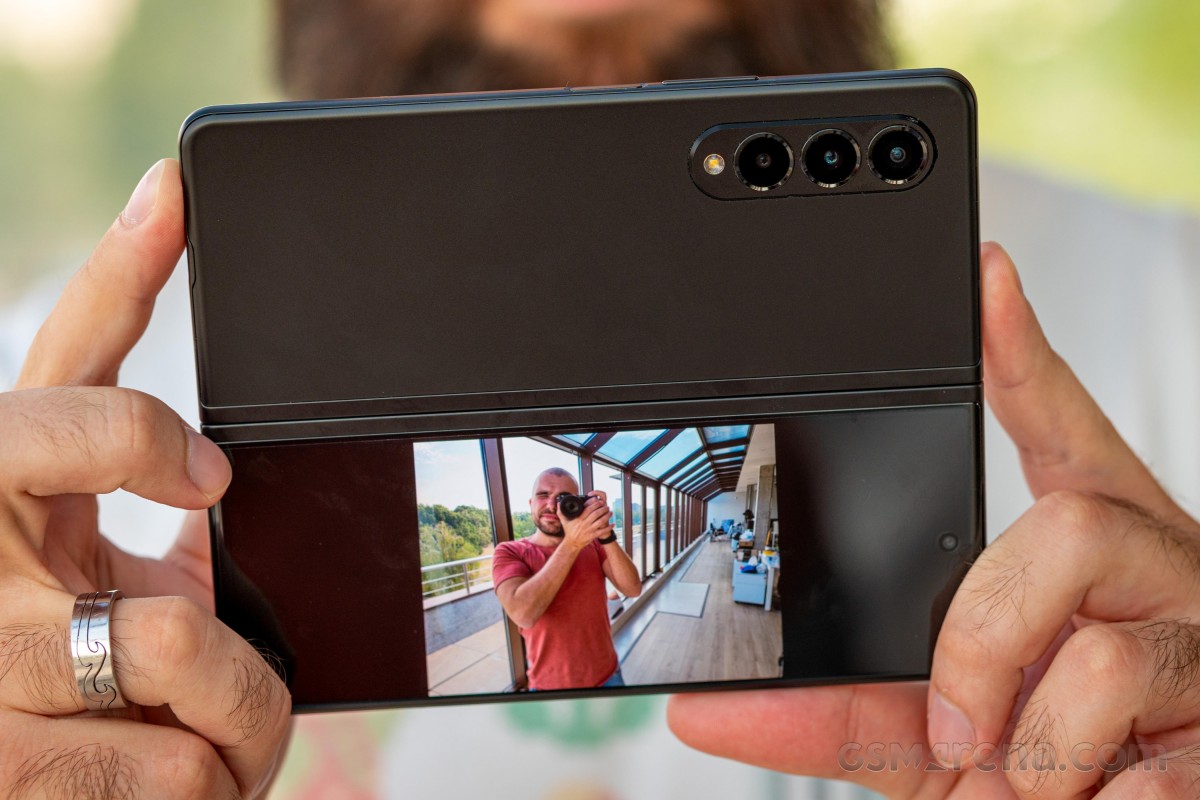 Sitting tight above that is 12MP, f/2.2, 123-degree, 1.12µm ultrawide camera. This also seems borrowed straight from the Z Fold2. If that is the case, we are probably looking at a Samsung S5K3L6, since that is what our Fold2 review unit had. That being said, sifting through the supported hardware config files on the Z Fold3 unit we have does also list a Sony IMX258 sensor (1/3.06", 1.12µm) from all the way back in 2015, which has been featured in various rumors prior to the Z Fold3's announcement. There is the possibility that units exist with both sensors, and short of disassembling ours, there is no real way of knowing. In any case, there is still no autofocus here, which would have been a nifty addition for macro shots.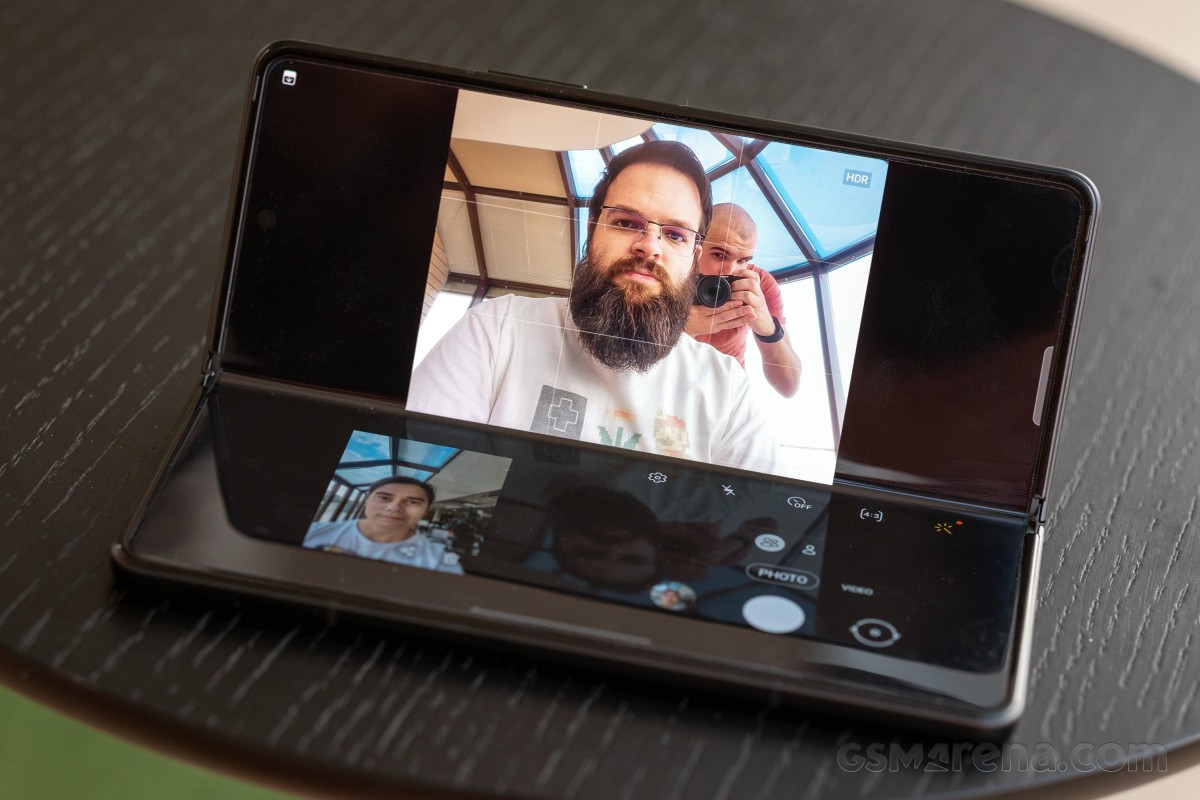 Finally, the main camera setup is completed by a 12MP, f/2.4, 1/3.6", 1.0µm, 52mm telephoto snapper. It is advertised as offering 2x optical zoom, and digitally the Z Fold3 can go up to 10x. As far as we managed to dig up, it uses an SK Hynix Hi-1337 sensor. Not exactly common or overly popular. Still, Samsung did tack a lot of extras on top, including PDAF and OIS.
On the selfie side of things, we have a traditional 10MP punch-hole selfie cam on the cover screen. It also appears to be directly borrowed from the Z Fold2, with a 1/3", 1.22µm sensor, sitting behind an f/2.2 lens. It is based on the Sony IMX374 sensor, which is actually also found on the original Galaxy Fold. According to Sony's specs, the sensor does support autofocus, but that is not the case on the Z Fold3.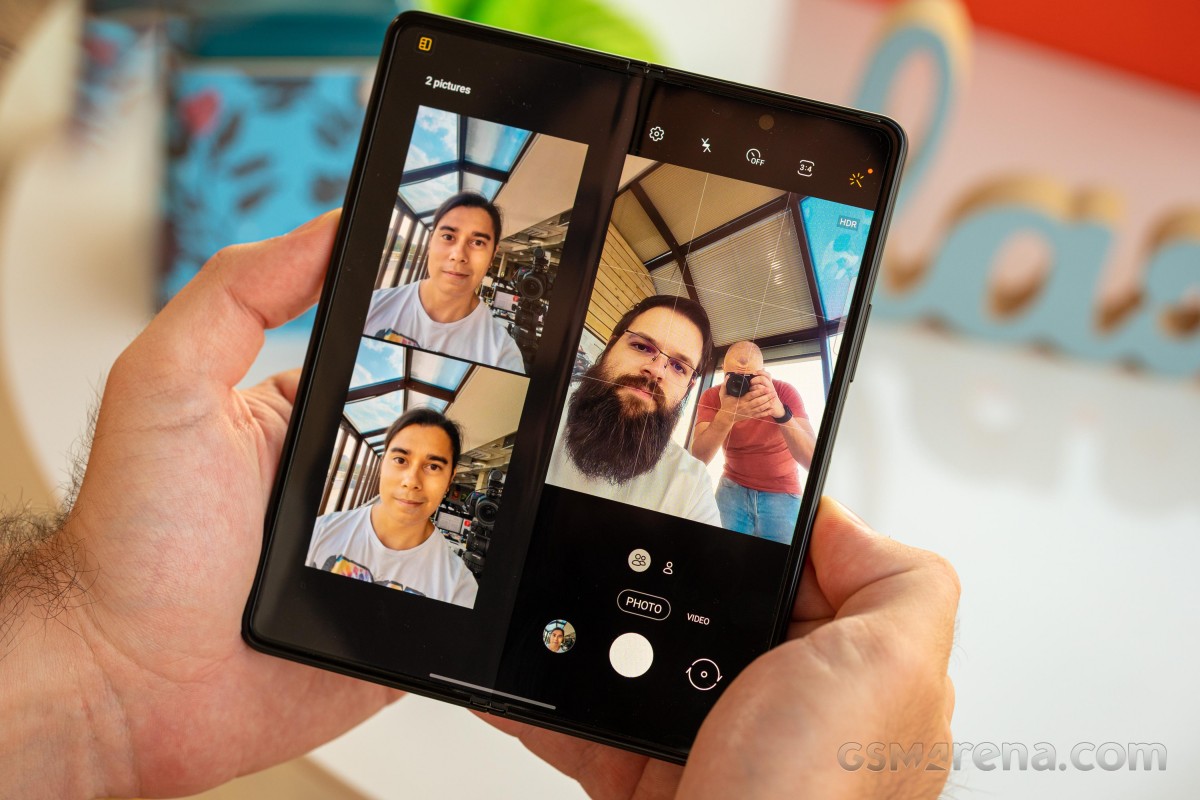 Finally, we get to arguably the most interesting camera of the bunch - the new under-display unit. It is definitely different from the second selfie on the Z Fold2, and as per the official specs sheet has a resolution of 4MP, with 2.0µm pixels and f/1.8 aperture. After consulting config files once again, we think this camera is actually based around a Sony IMX471 sensor (1/3", 1.0µm). That, however, has a native resolution of 16MP, which would suggest that Samsung is probably doing some sort of binning to end up with 4MP stills. We can only imagine how much more complicated dealing with actual RGB pixels in the way of the lens. Interestingly enough, this particular sensor has been quite popular with OnePlus over the years, and ever the OnePlus 9 family uses it for selfies. Not that that traditional implementation can realistically be comparable to whatever Samsung has done to accommodate an under-display installation.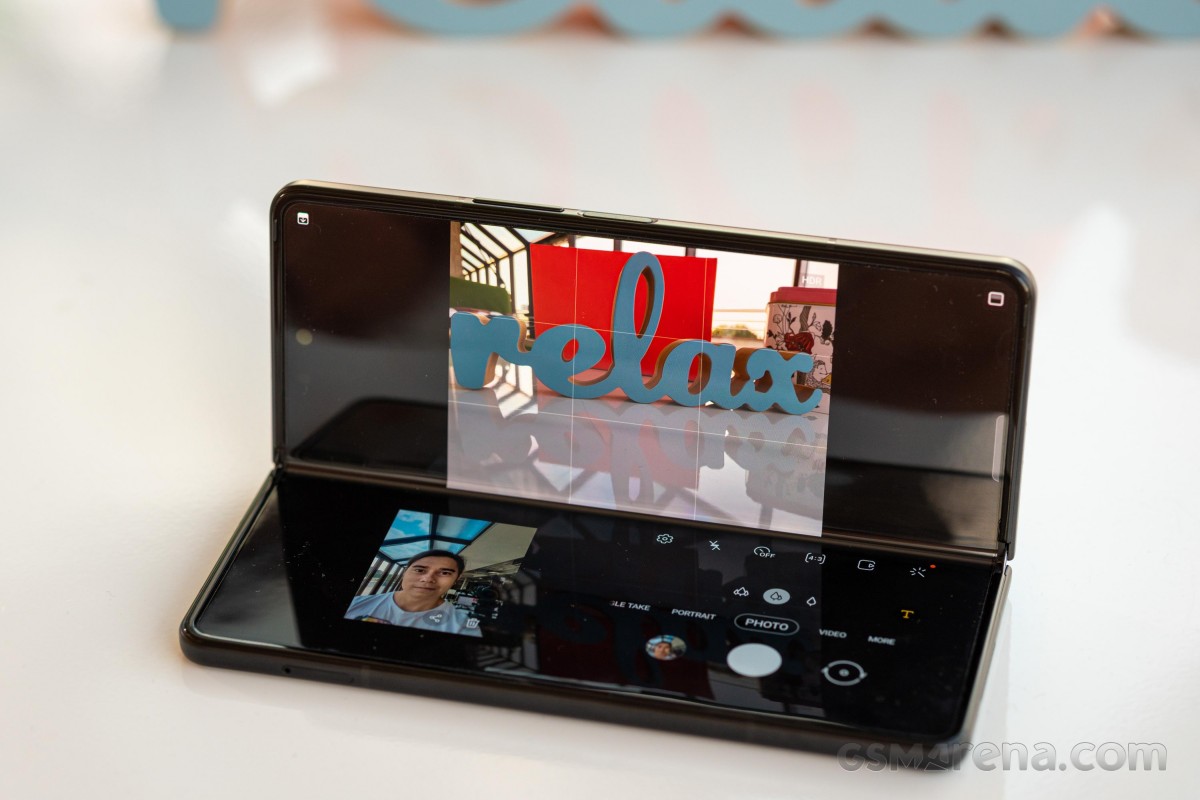 As usual, we start the camera tour with the camera app. It is, unsurprisingly, a standard Samsung affair. All of the core features and on-screen buttons, and notations have remained quite consistent in the last few years. Honestly, this is not a complaint, but actually rather appreciated.
Of course, the UI is going to appear quite different on the large internal display, compared to the cover one.
And then there is the new Flex Mode camera UI variant, as well. It basically separates out the viewfinder on one of the halves of the display and the camera controls on the other one. It is pretty convenient for propping the Z Fold3 on a flat surface to shoot but works in a vertical orientation too. That being said, it's impressive just how well Samsung has managed to scale this UI in a convenient manner.
The tree icons are here to stay - '3 trees' means ultra wide-angle cam, '2 trees' denote the regular camera, and '1 tree' means the telephoto. Pinch to zoom is also available, and it switches seamlessly between the three cams. Alternatively, you can just drag your finger on the trees.
Basic operation is straightforward with side swipes for cycling through modes and an up/down action for toggling between the rear and front cameras. You can add, remove, and rearrange the modes in settings.
The HDR (Rich tone) setting is has been fixed this time around and is no longer separated out into two toggles. Now you just have an Auto HDR toggle in settings, which we kept enabled for our samples.
There is only one fold-specific button here - one that controls the cover display. When the Z Fold3 is unfolded or in Flex View, pressing it simply turns on the cover display as a viewfinder so that your subjects can see how they look and pose for the shots.
When the Z Fold3 is folded, this button becomes a "selfie" switch. This prompts you to open the fold, and then it places the entire camera UI, complete with controls on the cover display, so you can capture your selfie using the main cameras while controlling them on the cover screen.
12MP main camera quality
The main camera on the Z Fold3 produces very competent shots. That is hardly a surprise, seeing its hardware is pretty much borrowed from devices like the Galaxy S20 and the Z Fold2 and based around the familiar Sony IMX555 sensor.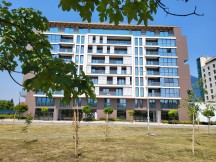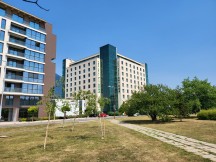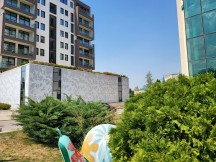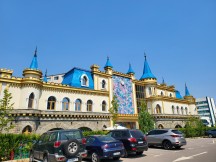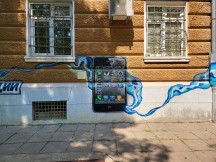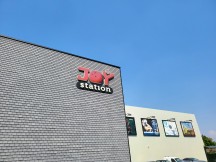 Samsung Galaxy Z Fold3 5G: 12MP main camera samples
That being said, looking at older samples from some of the aforementioned devices, compared to ones from the Z Fold3, there are some notable differences in processing. It can still be considered flagship-grade, but perhaps a bit more "laid-back" than what Samsung used to do a while back.
Shots from the Z Fold3 can appear slightly softer from time to time and even a bit noisy in certain areas like skies, which is mostly due to less aggressive sharpening and noise suppression. Colors are also not quite as exaggerated, though they still tend to have that signature Samsung "pop".
Resolved detail is on point, though it is worth noting that a native 12MP resolution is a bit on the lower end in a market full of various Bayer and binning solutions. Finer patterns, like the holes on balcony railings in some of our samples, often don't resolve quite right and cause moire fringing. Nothing too major, but still worth pointing out. The same goes for the Z Fold3's tendency to overexpose a bit. Even so, both Auto HDR and AI Scene detection work great, kicking in at just the right time and only manage to improve shots. Here are some samples with AI Scene detection turned off for comparison.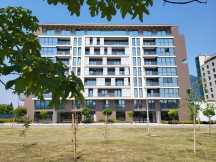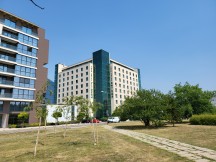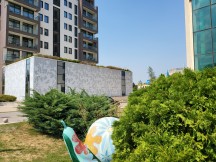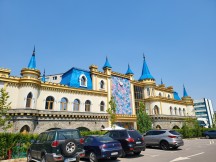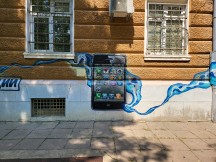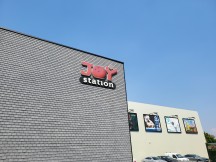 Samsung Galaxy Z Fold3 5G: 12MP main camera samples, AI scene detection OFF
Samsung has honed their particular photo look that appeals to its customers over the years and is not doing any drastic alterations to it.
12MP ultrawide camera quality
Ultrawide shots from the Z Fold3 can best be described as "good enough". There is nothing particularly fancy about them, and while we've seen better, Samsung could have definitely done a lot worse too. Some deficiencies intrinsic to ultwrawides in general can be spotted, like general softness and a bit less detail and dynamic range.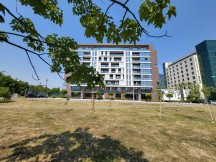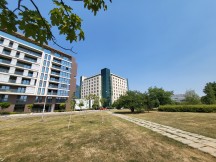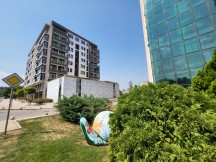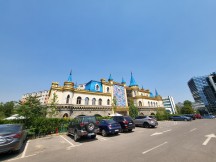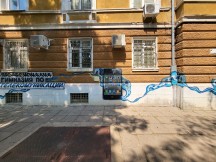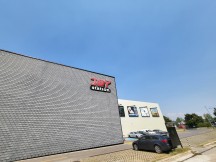 Samsung Galaxy Z Fold3 5G: 12MP ultrawide camera samples
In fact, softness is actually becoming a bit of an issue on the ultrawide, to be honest, mostly due to the fact that Samsung is applying similarly "laid-back" processing here, with moderate extra sharpening. Perhaps the ultrawide would have benefited from a more heavy-handed approach. Then again, this would have also likely messed with color rendition. Samsung has once again managed impressive consistency in terms of colors across its different cameras, and it only makes sense that we get a more subdued pallet from the ultrawide, as well. Though, that being said, the occasional red in the frame still tends to "pop" quite a bit.
12MP telephoto camera quality
The telephoto snapper on the Z Fold3 has a native zoom level of about 2x. It delivers competent shots. Noise creeps up rarely, mostly in larger areas with uniform colors. Dynamic range is good, if not stellar colors continue the much-appreciated trend of consistency.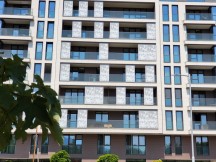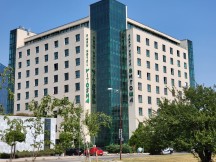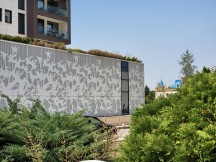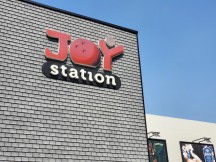 Samsung Galaxy Z Fold3 5G: 12MP telephoto camera 2x samples
Honestly, in good lighting conditions, these results are quite comparable to those from the main camera.
Beyond the familiar "single tree" toggle, which triggers 2x mode, there is also a linear slider on the Z Fold3, which goes all the way up to 10x, with another anchor-point set at 4x. Naturally, we tested those as well.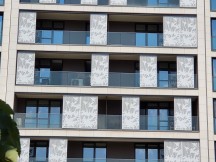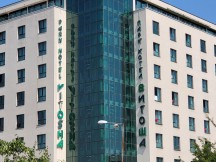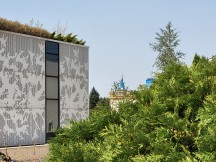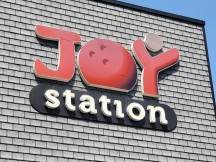 Samsung Galaxy Z Fold3 5G: 12MP telephoto camera 4x samples
As is the norm, there is cropping, interpolation and upscaling going on, behind the scenes here to get the resulting 12MP images at higher zoom levels. Both the 4x and 10x zoom levels honestly surprised us in terms of detail and just how low the noise levels are. Of course, this all hinges on good lighting conditions. Even so, we deem both perfectly usable.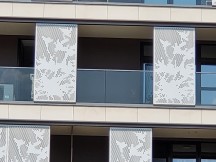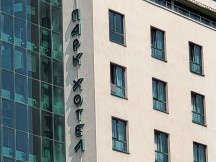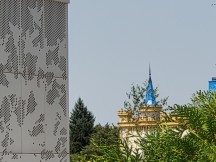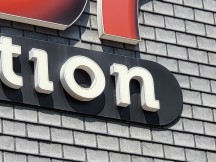 Samsung Galaxy Z Fold3 5G: 12MP telephoto camera 10x samples
Here is a full set of samples at every zoom level from the main cameras for your convenience.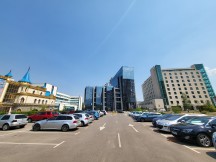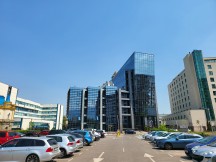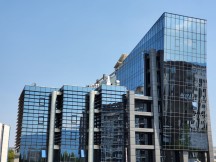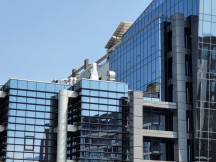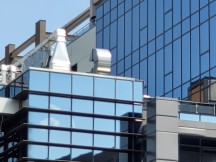 Samsung Galaxy Z Fold3 5G zoom levels: 0.5x • 1x • 2x • 4x • 10x
One notable omission on the Z Fold3 is a dedicated macro mode. Ideally, we would have loved to see autofocus on the ultrawide for the best possible macros, but that is not a thing either. You can get relatively close to a subject with the main camera, but autofocus tends to get really wonky.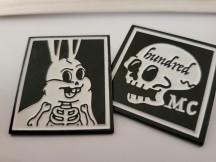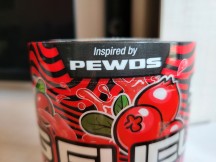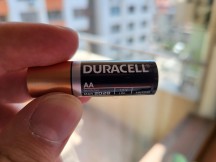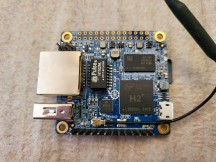 Samsung Galaxy Z Fold3 5G: 12MP main camera macro samples
Your best bet is using 2x mode on close-up objects, which does not actually trigger the telephoto camera, but instead uses the main one to focus at such a short distance. It is definitely good enough for reading small text.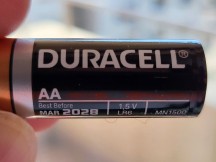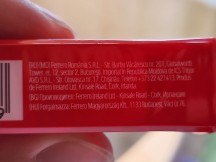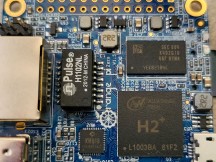 Samsung Galaxy Z Fold3 5G: 12MP telephoto camera macro samples
Selfie camera quality
If there is one thing the Z Fold3 has plenty of, it is ways to capture selfies. This does enable plenty of versatility on the foldable form factor. You can do so with either one of the two dedicated selfie cameras - the familiar 10MP regular snapper on the cover screen or the new 4MP under-display unit on the inside of the phone.
And, of course, arguably the most logical thing to do if you really care about the quality of your selfies is to just use the primary camera setup for selfies while using the cover display as a preview and camera control. That way, you get all of the benefits of the powerful camera trio.
Here are some "selfie" shots from the main cameras first, since we already covered their quality characteristics. Even at 2x, the telephoto doesn't work particularly well in terms of framing at a standard arm's length, but the option to use it is still there. After all, if you prop up the Z Fold3 in just the right way, this is a viable way to capture yourself or a group of people from further away with the telephoto.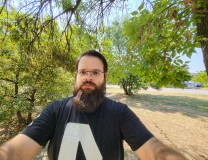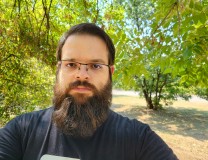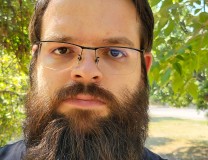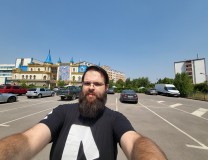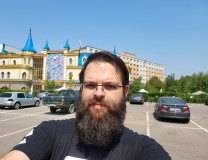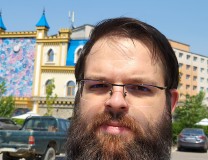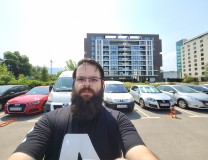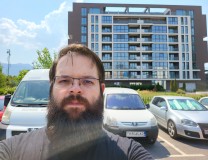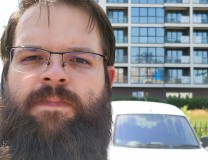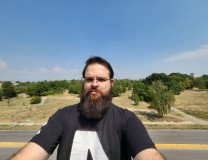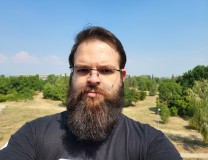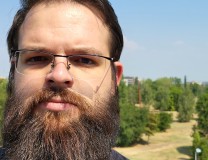 Samsung Galaxy Z Fold3 5G: 12MP "selfies" with the main cameras
Moving on to actual selfie cameras, let's go through the familiar 10MP cover screen one first. It basically borrowed from the Z Fold2 with its 1.22µm pixels and an f/2.2 aperture. It's nothing too fancy, with autofocus standing out as the most notable omission. However, that's not that big of a dealbreaker, considering the Z Fold3's ability to capture selfies with the full power of the trio of main cameras on the back.
In terms of actual quality, the 10MP selfie snappers capture plenty of detail and look sharp. The lack of autofocus isn't a big deal either, since the focus plane is quite forgiving. Positive impressions, overall.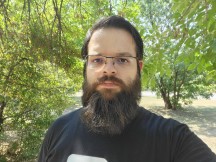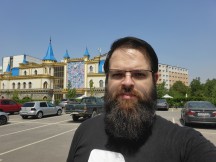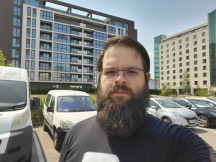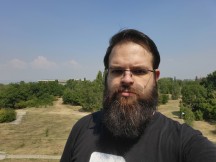 Samsung Galaxy Z Fold3 5G: 10MP cover selfie camera samples
Not all Samsung long-standing traditions are great. The availability of two "field of view" options for selfies is one of the less-amazing ones. Mainly since the camera app defaults to the odd, cropped mode, which, in this case, produces stills at around 6.5MP. We aren't sure why Samsung persists with this, but it is a thing. At least you can tell the camera app to remember your last field of view setting, instead of having to switch every time.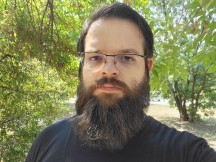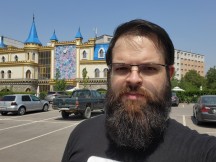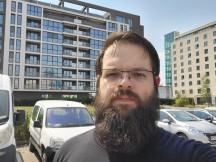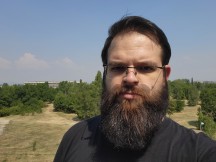 Samsung Galaxy Z Fold3 5G: 6MP cover selfie camera samples
As a small side note, it should be mentioned that there is a small amount of beauty correction applied to the selfie camera by default. You can always go in and turn it off entirely, though. To its credit, Samsung's beauty mode is on the tamer and more natural side compared to other solutions we have seen. You can still go overboard, but it's not easy.
On to the star attraction then, or at least the camera we are probably most interested in exploring since it is kind of the only new addition to the Z Fold3 and also Samsung's first attempts at an under-display selfie unit. According to official specs, this is a 4MP unit, though, our own software config snooping did suggest Samsung is using a Sony IMX471 sensor with 16MP native resolution instead. Regardless, it sits behind a fairly bright f/1.8 lens. Though, we aren't exactly sure how that number translates to actual light capture capabilities since the lens is technically sitting behind an array of RGB OLED display pixels. A quite low-density set of pixels, to be fair, which probably works in the favor of camera quality.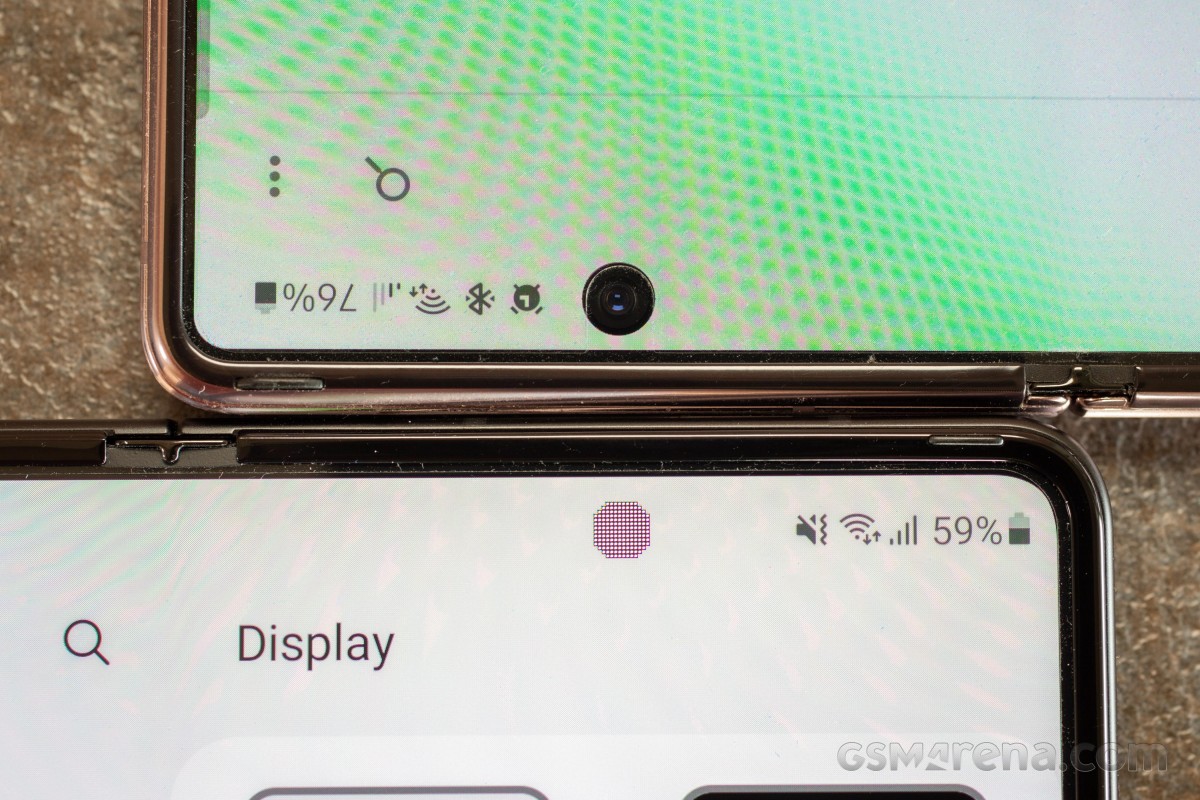 Top: Galaxy Z Fold2; Bottom: Galaxy Z Fold3
On the flip side, you can still clearly see the spot on the foldable panel. Much more than, say on the recent ZTE Axon 30, which seems to already be using a second generation of the technology. Though it should also be noted, in conjunction with a traditional display, not a foldable panel, with newfound S Pen support and all the hardware that requires.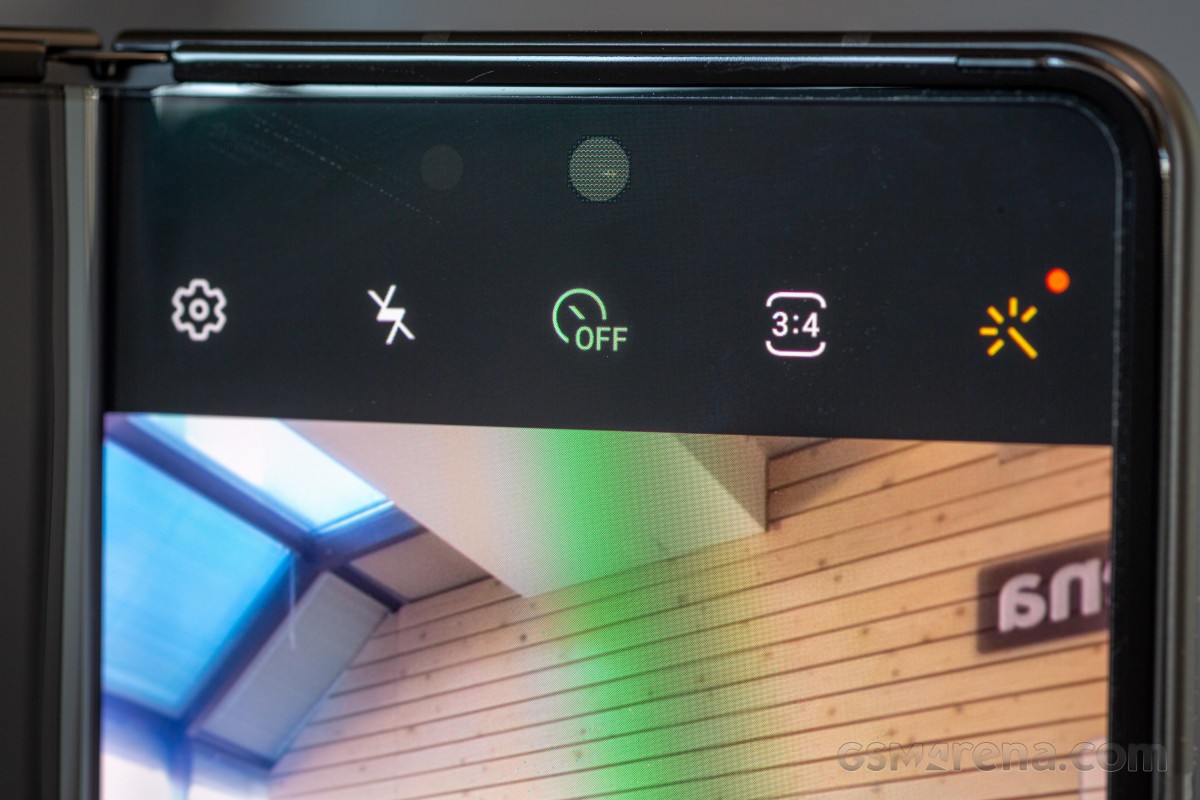 Perhaps another thing worth noting is that when the under-display camera does actually get triggered, the display pixels above it become a lot less visible. This is also accompanied by a nifty ring animation on the display around the camera.
But enough about the hardware, how is the actual camera quality? Well, in a word - acceptable, but only thanks to heavy processing. These selfies are quite soft and not necessarily due to a shallow fixed focus plane. Rather, it is just some sort of technical limitation at play.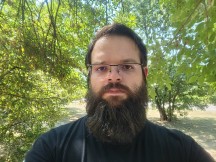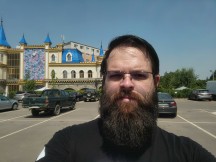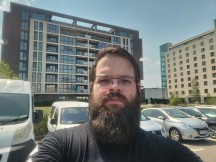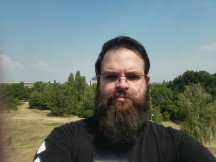 Samsung Galaxy Z Fold3 5G: 4MP under-display selfie camera samples
You will notice, however, that the edges and basically everything other than an actual face in the frame is a lot softer. Samsung is doing a lot of processing to sharpen up your face for these stills. Something that becomes clearly evident even in the camera app viewfinder once you start moving a bit too fast in the frame for the algorithm to keep up or, alternatively, introduce a particularly bright light source in frame. With softer light and while standing still, you can actually see your face "sharpen up" gradually. Freaky stuff.
Speaking of light sources, the under-display selfie cam appears to be faced with hardware-specific issues on that front, namely that the RGB display pixels positioned on top of the camera can refract different light wavelengths, which when uncorrected for properly, leads to some interesting color fringing.
Samsung, once again, does the best it can to fix that under normal selfie conditions, but if you decide to torture the software with a bright light source and things like leaves and other fine detail in front of that, you can clearly see the optical defects. With no extra sharpening applied to your face, the overall importance of computational photography on this camera really becomes apparent. Here are some examples.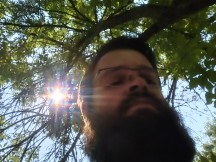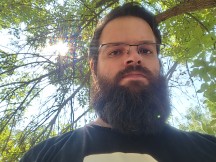 Samsung Galaxy Z Fold3 5G: 4MP under-display selfie camera samples
On a more positive note, once again props to Samsung for doing its best and mostly managing to unify the color rendition across its selfie cameras and even, to some degree, the main ones.
Samsung simply had to include its "cropped" field of view mode on the under-display selfie as well, for some reason.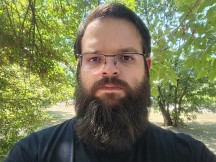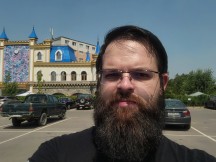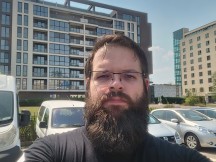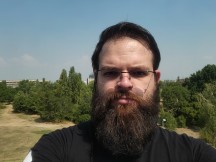 Samsung Galaxy Z Fold3 5G: 2.6MP under-display selfie camera samples
With it enabled, you get 1856 x 1392-pixel stills, or right around 2.6MP, instead of the default 2304 x 1728-pixel 4MP ones.
Live focus mode
In keeping with Samsung tradition, the Z Fold3 has Live focus mode, which is just another way of denoting portrait mode. The fancier name is quite fitting, though, since stills get saved in a special format that allows you to actually adjust focus and accompanying effects after taking the shot. That's not a new feature, but it's cool enough to keep bringing it up.
There are quite a few effects to choose from, including different background blurs, color modes, and even a "studio mode" as it's come to be known. All of these come with a slider to adjust intensity.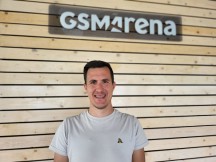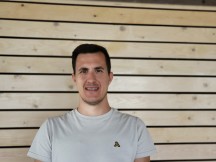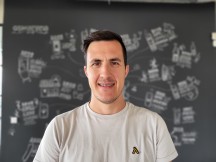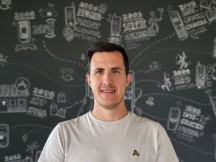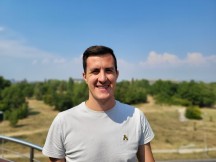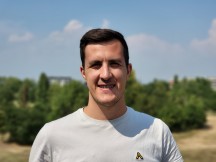 Samsung Galaxy Z Fold3 5G: Live focus mode camera samples
One thing Samsung appears to have improved significantly since the Z Fold2 is the quality of the subject detection, separation and particularly the background blur. All of these used to be an issue, particularly with busier backgrounds, which is no longer the case.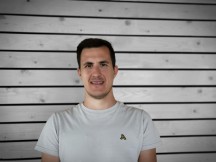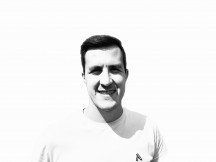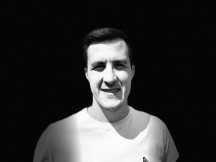 Samsung Galaxy Z Fold3 5G: Live focus mode camera samples, different modes
It is worth pointing out that for a while now, Samsung has been taking the camera data for its Live focus shots from the main camera and using the ultrawide for depth info instead of the other way around. This is the case here, as well, which does mean that you are limited to either using the main camera or the zoom one for portraits.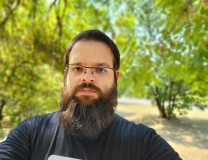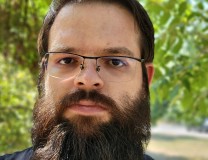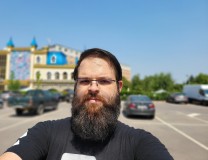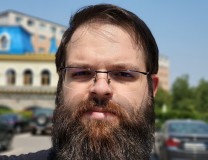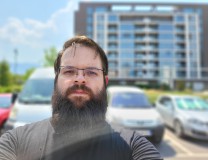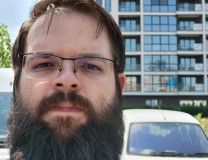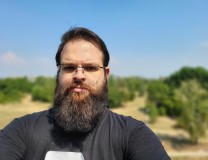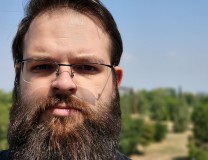 Samsung Galaxy Z Fold3 5G: Live focus mode "selfie" camera samples
Live focus can work on non-human subjects as well, but it is quite finicky and difficult to get the algorithm to properly trigger.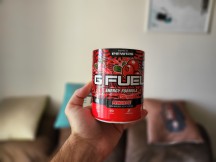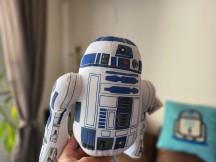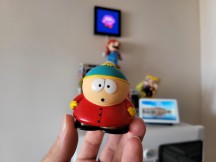 Samsung Galaxy Z Fold3 5G: Live focus mode camera samples, non-human subjects
Of course, if you insist on getting your portrait selfies on an actual selfie camera, you can use the regular 10MP one on the cover screen. Quality is solid all around, and you can use the "cropped" field of view for selfies portraits as well, though, we really don't know why you would.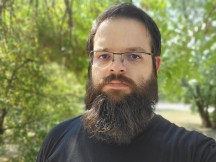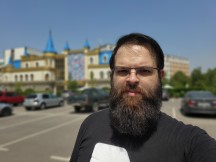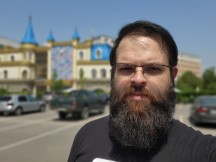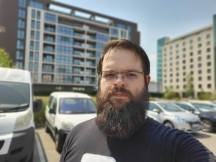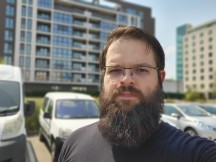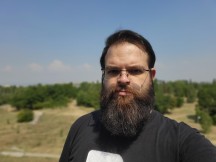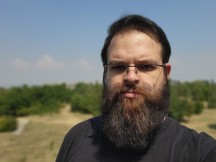 Samsung Galaxy Z Fold3 5G: Live focus mode cover selfie camera samples
You cannot do Live focus or portrait shots with the new under-display selfie camera. Samsung probably deemed their quality not good enough.
Last, but not least, rounding the photo quality section, we have added samples from the Z Fold3's main and telephoto cameras to our extensive photo compare database. Feel free to pixel-peep.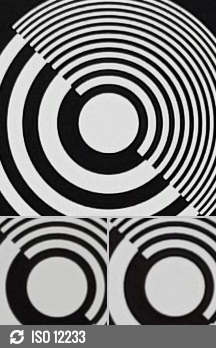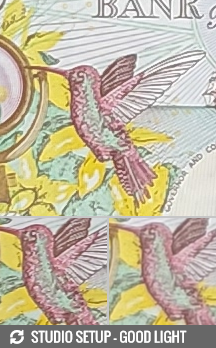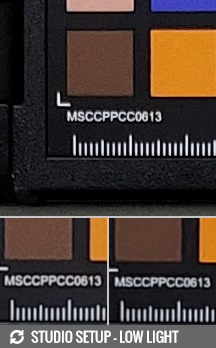 Samsung Galaxy Z Fold3 5G against the Samsung Galaxy Z Fold2 5G and the Samsung Galaxy Z Flip3 5G in our Photo compare tool
I also tested my Zfold3. Went out at 1pm with 85% batt Turned on Data (front screen) & few times I used the unfolded screen. Went home at 8pm with 35% left. I played Mobile Legends 13% at 930pm I used dark theme mode On notificati...
I really should have read the reviews before getting this phone. I am NOT happy at all and can't get back my S21 Ultra that I traded in for the Z. First, the battery is horrible. I used to get 2 days from my S21. The Z gets me maybe 3 hour...
I charged my new fold 3 and got better charge times than the review. At 30 minutes it was at 43%, 60 minutes 83% ,90 minutes 100%. Not sure if improvements were made since launch or something went wrong with their test.